The Scottish Highlands are situated in the northwestern corner of Scotland. And they're magical.
From picturesque lochs and cliffs to the authentic scotch whisky, you can't go wrong with a visit here. This guide will tell you everything you need to know – and why you need to get there, stat.
How to Get to the Scottish Highlands
Inverness (INV) has an international airport with deals from time to time, most often during the winter months. But it could make more sense to get to the Highlands by flying into Edinburgh (EDI). From there, rent a car and drive three hours north to Inverness. If you've got the time, spend a couple of days in Edinburgh as well.
Scotland, like the rest of the United Kingdom, drives on the left-hand side of the road (and you'll drive on the right side of the car!) For reasons beyond me, your U.S. driver's license makes you qualified to operate a vehicle in this fashion.
You'll be handed the keys to a rental car and be on your way in no time. My first experience driving in Scotland came after 14 hours of travel time and an additional six hours of lost luggage delay – the term "baptism by fire" is an understatement. But once you get the hang of it, driving here is a breeze. And it's by far the easiest way to get around in the Highlands.
Carrbridge
The tiny village of Carrbridge is a perfect place to stop and stretch your legs on the journey from Edinburgh to Inverness.
The town is located in the beautiful Cairngorms National Park and has a small variety of restaurants and shops. The crown jewel of the town is the Packhorse Bridge, built in 1717 – the oldest stone bridge in the Highlands. You can walk the immediate area around the bridge for some spectacular pictures. After your stop in Carrbridge, it's only another 35 minutes to Inverness.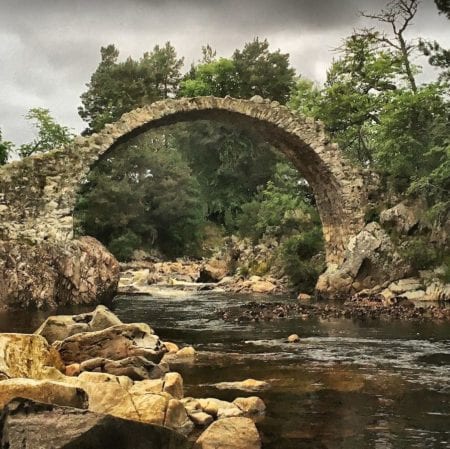 Inverness
With its population of around 47,000, the city of Inverness serves as an excellent home base for exploring the Highlands. We spent about a day and a half in the city itself before setting out to explore some of the more remote areas of the Highlands.
Inverness is situated along the River Ness, which makes for picturesque views between the water and cobblestone streets. Spend the morning at Inverness Castle before walking along the river to the Waterside Hotel for spectacular afternoon high tea.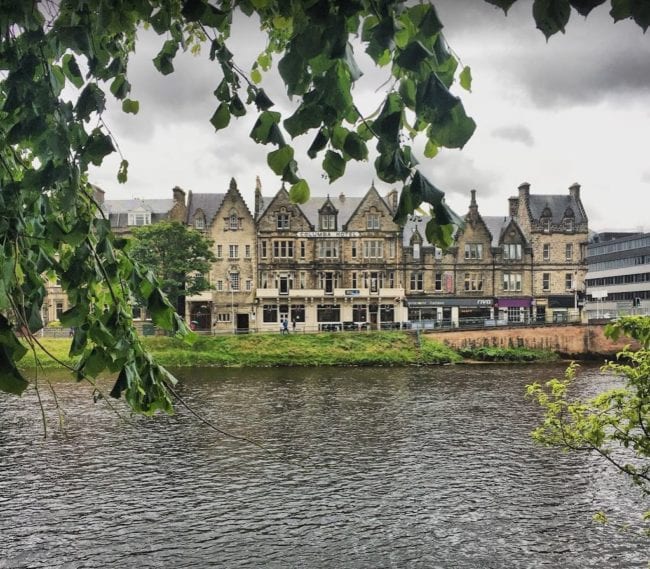 When you are finished, explore some of the winding cobblestone streets. Inverness is home to a wide array of local shops and has a vibrant downtown area. Be sure to add a stop at Leakey's Second Hand Book Shop to your list. Rare book fans will be in heaven, and you may not have a chance to visit a book shop in a converted church anywhere else!
Thrifty Tip #1: If you are looking for hospitality, Encore is the best you'll find in Inverness. Everything here is locally sourced and the music is great. The bartender even personally called in favors for us when we were locked out of our VRBO at 1 a.m. Talk about service!
Culloden Battlefield & Clava Cairn
Drive 15 minutes east of Inverness and spend a half day learning about war history and the Battle of Culloden.
The Culloden Battlefield has a beautiful visitor center and museum, and you'll be able to take a self-guided tour around the battlefield itself. The £11 ($14.50 USD) price of admission is worth the value you get from it – particularly for any history buffs.
While in the area, take the five-minute detour over to Clava Cairn. This Bronze Age burial site is Scotland's answer to Stonehenge. There is no admission fee, and you'll likely be the only people there. The site is open for you to explore as you please and is surrounded by farm fields and sheep pastures.
Thrifty Tip #2: There are no historical plaques or explanations of the site, so do your reading online before or after if you want to know more about it.
Isle of Skye
The Isle of Skye is one of the largest and most northern islands of the Inner Hebrides. If you can, spend at least two to three days on the Isle of Skye. Trust me, there are plenty of natural landmarks and world-class hikes on the island. Unfortunately, our itinerary only allowed for a day trip, but it was still worth it!
Begin the two-hour drive from Inverness to Skye by weaving your way through the highlands and taking in the views. Just before crossing the bridge to the island, make a stop at Eilean Donan Castle near Kyle of Lochalsh. This 13th-century castle is situated on the shore of a loch and makes for fantastic photos. If you are on the day trip plan, skip the admission to the castle and continue to the Isle of Skye. Your time will be better spent there.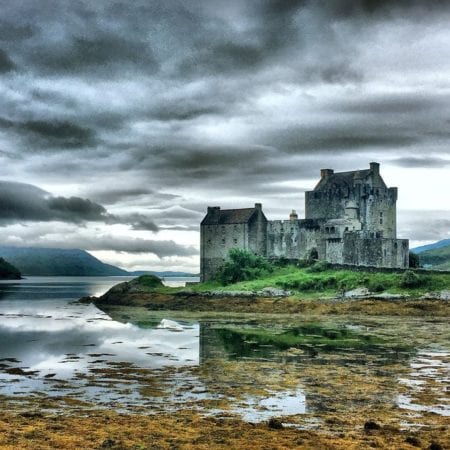 Spend some time beforehand prioritizing which landmarks you'd like to see while on the island. There are small narrow roads that wind their way around the island so you'll need a car. It's possible to drive the perimeter in six to eight hours, providing time for stops. We decided to drive counterclockwise, with a stop in Portree for lunch.
This route allowed us to see Kilt Rock, a towering cliff with a waterfall on the edge of the island. We also made stops at Fairy Glen, the Fairy Pools, and Old Man of Storr. By the time we were finishing up, the sun was starting to set so it was definitely a very full day.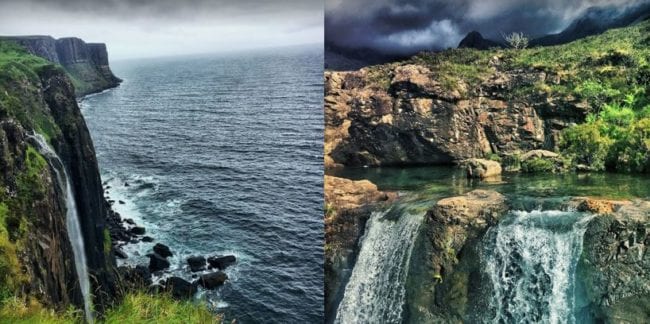 Thrifty Tip #3: If you can keep your plans flexible, head toward Isle of Skye on a relatively sunny day (a rarity sometimes in Scotland). A very overcast day could seriously hamper your views.
Northern Highlands
As soon as you head north of Inverness, the Highlands become even more remote – and more beautiful.
Venture an hour north to discover one of Scotland's oldest scotch distilleries, Balblair Distillery. They've been distilling whisky since 1790 and have a fantastic daily tour that will get you up close and personal to the whisky making process. When you're finished, you'll be treated to a scotch tasting in their tap room. It's a great experience for those looking for an authentic experience in a small setting – not to mention scotch lovers.
As we drove back toward Inverness, we made an impromptu stop to talk sheep production with a local farmer. Sheep farming is one of the largest industries in Scotland, particularly in the Highlands. We learned how they differentiate their herd from other sheep roaming the hills and also what the annual production cycle looks like. The Scottish people are incredibly friendly and want nothing more than to share their way of life. Take the opportunity to stop and ask questions when you are able!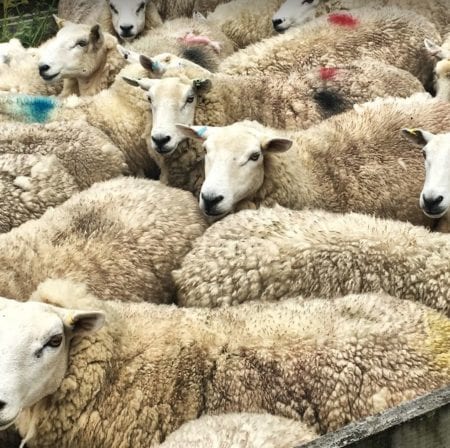 The Culbokie Inn is a great place to end the day with a traditional meal. This small pub in the village of Culbokie is about twenty minutes outside Inverness. It was the perfect place to stop before heading back into town after a busy day. They had haggis on special that was more delicious than I ever imagined haggis could be (just don't read what it's made of if you're squeamish.) We ended up being the only tourists in the pub and chatted with the locals over a couple of beers.
Loch Ness
Finally, no trip to the Highlands is complete without a stop at the famous Loch Ness.
Loch Ness is located about 30 minutes south of Inverness and is the second deepest lake in Scotland, clocking in at 755 feet deep in places. Urquhart Castle is the centerpiece of the visitor's area with numerous places to capture spectacular photographs. Arrive early to beat the tour buses and have more time to wander around the grounds before it gets busy. Who knows, you might even spy Nessie!
Bottom Line
The Scottish Highlands are an incredible place to visit to experience a quiet lifestyle and dominating landscapes. This guide will provide inspiration for you to plan your very own trip to the Highlands.