If you've heard anything about Munich, it has probably been something about Oktoberfest: a celebration when people from around the world come to dress in lederhosen and drink beer.
However, Munich is a gorgeous city to visit any time of the year. Check out our top recommendations for things to see, eat, drink and do on your next trip to Munich, Germany.
Top 5 Things to Do in Munich: Sites & Attractions
1. Get a Beer at the Hofbrauhaus
Likely the most famous beer hall in the world, Hofbrauhaus is a must-see while in Munich. This beer hall was founded in 1589 and originally brewed beer for the royal family. The Hofbrauhaus does have a bit of a dark past: in 1920, Hitler and the Nazi party held their first meeting in one of the rooms upstairs. Hitler gave his infamous speech denouncing Jews in the Festival Room, which can be found on the top floor.
Today, Hofbrauhaus is Munich's top tourist attraction and a place where all can gather for a traditional Bavarian Biergarten experience. When you enter from the street, you will walk through the first serving area, with spectacular painted ceilings and rows upon rows of wood benches and tables. Here, strangers sit together: both because it is often packed to capacity, and also to strike up a conversation over a mug.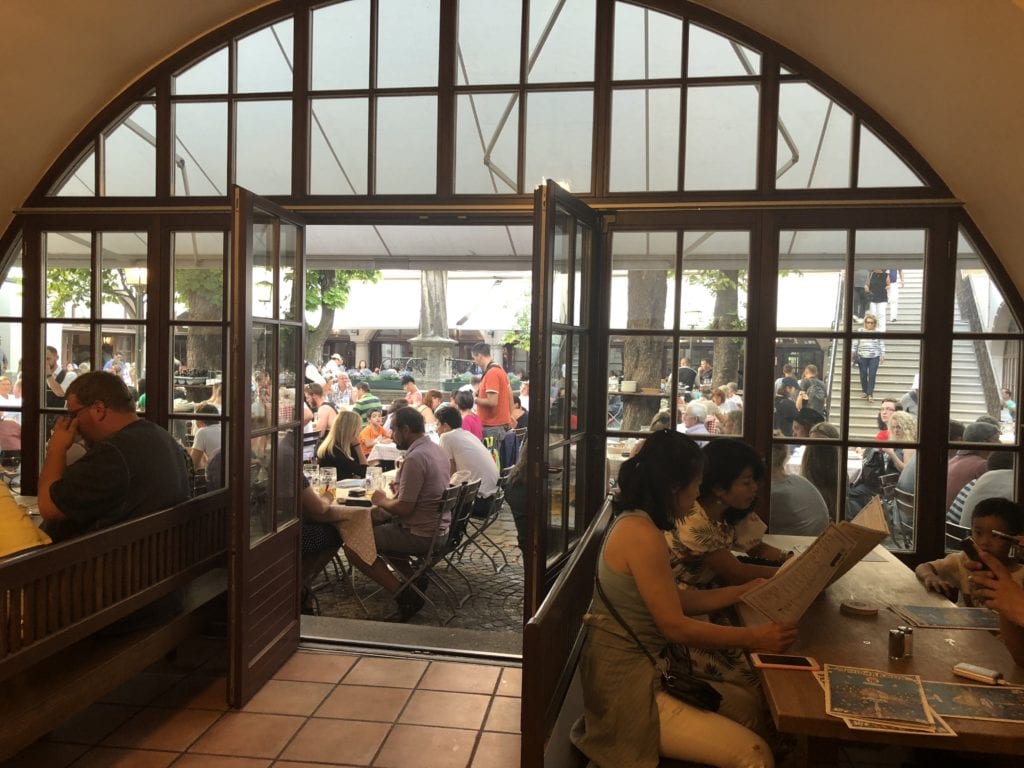 Outside on the first floor, you'll find the biergarten. You can access the second-floor patio seating from outside as well. Floors two and three have similar seating: rows and rows of benches and tables, meant to serve family (or stranger) style.
Waiters do provide table service here but don't expect fast service. This beer hall is massive, and anything other than beer doesn't come quickly. I recommend just getting a beer of beer here, and then moving on to another local beer hall for a traditional German dinner.
If you're feeling snacky or need something to eat with your huge pint of beer, flag one of the servers wearing traditional dirndl dress and carrying a basket of pretzels. Expect to pay around $5 for a beer and about $2 for a pretzel.
2. See the Glockenspiel in Downtown Munich
Don't miss this one! The Rathaus-Glockelspiel is located in the main square of Munich, called Marienplatz. This mechanical clock was part of the second construction of the New Town Hall, built in 1908. The glockenspiel is home to dancers and jousters (puppets, of course) that put on daily performances. You can catch these performances at 11am, noon, and 5pm – but there are no evening performances in winter.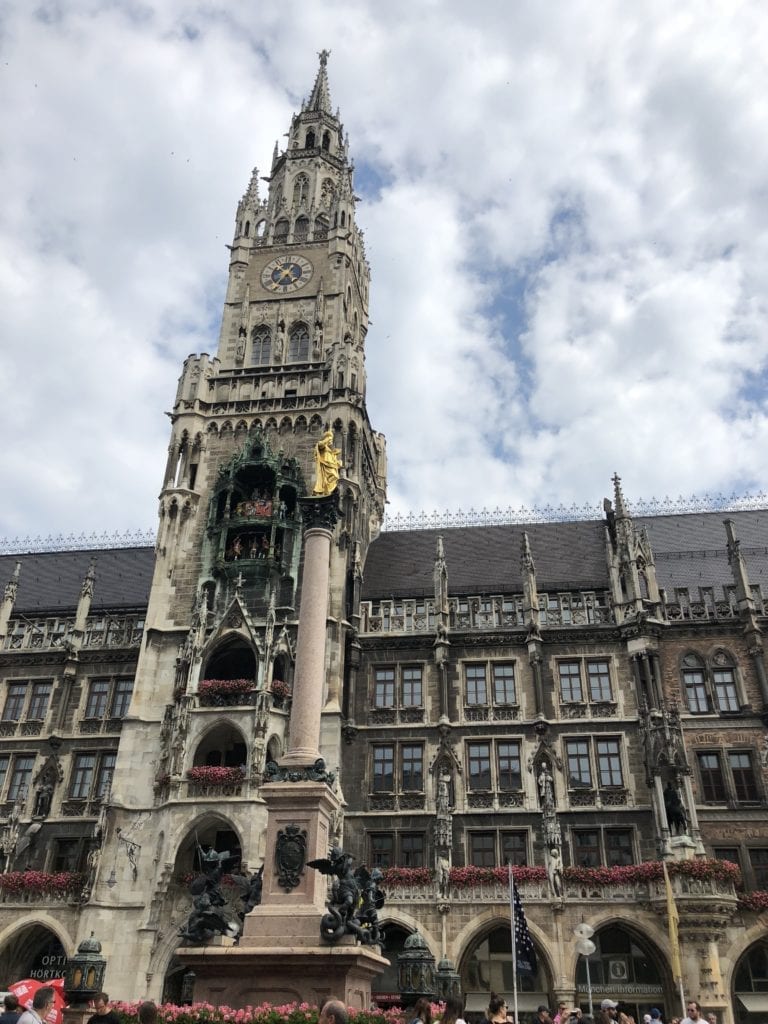 Get to Marienplatz a few minutes before the performance to score a spot in the crowd. You can't miss it: everyone will have their heads turned up to watch! The performance lasts 5-10 minutes and has some surprise actions by the figurines, so keep watching until the end.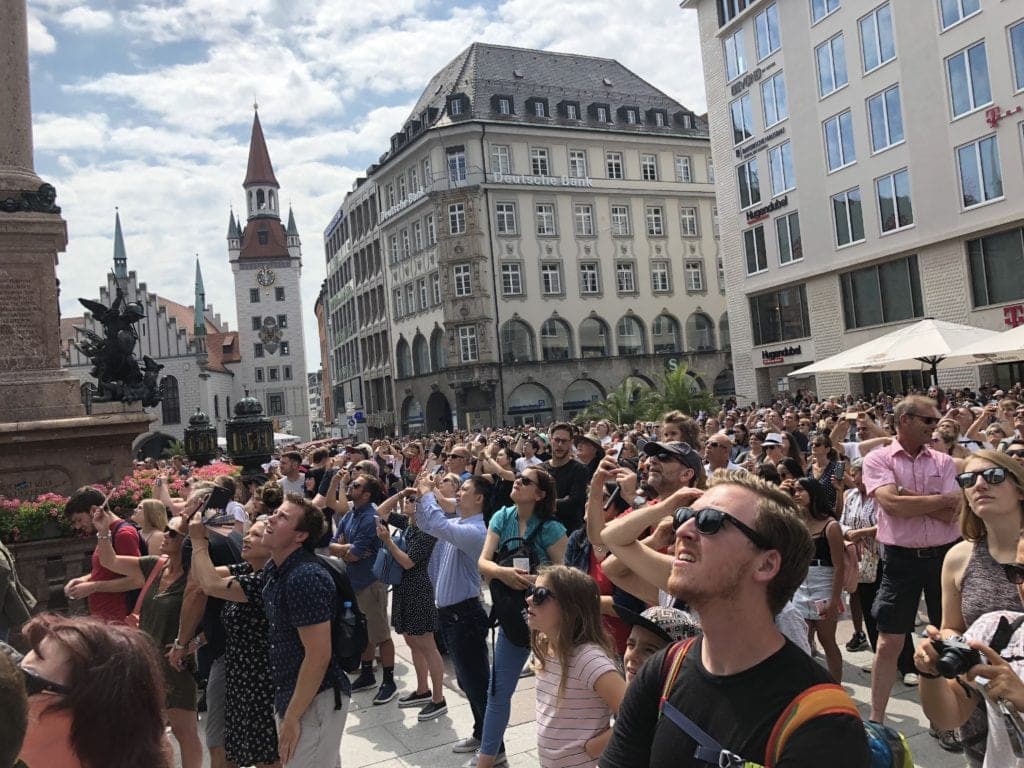 If you take advantage of the Sandeman's New Europe free walking tours in Munich, you'll meet your tour guide in Marienplatz square at 10:45am and watch the glockenspiel show at 11 before setting off around Munich. Remember, all free walking tours in Europe run on tips, so leave your guide $5-20 for the time they spend touring you around the city.
3. Grab a Pretzel at Viktualienmarkt Outdoor Market
Ready for a snack after your free walking tour of Munich? Head to Viktualienmarkt, just a few blocks south of Marienplatz. Viktualienmarkt is an outdoor market that has much to offer: fresh fruits and vegetables, wine and beer, sausages, pretzels, and other Bavarian snacks. The pretzels are massive and so delicious!
The famous Maypole is also within Viktualienmarkt grounds. There is biergarten-style seating outside with rows of benches and tables, so take a break from walking here and enjoy the Bavarian atmosphere.
4. See the Surfers in the English Gardens
The English Gardens are a must-see in Munich that aren't part of many tours or guidebooks. These beautiful city gardens are a 15-20 minute walk from the heart of Munich at Marienplatz, but well worth it. The gardens are quite large: it would take you over an hour to walk from end to end. Luckily, the best attraction to see is on the end closest to the city.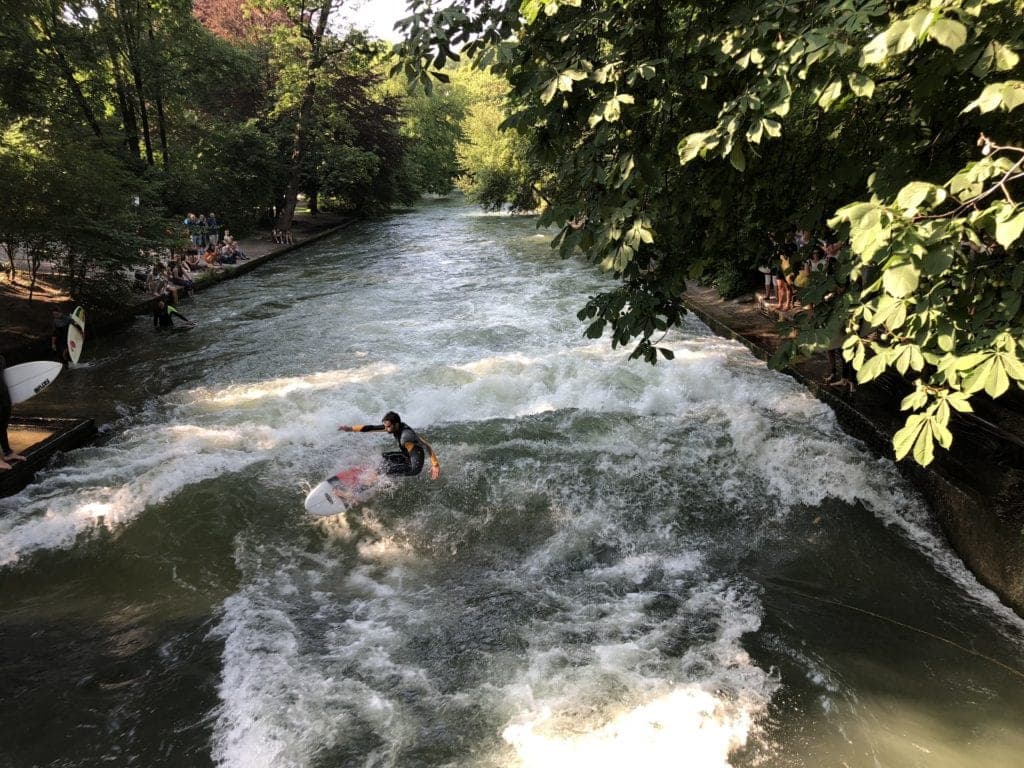 Spend some time walking around the beautiful gardens, but definitely make your way here to see this spectacle. Named Eisbachwelle in German, this artificial surfing wave is a landmark in the English Gardens. Surfers will line up on either side of the river and wait for their turn to ride the wave. Each surfer that hops on will spend a minute showing off their moves and tricks, and then fall (purposely or actually) into the wave and make room for the next surfer.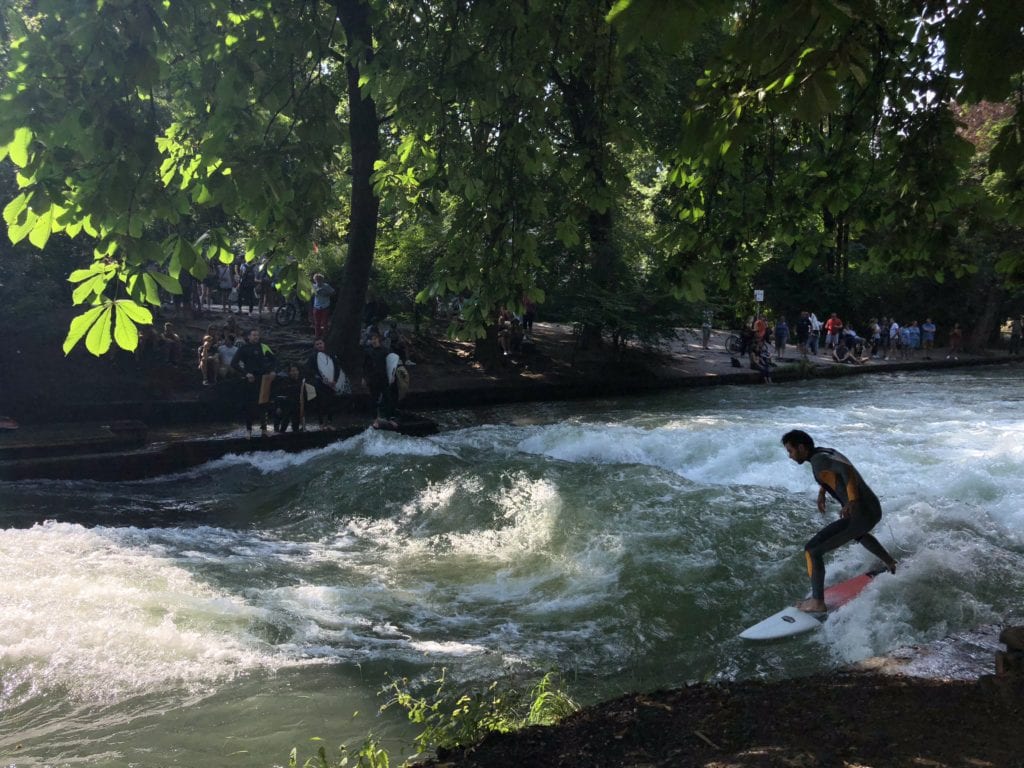 Crowds of tourists and locals alike gather around the banks of the river to watch each surfer take their turn on the wave. We probably spent over an hour here, just sitting and watching locals surf in the middle of a park. This was something I wasn't expecting to see in the middle of the city, and was definitely a highlight!
5. Take a Day Trip to the Neuschwanstein Castle
Okay, so this top attraction isn't actually in Munich proper, but it's the best city to use as a jumping-off point to visit this magical spot!
Disney and movie fanatics: Do you recognize this castle? The Neuschwanstein Castle is popularly recognized and known as the inspiration behind the appearance of the Sleeping Beauty castle and the Disney Castle. The classic movie Chitty Chitty Bang Bang was also filmed here.
Where is Neuschwanstein Castle?
I've you've got a day to spare, take a day trip to the Neuschwanstein Castle. About two hours each way from Munich, a visit to the "Sleeping Beauty" castle is the perfect daytime adventure. You can book a day trip from Munich with many tour companies like GetYourGuide or Viator.
Thrifty Tip: Pack your lunch on your tour of the Neuschwanstein Castle. If your tour has a similar timeline to ours, you'll get about an hour to eat before heading up to the castle. There are a few restaurants at the base of the attraction, but prices are steep for the tourists coming in, and can often be very busy.
How to Get Inside Neuschwanstein Castle
When we went, the day trip tour we purchased was $67 per person and included transportation to and from the castle and a tour guide for the exterior of the castle.
Entrance to the castle tour was an extra $16 upon arrival. Because only a third of the castle was finished in the king's lifetime, the tour is only 30 minutes long – but the interior is definitely worth seeing.
There are three options for getting up to the castle: you can walk, take the tram, or take a horse carriage. The tram was around $2 to ride to the top. The walk is a pretty consistent incline the whole way up, but the roads are paved nicely: The walk took us about 45 minutes. This is also the road that the horse carriages take, so watch out for carriages coming up from behind!
Who built Neuschwanstein Castle?
Besides starring in some major films, the castle has a fascinating history. The Mad King Ludwig became king at the young age of 18. He grew up in isolation in a yellow castle not even a mile away from Neuschwanstein. Ludwig had no friends to play with and became obsessed with old German sagas and operas. He didn't enjoy his duties as king, and began to retreat more and more from the real world.
Ludwig decided to make his imaginary world real by building this castle. Ludwig spent 8 million dollars in the early 1870s to build this masterpiece. That was a lot of money back then! However, only 1/3 of the castle is finished: Mad King Ludwig died a tragic death, about which many have created conspiracy theories. You'll hear more about the fascinating life of King Ludwig and the complexity of his time spent in the castle on your tour.
How to Get The Best View of Neuschwanstein Castle
Want to snap a pic of the castle's best angle? After your tour of the castle, make your way to the Marienbrucke Bridge, just a short 20-minute walk from the top of the castle. This bridge provides a spectacular view of the castle with the countryside in the distance.
The bridge can be very crowded with tourists, but most just stop at the beginning of the bridge to snap a photo and leave. Walk to the other end of the bridge and you'll have plenty of space for a selfie and to enjoy the view. Winter, spring, summer or fall: this view is stunning year-round!
Where to Eat in Munich, Germany
If you're looking for traditional German food during your stay in Munich, you've got plenty of great options. However, the locals working at our hostel and a local guide recommended eating at Augustiner. Augustiner is one of the local favorites when it comes to brewpubs. The Augustiner Bräustuben (brewhouse) has two other restaurants around Munich, so take your pick.
We ate at Augustiner-Keller and enjoyed a delicious Bavarian meal. Get the Grosse Würstlpfanne: a combo plate with different sausages, mashed potatoes, and sauerkraut. The pork knuckle is also fabulous here. Toss in a schnitzel and it doesn't get much more German than that!
Other spots for great local German food include Restaurant Pils Corner and Schiller Braeu.
Crossed Hofbrauhaus off the bucket list and looking for more beer halls and German bars? Try Zumm Brunnstein, Tap House – Camba Bavaria, Rattlesnake Saloon and The Keg Bar.
Where to Stay in Munich, Germany
There are several great options for lodging during your stay in Munich.
Check out the many apartment units for rent on Airbnb, from as low as $50 per night. There are also quite a few 4-plus star hotels in the city center of Munich from $70 – $200 per night. Be sure to utilize the map feature when searching to select accommodations that aren't too far from public transit or within walking distance of the top sites you want to see.
While in Europe, hostels are another great option for keeping lodging costs low. Read more about the benefits of staying in hostels and how to use the Hostelworld booking platform. There are a plethora of hostels in Munich, with private rooms as low as $69 and shared dorms as low as $26.
We stayed at the Wombats City Hostel during our stay in Munich. Part of a chain of hostels throughout Europe, Wombats is a great option if you're looking to try out a hostel. Enjoy full amenities, including a gorgeous lounge area, a full kitchen an open fridge for cooking, a bar with live music, TVs, billiards, drink specials, a breakfast served for cheap, and maps and recommendations for tourist attractions in Munich.
Bottom Line
Munich is a gorgeous city with a unique Bavarian culture, delicious traditional German food, and plenty of beer. Make sure to check out these top must-see attractions during your next trip to Munich!