Edinburgh is Scotland's charming capital city, often overlooked in favor of London or the famous Scottish Highlands.
But this beautiful city has much to offer on its own and is worth a stop on your trip across the United Kingdom. While you can easily spend a week or more in Edinburgh, many travelers opt for just a few days.
Here's where to go to make the most of your stop in Edinburgh with just two day to spare.
Edinburgh Castle
With a history dating back to pre-Medieval times, Edinburgh Castle towers over the city. Since it's located right in the middle of town, it's easily accessible and one of Edinburgh's most-visited attractions. It's open to the public daily and you can purchase advance discounted tickets here, starting at 17 pounds (about $22 USD). Plan to spend a few hours walking the grounds, taking in the history, and visiting the nearby parks.
Thrifty Tip #1: You can still walk around much of the exterior of the castle for free, so keep this in mind if going inside isn't important to you.
Edinburgh Old Town
Edinburgh's old town centers mainly around the famous Royal Mile.
The Royal Mile begins at Edinburgh Castle and winds through narrow alleys and streets downhill past Holyrood Palace, the Queen of England's Scottish residence. Here you'll find an array of shops, restaurants, and things to do that can easily occupy a half-day or more. The nightlife in this area is tops, with many pubs tucked inside the alleyways.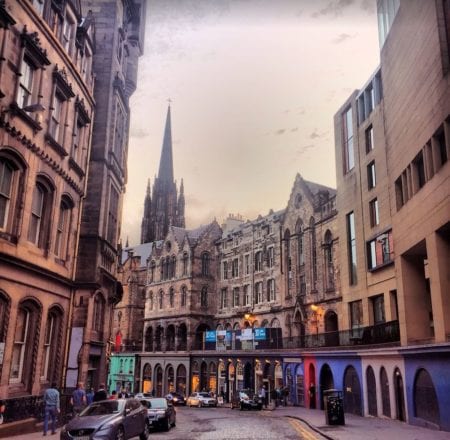 Thrifty Tip #2: J.K. Rowling has deep ties to Edinburgh and wrote many of the Harry Potter books here. Harry Potter fans can do a self-guided walking tour in Old Town that will showcase many of the inspirations for the series.
Arthur's Seat
This dormant volcano is located in Holyrood Park, near the end of the Royal Mile.
Here, you can get some of the best views of Edinburgh – but only on a clear day! Scotland is notoriously unpredictable when it comes to sunshine.
If ascending Arthur's Seat is a must-do on your itinerary, try to leave your morning plans open as your best chance of catching clear skies is in the early morning. Arthur's Seat has a number of different hiking routes ranging from easy to moderate. No matter which route you take, expect the hike to take a few hours round trip.
Royal Botanic Garden
Founded in 1670, the Royal Botanic Garden is one of the best I've seen in the world. And that's saying something.
The grounds are pristine, and the garden is divided into distinct themes with well-planned walking trails. The conservatories house a variety of rare flowers and plants you can't find anywhere else. Maybe that's why the Royal Botanic Garden has been viewed as a premier plant research garden for hundreds of years, with so much to offer to visitors. Plan to spend about three hours in the gardens.
Thrifty Tip #3: Admission to the grounds is always free. There is a small fee of 7 euros to enter the glasshouses, which is well worth it.
Dining in West End
Edinburgh's West End is where old meets new. Located just outside of the Old Town area, West End combines charming cobblestone streets with contemporary stores and restaurants. This area of the city is still in its infancy as far as tourism is concerned, so you'll be likely to find some good deals both on dining and accommodation. We had a five-star meal at three-star prices at a local gem called Otro. The food was impeccably plated, simple, and delicious.
The Royal Dick
No trip to Edinburgh is complete without a visit to the Royal Dick.
Once a small animal hospital and veterinary school, it's been transformed into a bar unlike any other. It's located just a few blocks from Holyrood Park, within walking distance from Old Town.
The food was great, but it was the on-site gin distillery that stole the show. Pickering's Gin is distilled on-site in small batches and is absolutely delicious. Order a classic G&T – they'll serve it with grapefruit to enhance the flavor.
Bottom Line
Edinburgh is a fantastic city to spend a couple of days. Whether you're there for just a few days or a week, make the most of your time with a stop at some of these spots.