A bit to my surprise, Berlin ended up being one of my favorite cities on our backpacking trip this summer. The history, architecture, culture, and food all make this unique German city a must-see location on your next trip to Europe. Here are the must-see things I recommend if you have three days in Berlin and want to experience as much as possible.
Day One in Berlin
Go on a Free Walking Tour
Free walking tours are very popular in Europe and are a great way to see the city with local tour guides. The tours are free, but tips are encouraged at the end. We joined the Sandeman's New Europe free walking tour of Berlin for an all-encompassing tour to learn about the history, sights, landmarks, culture, and cuisine of Berlin.
The Sandeman's Free Walking Tours meet at Brandenburg Gate and leave most hours of the day: typically every hour from 10 am – 4 pm. You don't need to book in advance; they always make sure there are enough tour guides for everyone. Groups can be as small as 5 or as large as 30. To read more about the Sandemans free walking tour, or check out the other cities in which they offer free tours, visit the Sandemans website.
We joined the tour that began at 10 am and lasted around 3 hours. Sandemans guides give the group a short break halfway through, but by the time we ended around 1:30, we were hungry! We were dying to check out the local food our tour guide told us about: currywurst.
Enjoy a Currywurst Lunch
Currywurst is a Berlin specialty that takes wurst (sausage) to a whole other level. Currywurst is a sausage covered in a smokey tomato sauce and topped with curry powder. Its origin story derives from a woman pouring ketchup or Worcestershire sauce over a sausage and topping it with curry powder in 1949. This sausage is strange but delicious!
The other food item you'll notice in the photo below is a white sauce atop the fries (the side that comes with everything in Germany). Germans, like many Europeans, eat their fries with mayonnaise instead of ketchup! If you've never tried this combination before, prepare to fall in love.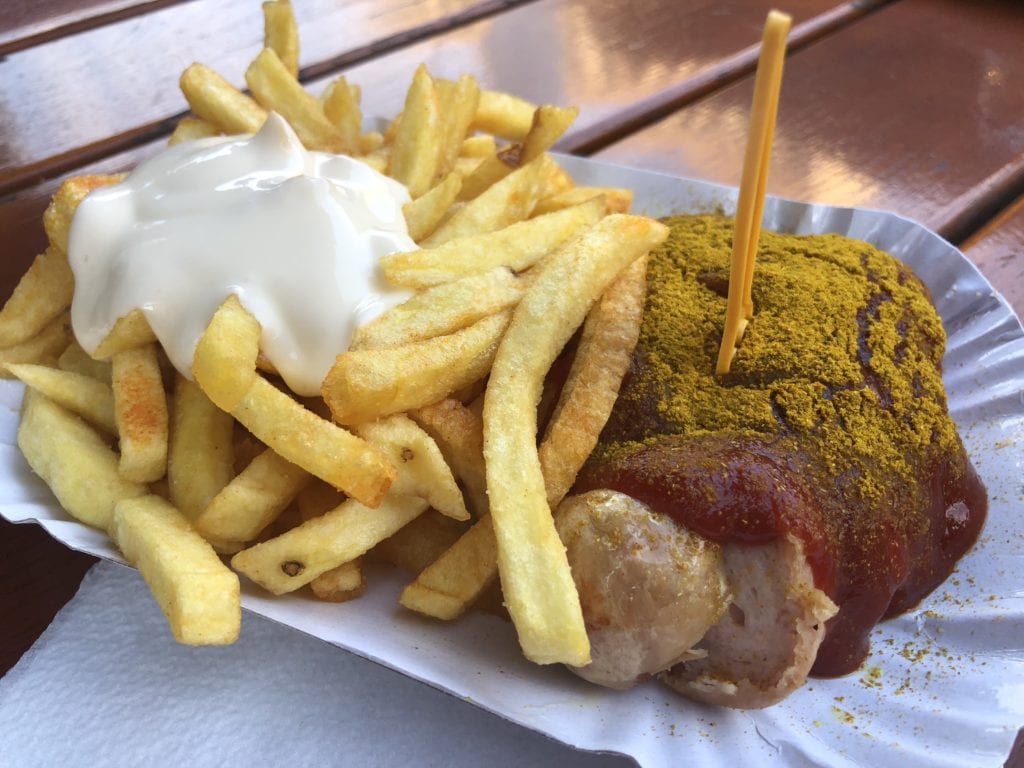 You can find currywurst at many cafes and restaurants around Berlin, but we opted for an outdoor food stall serving currywurst and beer. We sat at the patio tables and watched the World Cup games under the summer sun. Another great place to try this dish is Curry36.
Go to the Free Museums
As I mention in our article on how to save on travel in Germany, many of the attractions, museums, and points of interest in Berlin are free. This makes it easy to learn about Berlin's history and culture on a budget. Enjoy free admission to over 30 museums and points of interest in Berlin.
I suggest checking out this list of free museums in Berlin and picking one or two to visit during your first day in the city. My recommendations would be the Haus der Wannsee-Konferenz (House of the Wannsee Conference), which recollects how the National Socialists planned the extermination of European Jews, and the Museum der Stille (Museum of Silence) that provides a moment for contemplation and meditation in such a historically charged city.
Visit the Tiergarten
Tiergarten is the city park that used to be the hunting grounds for the wealthy elite and politically powerful. We were in Berlin during the World Cup, so the main vein that runs through the park was lined with beer tents, TVs, and fans. However, this is a great spot to make a picnic, relax, and enjoy a peaceful natural area in the heart of such a bustling city.
Day Two in Munich
Go to the Topography of Terror
Open from 10 am – 8 pm daily, the Topography of Terror has an interesting history itself, and an important story to tell. This exhibit was created by college students and was supposed to be temporary. However, this free museum exhibit is still standing, 20 years after its first opening day.
This indoor/outdoor exhibit and museum stands on the exact site of the old headquarters of the Gestapo, the high command and security service of the SS, and from 1939 the Reich Security Main Office. The exhibit tells of the horrors and crimes that were organized here. This exhibit and museum are also free to the public and definitely worth a visit.
Doner Kebab Lunch
The Doner Kebab is a well-known food item all across Europe, but most people don't know that the kebab was actually first created in Berlin. In the 1960s when a large population of Turks emigrated to Berlin, the kebab was born. A kebab is a beautiful sight: a wrap or pita packed with meat, fries, salad, and sauce.
Asking for a Doner Kebab will get you these goodies in a pita (pictured below). A Durum Kebab will get you this dish burrito-style in a thin wrap. If you're looking to try this dish without the wrap, ask for a Doner Teller: they will serve you all these delicious ingredients on a massive plate.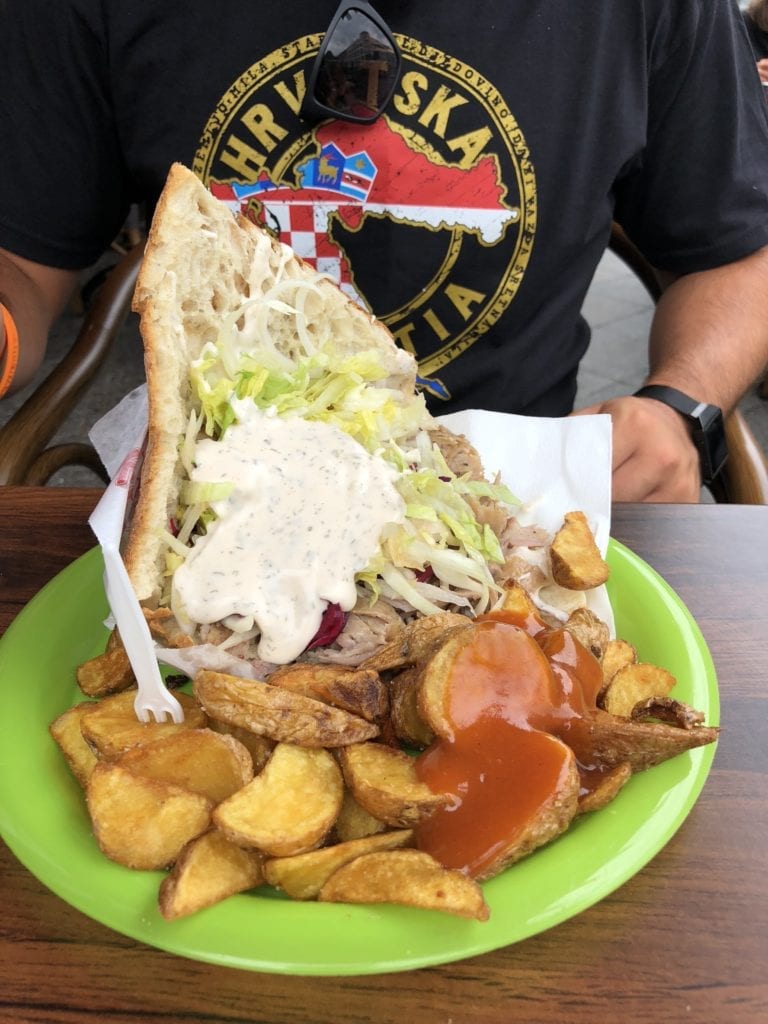 Kebabs are known to Europeans as the drunk food or fast food of Europe, but to me, they're a delicious and filling meal for under $5! You will see many different kebab stands and restaurants in Berlin, but our favorite was Teras. Skip the fancy dining for lunch and grab a kebab before your next tour.
Go on an Alternative Graffiti Tour
If you're looking for a way to explore the alternative side to edgy Berlin, you've got to go on the Alternative Tour. We booked this tour through Sandemans, the same company as the Free Tour. The tours all leave from the same spot, and it was easiest for us to book everything through the same company. The tour costs 14 euro for adults, 12 euro for students, and is free for children.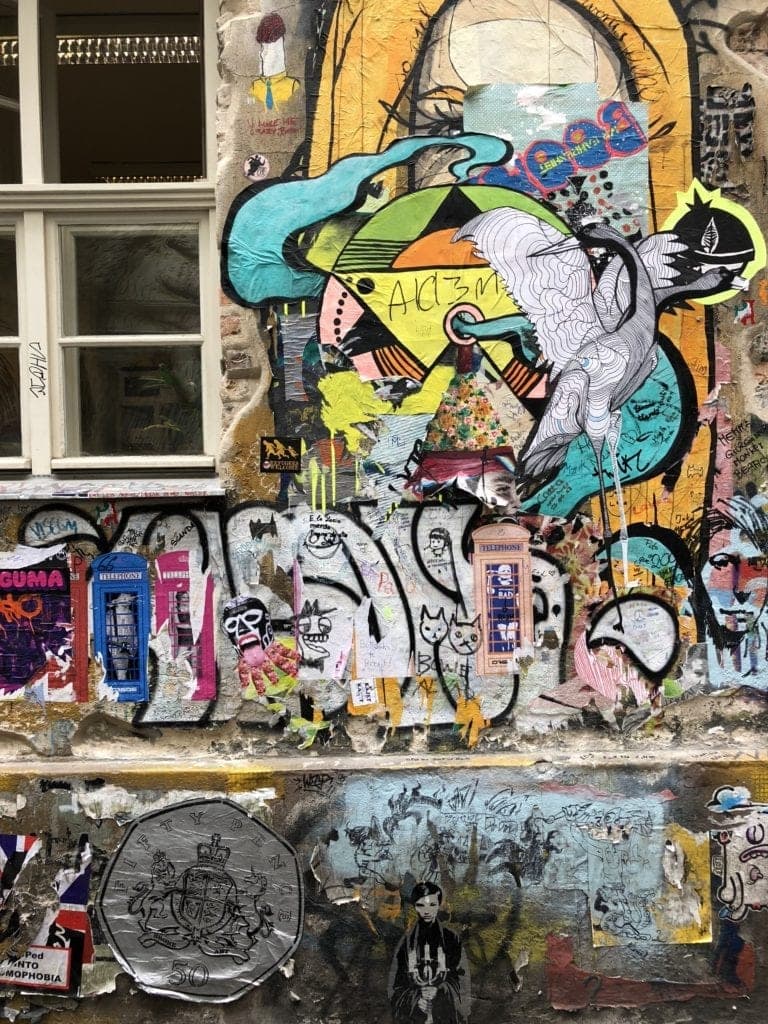 The Alternative tour focuses on the Berlin Wall and the era that brought artists and alternative groups into Berlin. The guide shows you all the major graffiti spots you wouldn't find otherwise, walks you through historic alternative neighborhoods, and points out the coolest restaurants, markets, and clubs.
The 3.5-hour tour ends at East Side Gallery: the famous remnant of the Berlin Wall painted with colorful murals. The gallery is nearly a mile long and depicts vibrant, unique, and thought-provoking creations by artists from around the world. Enjoy your evening by walking along the gallery, snapping some photos and taking in the uniqueness of an art gallery living on one of the most infamous structures in history.
Dinner at Burgermeister
While you're in the area, grab a bite to eat at the original Burgermeister. This isn't any regular burger joint. This century-old icon is housed in the ornate green space below the Kreuzberg subway stop. They're making your burger in what used to be the old toilet house! But don't let the history fool you: these burgers are to die for. Get the Burgermeister burger and a side of chili fries, and enjoy being in one of the coolest alternative neighborhoods in town.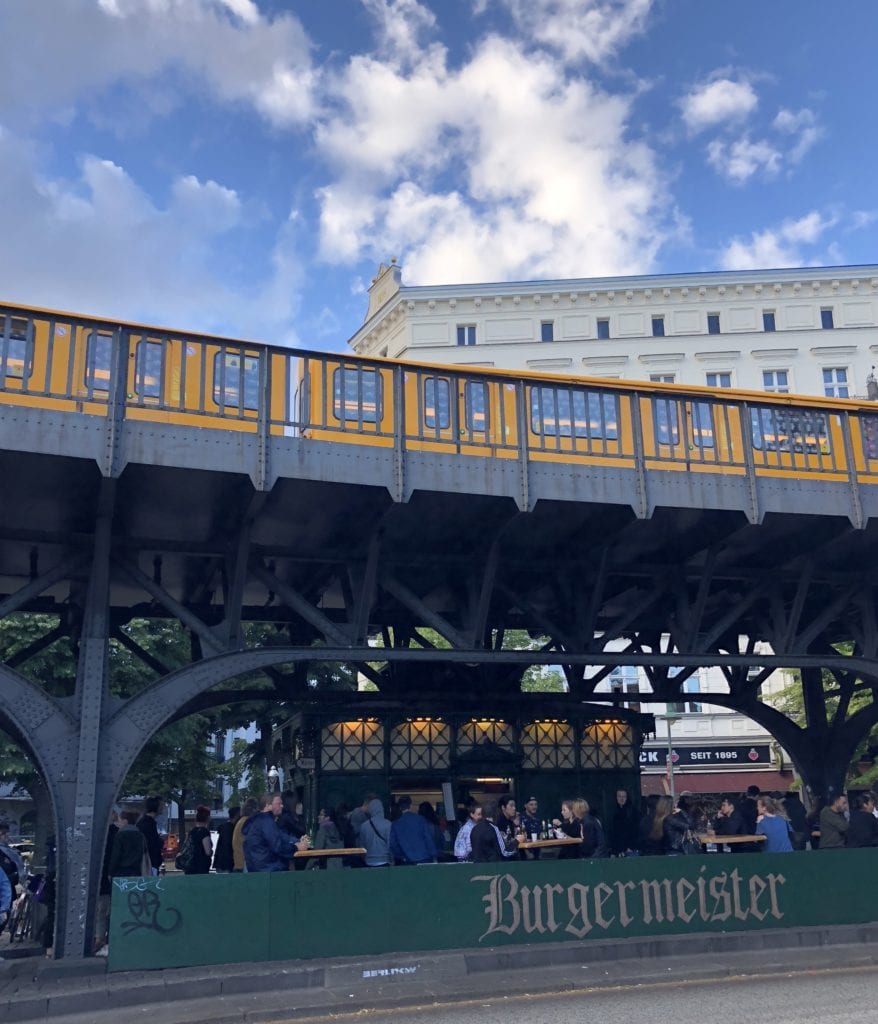 Drinks at Cinema Cafe in Haus Schwarzenberg
You'll likely see Haus Schwarzenberg, an alley filled with graffiti and trendy businesses, on the Alternative Tour. If you're feeling like a drink after a big day of walking, head back to that alley and enjoy a drink at Cinema Cafe. This cozy spot is dimly lit inside, with antique decor and cinematic ambiance. If it's a nice evening, take your drink out to their patio and enjoy your graffiti surroundings.
If you're looking to experience the quirky and wild Berlin nightlife, take the recommendations of your tour guide on the best local alternative clubs (they'll be sure to have plenty). Get prepared for deep house music and strobing lights, and don't forget to dress appropriately.
Many of the best alternative clubs don't want their local spaces to turn into backpacker parties. Our guide gave us these tips: dress in an all black, grungy style, show off tattoos, piercings, and wild haircuts (if you have them), and whatever you do, don't seem interested or excited to get in. That's a sure way to make sure you don't. Our friends recommended Watergate club: almost all locals, deep house music, and is open from 2:00 am until noon.
Day Three in Munich
Visit the Memorial to the Murdered Jews of Europe
Visiting this memorial and museum was definitely the most powerful part of our entire trip. The holocaust memorial is expansive: hundreds of slabs of concrete, all different sizes, with winding, uneven paths in between. Beneath the memorial is a museum (free, but buy an audioguide) that was the best holocaust museum we visited in Europe. The museum opens at 10, but often there are lines, so I'd recommend arriving earlier.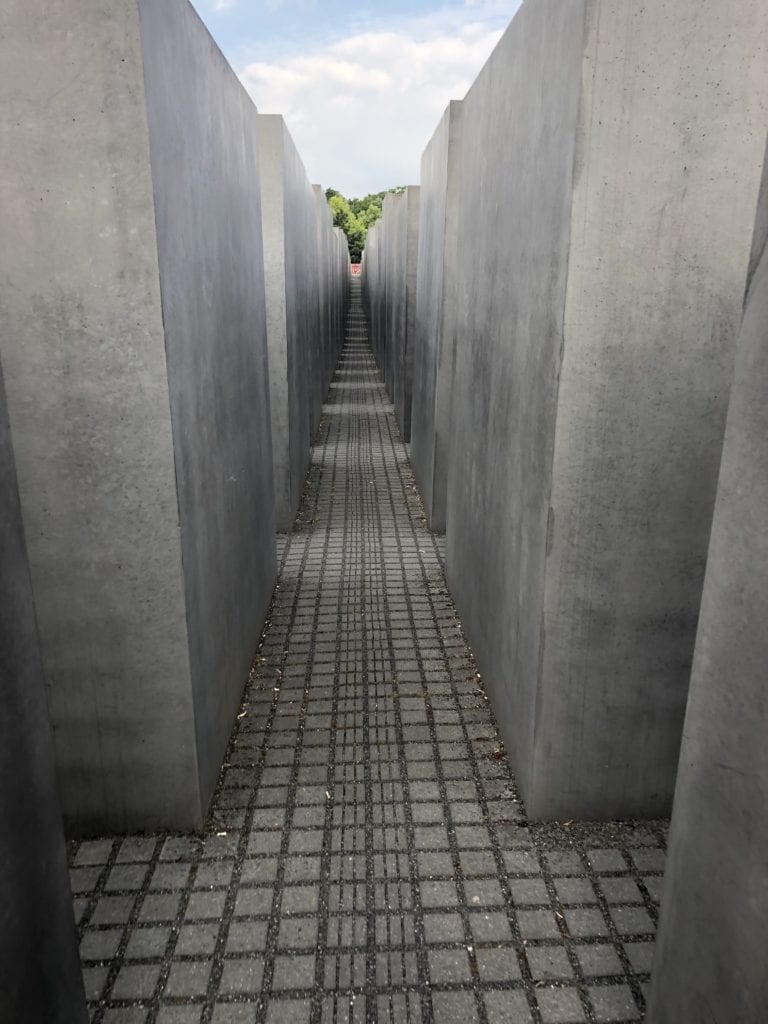 The rooms tell stories and show family photos of some of the victims, display their last letters, describes and shows footage of concentration camps, and finally, a silent, dark room that says the names of every single victim. To read the entire list of the 6 million Jews that died would take 6 years, 7 months, and 27 days. It's heavy stuff, but it is so important to visit and remember this event in history while in Berlin.
Go on a Third Reich Tour
The Third Reich tour was the best tour I've ever been on. Our spectacular guide took us on an engaging 3.5 hour tour of the Nazi history in Berlin. He intricately told the story of the rise and height of Nazi power in Berlin, complete with rich storytelling and photos from the time to really set the scene. We visited many different locations around Berlin related to the Third Reich and Hitler's rule in Germany. Below, you see one of the Nazi buildings: a headquarters for propaganda.
I was glad we joined this tour because not everything related to this dark history is a massive building or marked with a sign. The spot above Hitler's bunker where he took his life is now a playground in the center of an apartment complex. The history that lies around and beneath this city isn't necessarily visible to the tourist eye, which made it even more intriguing.
We booked this tour also through Sandemans: like the Alternative tour, the Third Reich tour leaves from Brandenburg Gate at 2:30pm daily, and tickets are 14 euro per adult.
Jewish Quarter Dinner
The Third Reich tour will end in the Jewish Quarter of Berlin. You'll see the synagogue that miraculously survived, walk the neighborhood streets, and finish at a memorial to Jewish children. After learning so much about the cruel history this city endured, it's important to take some time to process. I highly recommend staying for dinner in the Jewish Quarter.
Our Third Reich tour guide highly recommended eating at Hummus & Friends, and the meal didn't disappoint. With a gorgeous and ornate interior with a spectacular alley patio, this is a great spot to unwind and relax after a big day of walking. There are so many different kinds of hummus it's nearly impossible to choose. Look at the size of that hummus bowl!
Bottom Line
Berlin was such a surprise to me: charming yet heartbreaking, full of life, art and color but still home to dark pieces of the past. There is truly no city in the world like Berlin. Use your 3 days in Berlin to really dive into the history and culture through tours, exhibits, galleries, and food. I had an amazing time getting to know Berlin and I know you will too.