If you've got a pulse, visiting the Great Barrier Reef is probably on your bucket list. And you'll have to act fast, as the world's largest coral reef is rapidly dying due to warming, bleaching, and pollution.
So you need to make a plan. But how do you get there, where do you stay, what do you do? There are plenty of options, but one spot should be at the top of your list: Hamilton Island. 
For starters, it's a great launch point for snorkelers and divers. Plopped just off Australia's northeast coast, Hamilton Island is easily accessible from the mainland. Add in the numerous daily activities and breathtaking panoramic views, and Hamilton Island might just be the best gateway to the Great Barrier Reef.
Getting to Hamilton Island
The flights may be long, but that doesn't mean they have to be expensive.
Scoring a deal to Australia from the U.S. has become increasingly easy lately. In the past few months, we've sent more than a dozen cheap flights to Thrifty Traveler Premium subscribers, with prices as low as $440! Saving your Delta SkyMiles? Thrifty Traveler has recently featured SkyMiles flash sales for as low as 50,000 roundtrip to Australia!
Once you arrive in Australia, you'll need to make the quick jaunt to Hamilton Island (HTI). Unless you've already made it to northern Queensland, which offers a ferry service out to the island, flying to Hamilton Island (HTI) is your best option. Qantas, Virgin Australia, and Jetstar all fly there with daily nonstop service from Brisbane (BNE), Cairnes (CNS), Melbourne (MEL), and Sydney (SYD). Expect to pay approximately $200 U.S. dollars for the round-trip. Most flights take two hours or less.
Thrifty Tip: While the weather in Hamilton Island is beautiful year-round, January through March tend to be the most unpredictable, with a higher chance of tropical storms and average temperatures in the upper 80s. Avoid this time of year and plan your trip during shoulder seasons if possible.
Where to Stay on Hamilton Island
Hamilton Island has an abundance of hotels and Airbnb's, and both have their pros and cons. But on Hamilton Island, Airbnbs could be unbeatable. It's more authentic and perfect for larger groups. Plus you've got your own kitchen, living room, and patio, making it a solid choice over a simple hotel for the same cost. Even upscale Airbnbs are priced around $200 U.S. dollars per night – the outstanding views and a "buggy" (aka a golf cart) are free.
Thrifty Tip: New To Airbnb? Sign up using our link and you will receive $40 towards your first stay (we will get $20 as well). Read up on how to make sure you get the best Airbnb every time. 
On the Island
When you've arrived on this charming island, one of the first things you'll notice is the simplicity. Life moves at the speed of golf carts that dominate the island, creating a "no worries" utopia.
Still, it's hard to get bored on Hamilton Island. Activities can cater to almost any group: bachelor parties, weddings, spring breakers, honeymooners, family vacationers, adventure seekers, hikers, bird watchers, and animal lovers (you can even have breakfast with a koala!)
Thrifty Tip: Download the free Hamilton Island app, an efficient app for tourist information.
The Hamilton Island Resort Center is a perfect home base for activities – it's next to the best beach, a large pool (with swim up bar), bowling alley, gift shops, tourist center, and rental boards. Although a little challenging, the hike to the top of Passage Peak with give you one of the best views on the island.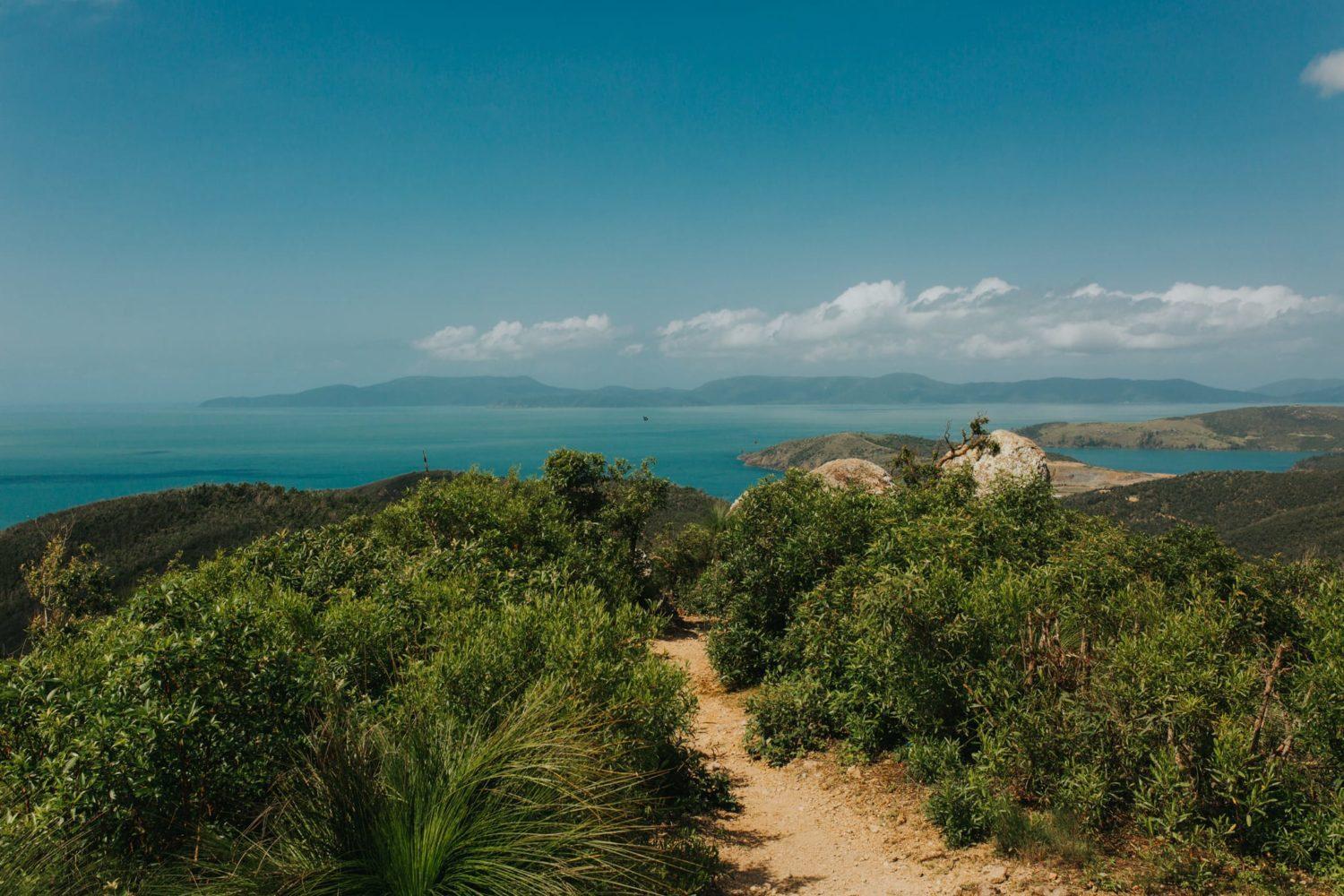 Don't forget to arrange a day trip out to Whitehaven Beach in the heart of the Great Barrier Reef. Most packages include lunch and a snorkeling session and start around $150. It's truly an unforgettable experience.
Thrifty Tip: An average meal at one of the local restaurants will cost you close to $20 a plate. So save cash by cooking your own meals. Shop at the local IGA grocery store, which actually has lower prices than some cities in mainland Australia.
The marina on the western side of the island is where excursions launch, and it's also the hub for nightlife. There are a couple bars, some live music, a pizzeria, and an ice cream shop! Before evening activities get started do yourself a favor at least one night and take in a sunset at One Tree Hill. Oh. and bring a camera. You'll regret it if you don't. 
Bottom Line
The Great Barrier Reef is one of the most surreal areas in the world. And there's no better way to scratch that item off your bucket list than by starting on Hamilton Island. 
All photos by Sarah Chacos