Amsterdam is one of Europe's tourism magnets, a beautiful city famous for its canals, Red Light District, museums, and of course the Anne Frank House. For the most part, no trip here is complete without a visit to these places.
But if crowded plazas and waiting in line for hours isn't your thing, there are some hidden gems you need to know about. Here are some tips for making your trip to Amsterdam unforgettable and crowd-free.
Stay Outside the City Center
To escape the crowds and experience small towns with local shops, consider staying outside Amsterdam city center. There are a plethora of Airbnb options and The Netherlands has an extremely efficient and affordable train system. Haarlem or Heemstede are good options as they are a 15- to 20-minute train ride from Amsterdam Centraal station, costing you just 4 to 5 euro.
These towns also are located less than an hour from Rotterdam and the famous Kinderdijk windmills. We booked this Airbnb and enjoyed a 5-minute walk to the train station. Haarlem and its canals are much like a miniature Amsterdam and there were days we never even left as there was plenty to explore!
Visit the Corrie ten Boom House
The Anne Frank house is one of the most well-known World War II historical sites. Some visitors book their tickets months in advance and others brave hours-long lines to catch a glimpse of the famous hiding space. But in Haarlem, you can visit the Corrie ten Boom House and be immersed in an hour-long small group tour without the crowds.
The Corrie ten Boom house was a real safe home for Jews during WWII and has been beautifully preserved. The second floor of the home is now an exhibition hall with artifacts. Volunteers who are passionate about this history give the tours and are very knowledgeable. With only eight other people on our tour with us, we were able to converse a ton with our tour guides. I did not take pictures on the tour out of respect, but you can learn more here.
Thrifty Tip: While a visit to the Anne Frank House will cost you 10 euro per person or more, tours at the Corrie ten Boom house are free. At the end, you'll be asked for a voluntary donation. The money goes to support the upkeep of the home and artifacts.
EatWith Martine in the Red Light District
Once you've had your fill of exploring the Red Light District, kick back for a relaxing dinner just a few steps from the central train station. And do it with some Amsterdam locals.
EatWith provides an immersive group dining experience that lets you both sample the local fare and meet other travelers. I found our host Martine through Yelp, as her EatWith experience is actually ranked as one of the best restaurants in Amsterdam! Martine and her husband Olav are retired restaurant owners and will prepare you a fantastic multi-course experience while you gaze out the window at a canal. You will get free-flowing wine, appetizers, a traditional Dutch main course, and dessert. I met so many incredible people and will be back dining with Martine the next time I visit Amsterdam.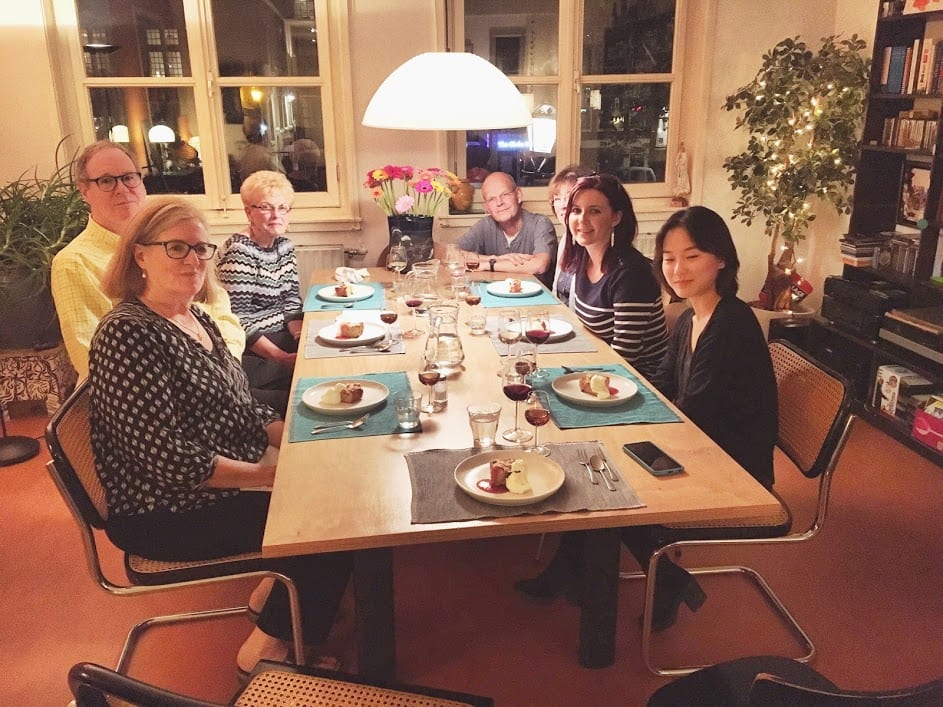 Get Some Dim Sum in Europe's Oldest Chinatown
Located just outside the bustling streets of the Red Light District is Europe's oldest Chinatown. It may be small, but you can find authentic Chinese dim sum here and eat until your heart and stomach is content. We stumbled upon this area – walking through Chinatown was a unique and unexpected break in our day.
The Chinese food is the highlight of this area, but you can also find many other Asian eats such as Thai, Taiwanese, and Korean. When you're done, it's only a quick, 5-minute walk back to the central area of Amsterdam.
Hit the Beach in Zandvoort
Once the hustle and bustle of the city has exhausted you, hop on the train at Amsterdam Centraal and head 35 minutes to the coast. Zandvoort is a delightful small town on the sea with much to offer. Ride the towering ferris wheel for an incredible view from above. Then, take a walk along the beach until you find the perfect place for dinner.
We stopped at Hippie Fish for unbelievably fresh seafood. They also had furniture set up around a campfire on the beach where customers could relax with a drink in hand. The entire town felt like a laid back beach party – a refreshing change, and definitely worth a visit.
Bottom Line
Amsterdam and the surrounding areas in the Netherlands have much to offer visitors beyond the main tourist attractions. Use these ideas to start building your own unforgettable Amsterdam experience away from the crowds and off the beaten path.