Saint-Malo is the off-the-beaten-path escape you've been looking for in Europe.
This picturesque, walled town on the coast of Brittany in France is the perfect spot for a summertime stop, thanks to its beautiful and uncrowded beaches. It's got a comfortable climate, with temperatures that rarely exceed the low 80s in June through August, with cool nights.
So fly into Paris and escape the crowds for a relaxing stop away from tourists. Rent a car or hop on a train and make your way for the coast.
A Little History of Saint-Malo
Unlike nearby Normandy and its Nordic roots, Brittany and Saint-Malo's roots are Celtic.
And you'll see that throughout the region. Brittany has some of the world's oldest free-standing megalithic monuments. Many of the street signs are written in both French and Breton, a local Celtic language that most closely resembles Welsh and Cornish.
The city of Saint-Malo stands on a granite island connected to the mainland by an ancient causeway and a connecting road. It was named for Malo, a Welsh Monk that settled here in the 600s. The fortress on the northeast corner was built between the 14th and 17th centuries. Today it houses a maritime museum featuring famous locals including Jacques Cartier, who is credited with naming Canada.

Saint-Malo was a thriving hub of trade, privateers, and even pirates – sailors hired to take other ships and goods – in the 17th and 18th centuries. And the city leans into that history today, selling pirate flags and costumes at souvenir shops.
But the city was mostly destroyed during World War II when the Allies fought and bombed thousands of Germans who occupied Saint-Malo. It took 12 years to rebuild.
Inside the Walls of Saint-Malo
Wander the cobblestone streets inside the town, and you'll see the new structures rebuilt after WWII. Most were rebuilt to resemble the original buildings without losing any of its charm.
There are dozens of shops and plenty of great restaurants. Make sure to stop at a crêperie and have a galette, a savory crêpe made from buckwheat, or a dessert crêpe. Order some local hard cider to drink with your dessert. Stop by the Saint-Malo Cathedral dating from the 12th century.
Hit the Beach
The beautiful beaches surrounding this walled town are the main draw for many French and tourists alike in the summertime.
Water sports, swimming in the seawater pools, sunbathing, and picnicking are all fair game. Just watch for the tides: low tide to high tide can be a difference of 20 feet or more. Make sure to check the tide chart and plan accordingly before claiming a spot on the beach.

Great Spots Nearby in Brittany & Normandy
There's plenty to see and do not far outside the walls of Saint-Malo.
Saint-Suliac was named one of the most beautiful villages (aka Plus Beaux Villages de France) as part of a campaign started in 1982 to recognize small, rural villages with rich cultural heritage. Just 25 minutes away, this little village is worth a quick stop. Just plan for an hour to wander down to the beach and back up the hill past all of the cute cottages and their picture-perfect gardens.
Mont-St.-Michel is a  famous abbey just a 40-minute drive from Saint-Malo. Make sure to head there early in the morning to avoid all of the crowds.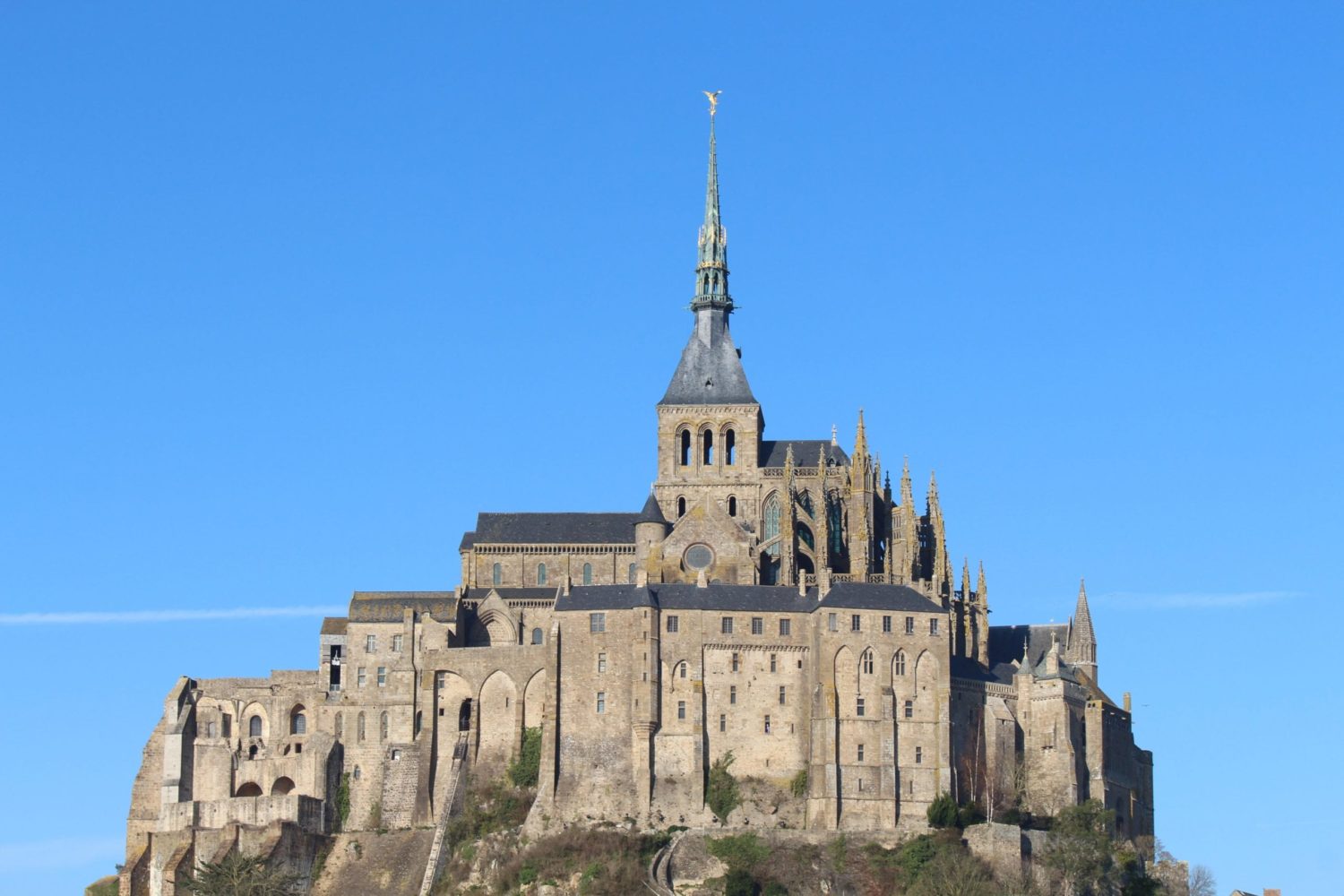 Guernsey and Jersey are a pair of islands in the English Channel a few hours by ferry from Saint-Malo. You may have heard of Guernsey from the book or Netflix movie called The Gurnsey Literary and Potato Peel Pie Society.

A round-trip ferry ride from Saint-Malo to Guernsey runs around $180 for two people without a car. But prices vary by season – and also by how far (or close) in advance you book your tickets.
Bottom Line
Do as the French do and get away from the crowds and enjoy a few relaxing days on the beach in Saint-Malo. Great food, a ton of history, shopping, and plenty to do nearby doesn't hurt either.
Lead photo courtesy of Mattieu Luna