Thailand is a bucket list travel destination for many. It has it all from food, beaches, jungle, culture, and nightlife, and it leaves a traveler asking, how do you fit it all in? Here's your guide to getting the most out of your extended stay in Thailand.
Explore the Real Bangkok
While Bangkok is on track to become a 'Mega City' (population of over 12M) by the year 2030, there is more to this Asian hub than pollution, traffic, and masses of people. Travelers typically overlook Bangkok in a rush to explore the rest of Thailand, but I believe it's worth a stop.
We loved our stay at the Marriott Suranguese. We were treated like royalty, and it was easily one of my best hotel stays ever! We used Marriot points for the stay (25,000 points/night) and as a result of our platinum status, received an upgrade. This also got us M lounge access which included an amazing brunch spread each morning and happy hours with fabulous food and an open bar each evening.
Thrifty Tip #1: Have a Marriott free night certificate to burn? The Marriott Suranguese is a category 4 hotel and is eligible for your certificate.
But, it's all about the view. Make sure you stay at a place that has a pool with a view. Bangkok is almost always steamy, so you will need to cool off and take in the majestic cityscape while you are at it. Double bonus if your hotel has a killer rooftop bar to enjoy a few cocktails.
Travel by Taxi, Tuk Tuk or Bicycle
You have many transportation options available to you while in Bangkok with the most cost-effective of the bunch being a taxi. However, be sure to clarify the final destination with your taxi driver in advance and make sure they use the meter. It's not uncommon for taxi drivers to try and charge you a fixed fare (the fare can be double what a metered ride would cost!)
Another choice is to flag down one of the many tuk tuks zooming through the city. Feel the fresh air as you travel from place to place. Each tuk tuk is decorated uniquely with lights, fabrics, and colors.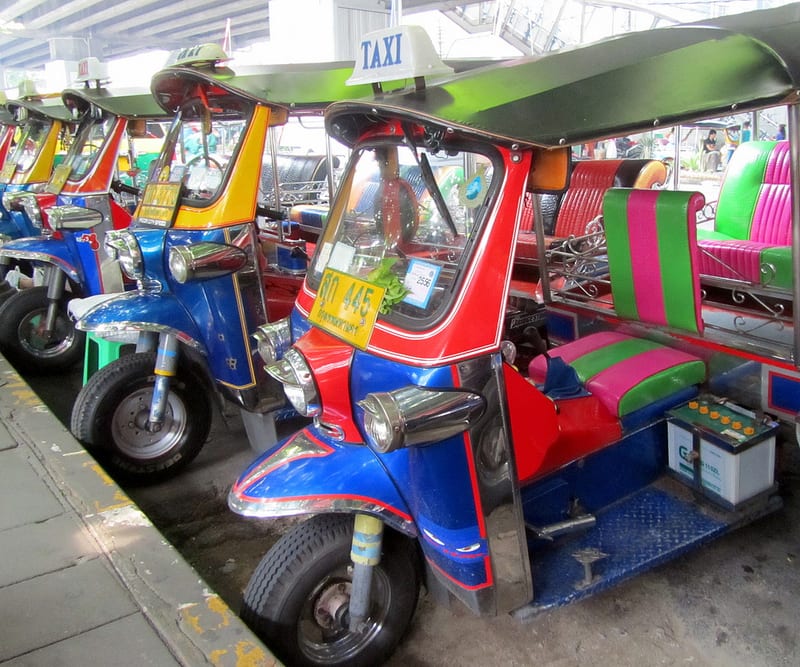 Tuks Tuks typically cost more than a taxi, but it's all about the novelty of it. Negotiate your tuk tuk fare in advance and ask for 50-100 Thai Baht less than what they quote you.
Consider a tour by tuk tuk. We did a night food tuk tuk tour and were able to learn about Thai history while sampling some delicious Thai foods. Pad Thai is a traditional Thai food you say? Not so much…Thai people consider Pad Thai 'fast food'. Authentic Thai food has spice and is typically rice with a protein. Get outside the box and try something new!
Get to the heart of the city and book a bike tour with Co Van Kessel Bangkok Bike Tours. We took a three-hour tour 'off the beaten path' that covered the streets that can't be accessed by car or taxi. Our tour guide took us to temples, the flower market, Chinatown and other sites we wouldn't have found on our own. The tour is action packed and was only $30.
Major Wow Factor
The Grand Palace, which was built in 1782, blew my mind and is a must-see while in Bangkok. It's comparable to the most stunning churches in Europe. But make sure you dress appropriately, women must cover their knees and shoulders and men must cover their legs and shoulders. If you need to buy clothing to cover-up, the shops across from the Grand Palace are about 50% cheaper than buying on site.
Get your picture taken on one of the stunning staircases, go on a hunt to find the many demon warriors guarding the palace and don't leave without visiting Wat Phra Kaew, the Temple of the Emerald Buddha.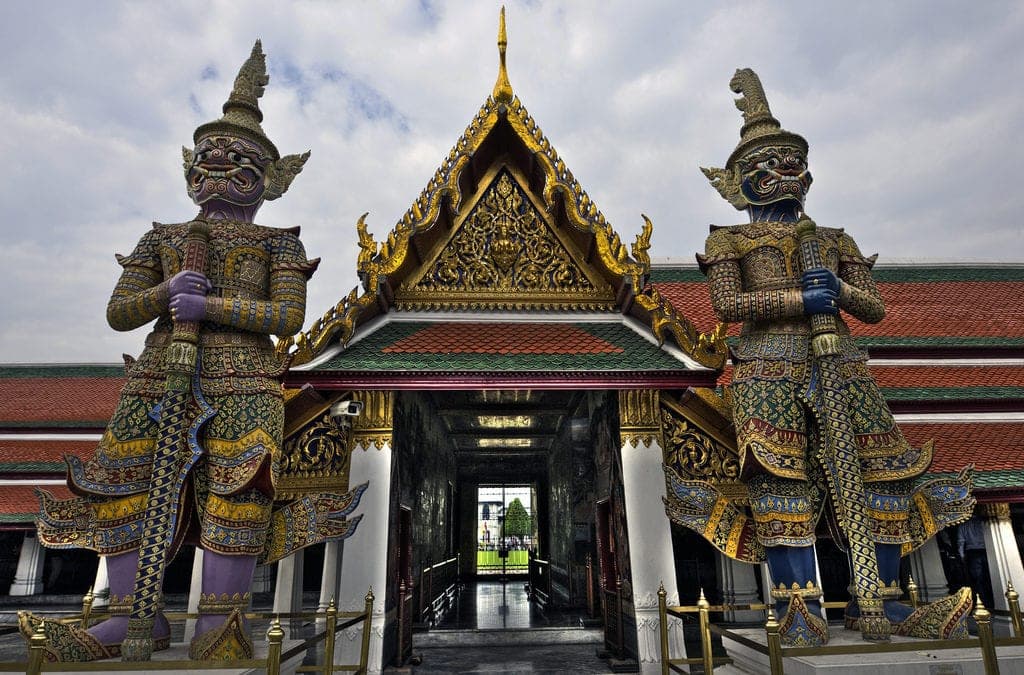 Take a Junk Boat in Koh Samui
After our time in Bangkok, we took a cheap flight on Bangkok Airlines from Bangkok to Koh Samui. We stayed on centrally located Chewang Beach. Make sure you don't stay too close to Ark Bar unless you want to be kept up all night from the noise! And remember to take advantage of the group taxi rides from the airport, which are about $5/person.
Once in Koh Samui, I highly recommend exploring the surrounding waters with a junk boat tour.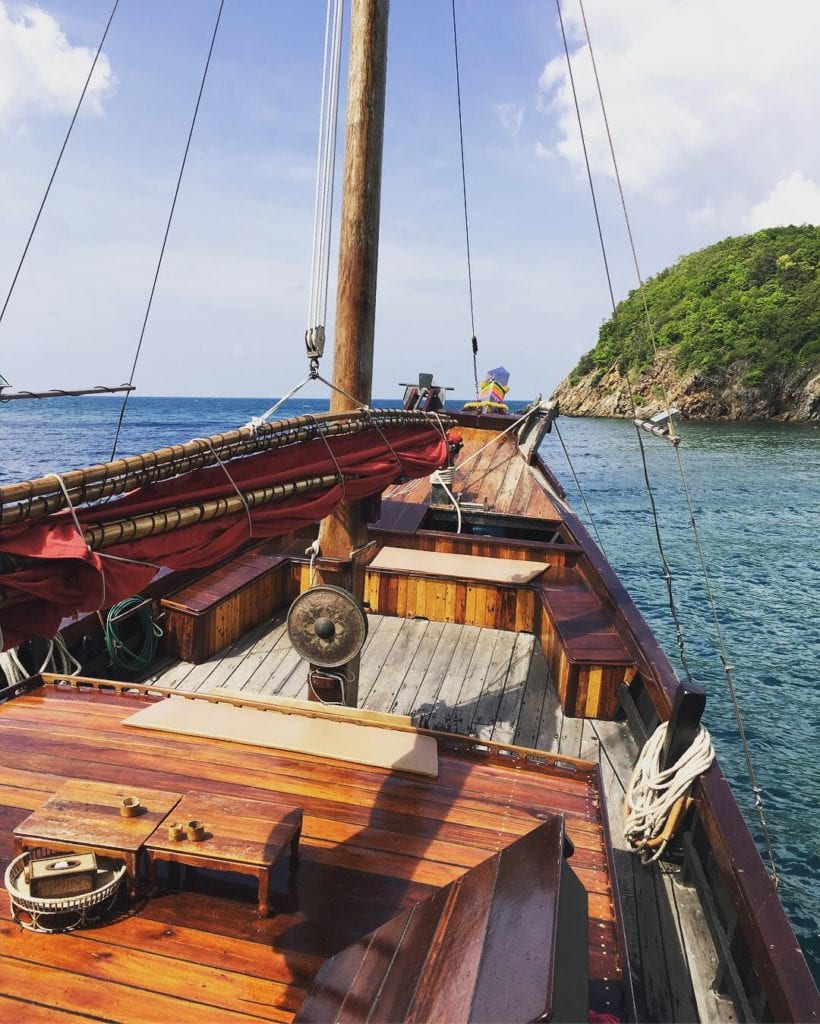 Our day started with a boat ride to Koh Pha Ngan for some snorkeling. This island is the original home of the infamous Full Moon Parties. Check and see if one is taking place while you are in Koh Samui.
Snorkeling was followed by a delicious lunch of many types of curry and vegetables. After more time on the water, we stopped off at Flip Flop Pharmacy Bar. We finished the day with stunning sunset views on the journey home.
Ko Tao is a required stop if you are scuba certified or would like to be. It is some of the best scuba diving in the world and spotting a whale shark is definitely within reach.
A Night Out in Fisherman's Village
Fisherman's Village is a great blend of restaurants, night markets, beaches and fun things to do. Start your night with a culinary adventure at Café 69. The Thai curry pie is the perfect meal starter.
After dinner, take a stroll through the Fisherman's Village night markets. You can get everything from fried bugs to purses. Finally, cap off your night with drinks at Coco Tams, the ultimate beach bar. Sit in comfy bean bag chairs under the stars, complete with your choice of fun cocktails and smooth tunes. We agreed that we would stay in Fisherman's Village the next time we are in Koh Samui.
Thrifty Tip #2: Scooters are a great way to get around on Koh Samui. They are easy to rent, readily available and cheap at $8-15/day. Rent from your hotel when possible for safety purposes.
The Ultimate Sunday Funday
Nikki Beach on Koh Samui is known for its hopping Sunday brunch party. We kicked off the day with the unlimited brunch and signature cocktail. The selection was endless!
After brunch, enjoy the entertainment of dancers, musicians, and a world-class DJ while sipping rosé all day in the sunshine. Get away from the scene with a walk on the gorgeous beach outside the property.
Discover the Picturesque Beaches of Phi Phi
The Phi Phi Islands are a bucket list item when traveling to Thailand and we were not going to miss out! From the infamous Maya Beach to the monkeys on Monkey Beach, we wanted to hit all the spots. As you may be able to decipher from the photo below, they did not disappoint.
Planes, Trains and Automobiles
Well, there weren't trains involved, but the Phi Phi Islands do require some work transportation wise to get there. From Koh Samui, we flew into the Phuket airport.
We arranged transportation from the airport to the port through our hotel. The hotel had a boat waiting at the port and we got on with the rest of the guests. From the port to the hotel, it was about one and a half hours. Once we got off the boat, we walked straight into PARADISE.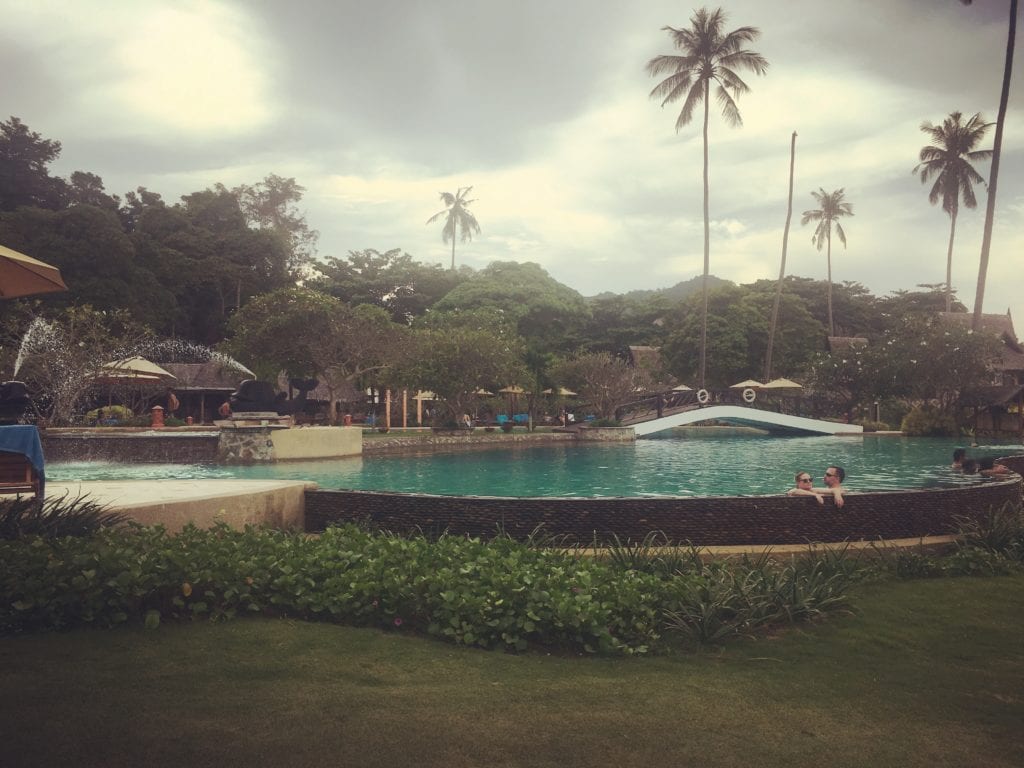 Our hotel was on Phi Phi Don in a more remote location with not much around it. If you want to stay in an action-packed spot on the island that's more easily accessible, opt for a place in or near Tonsai Bay.
If staying on Phi Phi isn't important to your travel itinerary, stay on Phuket or Krabi and arrange for a Phi Phi tour that picks you up there. This will help you save on transportation and expensive hotel costs.
The Beach
You have two options for getting around in the Phi Phi Islands, a speedboat or a long-tail boat. A speed boat offers a smoother ride and more comfort, while the long-tail boats are great for photo ops. But be warned, they are loud, have a strong gasoline smell and tend to be uncomfortable.
There are many tour options in the Phi Phi Islands that hit all the hot spots. We went with a full day tour from Arisa Speedboat Group, but there are many similar options out there.
The agenda for the day started with a stop to Monkey Beach. We pulled up to the cliffs and got to experience the monkeys hanging from vines on the side of the cliff.
Next up, were stops to both Viking Cave and Saam-Head. Swimming in the waters of Pilleh Lagoon was a key stop as well. Bamboo Island, a national park, was our lunch and beach time stop.
Snorkel time at Maya Bay was up next. Unfortunately, this famous beach is closed indefinitely to tourists due to coral damage, but the turquoise waters were unparalleled for snorkeling. Sunset Point was the final stop on our Phi Phi adventure and we saw a sunset like no other. It's no wonder the Phi Phi Islands are at the top of so many travel bucket lists.
Party on in Phuket
After a more relaxing time in the Phi Phi Islands, we were ready to amp it up a bit in Phuket. We opted to stay closer to Patong Beach  (but not too close) for the restaurants, things to do and nightlife. Hotels in Phuket (and the rest of Southern Thailand) can be in remote places, so keep this in mind when choosing your home base during your stay.
We kicked off our first night with a happy hour cocktail on the beach as the tide rolled out. In the late afternoon, the tide gets super low and you can walk out to explore.
Additionally, if you like Indian food, I have a spot for you. Start your night at Tandoori Flames for dinner. It was even better than the Indian food we had in London! I'm a chicken tikka masala connoisseur and this one did not disappoint. The paneer starters are also to die for.
Stroll on down the street to Bangla Road if you are feeling adventurous. This street is completely sensory overload and one of the craziest places I have ever been. There is tasty local food, music and tons of bars and clubs. It's a once in a lifetime experience, but not the most family friendly at night.
Daytime in Phuket
Unwind from a fun night out with a massage on the beach. We indulged in frequent massages while on our trip. The average massage (not at a hotel) is about $10 for a sixty minutes Thai oil massage. A typical Thai massage is most like a deep tissue massage in the US.
Further, there are many places to visit via boat while you are in Phuket. I would recommend Simba Sea Trips, which offers itineraries to James Bond Island, Ao Phang Nga National Park, Hong Islands, Krabi province and more.

Make Friends with the Elephants in Chiang Mai
Our last stop of the trip was a visit to Chiang Mai in Northern Thailand. We arrived via plane from Phuket and stayed at the Thai Akara Boutique Hotel. We loved its central location to all the sights and food hotspots.
Because we had seen so many beaches on our trip, we wanted to mix up the landscapes by heading to the jungle. We took a tour with a local guide to the Doi Inthanon National Park with Wonderful Eco Tours and hiked along waterfalls and streams for two hours stopping at a coffee farm to taste and see how coffee is made.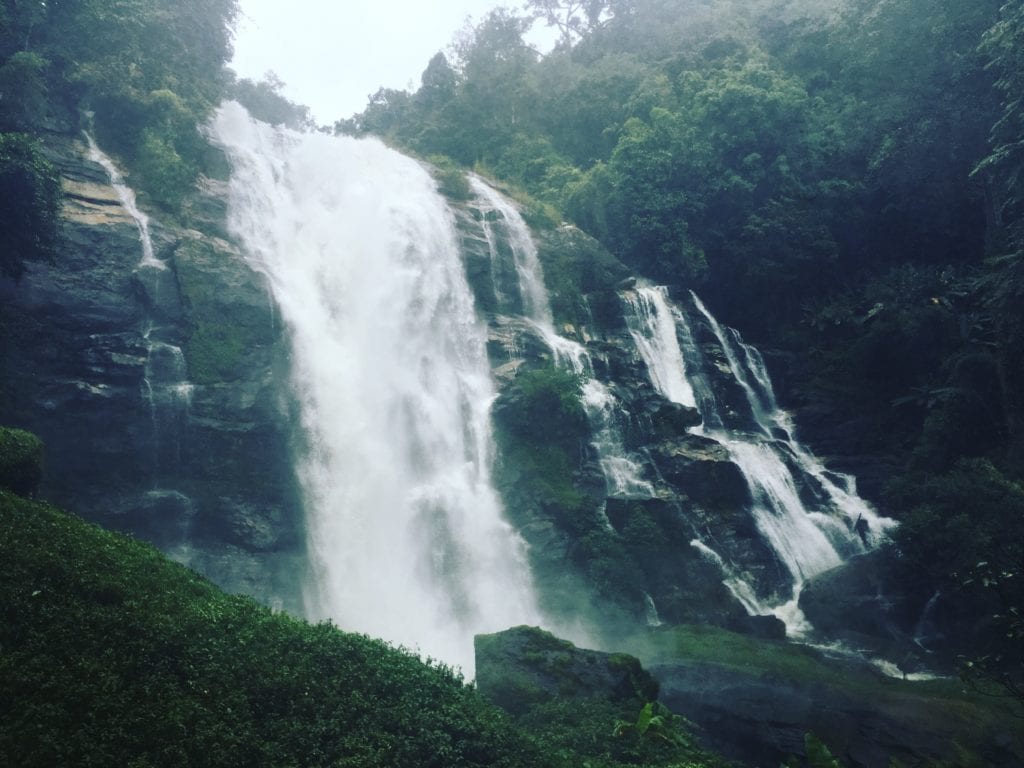 Our Thai lunch was at a local hillside village where we learned about their culture. The day concluded with a visit to the highest peak in Thailand and the Royal Twin Pagodas. The entire day was under $35/person and was an amazingly authentic Thai experience.
If you are in Thailand, you MUST SEE THE ELEPHANTS! However, it is important to choose the place you visit carefully. Never visit a place that allows tourists to ride the elephants, as it is bad for their backs and the techniques they use to get the elephants to comply are not humane.
I recommend the Maerim Elephant Sanctuary about 45 minutes outside of Chiang Mai.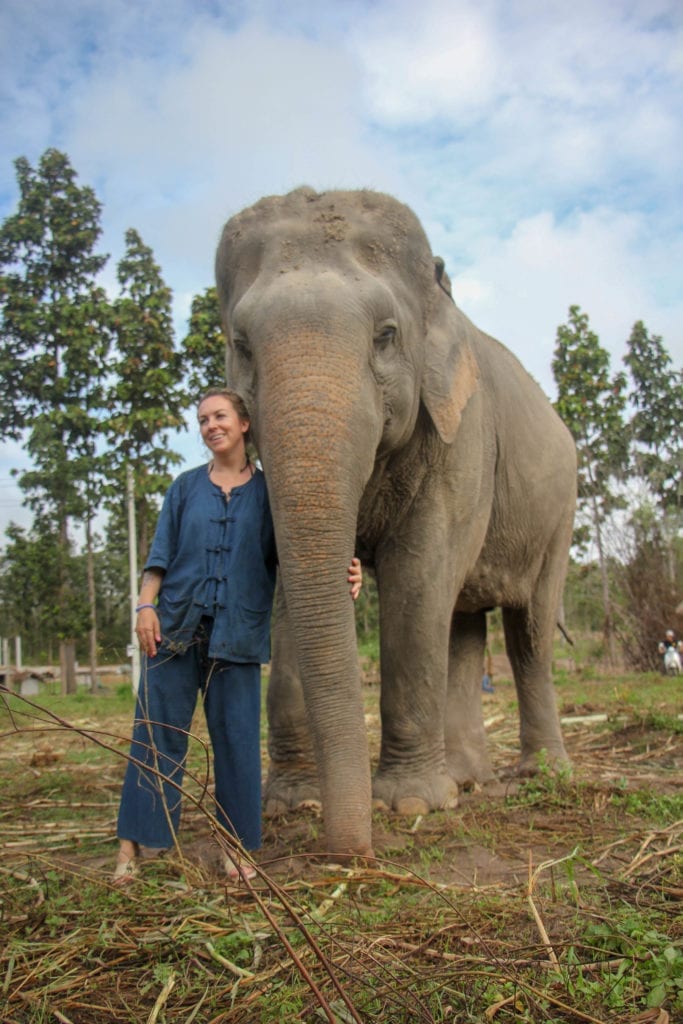 This was one of the best days of my life, and that isn't an overstatement. You get to experience elephants in a natural way, feeding them bananas, walking with them to get food, bathing them and cleaning them off. It is an inspiring experience that will leave an impact on you.
Enjoy an Authentic Thai experience
If there are any authentic Thai dishes you have been wanting to try, Chiang Mai is the place to do it. The best food of the trip happened here. Our favorite restaurant we ate at while in  Thailand was Kanjana. The food was fresh, and seasoned with the most amazing spices. The best part? Our entire meal was only $10!
If you are in Chiang Mai on a Sunday, make sure you check out the Sunday Night market. This is where we bought gifts for our family and friends and sampled food from the food stalls. There are so many options to pick from!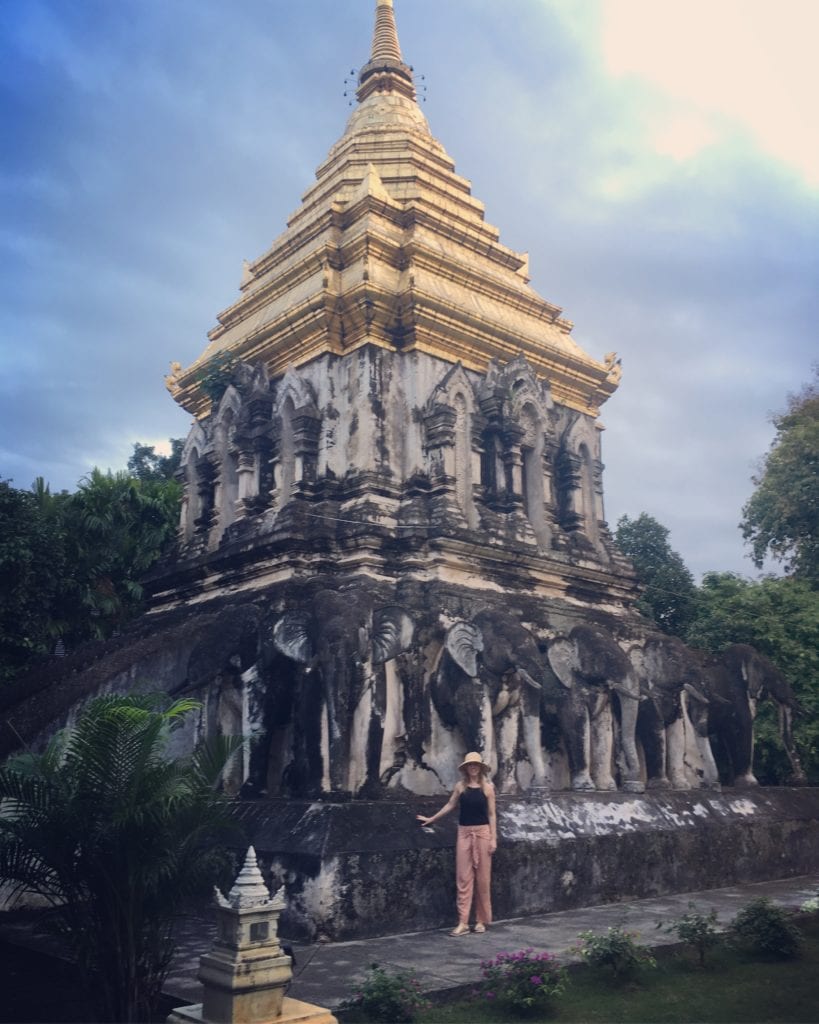 As is the case with most of Thailand, there are lots of temples to see in Chiang Mai. However, Wat Chiang Man is worth a stop as the oldest temple in Chiang Mai built in 1297 CE.
Bottom Line
Thailand is the perfect destination for a first-timer in Asia. It's exotic, yet familiar at the same time. It was my first time in Asia, but it definitely won't be my last.