The day is finally here: You can now transfer Capital One points to 14 different airline partners.
Capital One first announced this new feature back in November, and it finally went live Monday, Dec. 10. It's a new way to use the points from the Capital One Venture Rewards Credit Card – one of the most popular and easy-to-use travel rewards credit cards on the market.
But how do you transfer points to each airline? And when should you? Read our guide.
14 Airline Partners at Your Fingertips
Before we dive into the nuts and bolts of transferring points, here's how it works.
You can transfer points from your Capital One Venture card and several other cards from the bank on a 2:1.5 basis to all but two of the 14 partners. Transfers to Singapore Airlines and Emirates move on a poorer, 2:1 basis.
So if you've got 50,000 miles stashed, you can easily get 37,500 miles with 12 different airlines. Or 25,000 miles with Singapore or Emirates. Here's the full list of options:
| Program | Type | Ratio | Transfer Time |
| --- | --- | --- | --- |
| Aeromexico | Airline | 1:1 | Same day |
| Air Canada Aeroplan | Airline | 2:1.5 | Same day |
| Air France/KLM | Airline | 2:1.5 | Same day |
| Alitalia | Airline | 2:1.5 | Same day |
| Avianca | Airline | 1:1 | Same day |
| British Airways | Airline | 2:1.5 | TBD |
| Cathay Pacific AsiaMiles | Airline | 1:1 | Up to five business days |
| Choice Hotels | Hotel | 1:1 | TBD |
| Emirates | Airline | 2:1 | Same day |
| Etihad | Airline | 1:1 | Same day |
| EVA Air | Airline | 2:1.5 | Up to five business days |
| Finnair | Airline | 1:1 | Same day |
| JetBlue | Airline | 2:1.5 | TBD |
| Qantas | Airline | 1:1 | Up to five business days |
| Singapore | Airline | 2:1 | Up to five business days |
| TAP Air Portugal | Airline | 1:1 | TBD |
| Turkish Airlines | Airline | 2:1.5 | TBD |
| Accor | Hotel | 2:1 | TBD |
| Wyndham | Hotel | 1:1 | TBD |
There are a few winners here, while most aren't worth considering. Read our breakdown of all the transfer partners to get a sense of which are the best.
How to Transfer Capital One Points
Capital One rolled out this new ability to transfer points just this morning. Luckily, they've made it easy to navigate.
Start by logging into your Capital One account and navigating to your rewards portal. You'll now see the option to transfer your rewards right on the menu bar.

Click on that, and you'll see the full list of all 14 transfer partner options.
Choose your transfer partner, and you'll get a prompt to enter your frequent flyer account information. Keep in mind that the name on your Capital One account must match your frequent flyer account. So if you're hoping to immediately transfer points to a friend or family member, you're out of luck.
Once you've linked your frequent flyer account, it's time to decide how many points to transfer. Beware that Capital One will automatically enter all of your available points in that space, so tweak it as needed.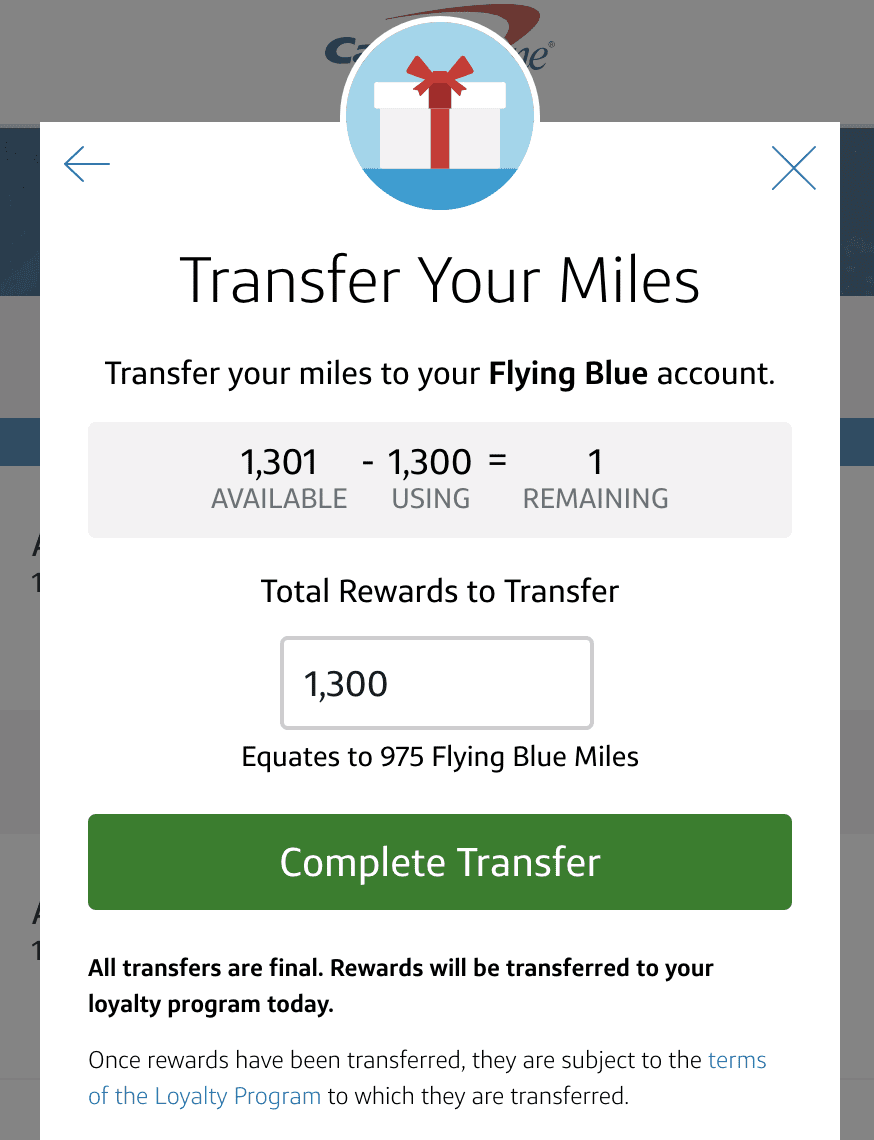 Doing the math on how many points you'll need to transfer to an account will be difficult for some users. So we love that Capital One crunches the numbers for you with the "equates to" number above.
Just remember: points transfers are a one-way street. Once you send the points to an airline partner, you cannot get them back to your Capital One account. That makes it critical to make sure the award flight you want to book is available before you transfer points. Read our guide to finding award availability.
Once you've hit complete transfer, you're done! Capital One says many points will deposit within the same day – and perhaps instantaneously – while others can take up to five business days.
When to Transfer Points
Now you know how to transfer those Capital One points. But when should you? That's more complicated.
Until today, Capital One offered the most straightforward way to redeem points for travel. Every single point is worth a 1 cent, so that 50,000-mile sign-up bonus after spending $3,000 in the first 3 months of card membership is worth $500 in airfare. Using those points with the bank's purchase eraser to cover the cost of a flight is as simple as it gets.
But now you've got another option. And while the number of points you'll get when transferring falls short compared to Chase or  American Express – where every point gets you a mile with most airlines – it could make sense to transfer points. You'll just have to do the math.
Let's look at a flight from Los Angeles (LAX) to Newark (EWR) on United Airlines.
At $594 for a round-trip, you could use your  59,400 Venture miles to cover the purchase. Not exactly a steal. But thanks to its award chart, you could book those exact same flights through Avianca LifeMiles with 25,000 miles. To do so, you'd need to transfer just 34,000 Capital One miles to your LifeMiles account.
We could do dozens of examples. It will vary on a case-by-case basis whether it's better to pay directly or utilize a transfer partner. But there's a rule of thumb that can help you make the right decision.
Did you find a great deal on our site or from your Thrifty Traveler Premium subscription and want to pay with points? Then you're probably better off skipping this new transfer feature and booking directly with the airline, using your Capital One Venture miles to erase the purchase from your statement.
If the cost seems high, it's worth exploring one of the transfer partners to see if you can score a better deal.
Bottom Line
Capital One has made it as simple as possible to transfer. Just remember to factor in the transfer times, use the right partners, and do the math to make sure you're getting the most out of those points.