Getting a good deal on airfare can take some creativity and risks, even when it comes to using miles. That statement and the headline on this post says it all.
I recently booked a pair of round-trip tickets to Spain in business class to Spain on Iberia Airlines for less than that same flight cost in economy. It was by far the most interesting redemption I've made.
This gets deep into the weeds of the frequent flyer world and involves a once-in-a-lifetime airline promotion that seemed too good to be true. But there are lessons in this crazy story for any traveler looking to use miles effectively.
The Skinny On Iberia
We've written before about why you should keep Iberia in mind when booking with miles and points. Being able to fly to Spain for just 34,000 miles round trip – or 68,000 miles in business class – is one of the best values out there.
For reference, Delta charges at least 60,000 SkyMiles for a round trip in economy – and those prices may be going up. A one-way to Europe with Delta in business class costs at least 70,000 SkyMiles, and often much more. Prices are similar with United, while American Airlines is only slightly cheaper.
And whether you want to get to Spain or connect elsewhere in Europe, Iberia has a great route network to make that happen.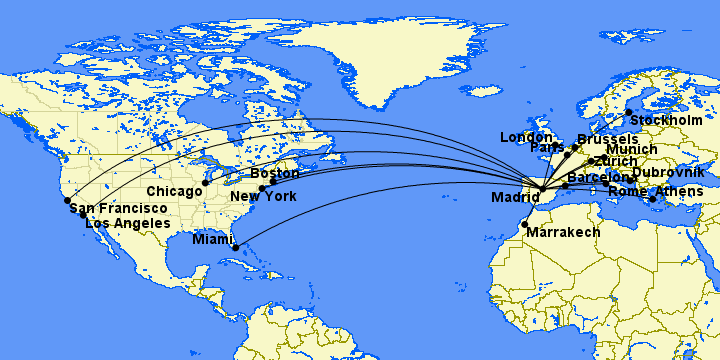 Like almost all European airlines, Iberia levies some airline fees on award tickets. But these are generally reasonable, usually about $200 per round trip. An award chart with good pricing is half of the equation to making a great award redemption. Then you just need to get the miles.
On the bright side, Iberia is transfer partners with Chase, American Express, and Starwood Preferred Guest/Marriott. That makes Iberia Avios very easy to accumulate.
My frequent flyer mile balances were running low after booking some upcoming travels, so a trip to Spain was never on our radar. That's when an unbelievable Iberia promotion cropped up and changed that.
The Iberia Promotion of a Lifetime
This whole trip starts with an insane promotion that the Spanish airline Iberia ran back in late June. You might have read about this on other blogs. I'm still struggling to grasp what Iberia was thinking.
Here was the gist of the deal: For every flight up to 10 that you book, you'd get 9,000 bonus Avios. But unlike most airline promotions, there was no restriction on how expensive the flight had to be to qualify. And the airline made clear that a flyer didn't have to actually take the flight – the bonus miles would post 10 days after purchase.
We didn't write about this Iberia promotion at the time because it seemed pretty risky, despite the airline's assurances that it would honor the terms of the promotion. We'd hate to recommend readers get in on this deal only to see them out hundreds of dollars.
But if it worked, it essentially allowed you to buy Iberia miles for less than ⅓ cent each. And while we don't always recommend buying miles, that's a bottom-of-the-barrel price that you'll almost never see.
As you read above, 90,000 Avios can get you a long way. And given the potential value here, I was willing to take that risk. So like thousands of others out there, I booked 10, $27 one-way flights within Spain for next spring. I did the same for my fiancee.
And then we waited. I probably checked my Iberia account 200 times over the next few days. By the Fourth of July, I had 90,000 Avios in my account. Like many others who set up a new account for the promotion, my fiancee's miles took much longer. But those 90,000 bonus miles finally deposited on Tuesday.
Suddenly, we had 180,000 Iberia Avios between us. The bet seemed to be paying off. So if this seemed like a risk, why was I willing to go through with it in the first place? Because of the insane value in Iberia's award chart mixed with the low price of the miles.
This Iberia promotion may not have been for everyone, but here's what it boils down to. We're always hunting for new, creative ways to get more miles for cheap (or, preferably, free), and for the best frequent flyer miles to see more of the world. Insane though it may seem, this promotion embodies that.
Booking the Flights
This is the part I was scared of – actually finding the right flights. As we waited for our miles, I watched as availability between all of Iberia's U.S. gateways and MAD started to dry up. While getting miles was half the problem, it was easy to foresee it being next to impossible to find an award flight as other travelers quickly booked theirs.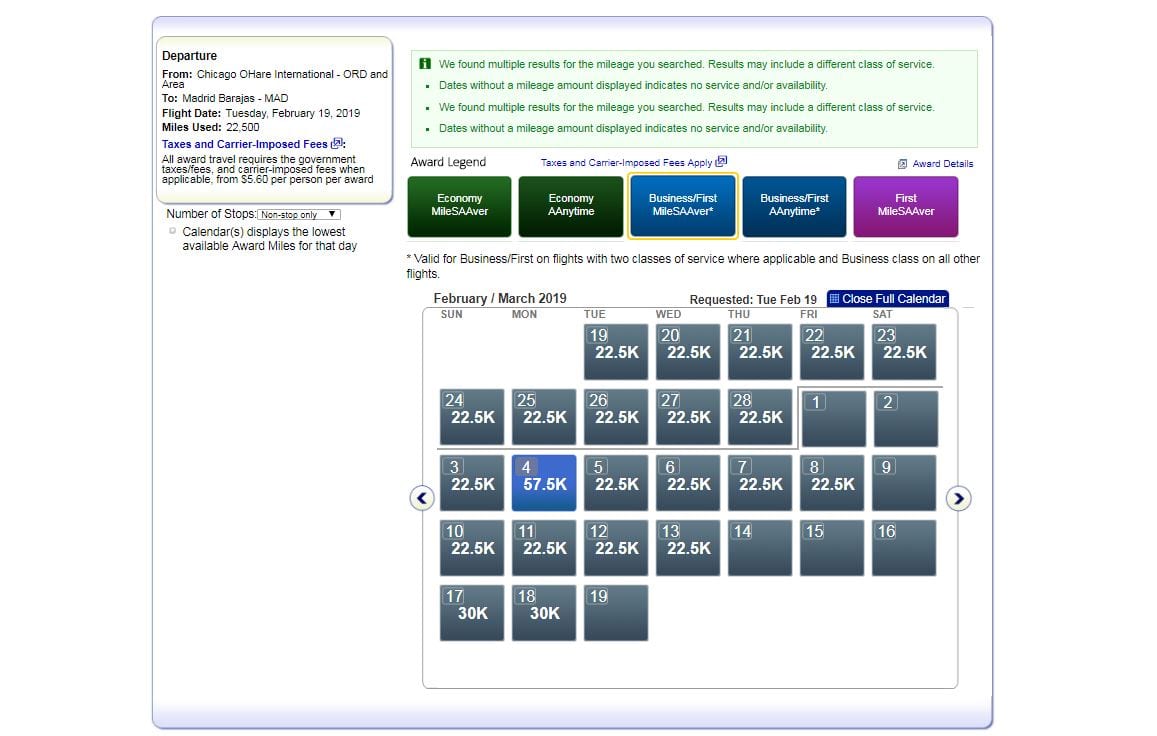 Thrifty Tip #1: Struggling to find award availability on Iberia's clunky website, or through any airline? Use a partner's website! I used American Airlines instead, using the search engine's month-long view and restricting results to nonstop flights to zero in on Iberia availability.
Knowing there would be a rush to book award flights when the bonus miles started to post, I scoped out availability and kept track of a few different options that might work.
Finally, we zeroed in on two weeks from mid-February to early March. It may not be the best time to go to Spain, but any season is better than no time at all.
Thrifty Tip #2: When you're booking with miles, you're at the whim of when airlines release award space. Read our guide on finding award availability, but remember that it pays to be flexible. And when demand is high, you have to book fast.
When we had all of our miles, we sprang into action. I quickly booked two business class flights for us from Chicago-O'Hare (ORD) to Madrid (MAD). Thanks to Iberia's great award chart, they cost us just 68,000 miles.
Meanwhile, my fiancee booked our return flights home, again in business class for 68,000 miles total. These flights came with a grand total of roughly $460 in airline fees – an unavoidable part of flying in and out of Europe. I paid for them with my Platinum Card from American Express. 
Thrifty Tip #3: With 5x points on airfare purchases, the American Express Platinum card is unbeatable. And these airline fees get 5x points, too.
After getting our main flights taken care of, I instantly transferred 2,000 of my Chase Ultimate Rewards points to my Iberia account. That put me at 24,000 Avios, enough to book us both roundtrip connecting flights on American Airlines from our home in Minneapolis-St. Paul (MSP) to ORD.
Delta would charge at least 46,000 SkyMiles for the same domestic trip, and AA itself wanted 15,000 AAdvantage miles for those exact flights. So again, booking with Iberia Avios was a steal.
Thrifty Tip #4: Iberia's award chart makes it a great option for booking short domestic flights on American Airlines. The airline charges just 11,000 Avios for a round trip of fewer than 600 miles, and 12,000 for a trip between 601 miles and 1,000 miles. Just keep in mind you can't book one-way flights when booking partner awards through Iberia.
The best part? We've got 22,000 miles left over, more than enough for a round trip elsewhere in Spain or Portugal. We may hop down to Morocco, too.
So How'd We Do? 
Between the cheap flights and airline fees, we paid just over $530 each for a round trip in business class to Madrid. That also includes our connecting flights from MSP to ORD, as well as a round trip within Spain or Portugal that we haven't yet booked. Here's what a pair of economy tickets on a direct flight would have cost for the 9-hour journey to Spain

So just as the headline says, we booked business class tickets to Spain for less than the price of economy. Meanwhile, here's what the business class tickets we actually booked cost when paying cash.
If I had the miles in my accounts already, all of this craziness would have been easier. And of course, it would have been even cheaper. But that's not always possible. Finding opportunities like this to earn miles on the cheap is just part of expanding your and fueling your travels.
But this is the most important part: I don't think we'd have gone to Spain or Morocco for years, if ever, if not for this promotion and some fast thinking. Now, we can't wait to go. The value of that is limitless.
Cheap flights and miles help you see more of the world, including some places you'd never think of when the deal is right.
Bottom Line
If I'm being honest, I'm still in disbelief that this booking actually worked out. Of course, it'd have been ideal if I didn't need to buy the miles to make this happen. But this was simply too good of an opportunity to pass up, and I'm thrilled it worked out.
Lead photo courtesy of Iberia Airlines. All Rights Reserved