Japan's All Nippon Airways (ANA) is one of the best airlines in the world and it's got an underrated mileage program, too. In fact, it might just be one of the best ways to book business class flights … to Europe for just 88,000 miles roundtrip.
Yes, you read that right. Using miles from a Japanese airline to fly business class to Europe is one of the best workarounds in points and miles, as you can do it for roughly half the miles that other airlines charge. Consider this: United would charge 160,000 miles or more for these exact same transatlantic flights.
You're not flying ANA itself, but merely using its miles to book other partner Star Alliance airlines like United, Air Canada, or TAP Air Portugal that fly nonstop across the pond. And you don't need to worry about how to get enough ANA miles – as an Amex transfer partner, they're fairly easy to earn from Membership Rewards cards like the *amex gold card*.
It's an incredible deal, but booking with ANA Mileage Club miles isn't always straightforward – especially if you're unfamiliar with its rules and quirks. So we'll walk you through everything you need to know to pull off business class flights to Europe and back for 88,000 miles.

ANA's Sweet Spot to Europe
Unlike Delta, United, and a growing number of frequent flyer programs with award rates that constantly change based on the cash price of flights, ANA still publishes an award chart. That's a good thing.
Think of award charts as a cheat sheet to determine how many miles it will take for the flights you want. In ANA's case, it's based on which regions you're traveling between. And the rates are pretty incredible. ANA's award chart for its own flights also carves out some incredible pricing for flying between North America and Japan – including a chance to do it in business class for the normal price of economy.
But today, we're focusing on the sweet spot for flying partner airlines to Europe. Looking at ANA's award chart for partner airlines, you'll see that business class flights between Zone 6 (North America) and Zone 7 (Europe) cost just 88,000 miles roundtrip.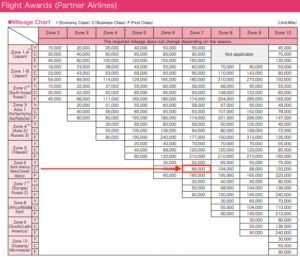 It's a bit tough to follow, especially if you've never read an award chart before. Follow Zone 6 (North America) over to Zone 7 (Europe) and you'll see ANA charges 88,000 miles for a C class (business award) redemption.
That's a roundtrip rate, and it's nearly on par with what many other airlines charge for a one-way business class seat to Europe. And that's important to note because ANA does not allow one-way award redemptions: You'll have to book roundtrip.
For most travelers, it won't be an issue – especially at this price – but it's something worth noting.
Finding the Award Space
The cheap rate is only half the equation. In order to make it happen, you need to find the available award space that can be booked using ANA miles.
In order to find flights on partner airlines that you can book with ANA miles, you'll need to find what airlines call "saver" award seats. ANA's own website doesn't have the best search tool to search for award space, so you may need to turn to another Star Alliance airline's site (like United.com) to find the flights you want. Once you've got it, you'll return to ANA to book.
Thrifty Traveler Premium+ members get instant award alerts for business class, including this great opportunity to book United Polaris business class seats from several U.S. cities to London-Heathrow (LHR) – plus a tip to book for just 88,000 ANA Mileage Club miles for the most savings.
Get award alerts like this one plus cheap domestic and international cash fares sent to your inbox with Thrifty Traveler Premium+!
But let's take a closer look at how you can find the exact flights you want with those elusive saver awards available so you can get to booking your trip to Europe in business class.
Use United's Website to Search for Availability
The best tool out there to search for availability on almost any Star Alliance airline is United's award search. And it's no different in this case.
For the best experience, start your search from United's old advanced search tool rather than searching directly from the homepage. If you search from the homepage, your results will be displayed with a different interface, which does not have the same filters or sorting capabilities — in other words, it's not as user-friendly.
To make your life easier, start by searching for one-way flights rather than roundtrip – remember, you're only trying to confirm the flights you want to book are available, not actually booking the flights through United. Choose to book with miles, which month you'd like to search, number of travelers, make sure to select "Flexible dates," and choose "Business" to find the fancy seats up front.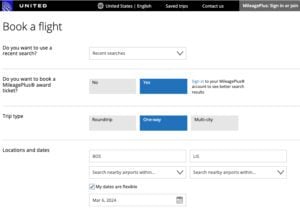 You'll also want to make sure you are not logged in to your United MileagePlus account as certain members may see award space that won't be bookable via ANA. Just close the pop-up if it asks you to sign in.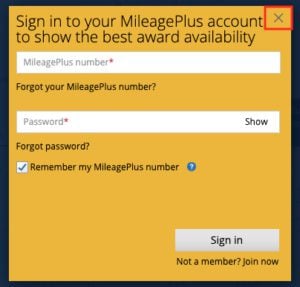 At first, you'll be given a week-long view of travel dates. To view dates on a monthly calendar, click on the "View 30 day calendar" link. That way, you can then navigate through a month's worth of dates.
Look for award rates in the 80,000 to 88,000-mile range. After a recent devaluation, this is what United typically charges for one-way "saver" award seats to Europe in business class … but it's not what you'll actually be spending when booking with ANA. In fact, you'll be booking roundtrip with ANA miles for the same price as United charges for a one-way in many cases.
Flights going for 80,000 miles one-way on United's website are generally operated by United on the long-haul, while anything higher is typically other airline partners like SAS, Turkish Airlines, SWISS, and a handful of others.
Once you've chosen a date, you can sort the results by clicking on the "Business (lowest)" column to show the lowest-priced awards on top. It's a good idea to also pay attention to the number of stops and flight duration as some options may require long layovers. You can sort and filter the results you see by clicking on any column along the top. These tools will help you find the best flights for your trip.
How to Know Which Flights Can be Booked by ANA
To confirm that the seats are indeed saver seats, you'll need to expand the details of the specific flight. For economy, United makes it easy and stamps the phrase "Saver award" above, however, for business class, it no longer does this and you'll need to take a look at the exact fare class indicated by a letter code. Look for business class seats with the letter "I" in parentheses (I).
You may also see mixed cabin awards in the business column. This typically includes a short connecting flight in economy (X) and a long-haul segment in business (I). These types of awards are generally what's required if you're taking a domestic connecting flight to a larger hub for your transatlantic flight. If you're set on flying nonstop, you can filter only for nonstop results.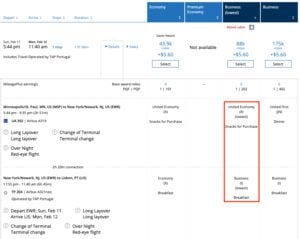 These flights should be bookable using other Star Alliance loyalty programs – including ANA Mileage Club – as long as the operating airline is a Star Alliance member or a partner of the airline you are booking with. For this reason, you'll also need to pay attention to which airline is operating the specific flight(s). You can find a full list of ANA's partner airlines here.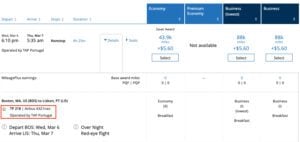 You'll then just need to repeat the process to find availability for your return flight. Take note of the dates and flight numbers. You'll need this info to book the flights with ANA.
Having trouble finding availability from your home airport? Isolate your search to find business class availability on the nonstop transatlantic route first from major hub cities like Chicago-O'Hare (ORD) or Newark (EWR). Once you've found availability on the long-haul flight, note the dates, and go back to search those dates to see if there are any connecting flights available from your city.
If you strike out, you may need to book a separate positioning flight to get from your home airport to Chicago, Newark, New York City (JFK), San Francisco (SFO), Houston-Intercontinental (IAH), Washington D.C.-Dulles (IAD), Toronto (YYZ), or another major hub. Remember: You're going to use just 88,000 miles to fly roundtrip to Europe in business class. It's worth it.
Pick the Right Airlines with Low Surcharges
Using points and miles is often portrayed as a way to fly for free. But when you're redeeming miles, you'll always pay some taxes and fees – and these fees can vary wildly depending on the program you use and the airline you actually fly.
Flying to Europe using ANA Mileage Club, how much you'll owe in taxes and fees depends upon which airline you fly. On some carriers, the total cash cost can be about $60 or less. On others, it can add up to $1,000 or more, completely wiping out the savings from ANA's lower redemption rates.
So you have to pick your airline wisely.
Avoid Airlines with High Fuel Surcharges
Austrian Airlines
Brussels Airlines
Luftansa
SWISS
Stay away from these airlines for the long-haul portion of your flight to avoid high fees. Fortunately, the surcharges are not as extreme if these airlines are only operating connecting flights within Europe.
If you're set on flying something like Lufthansa business class or SWISS business class for the long-haul segments, you're better off booking through another program that doesn't pass along fuel surcharges such as Air Canada Aeroplan, Avianca LifeMiles, or United MileagePlus.
Airlines with Low to Moderate Fuel Surcharges
LOT Polish
Turkish Airlines
ANA does pass along fuel surcharges on these airlines, but it's a much more reasonable fee that you may be willing to pay to fly certain routes. Turkish Airlines' fees of around $500 or so are higher than what you'll pay to fly LOT Polish, which is around $200. These airlines tend to have better availability than United so it may be worth the extra fees if you can fly on a better schedule.
Airlines with No Fuel Surcharges
United
Air Canada
Scandinavian Airlines (SAS)
TAP Air Portugal
This is the sweetest of the sweet spot.
The best way to take advantage of this deal is to book the long-haul segments on airlines that don't charge any fuel surcharges, leaving you with a total cash co-pay of under $100 in some cases. Try to plan your route on transatlantic flights operated by United, Air Canada, SAS, or TAP Air Portugal to keep cash costs low.
Those are the airlines we've focused on in this walkthrough. On the bright side, TAP Air Portugal has a pretty solid business class offering – especially on its newer Airbus A330-900neos. Flying United business class is a great experience, especially now that all their long-haul jets are equipped with the new Polaris cabins. And we've only heard good things about both Air Canada business class as well as SAS.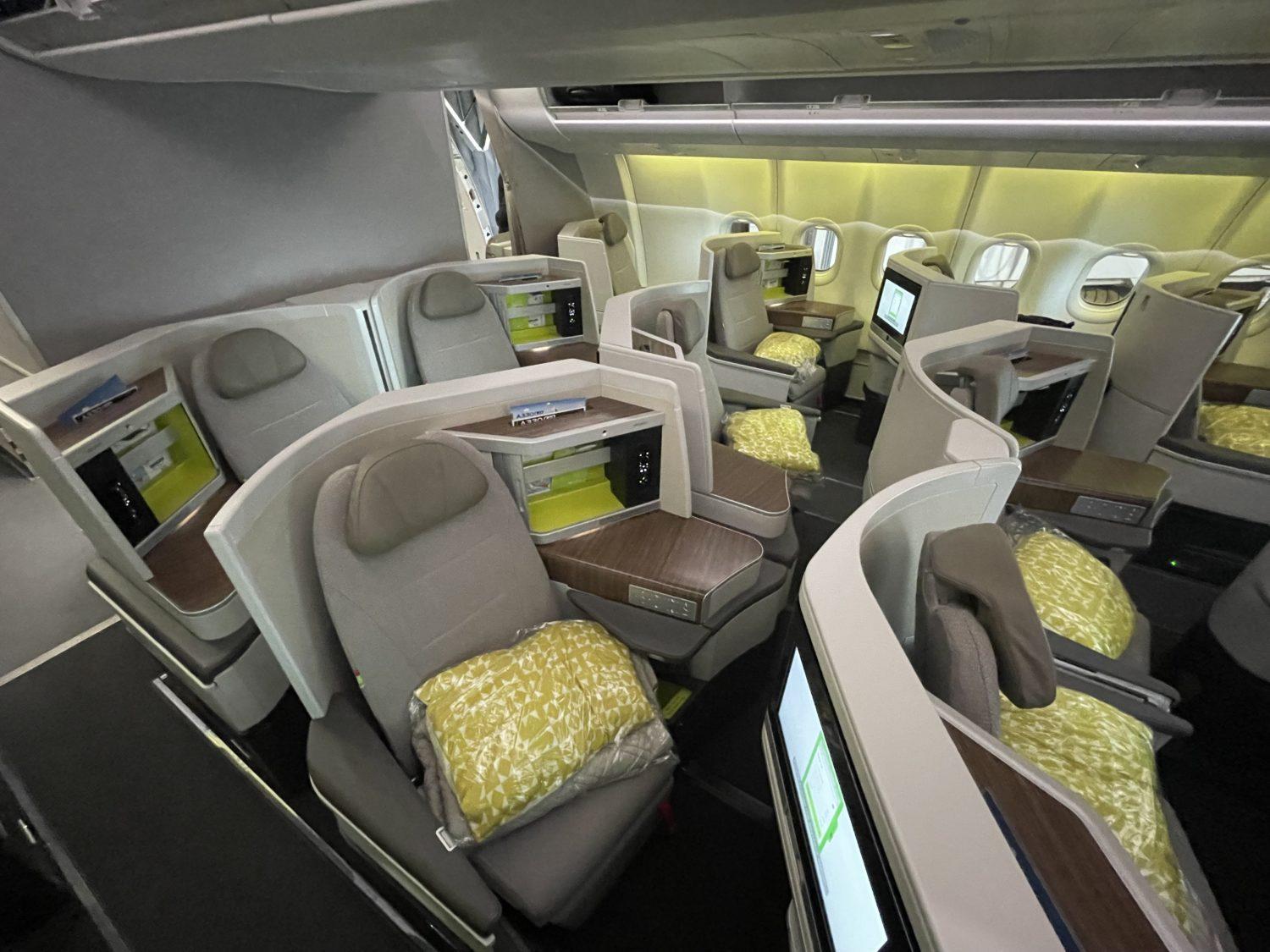 Read our full review of TAP Air Portugal business class!
How to Book Your Flights to Europe through ANA
After you've found travel dates with award space through United, write down the dates and flight numbers and open up ANA's website to book the flights. Once you've logged in to your account, navigate to the award booking tool by clicking on the "Flight Awards" tab and then clicking "Award Reservation."
You can then do a simple roundtrip search for the dates you've found with the ability to search +/- three days if you want to double-check surrounding dates. With few exceptions, the availability should match what you found earlier through United. 
On the following page, you'll see which dates have available seats over a span of seven days if you've chosen this option in your search.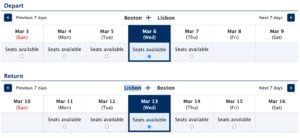 After you've chosen dates, you'll be able to choose specific flights. Remember to pay attention to the operating airline if you want to avoid fuel surcharges for certain carriers.
You'll also be able to see the total mileage and taxes required for booking. It really is possible to fly business class to Europe roundtrip for just 88,000 miles plus minimal taxes and fees. In fact, this $60 tax bill for TAP Air Portugal business class flights to Lisbon (LIS) and back is about as cheap as it gets.
You might see a higher cash cost based upon which European city you're flying in and out of based on local taxes. London-Heathrow (LHR) is almost always the most expensive followed by Frankfurt (FRA) and Paris-Charles de Gaulle (CDG). For example, taxes on this flight from Chicago to London works out to about $337.
Decide on the flights you want and confirm they're available through ANA? Now it's time to transfer your Amex points to your ANA Mileage Club account – and then wait to book, because those transfers aren't instant. More on this below…
When to Use Multi-City Search
The roundtrip search tool works well when searching for a simple itinerary. But if you're booking a more complex itinerary such as a multi-stop or mixed-cabin itinerary, you'll want to click on the "Multiple cities/Mixed classes" tab to search for your flights.
This allows you to search up to eight segments for a single award redemption. For mixed-cabin flights (i.e., economy on the short flight, then business class on the long flight), you'll need to enter each segment separately in order to book the award with ANA.
You'll then choose each individual flight separately. Make sure to choose the correct flight number to coincide with your connecting flights. And select business class for the long-haul flights if you want those lie-flat seats.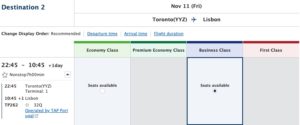 At the end, it should still price out as 88,000 miles roundtrip with business class flights on the long-haul segments.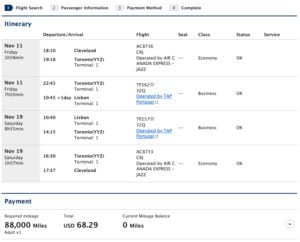 Thrifty Tip: If you've found "saver" availability through United but are having trouble booking those flights on ANA's website, don't hesitate to call ANA at 1-800-235-9262 and give the agent all of the flight information you've found to see if they are able to complete the booking for you over the phone. ANA agents are extremely well-trained and very helpful when it comes to booking award flights.
Take This Sweet Spot to the Next Level
What's better than a trip to London? How about a trip to London and Paris. Or, better yet, check out three different countries on the same trip. After all, if you're flying all the way to Europe, you may want to hop around and see multiple different cities while you're over there.
One of the best aspects of booking award flights to Europe with ANA Mileage Club is the flexible routing rules the program offers. While you can't book one-way awards, there are multiple ways to see more of Europe on the same trip from adding free stopovers to flying back from a different city, or a combination of both. In the end, you'll still only spend 88,000 miles total for the ANA award booking.
Add A Stopover
Say you want to visit Sweden but want to stop in London for a week on the way. That's perfectly doable with ANA award tickets. It can be a bit tedious to find availability for multiple segments but if you're flexible with dates and destinations, you could find a great multi-city trip to Europe for only 88,000 miles in business class, such as this itinerary departing from Chicago-O'Hare (ORD).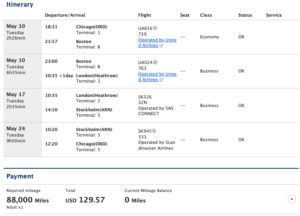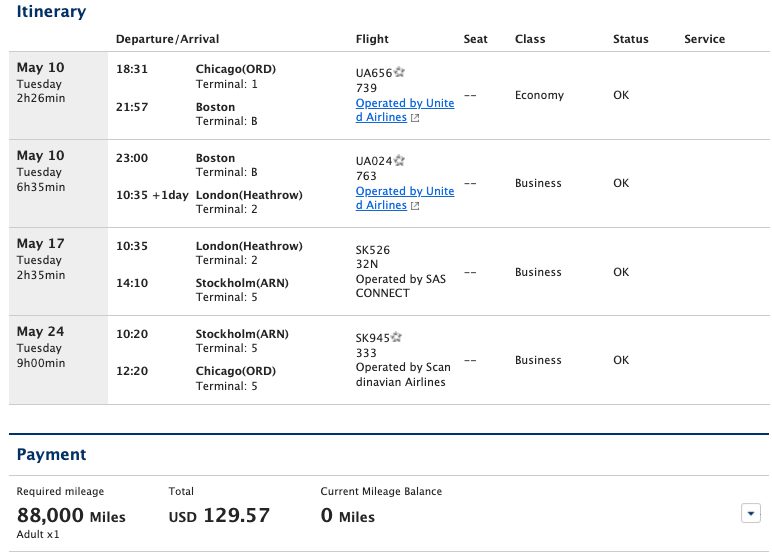 Fly Back from Another City
Getting around Europe is fairly easy thanks to trains or low-cost cash flights within the continent. You may find it easier to simply book your award flight back home from a different city and coordinate your travel within Europe separately.
From the example above, maybe instead of Stockholm, you'd rather visit Milan after a week in London. Flying Star Alliance carriers between London and Milan would require a stop so you may prefer to buy a cheap nonstop flight on a different airline and use your miles to book what's called an "open jaw" ticket. This simply means you'll fly into one city, but back from another. And yes, it's still just 88,000 ANA miles for business class flights.
…Or Do Both
What's really cool about using ANA Mileage Club to book business class flights to Europe is that you can book an itinerary that has both a stopover and an open jaw. This is where you can really dive deep and take advantage of ANA's flexible routing rules.
With so much to see in Europe, you could string together an itinerary such as this one departing from Minneapolis-St. Paul (MSP), which would allow you to see Spain, Portugal, and Germany for just 88,000 miles roundtrip in business class.
Of course, you'd have to make your own way from Madrid to Lisbon in this example, but that could be part of the fun! Spend some time traveling around Spain while making your way to Lisbon by bus, car, or train. After checking out what Lisbon has to offer, fly from Lisbon to Frankfurt to visit the Christmas markets before finally flying back home from Frankfurt to Minneapolis just in time for the holidays.
These are just a few examples of the endless possibilities you can book with this incredible sweet spot in the ANA Mileage Club program. If you're feeling creative and want to see more of Europe, have at it and see what exciting trip ideas you can come up with.
Cons of Using ANA Mileage Club to Book Flights
While booking flights to Europe with ANA Mileage Club miles is incredibly cheap, there are a couple of drawbacks you should be aware of before getting too far.
You Can Only Book Flights for Family Members
Most airline loyalty programs allow you to book flights for friends, family, enemies, or even complete strangers using your frequent flyer miles. But things tend to work differently in Asia.
Technically, ANA's policy only allows you to book award flights for your spouse and any relatives within two degrees of relationship. This includes your parents, children, grandchildren, and siblings. But it also includes your spouse's siblings, parents, and grandparents, as well as your sibling's spouse. Here's how ANA's website spells it out.
You'll need to register family members before you can book flights for them with your account. Members can register up to 10 people on one account. ANA even states that you may be asked to present documentation to verify your relationship with your companion.
Transferring Points to ANA is Not Instant
If you're planning on transferring American Express Membership Rewards points to your ANA Mileage Club account to book one of these awards, you may need to be patient. These transfers aren't instant.
The time it takes to transfer Amex points to ANA can vary, but it generally takes about 48 hours. Will the business class seats you found be available two days from now? Maybe … but maybe not.
So there will always be some risk involved when transferring points for an ANA award booking since ANA agents are no longer able to hold award space while you wait for points to transfer.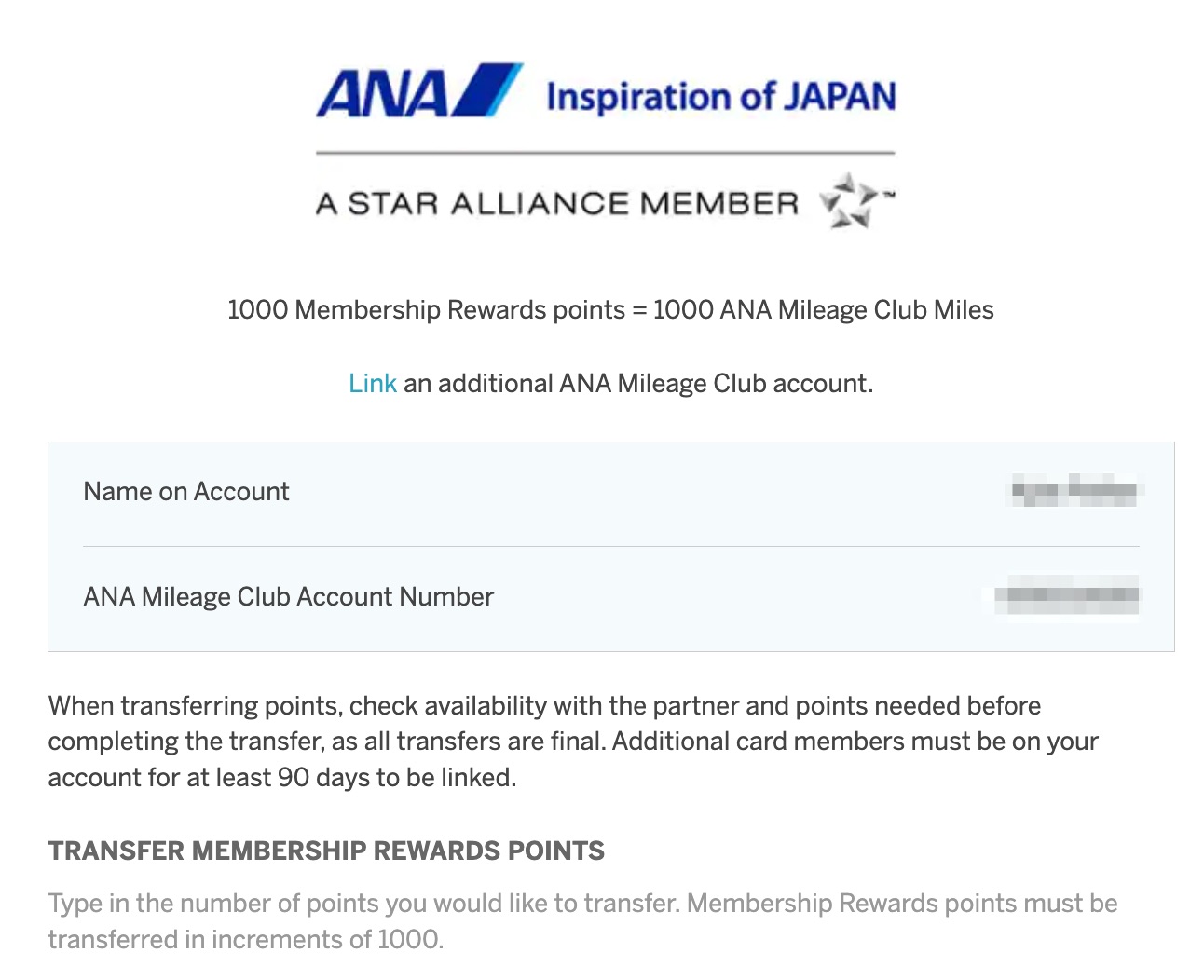 If it looks like there is plenty of availability around the dates you're looking to travel or you have flexible travel plans, I wouldn't hesitate to go ahead and transfer the points. If the exact seats you want happen to disappear while your points are transferring to ANA miles, you can try to find other flights that would work or use them for another trip down the line.
Just be aware that once you transfer credit card points to ANA miles, it's a one-way street. You won't be able to transfer them back to Amex.
Of course, everyone's risk level will be different so take this into consideration. Transferring points to other programs such as United MileagePlus, Air Canada's Aeroplan, or Avianca LifeMiles is almost always instant. If you're less risk-averse or don't have flexible travel plans, you may prefer to spend more miles booking with these other programs for the peace of mind that the seats won't disappear.
Thrifty Tip: If you really have a ton of Amex points, it may be worth proactively transferring points to ANA in advance so you are ready to book if a hot deal pops up. Just remember: Once you transfer points to an airline, you can't get them back to your Amex account.
How to Earn ANA Mileage Club Miles
You don't need to fly 88,000 miles with ANA to earn the Mileage Club miles you need.
The easiest way to earn ANA Mileage Club miles is through credit cards that earn Amex Membership Rewards points. Get enough, and you can transfer them on a 1:1 basis straight to your ANA Mileage Club account. You've got a few options to earn the points.
One of the best ways to earn a ton of these points is *amex platinum card*, on which you can currently earn at least an 80,000-point welcome bonus after spending $8,000 within the first six months. Better yet, check to see if you qualify for a 150,000-point bonus via CardMatch.
Factor in the points you'll earn for that spending, and you'll have nearly enough miles for two roundtrip business class flights to Europe – if not closer to two. Plus, there are plenty of other Amex Platinum benefits like extensive lounge access, up to $400 in credits split between airline fees and Uber rides, credits that completely cover the cost of CLEAR and either Global Entry or TSA PreCheck, and more.

Learn more about *amex platinum*.

The *amex gold card* is currently offering a 60,000-point welcome bonus after spending $4,000 in the first six months. You may be able to qualify for a whopping 75,000-point welcome bonus using CardMatch. And there are even recent reports about 90,000-point offers available via personal referrals.
Beyond that bonus, this card is easily one of the best all-around travel cards on the market thanks largely to an unbeatable 4x return on spending at restaurants and 4x points on up to $25,000 a year spent at U.S. supermarkets – and 1x points after that.

Learn more about the *amex gold*

You can also transfer Marriott Bonvoy Points to ANA miles at a 3:1 ratio, with a 5,000-mile bonus for every 60,000 points transferred. And, of course, you can earn ANA miles by either flying ANA or crediting flights flown on Star Alliance carriers, such as United or Air Canada, to your ANA Mileage Club account.
Bottom Line
Flying to Europe in business class is a real treat. Booking flights for only 88,000 miles roundtrip with ANA Mileage Club makes it that much sweeter.
Although the booking process can be somewhat tedious, with a bit of extra effort, you'll be enjoying lie-flat seats when flying across the pond for nearly half the cost of booking through other airlines.