Now's the time to head for Ireland.
For starters, it's cheap. As flights to Europe have dropped to rock-bottom lows, the Emerald Isle is getting a lot of love – especially from Irish flag carrier Aer Lingus, which allows you to book a free stopover in Dublin on your way elsewhere within Europe. Ireland is open to Americans with proof of full vaccination or recent recovery from COVID-19.
But once you're there, what do you do? Hit these highlights and best things to do in Dublin and you'll surely feel the luck of the Irish smiling on you.
Thrifty Tip: Once you land in Dublin, take the Airlink Express bus from the airport to the Dublin City Center and back. A round-trip ticket will only cost around 12 euros ($13.50 USD). A taxi each way is about 35 euros, so this will save you a ton.

Visit a Castle
There are more than 1,000 castles in Ireland. Seeing at least one needs to be on your to-do list.
Ireland's castles are scattered across the countryside and most are in ruins. But there is one right in Dublin, with three others just a short drive from the city that are also well worth a visit.
The Dublin Castle
Dublin was originally founded as a Viking settlement in the 10th century. You can sense that history in some of these ruins on the tour of Dublin Castle.
While Dublin Castle is still, well, a castle from the outside, it has lived many lives: a home, a military base, an intelligence services headquarters, and more. Today, it's a government complex – and a museum, of course.
I enjoyed the Gothic revival style of the Royal Chapel, the Throne Room, State Apartments and State Drawing Room. It's worth getting a guided tour to get the full story of the history behind the castle.
The Rock of Cashel
The Rock of Cashel dates back to the 12th and 13th centuries, with stunning medieval architecture and a large graveyard where you can spend hours wandering around reading tombstones. It sits on a peaceful hill overlooking the countryside, but don't be startled when the ravens fly out from hidden windows of the castle!
Cahir Castle
The O'Brien family built the Cahir Castle in the 13th century. It was owned by the family for most of its existence, playing host to many battles – look for the cannonball stuck in the side of one tower!
Today, it's open to the public for tours as well as private events like weddings and holiday parties.
Blarney Castle
We saved the most famous castle for last. Built in the 1200s by the McCarthy family, the Blarney Castle has stunning gardens. Take some time out of your day to wander around and seek out the Blarney House for a look at life like Downton Abbey.
And make sure you kiss the Blarney Stone. Yes, this is where you'll find it.
An Up-and-Coming Food Scene
This corner of the globe isn't exactly known for its cuisine. And in the past, I might have worried about food options in Dublin.
But Dublin's food scene is booming these days, and there are plenty of choices no matter your palette. Stay in the heart of the Temple Bar area and you'll find many restaurants within walking distance. Take your pick of French, Greek, Italian and traditional Irish food options.
Our favorite restaurant was an Italian restaurant called Il Vicoletto, a super cozy spot with lots of food choices. If you are feeling European food, we loved Bloom Brasserie, where it's all about service!
After dinner, head for a nightcap at the elegant Vintage Cocktail Club, known for its craft cocktails.
If you love a good brunch, check out both Brother Hubbard or San Lorenzos. Brother Hubbard was only a block from our Airbnb, so we made a few stops there for the Middle Eastern-inspired mezze tray. But San Lorenzos has more of the brunch vibe you're looking for, complete with an avocado crostini with poached eggs.
Drink Irish Whiskey and a Pint of Guinness
When you're in Rome, do as the Romans do. But when you're in Ireland, do as the Irish do: Drink!
The Emerald Isle is known for its whiskey and beer. So whatever poison you pick, you're in for a treat.
Jameson Distillery Tour
The original Jameson Whiskey was started in Dublin at the Jameson Distillery on Bow Street. And though its headquarters has now moved to Cork, you can still tour the old Dublin distillery.
I loved this tour, packed with lots of Irish history and how they overcame tough times in Ireland. A free drink ticket comes with your tour, and be sure to try one of the sours drinks.
Attention, whiskey fans: The ticket upgrade for a tasting in the Jameson office is worth it!
Guinness Tour
Even if you're not a beer drinker, how can you leave Dublin without doing the Guinness Storehouse tour?
You should buy your ticket at least a day or two in advance and be prepared to be shuffled around with 50 other people before your tour group time. It's fun and interesting, almost an amusement park for Guinness lovers. You also get a ticket for a free Guinness or Guinness flight with your tour.
Soak in the Pub Culture
Even if you're not drinking, Dublin must be explored through its pubs. And there's no shortage to pick from.
The Brazen Head
Our favorite pub in town was The Brazen Head. Founded in 1198, it's the oldest pub in all of Ireland. Less a bar than a maze of nooks and crannies, spend some time exploring, and sidling up for a meal or a drink.
We ate at the bar and had a good chat with our bartender. Many Irish people in the customer service industry have worked over in the States – we met several that lived in Boston for many years. Take time to chat with the Irish people. They are beyond friendly and have many stories to tell!
The Temple Bar
Another institution in Dublin is the Temple Bar. This is a must on your music scene tour.
Only the best of the best play here, so enjoy the music and the people-watching as other patrons wander from room to room. Just be prepared for it to be packed.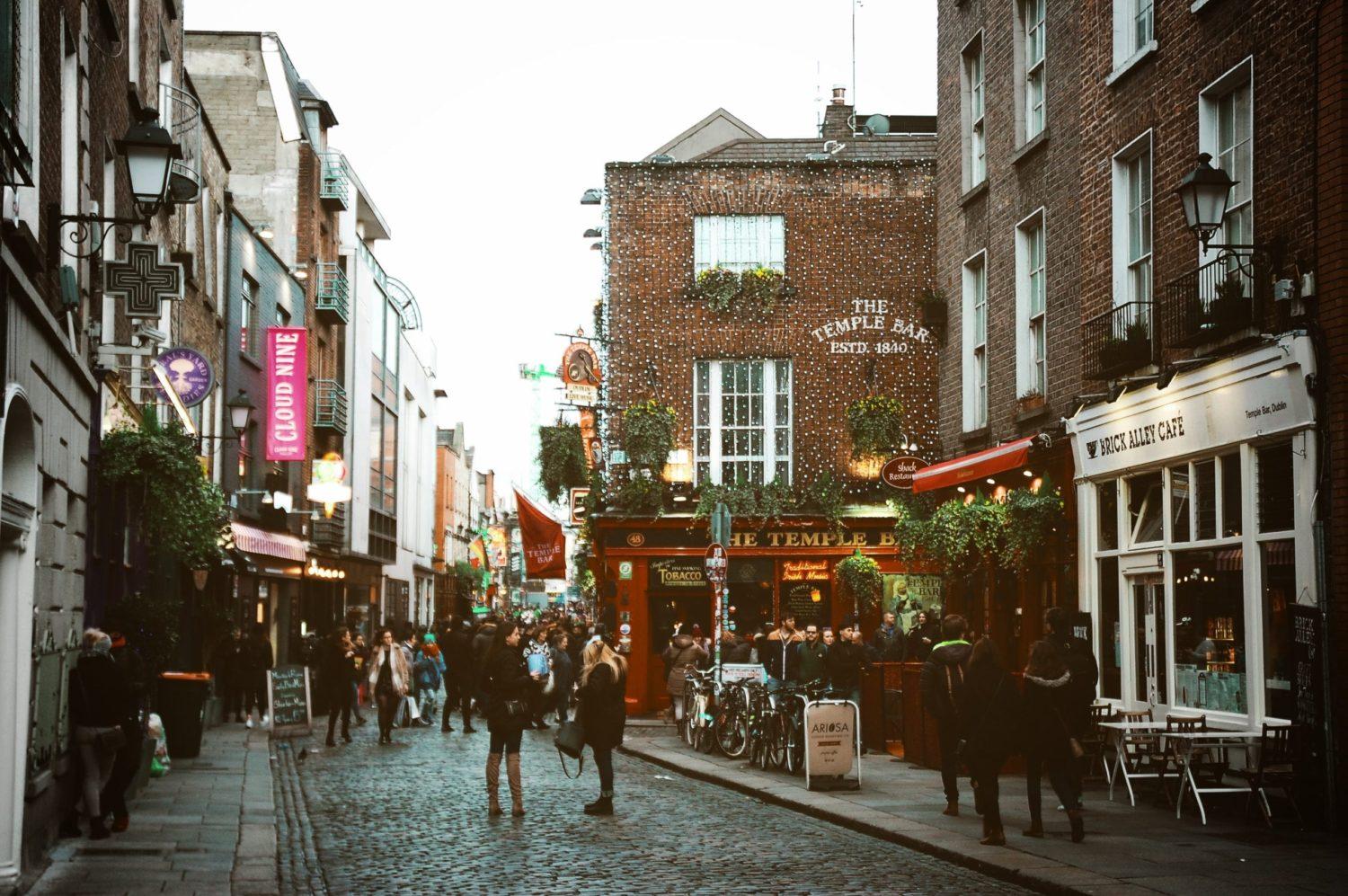 But don't spend all of your time at the Temple Bar. Create your own Dublin music scene pub tour and hop around to many different places or take a tour with a local, who can help you find the best music.
Visit a Cathedral or Two
Get a little more history in your Dublin visit with a stop to either the St. Patrick's Cathedral or Christ Church.
Christ Church
The Christ Church Cathedral is much smaller. But given its age of more than 1,000 years, there is a lot to explore. Find your way to the medieval crypt that appeared in the series The Tudors. Then find Leo Burdock's for some famous fish and chips and dig in at one of the picnic tables on the church grounds.
St Patrick's Cathedral
But St. Patrick's Cathedral is the largest and tallest church in Ireland.
It's got incomparably beautiful grounds and a grand interior, full of stained glass and many chapels. There's also a stunning winding staircase and a prayer tree. Take the time to do the self-guided tour for more information on the notable places scattered throughout the cathedral.
Step Back in Time at Kilmainham Gaol
For the full view of Irish history, you need to visit Kilmainham Gaol.
This prison was built in 1796 but has gained a dark place in Irish history due to its role in the fight for Irish independence. It was notorious for housing Irish freedom fighters as they pushed to free themselves from Britain, including many famous leaders who were imprisoned (and, in some cases, executed) after the Easter Rising in 1916. It was used again in the successful Irish War of Independence, which ended in 1921.
The prison was decommissioned by 1924, but Kilmainham Gaol and the awful conditions prisoners faced loom over Ireland. There are now "ghost tours" offered in the jail from the people that died in custody.
It sits just outside the city, but you can get there for cheap on the city bus from Dublin City Center.
Sadly, tickets to tour the prison were sold out before we could buy them. If you want to play it safe, buy your tickets at least a month before your visit to Dublin.
Don't Miss Trinity College
One of the most iconic shots from Dublin is the Book of Kells Library at Trinity College. But before you head in for your own, wander around the grounds of the college. Founded in 1592, it's the oldest college in Ireland.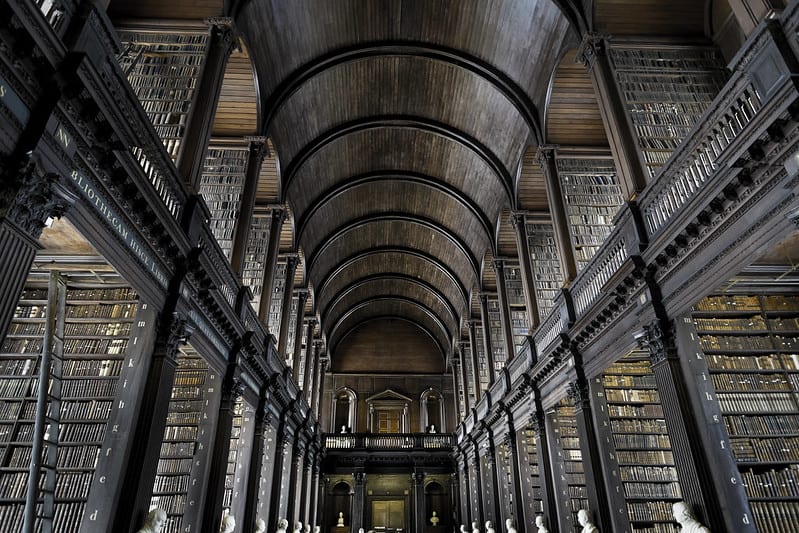 Make sure you buy your entrance ticket for the Book of Kells and Library in advance. The book of Kells itself is a Latin script containing the four gospels from 800 AD. We only spent a short amount of time checking out the book before heading to the library. The sheer mass of books in the library and how old these books were beyond amazing.
Make A Day Trip to the Famous Cliffs of Moher
A trip to Ireland is not complete without a visit to the Cliffs of Moher.
Try to strategically plan your trip to the cliffs on a day with nice weather. A foggy day, while still amazing, could put a damper on your visit – not to mention your photos.
Due to time restrictions, we were only able to walk part of the cliffs. Try and walk as far out along the cliffs as possible. If you enjoy hiking, the walk is gorgeous and there are many views to soak in. Stop at the visitor center before you trek out to get up to speed on the wildlife along the cliffs.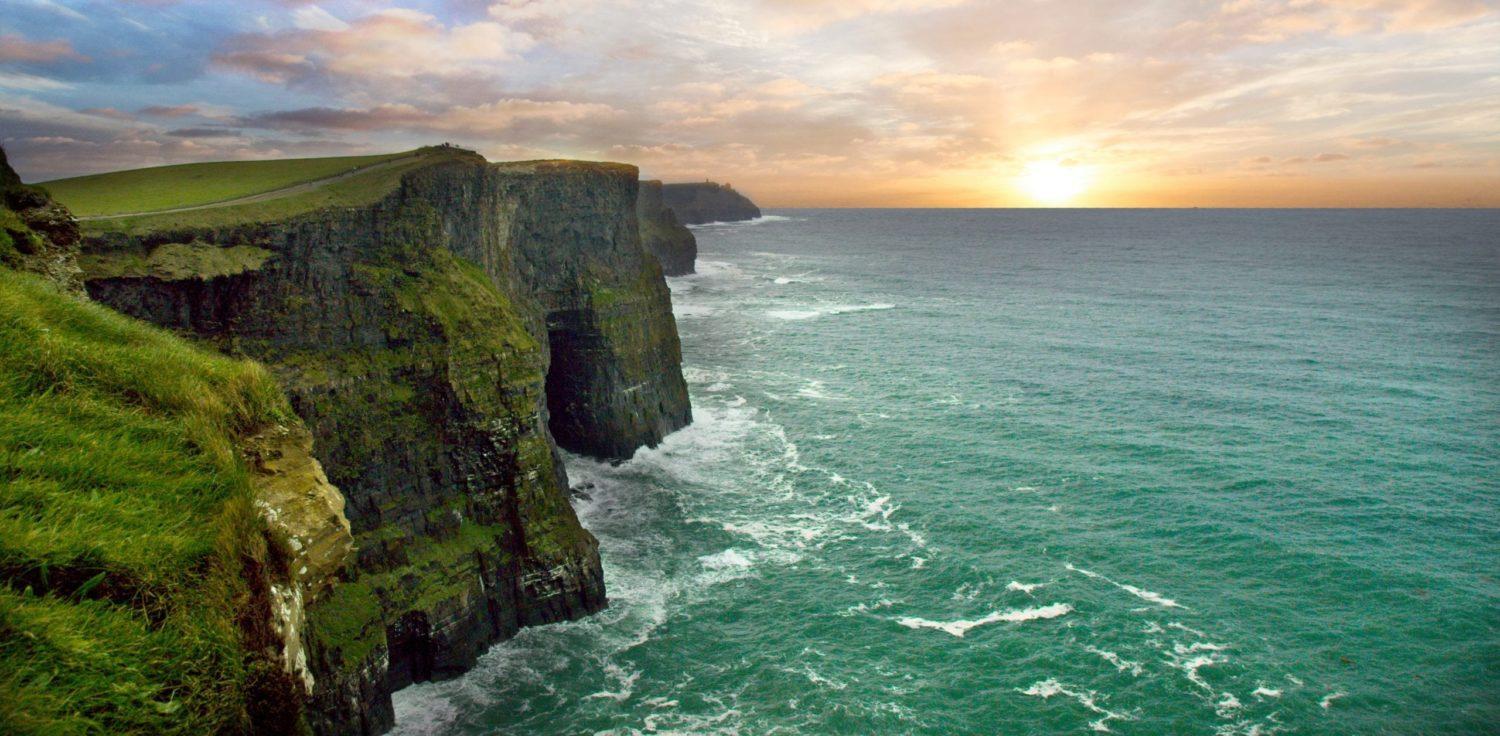 You can rent a car and make the coast-to-coast journey to the cliffs yourself, or hop on a bus. Otherwise, consider booking a tour – especially if you have limited time in Dublin and want to avoid the hassle of renting a car and navigating the roads. There are many great options to choose from, but we loved our experience with the group Irish Day Tours.
Bottom Line
From the beautiful, lush green countryside to the hustle and bustle of the food and music scene in the city center, there is no shortage of things to do in Dublin. Top it off with the friendliest people I have met in any of my travels, and you may want to make visiting an annual tradition.