Only got a few thousand Southwest Rapid Rewards points to your name? No problem: There's probably still a cheap flight you can book.
Southwest uses dynamic award pricing, which means the amount of points you need is tied directly to the cash price of the flight. The lower the price, the fewer points it takes to book … and that can lead to some amazing fares for just 5,000 Southwest points or less! Over the last few months, we've found and sent Thrifty Traveler Premium+ members some unbelievable deals bookable with Southwest Rapid Rewards points – and more deals are out there.
Whether you want to book a weekend getaway to Nashville (BNA) or Chicago, you want to book a destination ski trip to Colorado (getting your two free checked bags on Southwest Airlines, as always!), or you want to scratch Hawaii off your bucket list from just 10,000 points roundtrip, Southwest can get you there for fewer points than almost any other airline on the planet.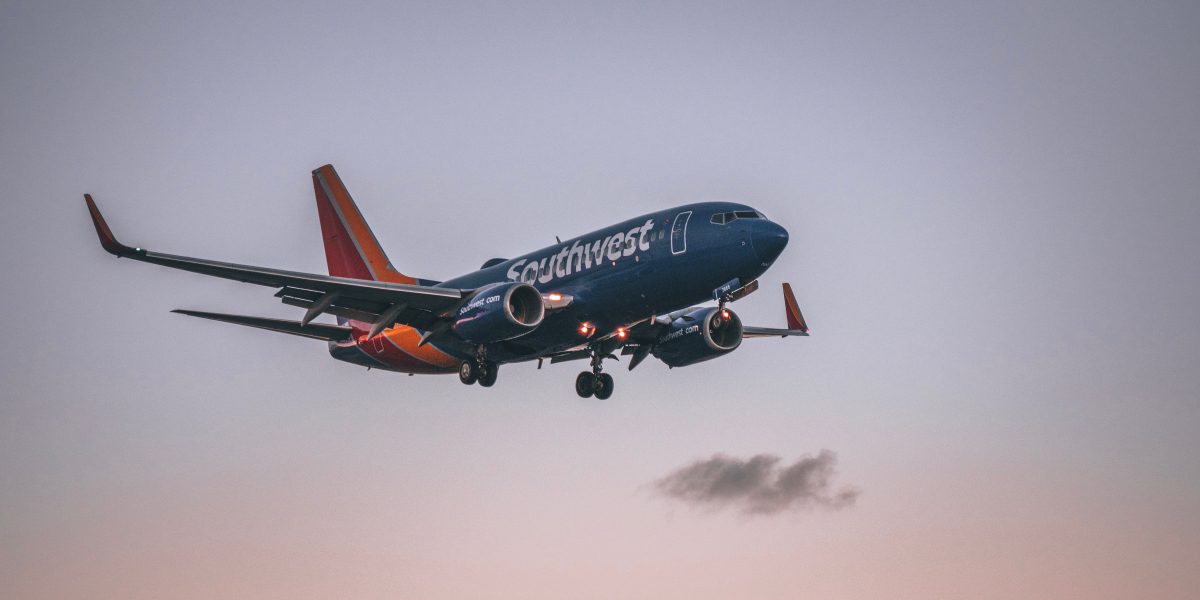 Attention, Thrifty Traveler Premium (or Premium+) members: You've likely already received these deals! If not, you might want to log into your Premium account and adjust your departure airport settings – or select "All Cities" to see every deal!

Hawaii as Low as 10K … Roundtrip!
This is easily the best way to use your Southwest Rapid Rewards points. Flights to Hawaii can be expensive and points and miles rates on other airlines can get pricey, too.
With Southwest Rapid Rewards, however, when Hawaii goes on sale, it's time to book now and ask questions later. But really, the only question you need to ask is: "How is it only 10,000 points to fly to Hawaii and back?"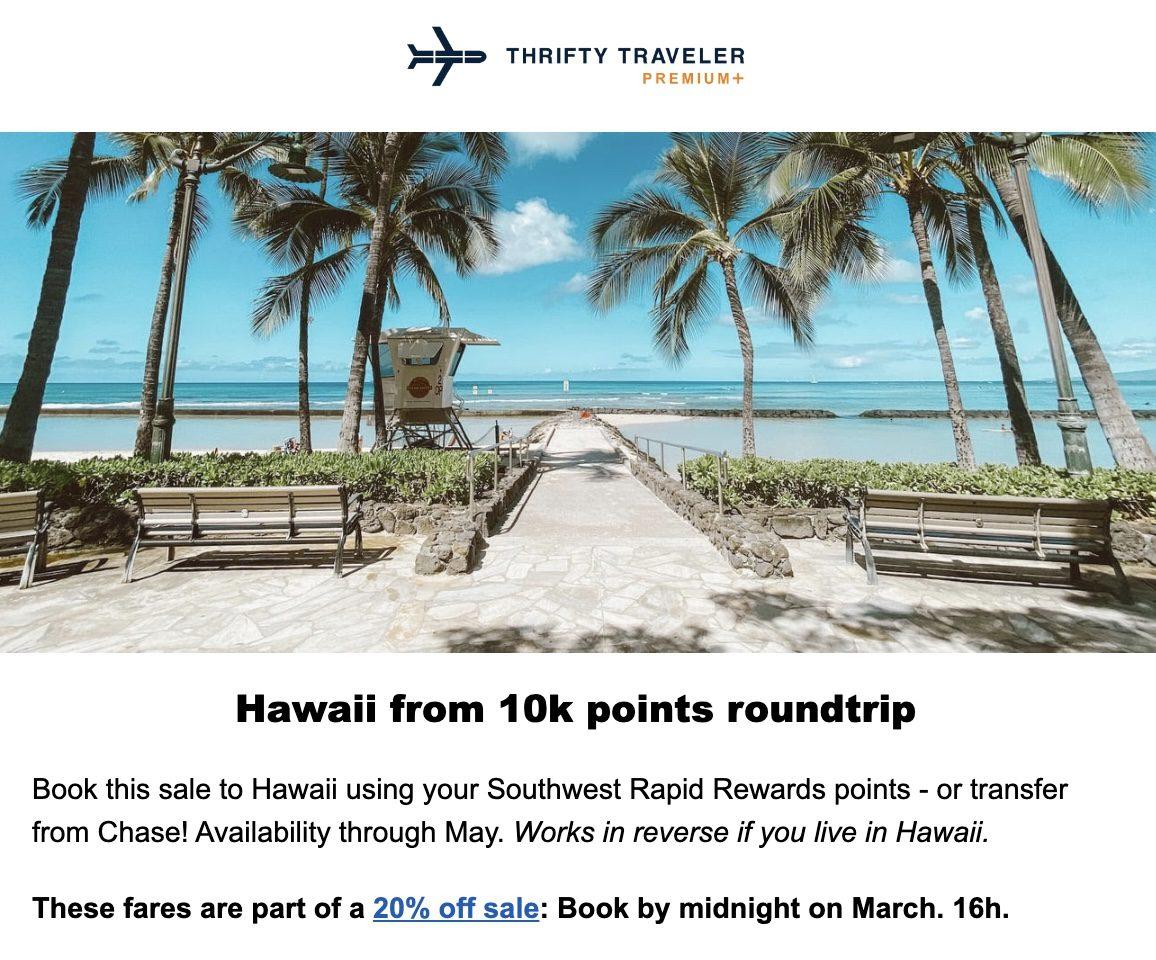 We didn't miss a zero, promise: A few weeks back, Southwest really sold roundtrip flights to Hawaii for as low as 10,000 points total. The Venn diagram of Southwest flyers who have 10,000 Rapid Rewards points and a desire to go to Hawaii is a perfect circle.
When we found this sale, we sent it out to our Thrifty Traveler Premium+ members immediately. When rates to fly Southwest to the islands get this cheap, we have to.

These ultra-low Rapid Rewards rates are long gone now – get the next deal with Thrifty Traveler Premium+!
The lowest fare was from Southern California's Ontario (ONT), where you could book a Hawaii getaway from just 10,000 Rapid Rewards and $11 in taxes and fees. You can't beat that.

But really, anytime you see a Hawaii fare under 40,000 points, you can book knowing you got a solid deal. So when Rapid Rewards fares this cheap pop up, don't waste any time!
Don't have Southwest points? Southwest is a Chase transfer partner, which means you can transfer points from a card like the Chase Sapphire Preferred® Card to your Southwest account when you see a great deal like this one!
Fly to Denver for Under 10K
If the sunshine and ocean vibes aren't your thing, trade in your shades for some skis and head to the Rocky Mountains with your Rapid Rewards points instead.
This nonstop flight deal to Denver (DEN) is another of our favorite uses of Rapid Rewards – especially since you'd need so few of them.

Southwest has a metric ton of flights in and out of Denver, meaning it's one of the easiest airports in the country to find a good Southwest deal. That's true whether you're using cash or Rapid Rewards points, too. Check out this long list of cheap deals from all across the country.

Besides the sheer enormity of that list, this deal is impressive because of how many fares are just four digits long. You could have flown all the way from New York City-LaGuardia (LGA) to Denver for just 9,000 points, or up from El Paso, Texas (ELP) for just 8,000. The Seattle (SEA) fare won the deal at just 6,000 Rapid Rewards. Crazy!
Fly to Chicago from 5K RT!
As far as a weekend getaway city, it doesn't get a lot better than the Windy City. Chicago-Midway airport (MDW) is a major Southwest hub. But Southwest also offers flights to Chicago-O'Hare (ORD) if that's more your speed.
Either way, Chicago is reliably one of the cheapest cities in the country to get to using your Southwest points. Check this out.

Get more points deals like this one with Thrifty Traveler Premium+!
It's always worth heading to Southwest.com and searching for you upcoming flight in Rapid Rewards points. The savings can be huge.

There are dozens of four-digit fares on this one, too, getting you to Chicago from places like Tampa (TPA), Seattle (SEA), San Diego (SAN), Providence (PVD), Pittsburgh (PIT), Orlando (MCO), Omaha (OMA), and many more – all for 9,000 Rapid Rewards points or less!


Boston (BOS) was the lowest fare on this one. You only need about 5,000 Rapid Rewards points and $11 to book this one. You might not even notice those points are gone!
A Trip to Nashville for Less than 8K Points
Heading to Nashville for a bachelor or bachelorette party and wondering how to get there for less? Look no further.

These nonstop flights to Nashville (BNA) starting at just 7,626 Rapid Rewards were another amazing use of your Southwest points. We sent this deal to Thrifty Traveler Premium+ members a few months back, but it's one of our favorite ways to use Southwest points.
If you can find the right sale, fares like these are yours.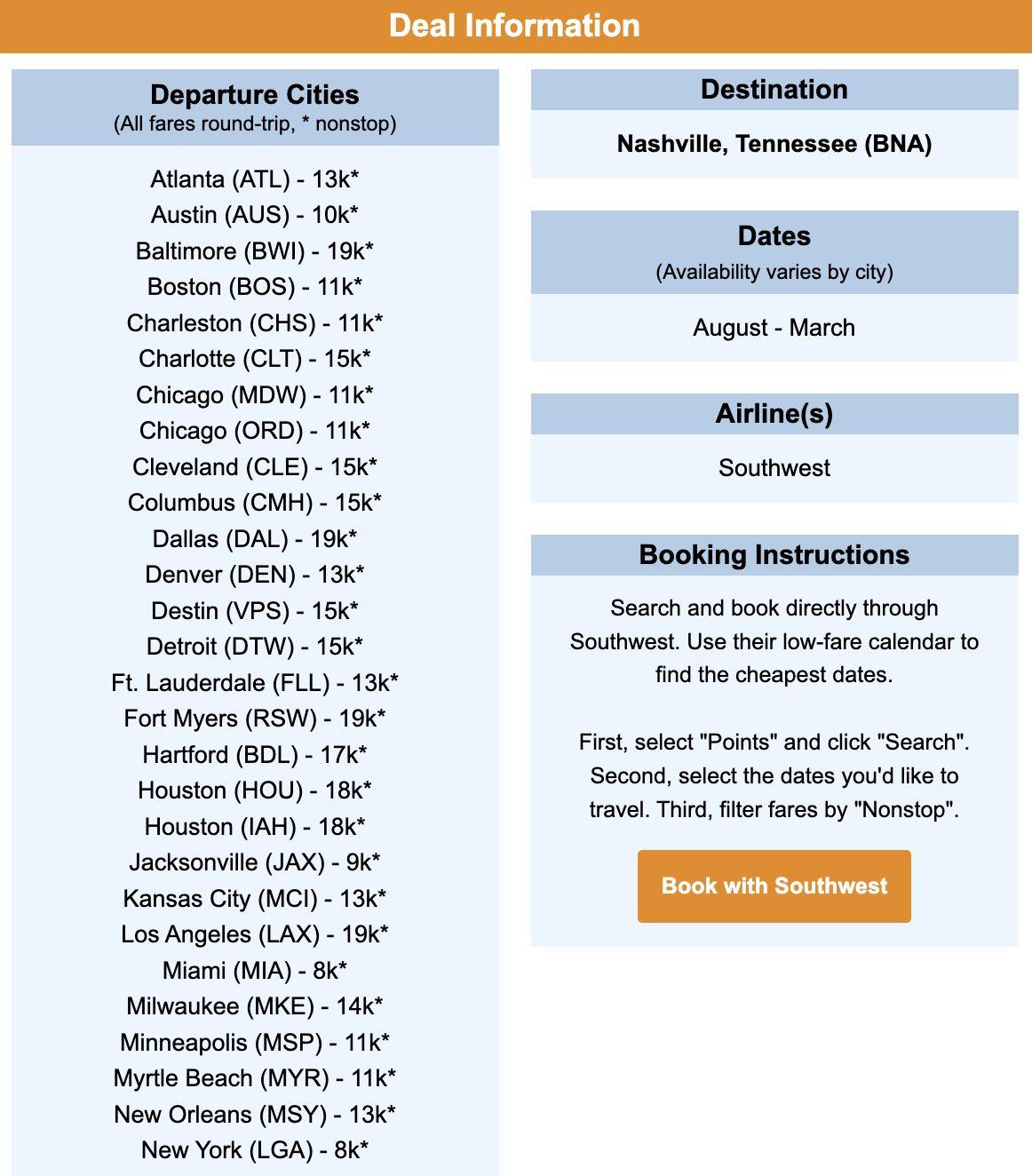 Save your money for Broadway! Use just a couple Rapid Rewards points and book free flights. That's what points and miles are all about!
Bottom Line
No matter how big (or small) your stash of Southwest Rapid Rewards points is, there's probably a cheap flight you can book.
If you time your booking with a Southwest sale, you could book a dream trip to Hawaii from just 10,000 points, a ski trip to Colorado from just 6,000 Rapid Rewards, and so much more!