Chalk it up to the luck of the Irish: We found your chance to get to Ireland all year long, including this summer, in lie-flat business class seats.
Heading to Europe in the thick of summer is pricey, especially flying nonstop on Aer Lingus business class straight into Dublin (DUB). That's what makes this deal we sent to Thrifty Traveler Premium+ members last week so great: We unearthed a boatload of Aer Lingus business class award availability from several U.S. cities into Dublin all spring, summer, and even into the fall – with two to four seats open! And you can book these business class seats for just 50,000 to 60,000 points each way.

Get award alerts to use your miles like this one with Thrifty Traveler Premium+!
Whether you fly from Boston (BOS), New York City (JFK), Philadelphia (PHL), or Toronto (YYZ), you can book flights for two or more most days all winter, spring, summer, and fall. That kind of availability is unprecedented during the busy (and expensive) summer travel season, when airlines prefer to sell seats. Our Thrifty Traveler Premium+ members got first dibs on this amazing deal last week, so some peak summer dates have disappeared.
Don't live in one of these cities? Consider booking a positioning flight in order to make your hop across the pond!
But there's still plenty available to book a trip to Dublin in style in 2023. Travelers in Seattle (SEA) and Washington, D.C.-Dulles (IAD) can snag some rare award space flying to Ireland in February. From other U.S. cities and even up in Toronto, though, the floodgates are open.
See all these dates with flights available for 82,000 United miles each way from Boston? Yeah, that's how easy it is to book business class for two or more – and you can book these same flights for even fewer miles than what United is charging.

For even lower award rates and reasonable taxes and fees, the best way to book these flights is with Aer Lingus Avios. Aer Lingus charges just 50,000 miles for a one-way during the off-peak season or 60,000 miles for a peak summer – check Aer Lingus's calendar for a breakdown. Taxes and fees tally up to $136 for a one-way to Dublin or $280 for the roundtrip in business class.
Getting the Aer Lingus miles you need is a cinch, as Aer Lingus is a Chase transfer partner, Amex transfer partner, and a Bilt Rewards transfer partner. That means as few as 50,000 points from the Chase Sapphire Preferred® Card or American Express® Gold Card is all you need. But you can also pool miles between Aer Lingus and its partner carrier British Airways, which means you can transfer Capital One points to get what you need to book.
Head spinning with all these options? We don't blame you. That's the beauty of our Thrifty Traveler Premium+ alerts: We do all the legwork for you, finding this rare award space and walking you through the best ways to book.

The booking process through Aer Lingus can be a challenge thanks to its slow, finicky website. You'll have to head to Avios.com, create an AerClub account (if you don't have one already), and start searching for flights. These searches can take seemingly forever to go through – and even then, you may run into errors. You can also call Aer Lingus at 1-855-585-8264 to complete a booking.
But that extra work is worth it compared to paying the $700-plus in taxes booking these same seats to Ireland using British Airways Avios instead – though fees on the return flights from Dublin back to the states are reasonable booking through British Airways. If you've got a boatload of Alaska Mileage Plan miles, you can book these same flights for 60,000 miles each way. United MileagePlus is another option, though it'll cost you 82,000 miles each way.
Really, though, you can't beat this booking via Aer Lingus itself. You probably won't find a single business class seat to Europe in summer 2023 with other airlines, but it's easy to book a trip to Ireland almost any day in July (or June or August, for that matter) for 60,000 miles and less than $150 each way.

Aer Lingus business class isn't the fanciest you'll find crossing the Atlantic Ocean, but there's no better way to fly nonstop to Dublin no matter when you're going. The seats are plenty comfortable – especially if you snag one of the so-called "throne seats" with more privacy and an incredible amount of storage space. Everything from the service to the meals to the snacks is cheekily Irish, and I mean that in the best way possible.
Whether you fly on a narrowbody Airbus A321 or one of Aer Lingus's huge Airbus A330s, the setup looks more or less like this.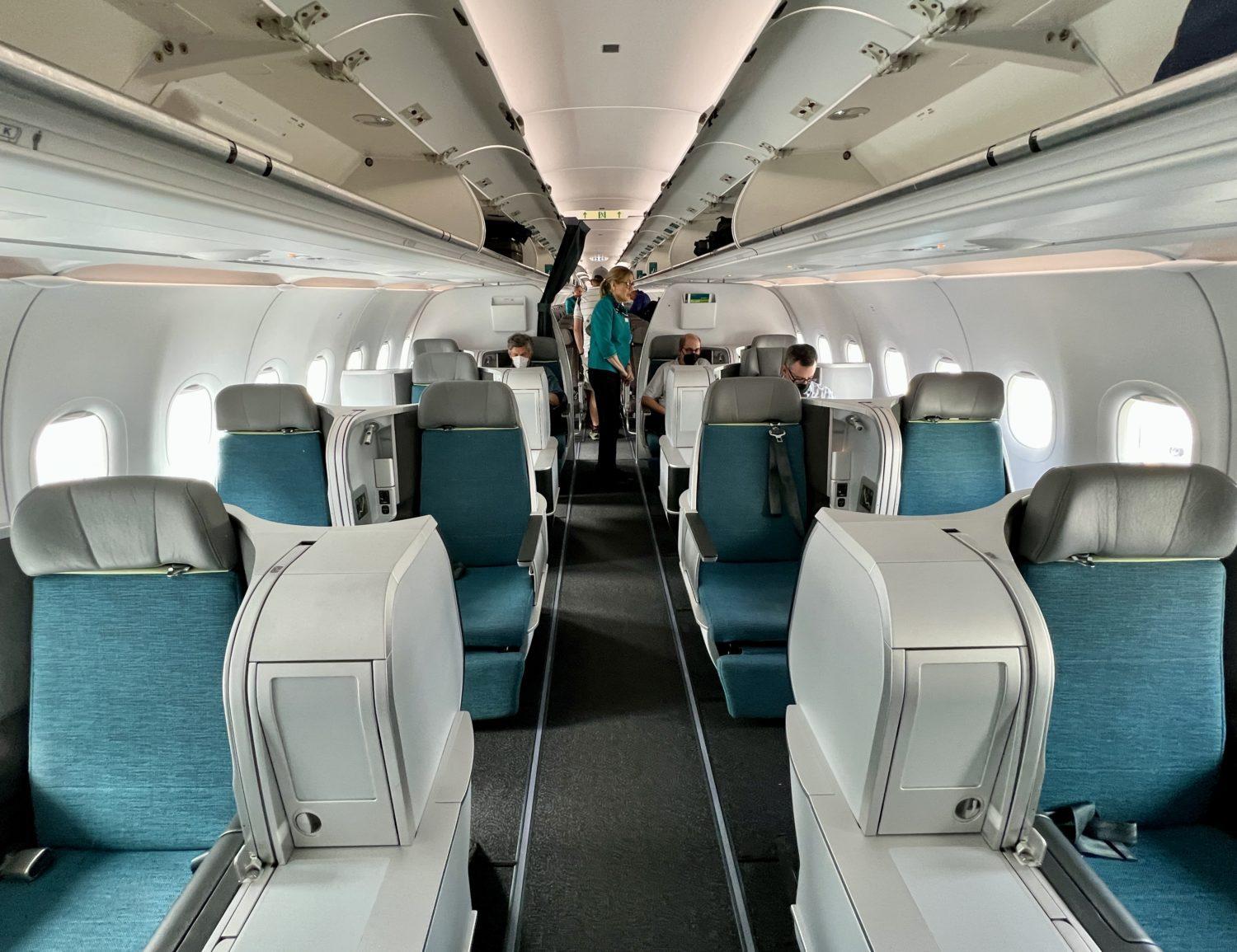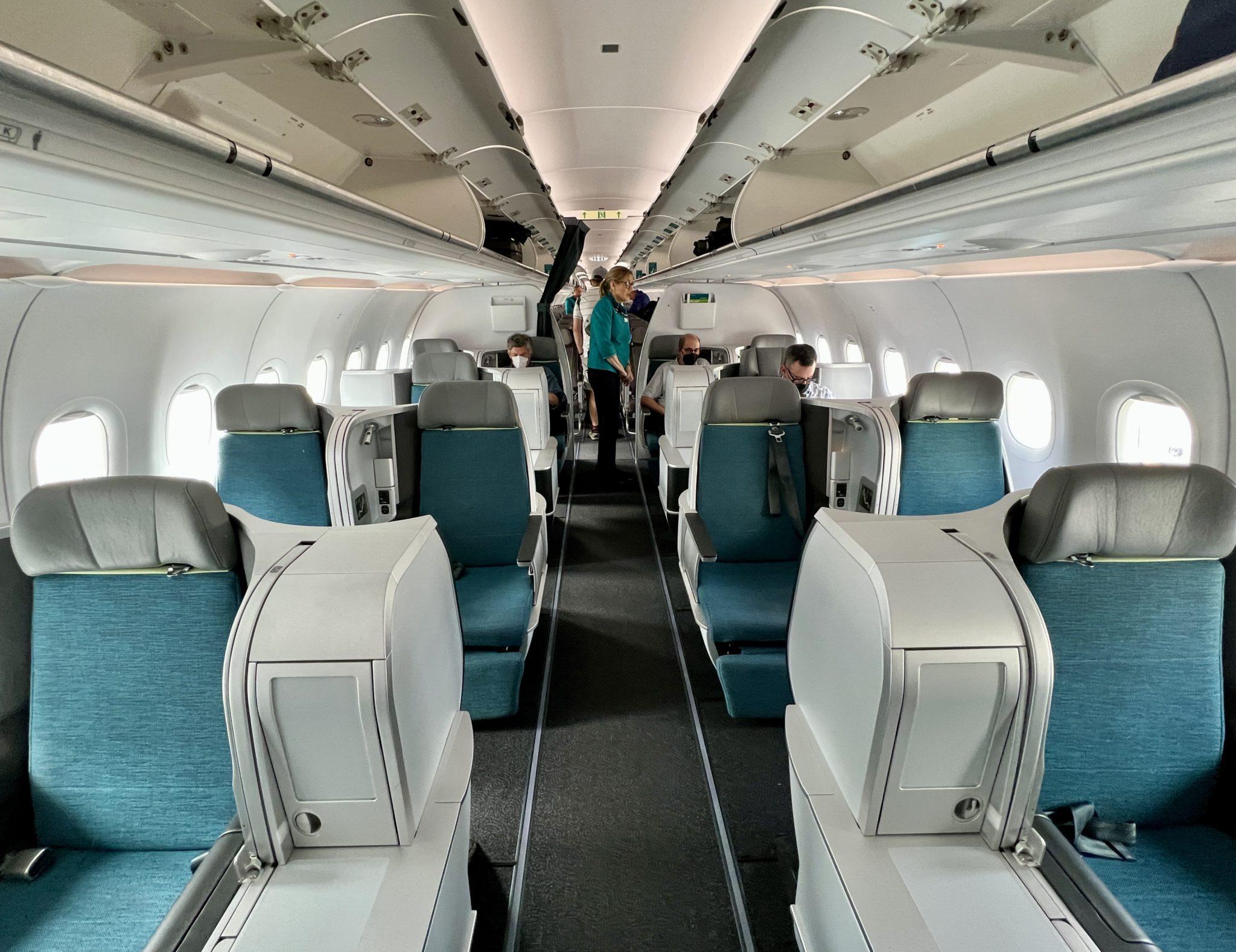 Read our full review of Aer Lingus business class!
How to Book Aer Lingus Business Class
Aer Lingus is a bit of an oddball in the world of airlines and points and miles. It's not part of one of the big airline alliances … and yet it's owned by the same conglomerate that runs British Airways. Plus, it's got a handful of one-off partnerships with other airlines.
And that's a win for travelers looking to redeem some miles for a seat in Aer Lingus business class. There are plenty of options to book, including:
You can book using 60,000 Alaska Mileage Plan miles each way, though those miles aren't exactly the easiest to earn
United MileagePlus miles are an option, and the airline charges roughly 82,000 miles each way (give or take a few thousand). United is a Chase transfer partner, so points from cards like the Chase Sapphire Preferred® Card are all you need.
You could use Aer Lingus's own Avios, naturally, for 50,000 points each way throughout much of the year or 60,000 points over peak summer and holidays. Combined with reasonable fees, this is our go-to way to book.
British Airways Avios is a strong contender with award rates starting at 50,000 miles each way, but BA tacks on nasty surcharges on flights from the U.S. to Europe (though not the return journey).
No matter which airline program you're using or which route you're looking for, the best site to find award availability for Aer Lingus is easily United.com. But with this much award space bookable all year from Boston (BOS), New York City (JFK), Philadelphia (PHL), or Toronto (YYZ), you shouldn't need to search too hard: Almost every day from February through November is bookable on these routes to Dublin.
When you've decided when you want to travel to Dublin, head to Avios.com, log in with your Aer Lingus AerClub account, click the option to "Spend Avios," and select "Reward flights" to start searching. Be warned: Aer Lingus's search often takes a few minutes to go through.

Whether you pay 50,000 miles or 60,000 miles each way depends on when you're heading for the Emerald Isle:
You can book off-peak flights for 50,000 miles for travel from today until June 9, though March 31-April 16 will price out higher. From Sept. 4 until mid-December, it's all off-peak, too.
Aer Lingus charges 60,000 miles each way during the peak summer from June 9 through Sept. 3, plus that stretch from late March into mid-April.
If you run into trouble booking online at Avios.com, you may need to pick up the phone and call Aer Lingus at at 1-855-585-8264 – just be sure they waive the phone booking fee for your troubles. Their call center is open from 3 a.m until 5 p.m. ET.
Just need a flight home from Ireland? It's probably easiest to book through British Airways instead. Rather than the $730ish they tack on when flying from the U.S. to Ireland, it's under $200 for the one-way home.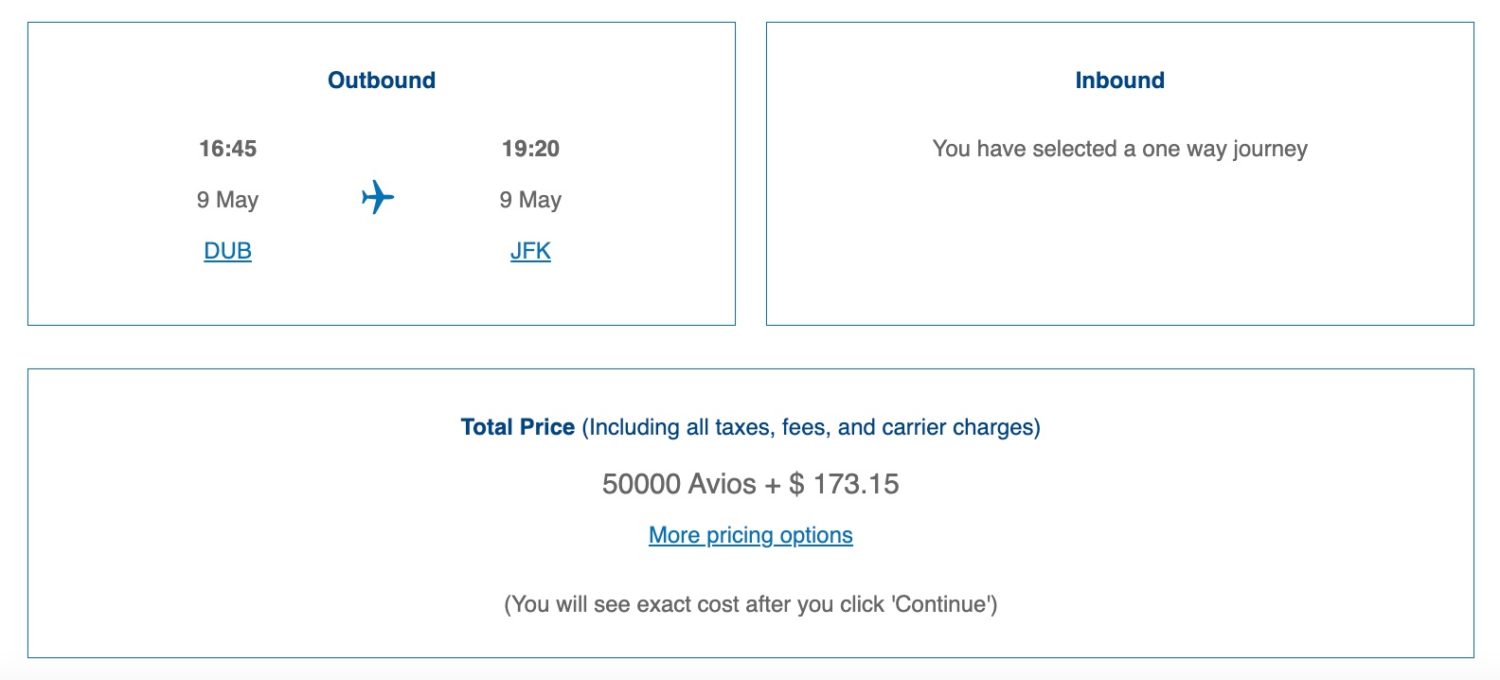 Bottom Line
Even if you've got 1 million miles or more, finding business class seats over to Europe that you can actually book can be a tall task – especially for a summer trip. That's what makes this Aer Lingus business class availability so spectacular.
A chance to fly to Ireland all spring, summer, and fall in lie-flat business class, bookable almost any day of the week? From several U.S. cities … and even Canada? And it'll cost you just 50,000 to 60,000 points and a few hundred bucks in fees? You can't beat that.