One story has been dominating travel for months: Flights are expensive right now … but not everywhere.
It's been lost in the big headlines about inflation and soaring travel demand, but good deals on flights are still out there Trust me: Finding cheap flights is what we do here at Thrifty Traveler, and we're still in business.
These days, finding a cheap flight hinges on flexibility not just for when you travel, but where, too. But being flexible doesn't mean you have to trade in your big international trip for something lackluster in the name of saving money – far from it.
We're putting a handful of destinations head to head, showing you how you can still book an amazing trip for a fraction of the airfare by shifting your sights.
Trade Fort Myers or Miami for Destin
Travelers flock to Florida year-round. Summer, winter, spring, or fall, Florida is popular no matter what the season. And all that demand means flights to destinations like Fort Myers (RSW) or Miami (MIA) are often pricey.
But one destination bucks that trend: Florida's panhandle, with an underrated stretch of white-sand beach towns along the so-called 30A corridor. And unlike bigger cities on Florida's peninsula, flights into Destin (VPS) are dirt-cheap.
Time and time again, we've sent Thrifty Traveler Premium members deeply discounted fares to this city on Florida's panhandle. And flights aren't just cheap during off-peak times: Even a trip in the middle of summer could be a bargain.
Get flight deals like this one in your inbox with Thrifty Traveler Premium!
That's right: Sub-$200 fares to Florida this summer. Compared to the astronomical fares we've grown accustomed to seeing into bigger tourist magnets further south in Florida, flights into Destin stand out.
Flying into Destin puts you a short drive away from the collection of charming beachside towns in the 20-mile stretch of Florida's 30A region. Grab a cheap rental car and head out to whichever town tickles your fancy!
It doesn't get much better than nonstop flights with Delta from Minneapolis-St. Paul (MSP) into Florida's panhandle for just $197 roundtrip – in the middle of July, to boot.
Skip the Greek Islands, Head for Mallorca
Over the years, we've seen cheap flights to Greece. Sadly, this year is not one of them: With transatlantic travel setting new records, everyone and their mothers (and their grandmothers, too) are set on finally pulling off that trip out to the Greek islands.
Why not head for a popular Spanish island instead? It'll cost you a fraction of that typical $1,200-plus Grecian fare to get there…
Mallorca is among the most popular destinations for Europeans seeking a quick island getaway. But lucky for you, flights straight into Palma (PMI) often drop to prices you'd expect to pay for a simple flight into Madrid (MAD) on the mainland – and sometimes even less.
Beach clubs and nightlife not your scene? Leave Mallorca behind and head for neighboring Menorca. It's a quick plane or ferry ride away, for a more laid-back vibe with all the spotless beaches and cheap eats you could want.
Roundtrip fares of $900 or more into Athens have become the norm lately – and getting to Santorini (JTR) or Mykonos (JMK) might easily cost you $1,200. But you can still get some island time in the Mediterranean late this summer, fall, or next spring for less than half the cost.

Leave London, Try Copenhagen
Look, this one might be a stretch. Is Copenhagen a dead ringer for London? Hardly.
But with flight deals like this one, isn't it worth convincing yourself it could be?
Yes, it's real: Nonstop flights for under $400 roundtrip. And this recent deal to Copenhagen is just the latest example in a slew of dirt-cheap fares to the Danish capital we've sent to Thrifty Traveler Premium members over the last few months. It's emerged as a surefire bet for a cheap flight across the Atlantic Ocean, cementing its status as one of the cheapest cities to fly into in Europe.
Whether you spend a week exploring Copenhagen or merely use it as a jumping-off point to head elsewhere in Europe, these low prices should give Copenhagen more of the attention it deserves. Our travel reporter and flight deal analyst Gunnar recently made a trip to Copenhagen and was absolutely smitten by its Scandinavian charm.
Read our full guide to exploring Copenhagen!
You're not limited to flying in a standard economy seat for a cheap flight over to Europe either. Much like we've seen economy fares to Copenhagen dropping recently, there's been an undeniable trend of cheap premium economy fares to Denmark – and other European destinations, too.
Time it right with a deal like this one we sent to Thrifty Traveler Premium members featuring SAS premium economy fares as low as $518 roundtrip, and you can enjoy far more legroom, a wider seat, extra amenities, and better food … for less than you're probably used to paying for a coach seat across the pond.
London may be higher on your list – heck, getting there later this year is at the top of mine. But you won't get deals this good flying into London-Heathrow (LHR), I assure you.
Want a Lie-Flat Seat Overseas? Look at Geneva
Even if you've got millions of points and miles, booking a business class flight to Europe can be like pulling teeth. Finding the award space to actually book those seats with your miles can require a mountain of effort and patience.
But one specific route stands out as an exception: Flying SWISS business class from New York City (JFK) to Geneva (GVA). We've repeatedly found wide-open award space for two (or four … or more!) passengers to book these nonstop flights to Switzerland, including over the peak summer when finding a single business class seat is nearly impossible.
Take a look at the award alert we sent Thrifty Traveler Premium+ members last month.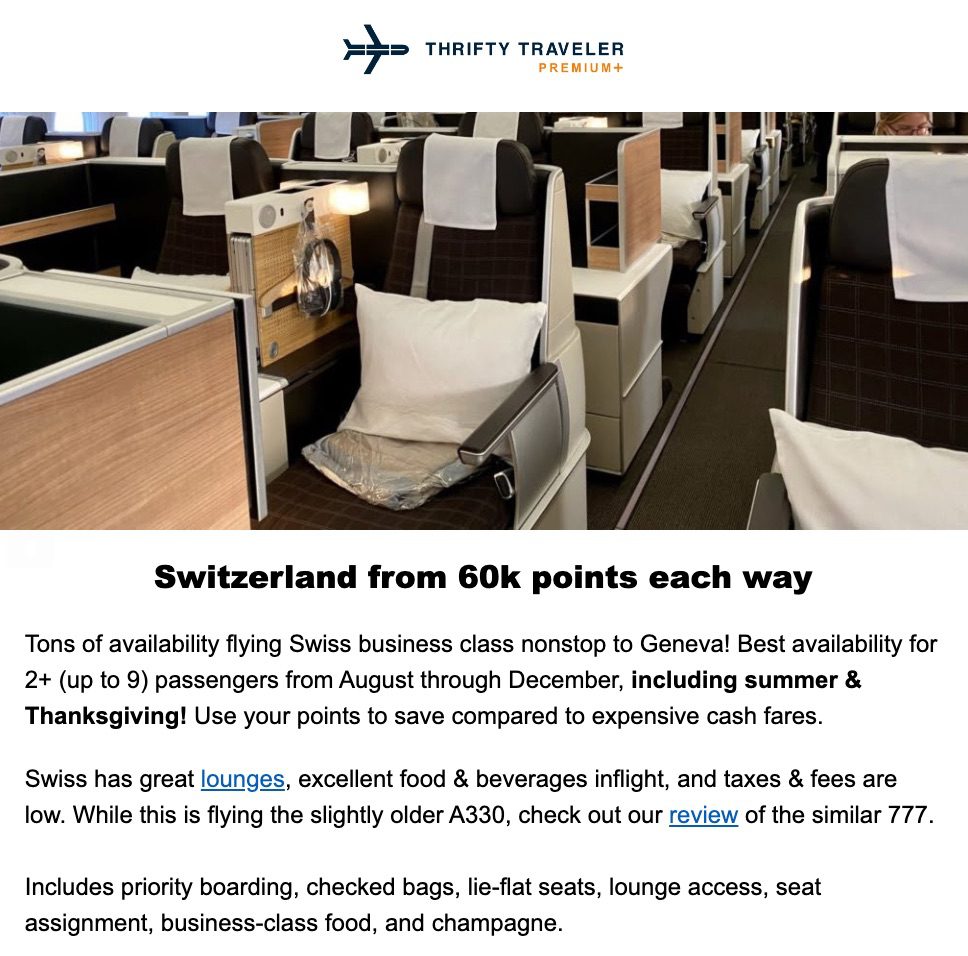 Thrifty Traveler Premium+ is the only flight deal alert service that sends travelers cheap cash deals and award alerts to use their miles!
No matter where you're heading in Europe, it's worth scoping out this route if flying in the comfort of business class is at the top of your list. From Geneva, you can connect onward to almost anywhere in Western Europe. Or just head down to explore Chamonix, Switzerland for a while – it's amazing any time of year.
Since SWISS is part of the Star Alliance, you can book these excellent business class seats to Switzerland for just 60,000 Air Canada Aeroplan miles apiece – and those miles are easy to earn. Because Aeroplan is a Chase transfer partner, an Amex transfer partner, and a Capital One transfer partner, you can instantly transfer all the points you need to book from cards like the Chase Sapphire Preferred® Card, the American Express® Gold Card, or the Capital One Venture X Rewards Credit Card. You can also book it for 73,000 United MileagePlus miles each way.
Turning your focus to Geneva could be the difference between making it to Europe in a lie-flat seat … or repeatedly coming up empty-handed no matter where you search.
Forget the Alps, Head for the Canadian Rockies
Do the Alps of Switzerland, eastern France, and northern Italy look magical? Yes. Are they expensive to get to? Also yes.
If some time in the mountains is what you seek, look north instead: Head for Banff in Alberta, Canada by flying into Calgary (YYC). We've seen a slew of dirt-cheap fares lately due in large part to WestJet's recent expansion of flights to and from the U.S.
Go figure that you can cross the northern border for a fraction of what it costs to fly over to Europe and back, right?
Whether you want to hit the slopes of Sunshine Resort next winter or paddle your way around Lake Louise this summer, this area of North America is a gem. Sure, it's not Europe … but you're not paying European flight prices, either. I'm not exaggerating when I say that you could book tickets to Calgary for the whole family for less than one roundtrip fare to Zurich (ZRH) or Geneva (GVA).
Screenshots like this one from Google Flights don't lie.
We find flight deals from more than 200 airports! Get amazing deals from your home airport with Thrifty Traveler Premium!
Forget French Wine Country, Go to Portugal
Sipping fancy French wine in the vineyards of Bordeaux or Burgundy sure sounds nice … but getting there can be expensive. Skip a few countries to the west and you'll find some amazing wine in a country widely regarded as the cheapest destination in all of Western Europe – and it's cheap to fly to, as well.
It's Portugal, home to one of the world's most beloved wine regions: the Douro River Valley, where even the highest-caliber wines are cheap by comparison. It's the birthplace of port wine, but vineyards are also bottling other delicious reds and whites. Or head to the far northern stretch of the country to find the home of vinho verde – Portugal's delicious green wine.
Oh, and did I mention it's drop-dead gorgeous?
Whether you fly straight into Porto (OPO) to hit up the Dourou wineries or head for Lisbon (LIS) first, you may not find a cheaper gateway into Europe. We regularly find and send Thrifty Traveler Premium members fares into either Portuguese city for under $400 roundtrip … and occasionally, prices dip under $300 total.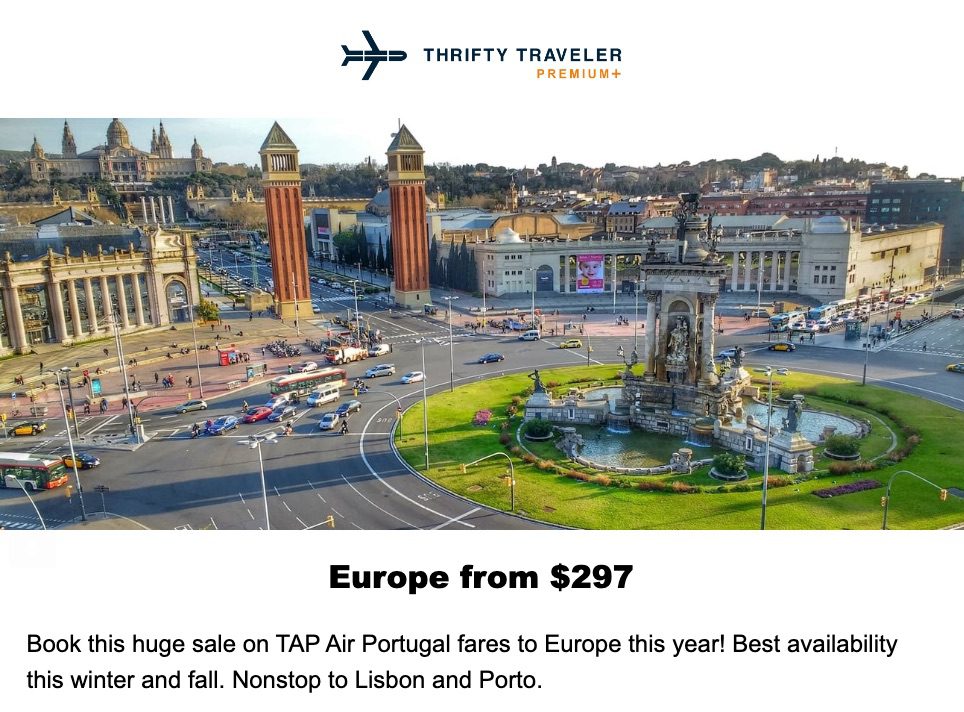 You'll be hard-pressed to find prices that low flying into Paris-Charles de Gaulle (CDG) … let alone a regional airport that spits you out close to French wine country.
No matter how much you plan to devote your trip to sipping wine, both Lisbon and Porto are worth a stop for amazing architecture, food, and culture. Whether you're enjoying a fresh-caught platter of grilled octopus or a flaky pasteis de nata pastry for 1 euro, you'll be shocked at just how cheap Portugal can be.
Read more on why you need to visit Portugal this year!
On the long list of reliably cheap European cities to fly into, these two Portuguese airports easily top the list. While a flight to Paris might clock in at $900 or more roundtrip, fares like this $404 trip from Boston (BOS) stand out.
Bottom Line
Forget what you've heard. Flights don't have to be expensive. The power to save on flights is in your hands.
By shifting your focus just a few hundred miles (or less), you can still score a cheap trip somewhere exciting later this year or early next.