If you're looking to get through airport security lines faster, you've got a few options. And many travelers come to the same dilemma: TSA PreCheck vs. CLEAR?
No, these two programs aren't the same. While both programs promise to get you through the airport faster, there are some key differences between them. From how they work to the cost to where you can use them, there's a lot to consider when weighing your options. And in some cases, could it even make sense to have them both?
Keep reading to see for yourself.
A Primer on TSA PreCheck
TSA PreCheck is run by the Transportation Security Administration, the federal government agency, as a trusted-traveler program. You've seen those lanes at the airport, right?
Only members of this program are eligible to hop in the TSA PreCheck lanes, which means lines are generally much shorter than the standard screening lines. And once you're in it, there's no need to remove your coat, shoes, or belt, nor do you need to remove electronics or liquids from your bag. That means the line moves much faster, too.
In short, TSA PreCheck can shave a ton of time off your wait in the security line. Your first time using it, you'll wonder why you didn't join the program sooner.
The one catch is that TSA PreCheck only partners with specific airlines, so you may not always get that quick pass through security. However, all of the major domestic airlines and even many small U.S. carriers are included. More international airlines are joining the program each year, too. All told, more than 70 airlines currently participate in PreCheck – and that number is constantly growing.
Applying for PreCheck starts with a fairly easy application process and background check and ends with an in-person interview. If all goes well, you can get signed up for PreCheck within just a week or two.
You can also get TSA PreCheck by enrolling in Global Entry, which doubles as a fast pass through customs and immigration when you return from an international flight. Once you've got PreCheck, you just need to enter your Known Traveler Number (KTN) in your airline frequent flyer account and you'll be set to hit the TSA PreCheck line for your next flight.
Read our full guide with everything you need to know about TSA PreCheck!
The 101 on CLEAR
Like TSA PreCheck, CLEAR promises a faster trip through the airport security line. You've seen the dedicated lanes and CLEAR kiosks at the airport, too. But it works much differently than PreCheck.
For starters, CLEAR isn't run by the government: It's a privately run trusted traveler program. CLEAR uses biometrics – like your fingerprints and iris scans – to verify your identity. That allows you to cut to the front of the airport security line. 
And that brings us to an important distinction between TSA PreCheck vs. CLEAR: The two programs really aren't related at all. If you have CLEAR but not TSA PreCheck, you'll cut to the front of the standard security line, where you'll need to take off your coat and shoes and remove any electronics in your bag. If you have both, you'll go to the front of the PreCheck line and make your way through even faster.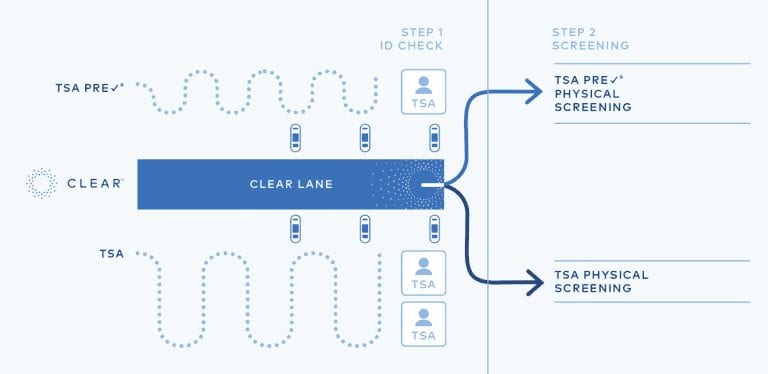 That means CLEAR can certainly shave some time off your trip through security. Sometimes the time you save can be substantial – especially when security lines are particularly bad. In other cases, the time savings can feel negligible.
Signing up for CLEAR isn't nearly as cumbersome as TSA PreCheck. You can apply online at home, then wrap up your enrollment at the airport in about 5-10 minutes. From there, you just waltz to the CLEAR lane, scan your fingerprints or iris scans in one of the machines with an agent, and head to the front of the security lane.
Read our master guide to CLEAR and how it works!
But just because it's easy doesn't mean it's free.
Cost May Be a Concern
This is easily the biggest difference you'll find between these two time-saving airport programs.
TSA PreCheck costs just $85 for a five-year membership. And whether you get PreCheck outright or through a Global Entry membership, you can cover that cost with a growing number of credit cards.
CLEAR, on the other hand, starts at a whopping $179 each year. That's right: Each year of CLEAR will cost you more than double what you'd pay for a five-year TSA PreCheck membership. The sticker shock alone can make it an easy decision.
Luckily, there are a handful of ways you can reduce the cost of CLEAR.
Just by having a frequent flyer account with either Delta or United, you can drop the cost to $119 per year. Or if you've got one of their co-branded credit cards like the United Explorer Card or Delta SkyMiles Gold American Express Card, that falls to $109. And finally, top-tier elites on both airlines can sign up for free.

And there's a way to make it even cheaper. The American Express Green Card now offers an annual $100 credit towards the cost of CLEAR membership. That means you could potentially get the service for only $9 each year if you pay for it with the Green Card and are an existing United or Delta credit cardholder or have status with either airline. Or just use your frequent flyer account with either airline to get it for $19 a year total.
Clear Isn't Everywhere … Yet
TSA PreCheck is available at 200 airports nationwide. That means you can use PreCheck at almost any airport in the country, big and small.
That's not the case with CLEAR – at least not yet. CLEAR has expanded drastically over the last several years. It's currently available at about 36 U.S. airports and counting. Scan the list, and you'll see that it's primarily the nation's largest hubs.

| Airport | Terminal(s) |
| --- | --- |
| Atlanta (ATL) | North & South Domestic Terminals |
| Austin (AUS) | Checkpoints 1 & 2 |
| Baltimore (BWI) | Checkpoints A,B,C, D & E |
| Birmingham (BHM) | Main Terminal |
| Boston (BOS) | Terminal A |
| Chicago-Midway (MDW) | Main Terminal |
| Chicago-O'Hare (ORD) | Terminal 1 & 2 |
| Cincinnati (CVG) | Main Terminal |
| Cleveland (CLE) | Center & South Checkpoints |
| Dallas-Fort Worth (DFW) | Terminal E |
| Dallas-Love Field (DAL) | Terminal 1 |
| Denver (DEN) | North & South Entrances |
| Detroit (DTW) | North & McNamara Terminals |
| Fort Lauderdale (FLL) | Terminals 1 & 2 |
| Houston-Intercontinental (IAH) | Terminals A, B, C and E |
| Houston-Hobby (HOU) | Main Terminal |
| Las Vegas (LAS) | Terminals 1 & 3 |
| Los Angeles (LAX) | Terminals 1 - 7 |
| Miami (MIA) | Checkpoints E & H |
| Minneapolis−Saint Paul (MSP) | Terminal 1 |
| Nashville (BNA) | |
| New Orleans (MSY) | Concourse D |
| New York City-John F. Kennedy (JFK) | Terminals 2 & 4 |
| New York-LaGuardia (LGA) | Terminals C & D |
| Newark (EWR) | Terminal C |
| Westchester County (HPN) | Main Terminal |
| Orlando (MCO) | East & West Security |
| Phoenix (PHX) | Terminals 2,3 & 4 |
| Sacramento (SMF) | Terminal A & B |
| Salt Lake City (SLC) | Terminals 1 & 2 |
| San Antonio (SAT) | Terminals A & B |
| San Francisco (SFO) | Terminals 1-3, International Terminals A & G |
| San Jose (SJC) | Terminal A & C |
| Seattle-Tacoma (SEA) | Checkpoints 1-5 |
| St. Louis (STL) | Terminal 2 |
| Washington, D.C. -Dulles (IAD) | Main Terminal & East Security Checkpoint |
| Washington, D.C.-Reagan (DCA) | Terminals A, B & C |
Take care to note that even at the airports where CLEAR has set up, it's not available at each and every terminal. CLEAR has partnered with both Delta and United, so their emphasis is on those airlines' hubs and focus cities as the service continues to expand.
If you're a sports fan, there's a silver lining. CLEAR is also available at a handful of professional sports stadiums and venues, too.
What About For Families?
If you're traveling with a spouse, partner, or kids in tow, there are more differences in store based on whether you've got TSA PreCheck vs. CLEAR.
According to TSA regulations, an adult's PreCheck membership will apply to minors that are booked on the same reservation, so long as they're 12 or younger. Just be sure that the TSA PreCheck holder books the tickets, and it should almost always work for kids on the same reservation.
But what about spouses, other family members, or friends? In theory, those benefits won't pass down. But in practice, airlines will frequently pass it on to an entire reservation. Airlines just have some discretion in deciding whether or not to pass on these benefits to everyone.
In short: Airlines will often give the rest of your traveling party your TSA PreCheck benefits. But you can't always count on it.
With CLEAR, it's a different story. One of the best, little-known features of CLEAR is its Family Plan.
When you enroll in a CLEAR membership you can add up to three adults to your Family Plan for only $60 per adult. After you add them, all they need to do is head to a participating location and finish their enrollment. It will only take a few minutes and they can start using it right away. They can use CLEAR anytime, whether or not they're traveling with you.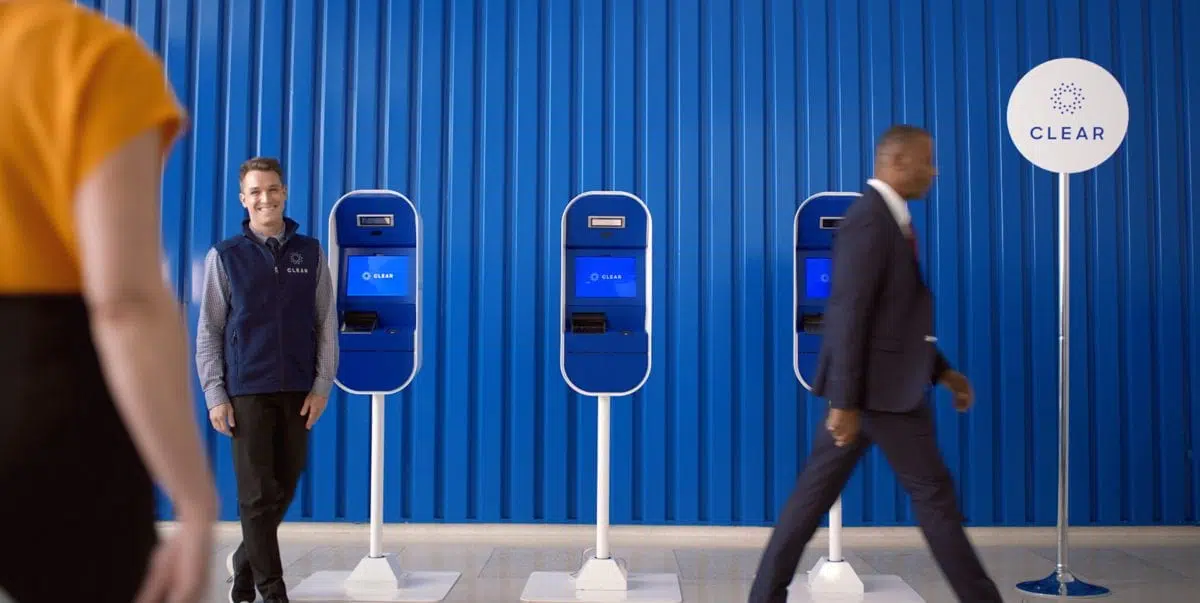 So if you often travel with a companion, there's no need for both of you to sign up for CLEAR separately. Just let them piggyback on your account for less.
And it's even better for kids. For kids or any family members under the age of 18, you can bring them along with you for free. They don't need to be added to your Family Plan.
TSA PreCheck vs. CLEAR … Or Could it Make Sense to Have Both?
It just sounds extra, doesn't it? Do you really need both of these traveler programs?
Well, probably not. But there's no denying that these two programs work well in tandem. You can use CLEAR to cut to the front of the TSA PreCheck line, then get through without having to worry about shedding your shoes or taking things out of your bag. It's a nice experience – especially with CLEAR's touchless process in the age of COVID-19.
But is it worth having both? That depends on a few things.
How much are you paying for each service? If you're getting steep discounts by holding the right credit cards, then why not? But if you're paying full sticker price, it's hard to fathom.
Do you frequently fly in and out of airports with CLEAR service? If so, ponying up for both memberships could be worth it. But if your home airport doesn't have CLEAR, why bother?
Bottom Line
While they both bill themselves as being your ticket to a quicker trip through the security line, TSA PreCheck and CLEAR are drastically different.
Whether it makes most sense for you to get PreCheck, CLEAR, or both depends on how much you travel, where you live, and your appetite for spending big bucks to make your next trip through the airport a little bit faster.