From the blinged-out suites to the free-flowing Dom Perignon vintage champagne to showering at 35,000 feet, Emirates First Class is about as over the top as it gets. But the Middle Eastern airline thinks it can raise the bar even higher.
Emirates this week unveiled an upcoming $2 billion investment in its planes from nose to tail, updating seats and suites from economy to first class while adding Premium Economy seats to 120 of its aircraft. Out with the gaudy gold and dark woodgrains, in with some softer whites and understated finishes – plus more extra legroom seats. By September, all flyers will see new menus.
But Emirates is nearly synonymous with "first class," so the upgrades up front stand out even more. And nothing says "first class" quite like caviar … especially on Emirates.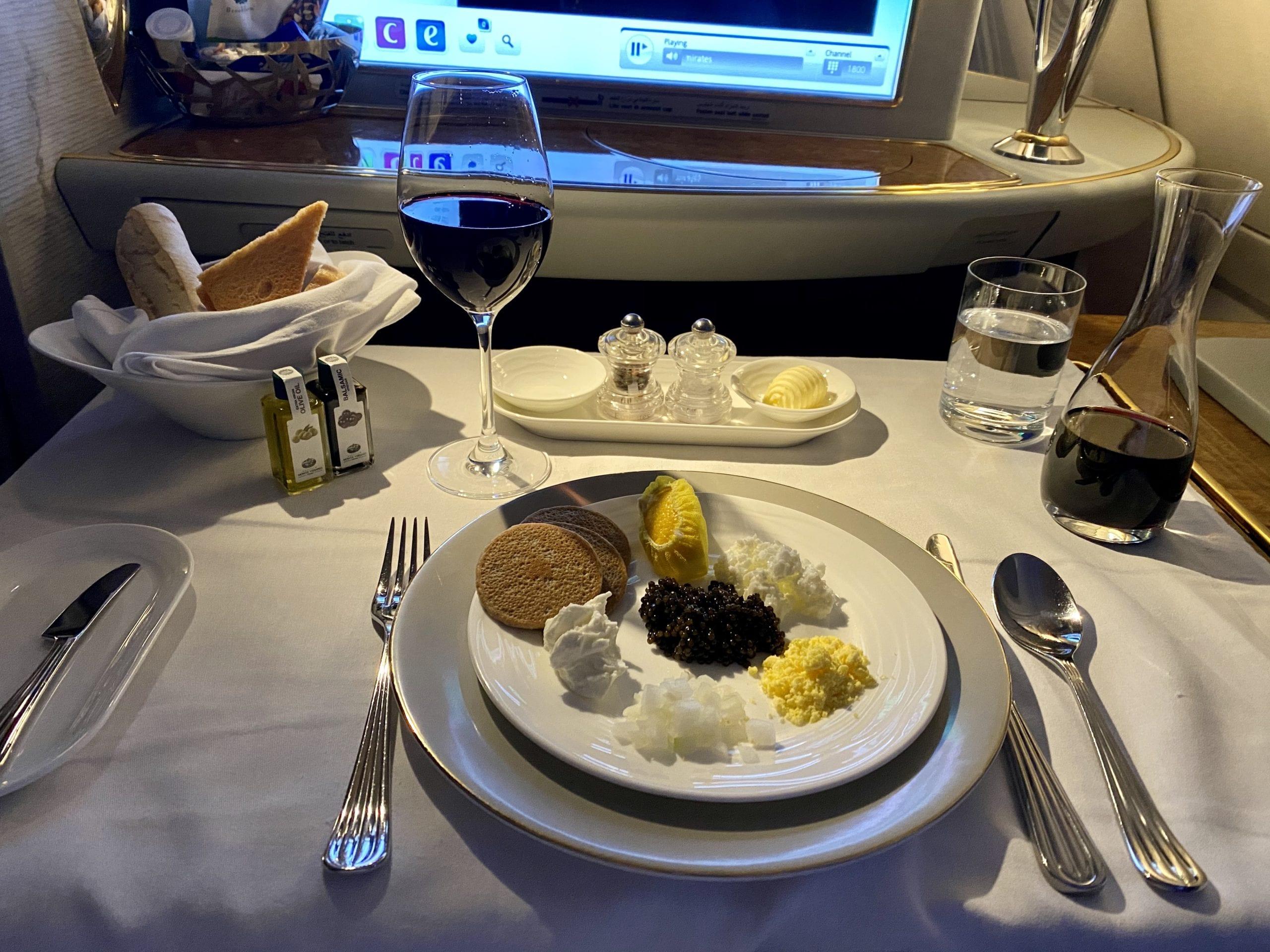 Effective immediately, travelers in Emirates First Class can get more than one serving of caviar on their flights. In fact, they can "now savor unlimited portions of Persian caviar as part of the 'dine on demand' service," washing it down with glass after glass of Dom Perignon. Want a serving of caviar after takeoff and another before landing? Done. Want to skip the meals altogether and eat only caviar. Suit yourself!
This can only mean that Emirates is upping its supply of caviar tins on each flight, and that doesn't come cheap. And while Emirates hasn't specified which routes will get a bounty of caviar onboard, it seems safe to assume it'll be available even on the airline's funky fifth-freedom routes between Newark (EWR) and Athens (ATH) and New York City (JFK) and Milan (MXP) – not just nonstop routes to its hub in Dubai (DXB).
Read more: How to Book Emirates' Flights to Europe
And that's not the only change in store when flying Emirates up front. The airline is also introducing what it calls "Cinema in the Sky" service, special menu items available on demand in first class while you watch a movie. The offerings include lobster rolls, sliders, edamame, and, of course, salty popcorn.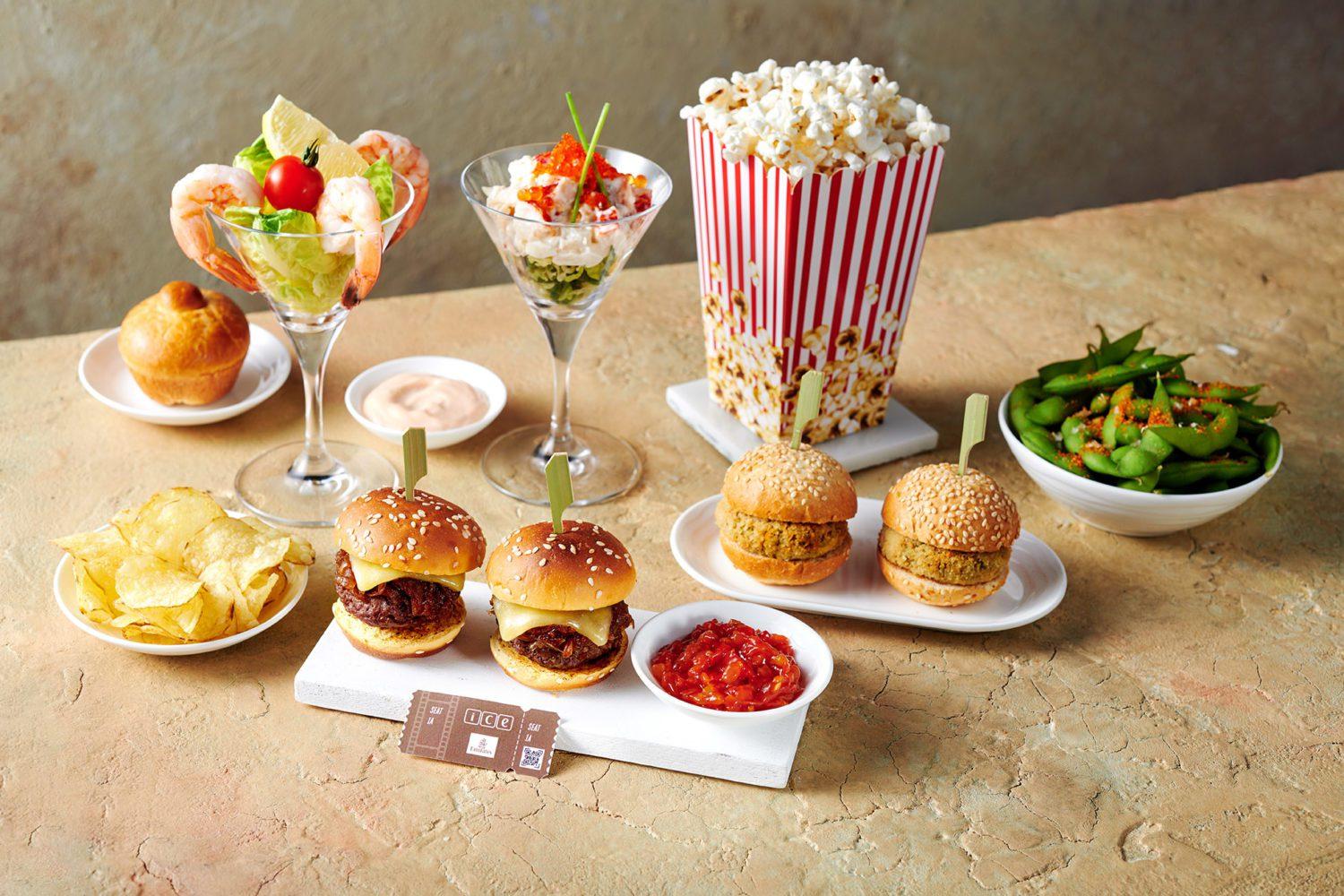 But these aren't the only changes in store for onboard dining.

New Menus & Vegan Options
No matter whether you're flying Emirates First Class, back in business, or Emirates Economy, new food is on the way.
Go figure, first class gets first dibs  – though only on select routes to start. Emirates says it's introducing new dishes in first class like pan-fried salmon with moqueca sauce and creole rice and roasted duck breast with orange thyme jus. Here's a new sample menu to scope out in full.
Come Sept. 1, the airline will introduce new menus in Emirates business class and economy, too. The airline hasn't hinted at what new additions might be on it.

But one big change in store is that Emirates is also introducing dedicated vegan options onboard. Emirates says it will offer dishes like roasted king oyster mushrooms and jackfruit biryani along with desserts like a vegan chocolate truffle cake with hazelnut, pistachio, and gold leaf.
The airline is also boasting that it will begin offering sustainable fresh greens sourced from Bustanica, which it calls the world's largest vertical farm, on flights departing from Dubai.
New Finishes, Too
Emirates' planes are getting a facelift from nose to tail.
Emirates says it's embarking on "an extensive and record-breaking refurbishment of the aircraft fleet interiors." That means new upholstering, new panelling, and new flooring. The airline didn't specify the timeline for its fleet refresh aside from saying it will begin in November, nor did it spell out exactly what's in store.
But it seems safe to assume that we'll see more of the newer, tamed-down look that Emirates began introducing a few years back.
For example, here's a look at the standard setup in Emirates business class on their mammoth Airbus A380s.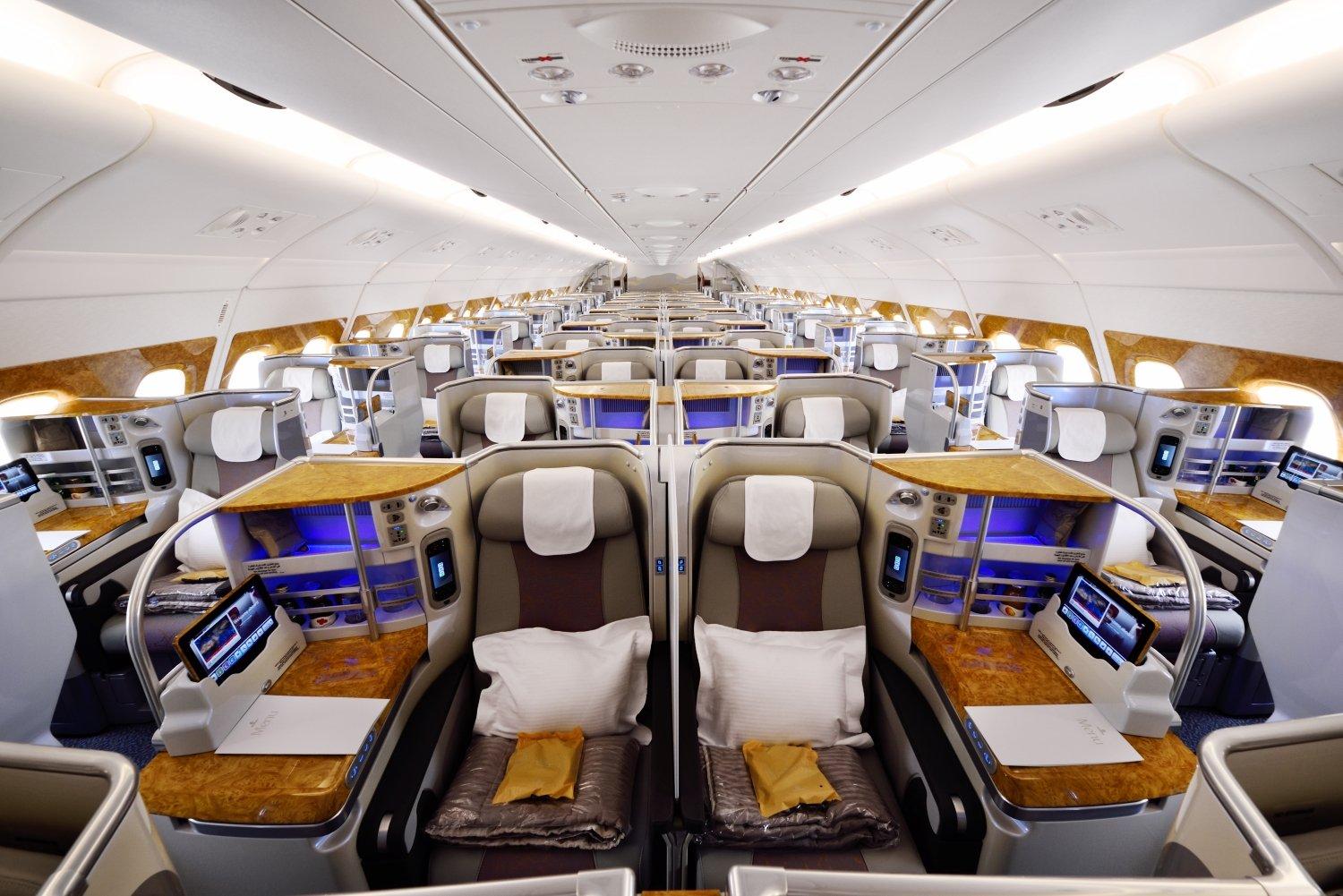 And here's the newer look.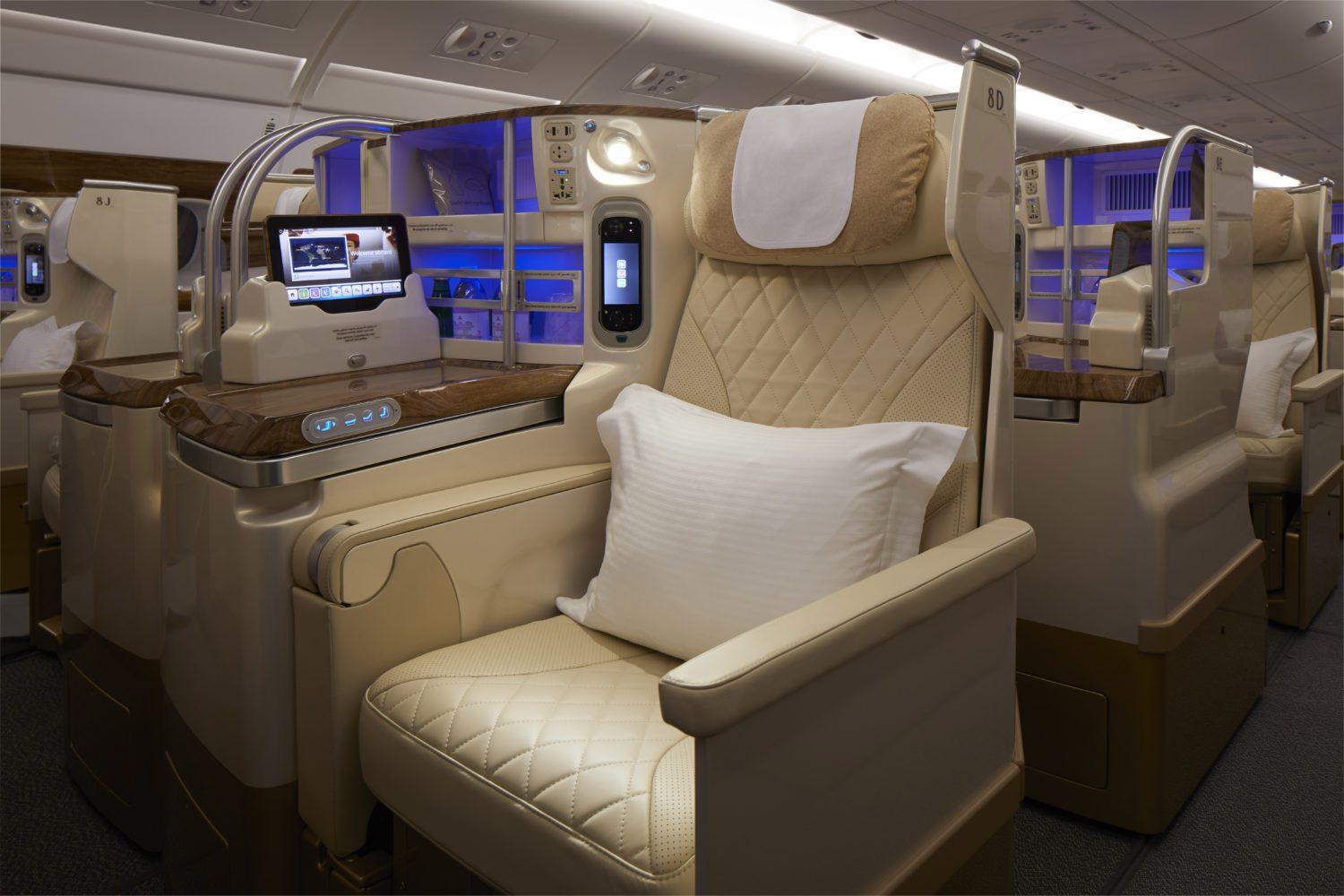 If Emirates is planning to retrofit its fleet with more of these updated interiors, consider us impressed. It's a big improvement.
More Premium Economy Seats
After years of anticipation, Emirates' new Premium Economy seats officially took flight this summer. Now, the airline says 120 of its planes will get outfitted with these new cabins.
It's not business class with lie-flat beds – but it's not economy, either. It's a solid middle-ground, with 40 inches of legroom, wider seats, and extra bells and whistles like dedicated leg rests, larger entertainment screens, and more.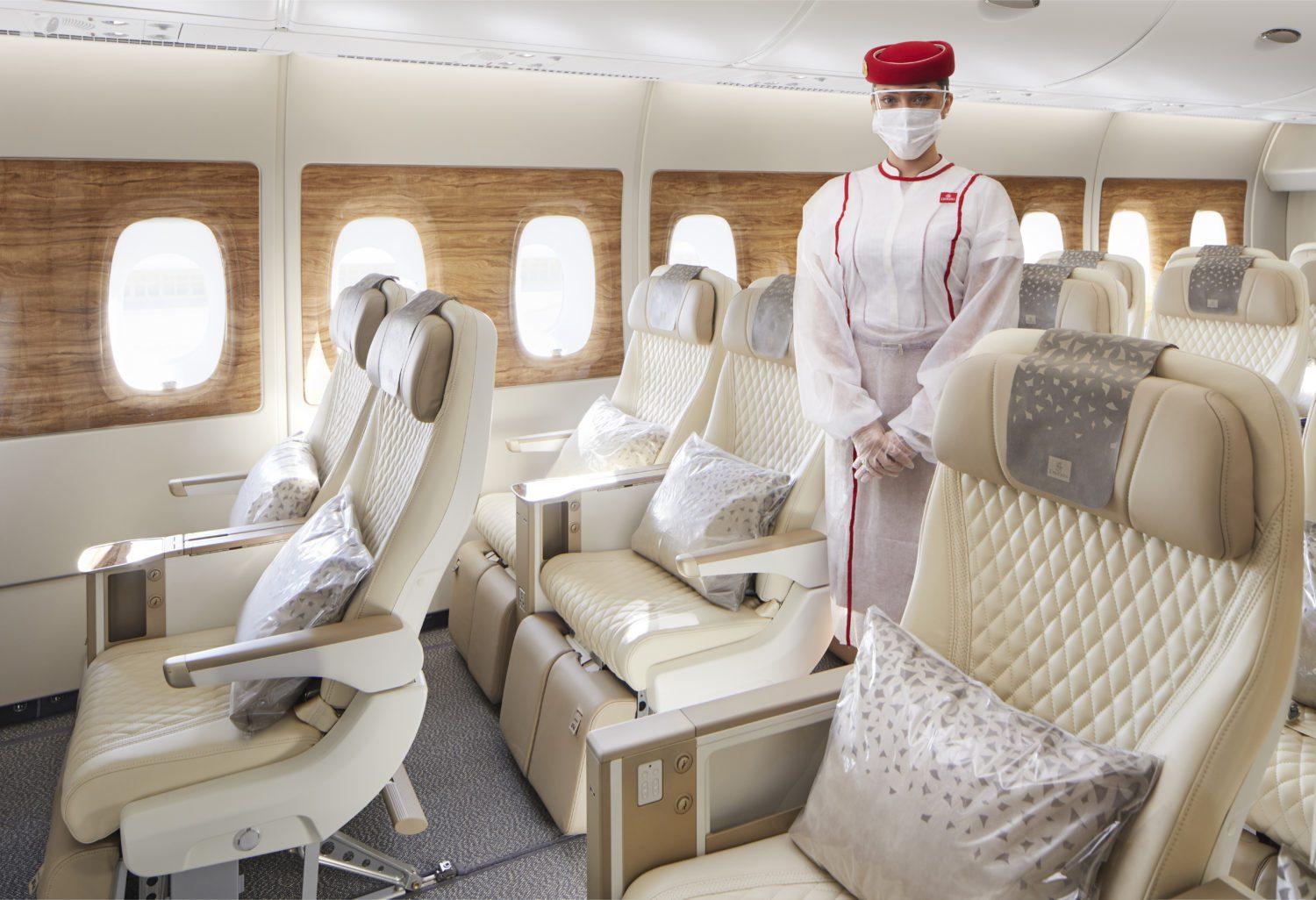 Today, you can only find Premium Economy on select Emirates flights between its Dubai (DXB) hub and cities like London-Heathrow (LHR), Paris-Charles de Gaulle (CDG), and Sydney (SYD). But with more than 100 jets set to get these new seats, it should become a mainstay in Emirates' fleet over time.
Bottom Line
Emirates is always pushing the envelope.
In an age when most airlines are cutting back in the name of saving money and boosting profits, it's nice to see Emirates putting even more money into improving the passenger experience.
Lead photo courtesy of Emirates