If you've got credit card points like Chase Ultimate Rewards or American Express Membership Rewards, nothing is better than a good transfer bonus. But you may want to hurry to take advantage, because two outstanding transfer bonuses that can get you up to 30% more miles are ending soon – really soon.
For the last month and change, Chase has offered an excellent 30% transfer bonus if you send your points to Virgin Atlantic – one of our favorite ways to book Delta One business class flights … or a first class flight to Tokyo! At the same time, American Express has offered a 25% bonus when transferring Amex points to Air France/KLM Flying Blue, unlocking a major sweet spot to fly Delta to Hawaii.
Both of these transfer bonuses run through tonight, June 15. That means you'll need to come up with a game plan to put these bonuses to use before they expire.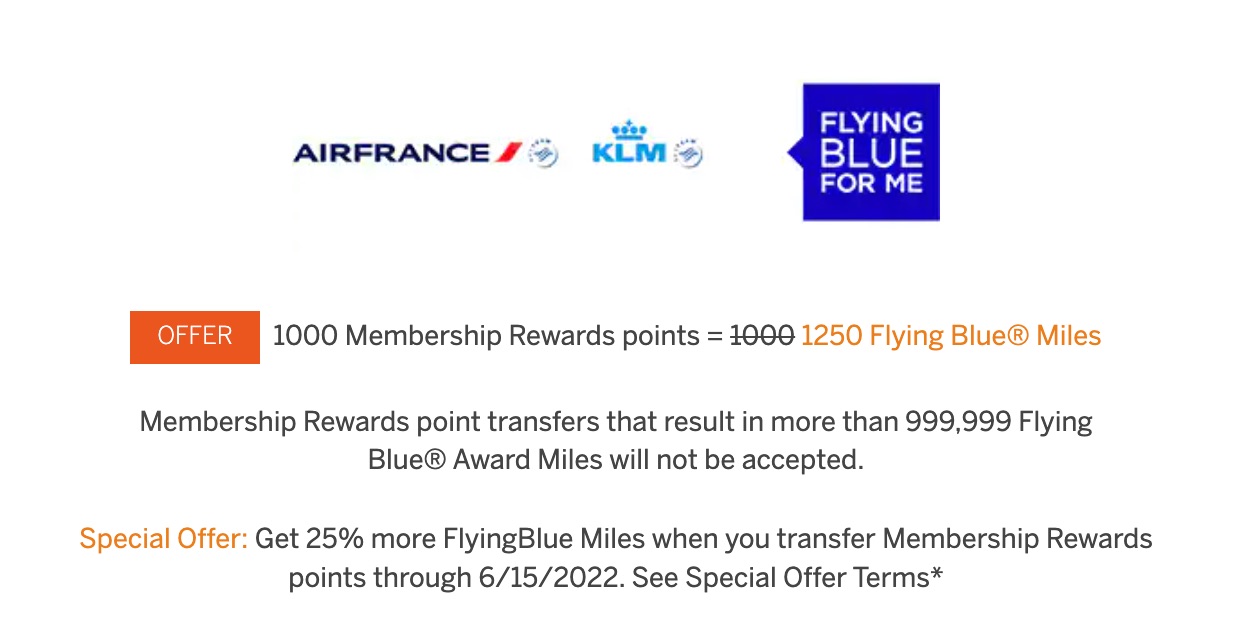 Not sure how to get started? Read our walkthroughs on how it works with both Amex transfer partners and Chase transfer partners!
Whether you get 30% more when transferring Chase points or 25% extra from your Amex points, transfer bonuses like these are great because they're basically free airline miles. But no matter how big the bonus, you should never transfer points without a purpose to use them in mind and confirming the flights you want are available. These transfers are a one-way street: You can't get them back to your credit card account.
Fortunately, there are plenty of great ways to maximize either of these bonuses. Here's a quick rundown of some options for each.
How to Put a 30% Bonus to Virgin to Use
Got points from the Chase Sapphire Preferred® Card or maybe even the Chase Sapphire Reserve®? Transferring those points to Virgin Atlantic is one of our favorite ways to use them – and this 30% bonus just makes that case even stronger.
Let's start with the bad news. Virgin Atlantic's website can be a tad difficult to navigate, as getting award flights to show up on a given route can take a few tries. One good trick is to search for airports by country or region and pick them, rather than manually typing in the city name or airport code. And unfortunately, Virgin Atlantic just made it even harder by removing a handy award calendar you could use to scroll through a month's worth of flights at a time. Our pals at Frequent Miler pointed out a workaround you can use to still pull this feature up.
But there are some serious sweet spots to put Virgin Atlantic Flying Club points to use that can easily make any trouble worth it. With this 30% bonus, you need far fewer points to book them.
So what can you book? 
Major Delta Deals
We don't need to tell you that trying to understand the value of Delta SkyMiles can be frustrating. There's no award chart, so the airline's pricing when booking a flight with miles can be all over the map. Often, a Delta award flight can be obscenely expensive – especially if you want to fly business class.
Enter Virgin Atlantic. You can easily use Virgin Atlantic to book the exact same Delta flight and save a boatload of SkyMiles.The London-based airline offers a far more stable – and frequently cheaper – alternative to book Delta flights than using SkyMiles outright.
Case in point, it's next to impossible to find decent rates flying Delta One business class using miles. The airline regularly charges 300,000 SkyMiles or more for a business class seat to Europe, including the new Delta One suites.

But with Virgin Atlantic, it's just 50,000 miles to fly Delta One to Europe. Unfortunately, Virgin Atlantic destroyed a similar sweet spot to get to Asia for just 60,000 miles last year.
Still, there's plenty of value here with redemptions to Europe – though you'll have to be flexible, as finding these seats at such cheap rates through Virgin Atlantic has gotten much harder in recent years. But when you can, it's a steal. Here's an example.
Delta is charging at least 200,000 SkyMiles to fly Delta One from Detroit (DTW) to Amsterdam (AMS) this fall. This flight is operated on Delta's newest Airbus A350-900 jets, equipped with their best, swanky Delta One suites.

But you can book the exact same flight – same plane, same seat, same day – through Virgin Atlantic for just 50,000 miles. Factor in this 30% bonus, and you only need to transfer 39,000 Chase points to make it happen.

Booking that for just 39,000 points is one of the best deals you'll find in the world of points and miles. These days, it can require some flexibility to lock in flights at these low rates. It all hinges on finding award availability.
And remember: Never transfer points to Virgin Atlantic (or any airline) until you know the flights you want to book are available. These transfers are a one-way street – you can't get them back to your Chase account.
Read our guide on booking Delta flights with Virgin Atlantic miles, and you'll be ready to start hunting for the deal of a lifetime.
One other great way to save some SkyMiles on Delta flights? Nonstop flights from the mainland U.S. to Hawaii, which cost 30,000 to 45,000 miles round-trip in economy, depending on where you're starting from. There can be huge savings over what Delta typically charges for the same flights.
Flights from West Coast cities like Seattle (SEA) or Los Angeles (LAX) will run you just 30,000 miles roundtrip, while a midwestern city like Minneapolis-St. Paul (MSP) jumps to 45,000 miles roundtrip. At 45,000 miles through Virgin Atlantic, you could book by transferring just 35,000 Chase points!

Delta is charging nearly 90,000 SkyMiles for these exact same flights!
Fly in Style with ANA
You can also use this transfer bonus to score an amazing deal on a trip to Japan on one of the world's best airlines. Oh, and did we mention it's in First Class? 
ANA is one of Japan's flag carriers, and it lives up to its five-star reputation. Its first class cabin is spacious, private, and offers some of the best catering in the aviation world.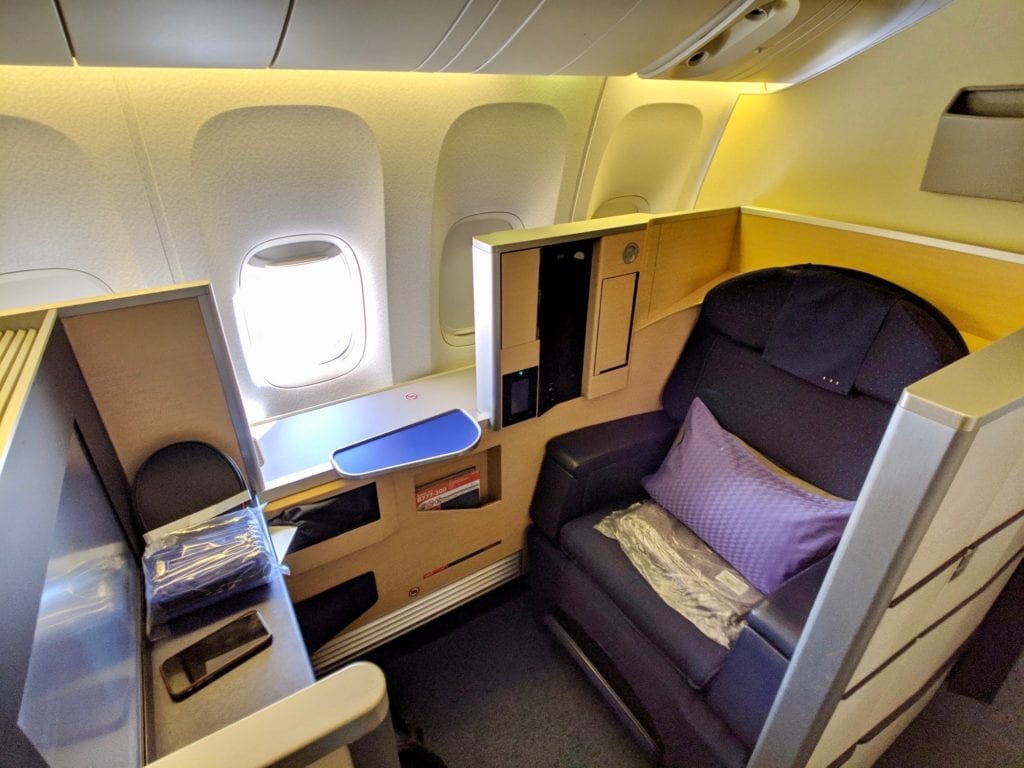 We've written before about the incredible value of using ANA to get to Japan for cheap in business class. But Virgin Atlantic also has a sweet spot for booking ANA flights, and this transfer bonus makes it even sweeter.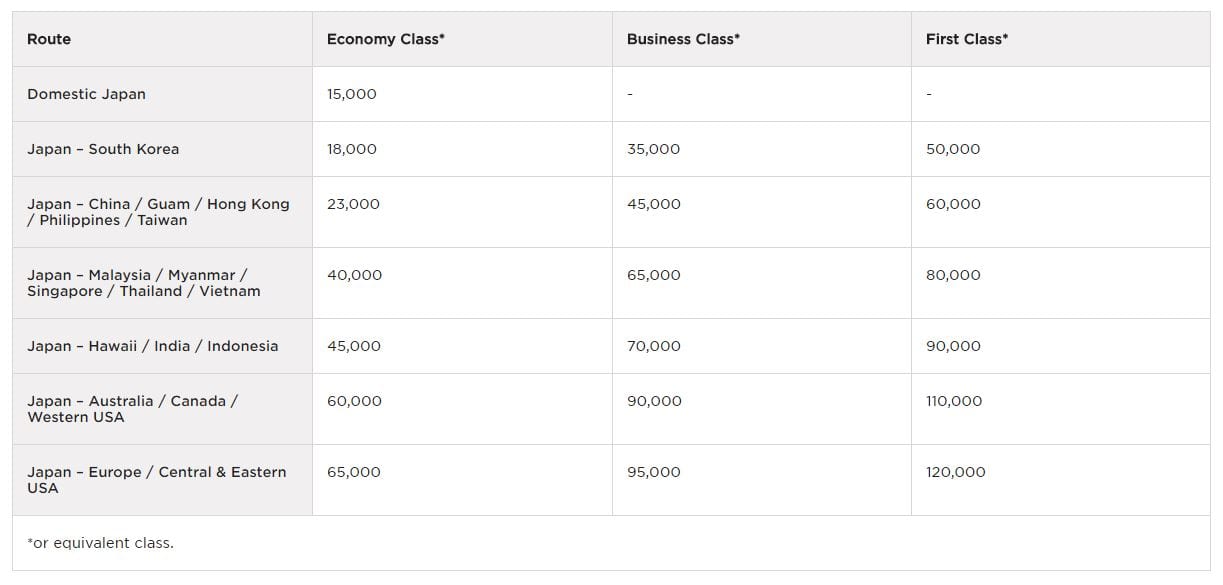 A round trip first class flight from Los Angeles (LAX) to Tokyo, Japan (HND) or San Francisco (SFO) to Tokyo-Narita (NRT) would require just 85,000 Chase Ultimate Rewards points. Or get from Chicago-O'Hare (ORD) or New York City (JFK) to Tokyo for just 93,000 Chase points. That's just a tad more than what United charges for a one-way fare in business class! 
You can't book these flights online through Virgin Atlantic, which means it requires a bit of extra legwork. You'll want to search for award availability through a site like United.com and then ring up Virgin Atlantic at 1-800-365-9500 when you're ready to book.
Read our guide to booking ANA flights with Virgin Atlantic miles.
Of course, ANA's business class is nothing to scoff at either – especially if you can snag the brand new business class seats it calls "The Room" which are currently flying from New York City (JFK) and Los Angeles (LAX).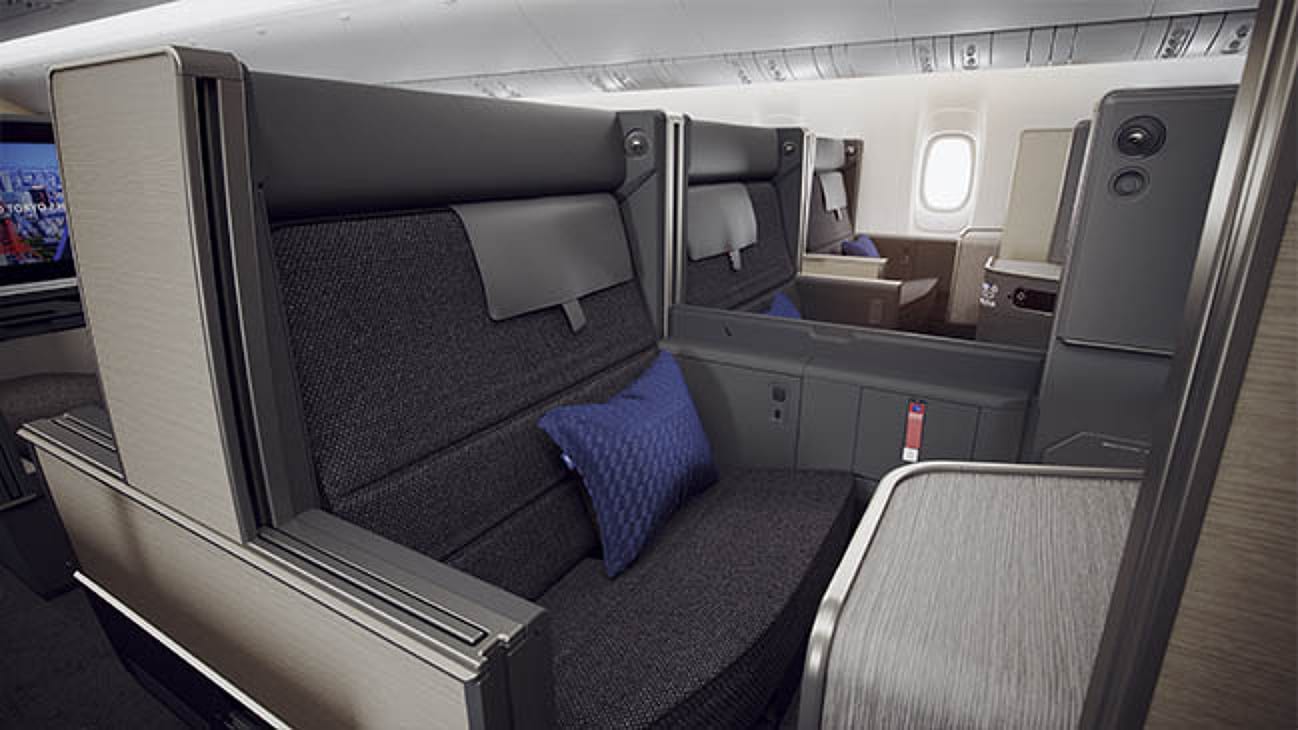 With this transfer bonus, it could be yours by transferring just 70,000 Chase points. Whether you book business or first class, expect to pay a few hundred dollars in taxes and fees – but that extra expense is easily worth it.
While Japan remains closed to American tourists, we're hopeful that will change in the months ahead. You might be able to find some availability on flights as far out as spring 2023. Plus, Virgin Atlantic has a reasonable $50 fee to cancel award tickets and get your miles back if plans change.
Taking Advantage of a 25% Bonus to Air France/KLM
With a stash of Amex Membership Rewards points from cards like The Platinum Card® from American Express or the American Express® Gold Card, you've got some great options to put this 25% bonus to use before it ends.
Flying Blue is the combined mileage program for Air France and KLM, and it's one of the best ways to book flights with SkyTeam airlines including Delta, Korean Air, and Air France or KLM, of course.
That's easily worth considering. You can regularly fly one-way from the U.S. to Europe in Air France business class for just 55,000 miles – or 44,000 points with this bonus. But Flying Blue miles are also easily the best way to fly Delta from the mainland out to Hawaii and back.
Cheaper Business Class to Europe
Flying Blue is a great way to fly to Europe and back – especially if you want to do it in KLM business class or Air France business class.
Whether you want to get to Paris-Charles de Gaulle (CDG), Amsterdam (AMS), or connect almost anywhere in Europe for just 55,000 to 58,000 miles each way. With this transfer bonus, you'd need as low as just 44,000 Chase points to make it happen. We occasionally see even cheaper award rates thanks to Flying Blue Promo Rewards, monthly specials with lower prices.



Finding flights at these low rates may require some flexibility, as you won't find them one very single date. Luckily, Air France and KLM allow you to easily scroll through up to a month's worth of flights to find the best deals. Flying Blue typically tacks on about $200 for a one-way business class award to Europe – and about $380 or more for the way back. That's a small price to pay for $6,000-plus flights.
Of course, you can also book economy awards to Europe using Air France and KLM miles – including one-way trips from several U.S. cities for less than 20,000 miles. But Flying Blue also passes on some hefty cash surcharges on award tickets that make it less appealing for economy prices, while it can easily be worth paying $228 or so for a one-way business class ticket for Europe.
It's a great ride across the Atlantic ocean whether you're flying with Air France or KLM.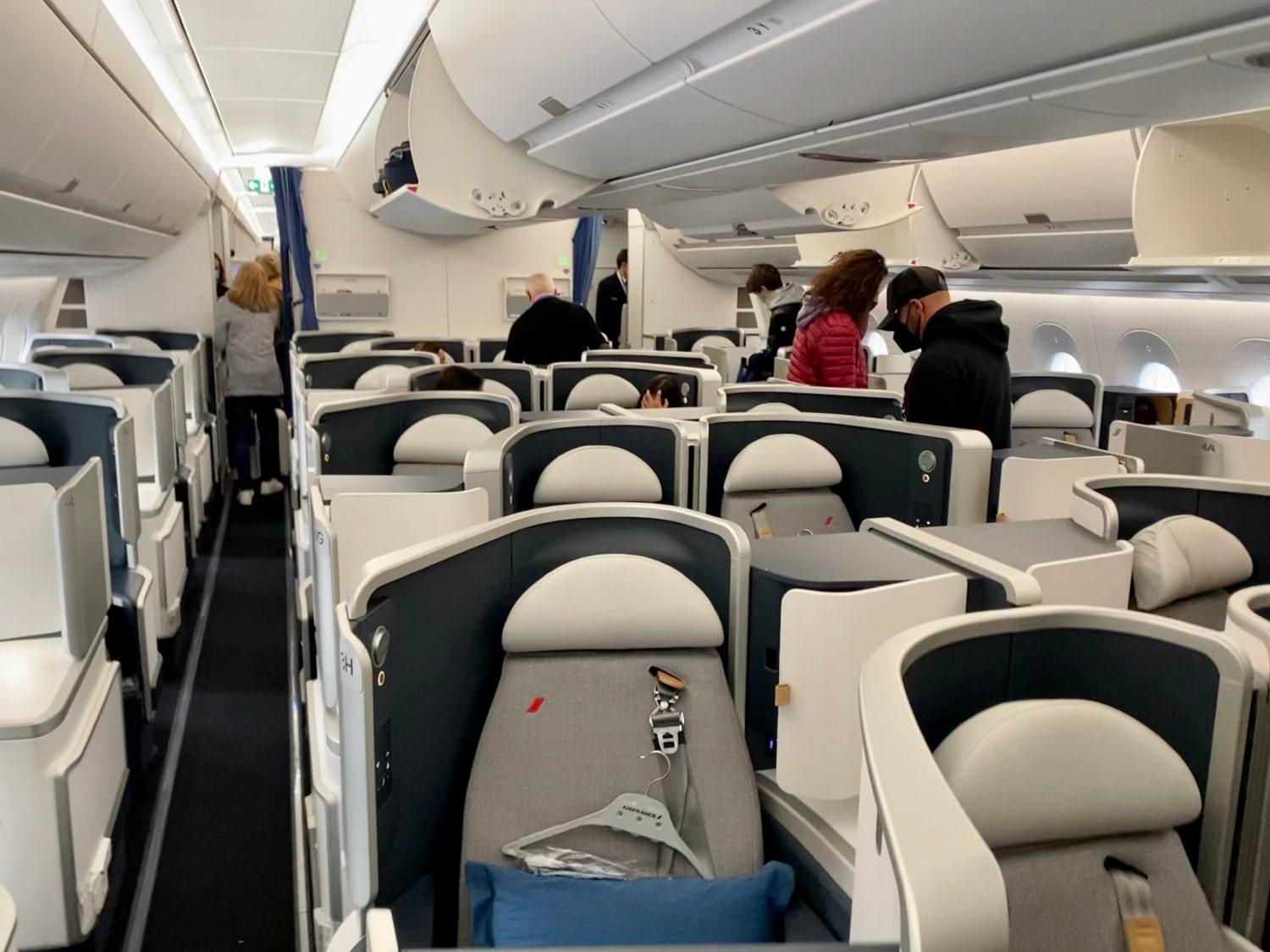 Read our full Air France business class review!
Nationwide to Hawaii for 28K Points RT!
Our favorite way use Air France and KLM miles isn't to fly either European airline. Why not use this bonus is to fly from the continental U.S. to Hawaii on Delta?
No matter whether you're flying nonstop from the West Coast, making the long trek from New York City (JFK) or Boston (BOS), or starting from a tiny airport in the Midwest, you can book from just 35,000 miles to any of the Hawaiian islands and back.
At that rate, you could transfer only 28,000 Chase points and have enough for a trip to Hawaii.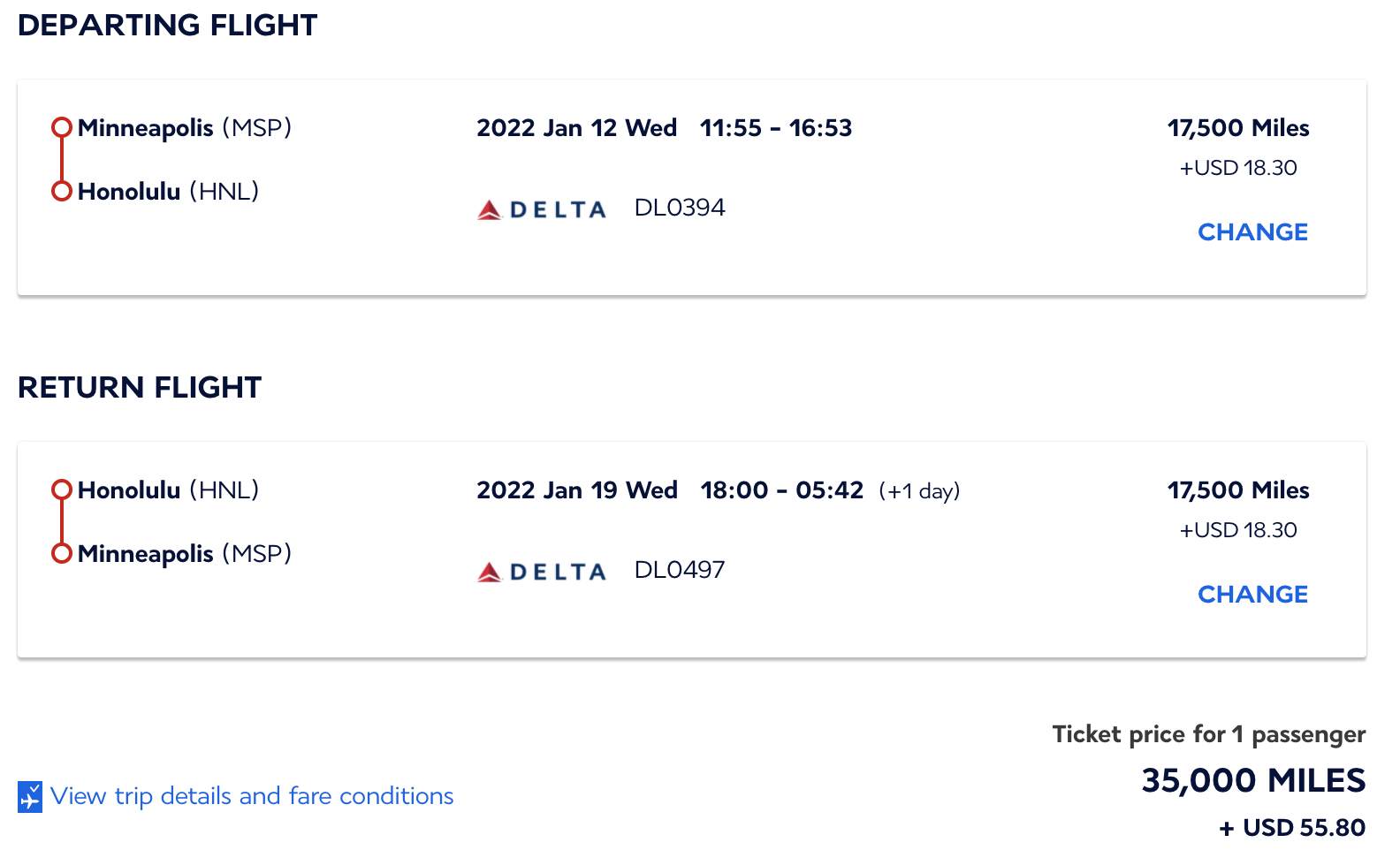 Thrifty Traveler Premium members previously got an alert for some incredibly rare award space to fly nonstop to Hawaii on this route. Get award alerts and cheap fares sent straight to your inbox!
That's a steal – especially compared to the 60,000 SkyMiles (or 80,000 SkyMiles or more) that Delta frequently charges for the exact same flights. Just keep in mind you'll have to be extremely flexible to make it work at these rates. Read our guide on how to book Delta flights to Hawaii for just 35,000 miles using Flying Blue.
Bottom Line
Any transfer bonus is great, but these transfer bonuses to Air France/KLM Flying Blue and Virgin Atlantic open some incredible opportunities.
If you've got points with Chase or Amex saved up, now's the time to put them to use. Make your game plan and take advantage of these transfer bonuses before they end tonight.