What's better than a transfer bonus from credit card points to an airline? A dozen of them.
For the second time in as many years, American Express opened the floodgates with transfer bonuses to 12 different airline and hotel chains, giving travelers with American Express Membership Rewards from cards like The Platinum Card® from American Express or the American Express® Gold Card up to 30% bonus miles.
Naturally, some of these bonuses are better than others. But with a dozen on the table, it opens up some phenomenal opportunities to book flights somewhere fun for fewer points. Whether you want to get to Hawaii and back for 21,000 points this winter, score a bargain on flights to Europe, or snag lie-flat seats to the Middle East at a steep discount, now's the time.
Here are some of our favorite ways to take advantage of this transfer bonus bonanza before they all end on Sept. 30.

Hawaii for 21K Roundtrip
One of the best ways to get to Hawaii using points just gets even better.
Using British Airways Avios, you can book flights from the West Coast flying American Airlines or Alaska Airlines for just 26,000 miles roundtrip. Compared to the 45,000 AAdvantage miles that American itself typically charges, it's a steal.
But with a 25% bonus to British Airways, it's even cheaper: Transfer just 21,000 Amex points and you're set. 

The trick to getting these ultra-low rates is starting your search in Los Angeles (LAX) or Phoenix (PHX), both of which have nonstop service to the islands. You can also start from other cities like Seattle (SEA), Portland (PDX) San Francisco (SFO), San Jose (SJC), or San Diego (SAN), as Alaska Airlines nonstops to Hawaii are also bookable at these rates.
Availability to book these American Airlines flights via British Airways is typically quite solid – especially if you're looking at least a few months in advance. The same is true of Alaska Airlines.
Minneapolis to Europe and Back for 24K
If your home base for travel is Minneapolis-St. Paul (MSP), you're in luck: You've got one of the best ways to book economy flights to Europe using points and miles.
It's by booking with Virgin Atlantic points, one of our favorite Amex transfer partners, period. But you won't be flying to London-Heathrow (LHR) on Virgin Atlantic – you're flying Air France or KLM nonstop to Paris-Charles de Gaulle (CDG) or Amsterdam (AMS) … or connecting onward almost anywhere in Europe.
The cost? Just 15,000 Virgin points one-way or 30,000 roundtrip in economy. And while Virgin Atlantic tacks on hefty fees, starting from Minneapolis means you'll pay just $5.60 for a one-way flight or around $90 for a roundtrip journey. Factor in the current 30% bonus to Virgin, and 24,000 Amex points is all you'll need.
Whether you've got your heart set on Paris, Barcelona (BCN), Rome (FCO), or even Athens (ATH), 24,000 points and less than $100 can get you there and back. You can't beat that.

You'll need 50,000 miles roundtrip to fly during the peak summer and other, busier seasons – Virgin Atlantic's website breaks it down. No matter what, this deal is incredible.
One-Way to London for 8K Points
A flight to London doesn't get any cheaper than this.
Flights start from just 10,000 points one-way when flying Virgin Atlantic flights during the "standard season" from the Northeast to or from the U.K. Virgin publishes seasonal dates on its award chart page. You can find those rates on Virgin Atlantic flights to London-Heathrow (LHR) from East Coast airports including Boston (BOS), New York City (JFK), and Washington, D.C.-Dulles (IAD).
With that 30% transfer bonus to Virgin Atlantic, you can book with just 8,000 Amex points!

Virgin passes on some sizable fees on these tickets at $150 for the one-way – or more than double that sum for a roundtrip. But those kinds of fees are unavoidable when flying in or out of London. And considering these tickets typically cost $500 or more, it could easily be worth it.
Lie-Flat Biz Class to Spain for 55K Points
Flying business class to Europe doesn't get any cheaper than this. In fact, we consider it one of the best deals in points and miles. And with a 25% transfer bonus to British Airways, the best somehow gets even better.
You can book Iberia business class for just 34,000 points one-way over to Madrid (MAD) – or 68,000 miles roundtrip. Thanks to a recent change, you can book these same flights via British Airways for the same rates, paying about $250 in taxes and fees for the roundtrip in lie-flat seats.
With that transfer bonus, it brings your final tally to just 28,000 points for a one-way Iberia business class flight to Madrid – or 55,000 points roundtrip! That's a roundtrip flight in business class for less than what almost every other airline would charge you to fly in economy.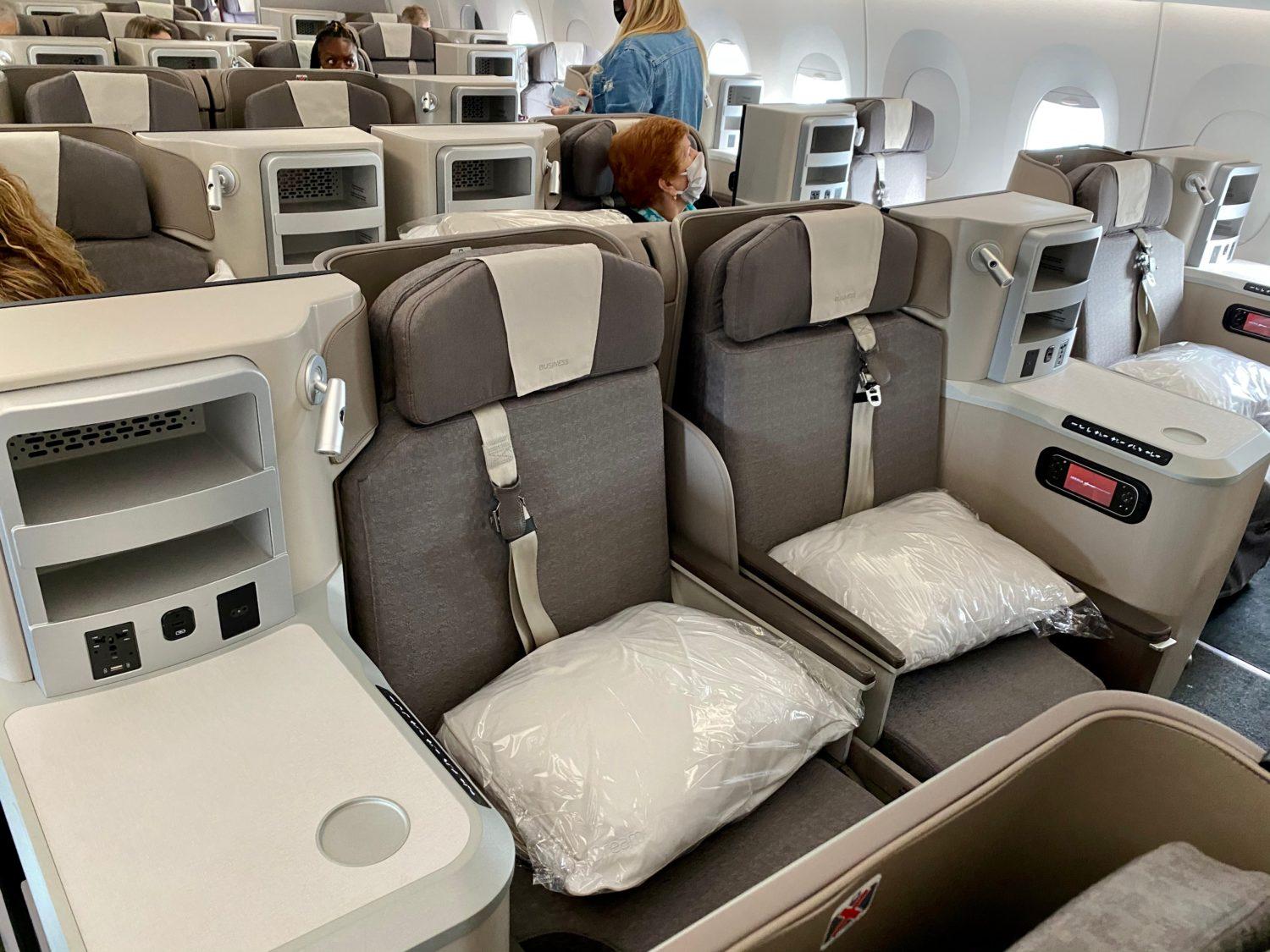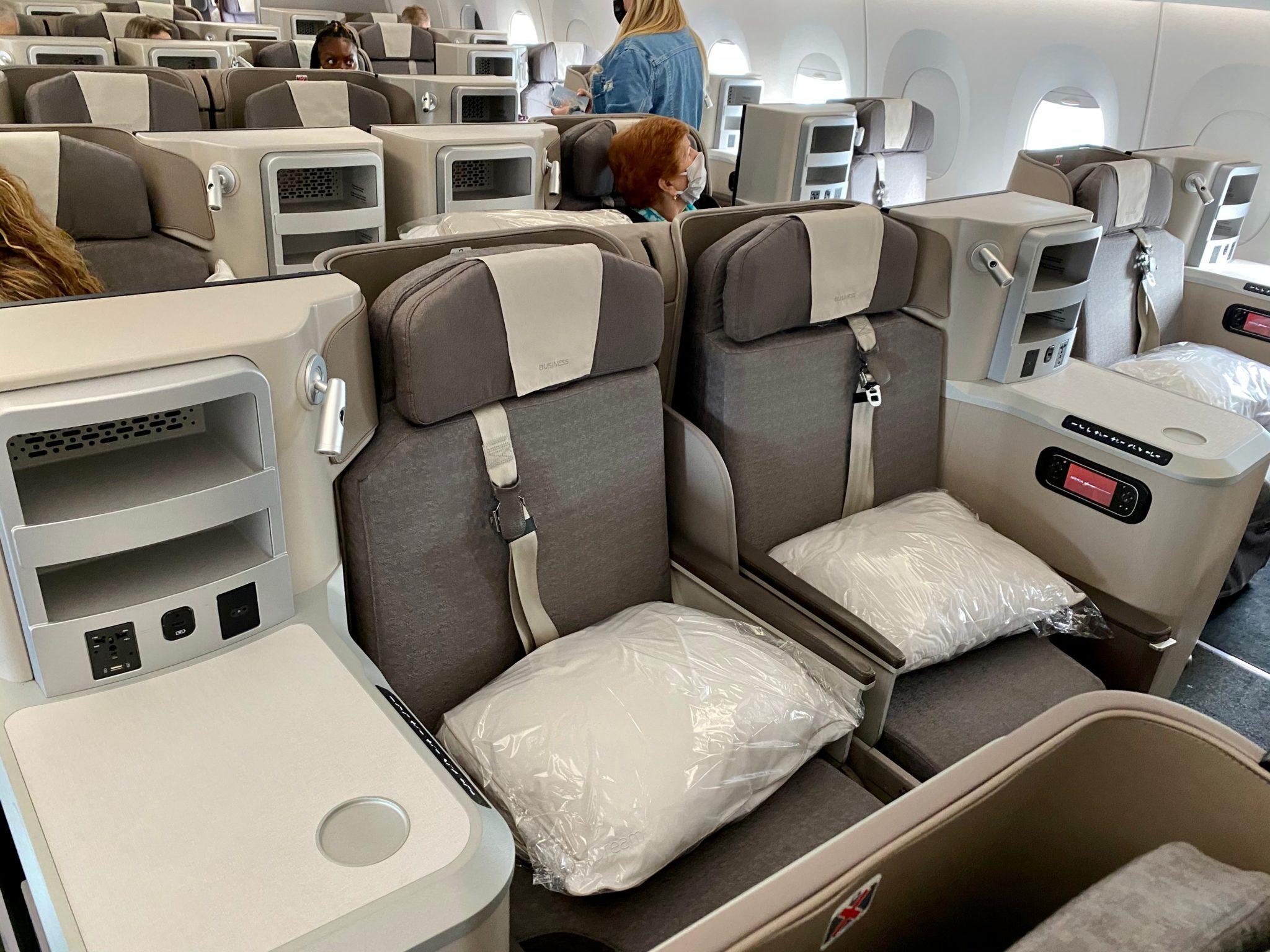 Read our full review of flying Iberia business class!
Focus on flights from New York City, Boston, Washington D.C., and Chicago to Madrid to get the lowest rates. Off-peak travel times are key. Better yet, there's typically plenty of Iberia business class award availability as far out as September 2023, which makes it easier to score these seats using your points than you'll find with many other airlines.
A Caribbean Getaway from 12K Points
Ready to plan your tropical vacation? Instead of flying from the West Coast to Hawaii, head from the East Coast down to the beaches of the Caribbean.
British Airways' distance-based award pricing means these relatively short jaunts south start at just 7,500 miles each way. For example, you can fly from Miami (MIA) to Aruba (AUA) for just 9,000 Avios each way, or 18,000 round trip. Factor in this transfer bonus, and that's just 15,000 points for roundtrip flights to Aruba.

Here's a look at the British Airways Avios award rates based upon the distance of your flight down to the Caribbean:
0 to 650 miles: 7,500 Avios each way
651 to 1,150 miles: 9,000 Avios each way
1,151 to 2,000 miles: 11,000 Avios each way
2,001 to 3,000 miles: 13,000 Avios each way.
Just plug your flights into GCmap.com to measure the distance. And you'll want to ensure you're finding nonstop flights, as British Airways charges on a per-segment basis. Divide the total mileage by 1.25, transfer that amount to your British Airways account, and book that winter getaway!
Head to Dublin for St. Paddy's Day (Or Next Summer) in Style
Whether you want to party in Dublin for St. Paddy's Day or explore all Ireland has to offer, you won't find a better way to get to Dublin (DUB) than Aer Lingus business class. These transfer bonuses make it cheaper than ever.
No matter your plans in Ireland, a nonstop flight is paramount to make the most of your time. We recently sent Thrifty Traveler Premium members an alert for wide-open award availability to fly Aer Lingus business class from several U.S. cities … including almost daily availability from Boston (BOS) and Philadelphia (PHL) from January through the summer of 2023 … for four to eight passengers!

Thrifty Traveler Premium members get award alerts to use their points & miles, plus all the cheap domestic and international cash fares we find!
With a 25% transfer bonus to Aer Lingus, that means 40,000 Amex points is enough to score your lie-flat seat to Dublin – or a bit more for a peak summer trip.
Unfortunately, booking through Aer Lingus' own Avios program can be a pain. Its website can be a bit finicky, so patience is key to making this happen. It might require a phone call to Aer Lingus at 1-855-585-8264 to finish it up. While you can book via British Airways for the same points, you'll pay a whopping $730 in fees for a one-way ticket to Dublin instead of the $128 tab when booking with Aer Lingus Avios.
Biz Class to Almost Anywhere in Europe from 34K
Air France business class is one of the best ways to cross the Atlantic. KLM business class isn't half-bad, either. Best of all, both can be one of the cheapest ways to get to Europe in a lie-flat seat.
Whether you're flying nonstop to Paris or Amsterdam or connecting on elsewhere in western Europe, we see one-way business class fares bookable as low as 43,000 miles thanks to the airline's Flying Blue Promo Rewards. With this 25% transfer bonus from Amex, 35,000 points can get it done.

Air France/KLM levy close to $200 or so in taxes and fees on a one-way to Europe and $450ish for a roundtrip. Compared to the $6,000-plus you'll typically pay in cash for these flights, that's worth it – especially since the award availability to book these flights can be so easy to find.
The World's Best Business Class for 56K One-Way
We saved the best for last.
Nothing beats Qatar Qsuites, the world's best business class with private suites (including a double bed for traveling couples), great service and incredible meals. Well, just one thing beats it: Booking it for 56,000 points each way.
British Airways charges 70,000 miles each way for a one-way flight from the U.S. to Doha (DOH), or vice versa. With that 25% transfer bonus, all you need is 56,000 points from your Amex Platinum or Gold Card to pull it off. 
Just 56,000 points to fly like this? Yes, please!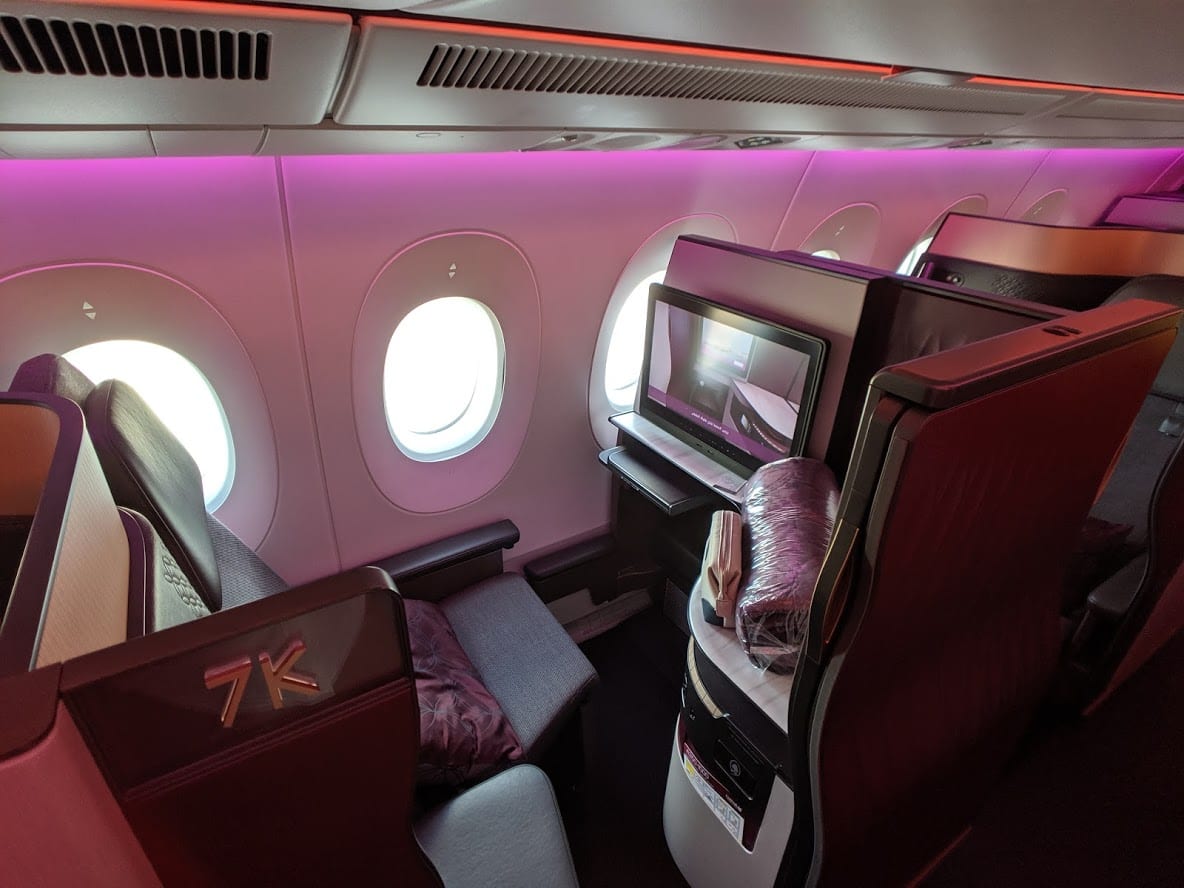 Read our full review of Qatar's incredible Qsuite from Dallas-Fort Worth (DFW) to Doha (DOH)!
Want to go further than Doha? No problem.
Middle Eastern destinations like Dubai (DXB), Abu Dhabi (AUH) or Muscat (MCT) cost 75,000 miles – just 60,000 Amex points after the transfer bonus!
Other destinations like Amman (AMM) and Cairo (CAI) as well as major Indian cities go up to 80,000 miles each way, or 64,000 Amex points with this bonus.
Getting to the Seychelles (SEZ) or Maldives (MLE) will run you 85,000 miles each way, which works out to 68,000 Amex points.
Both Southeast Asia and South Africa typically cost 95,000 miles each way – 76,000 Amex points with the 25% bonus.
Bottom Line
This is just the start of what's possible with all the current Amex transfer bonuses.
Transfer bonuses like these are great because they're a way to score some free miles, allowing you to book an excellent trip using fewer points. Scope out what you want, transfer those points, and make it happen before these bonuses end Sept. 30!