American Express shuttered all its wildly popular Centurion lounges way back in March. Now, almost all Centurion Lounges are open once again.
The first few American Express Centurion Lounges opened in Philadelphia (PHL) and Seattle (SEA) in early October. Slowly but surely over the ensuing weeks, more have opened their doors from San Francisco (SFO) to Charlotte (CLT). On Monday, Nov. 23, the relatively new Phoenix (PHX) Centurion lounge reopened. And by Monday, Dec. 7, the Las Vegas (LAS) Centurion location had opened its doors again amid some ongoing renovations.
That leaves just one U.S. location that hasn't opened back up: New York City-LaGuardia (LGA). The lounge is relocating to a much larger space in the airport, and American Express has said it won't reopen until sometime in 2021.
But that's still not all. In the midst of the pandemic, American Express also finally opened its brand-new lounge in New York City (JFK). Announced way back in early 2018, it's Amex's largest Centurion Lounge, spanning two floors and 15,000 square feet. The lounge in JFK's Terminal 4 even has a speakeasy-style bar, dubbed "1850."
The JFK location is the fourth new Amex Centurion Lounge to open in 2020 alone, after Phoenix (PHX), Charlotte (CLT), and Los Angeles (LAX).
Centurion Lounges are easily some of the best airport lounges you can find in the U.S. Getting into any of these lounges is one of the best parts of holding The Platinum Card® from American Express. You can treat yourself to top-notch cocktails or wine, great meals, and a snazzy (if somewhat overcrowded) setting.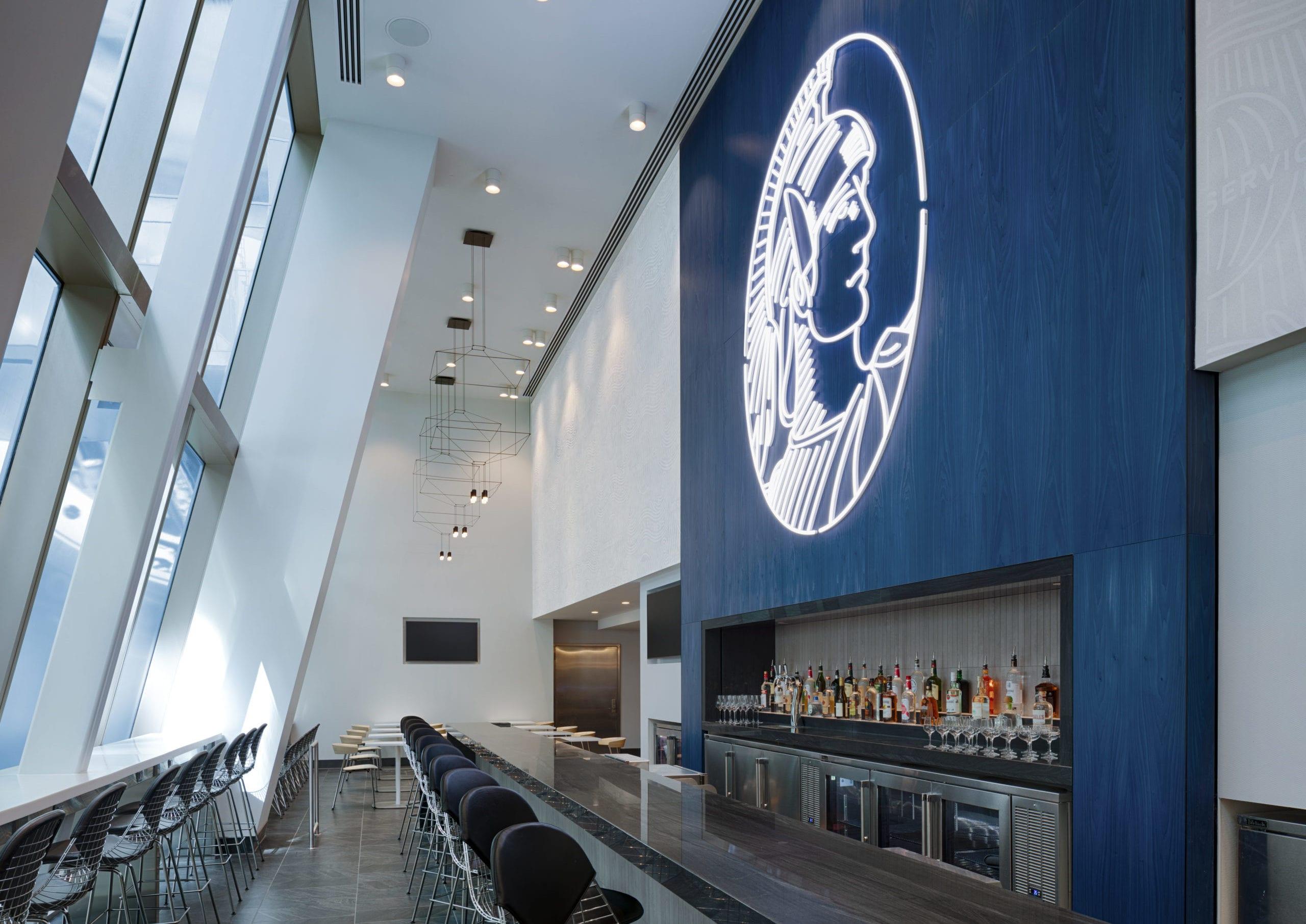 As these popular lounges reopen their doors, just what you'll find inside these lounges will change, too.
Amex is launching a new mobile-check in process for Centurion Lounges through the Amex smartphone app – though you'll still need to show your Platinum Card and boarding pass at reception.
American Express says they will limit capacity with socially distanced seating inside.
Face masks will be mandatory inside all Centurion lounges.
Buffets are out – Amex says pre-portioned plates will be available.
Wine lists remain unchanged, but Amex says it will serve a "shorter cocktail menu"
Many Centurion Lounges are equipped with showers, but they will remain closed.

American Express Centurion Lounge Reopening Dates
To date, all but two of 13 worldwide Centurion Lounge locations have reopened.
Charlotte (CLT): Reopened Oct. 12, 2020.
Dallas-Fort Worth (DFW): Reopened Oct. 21, 2020.
Hong Kong (HKG): No opening date.
Houston-Intercontinental (IAH): Reopened Oct. 19, 2020.
Las Vegas (LAS): Reopened Dec. 7, 2020.
Los Angeles (LAX): Reopened Nov. 2 for grab-and-go food and drinks.
Miami (MIA): Reopened Oct. 26, 2020.
New York City-JFK (JFK): Opened Oct. 9, 2020.
New York City-LaGuardia (LGA): No opening date.
Philadelphia (PHL): Reopened Oct. 5, 2020
Phoenix (PHX): Nov. 23, 2020
Seattle (SEA): Reopened Oct. 5, 2020
San Francisco (SFO): Reopened Oct. 12, 2020.
And there's also no final word on when other new locations in the works may open. American Express is still planning to open Centurion lounges in Denver (DEN) and London-Heathrow (LHR), but not until sometime in 2021.
Meanwhile, the LaGuardia location is getting a significant facelift – and even changing spaces. American Express says it will move to a new location behind airport security, doubling in size with new workspaces, a family room, and views of New York City.
While the Las Vegas lounge has reopened, a major expansion is also underway. American Express says the Vegas lounge may close periodically as they expand the space.
Bottom Line
It's a start. While travel numbers are way down – and will likely stay that way for a while – it's nice to see that American Express reopened nearly all of its Centurion Lounge locations. Stay tuned for future reopening announcements!
Photos courtesy of American Express