A centurion is defined as a commander of 100 men in the ancient Roman army. The definition works.
The superior ranking and clever branding are certainly reflected by the product we've seen in every American Express Centurion Lounge. And the Centurion Lounge Miami (MIA) is no exception.
From the top shelf drinks and exquisite dining options to the attention to detail along with the beautiful designs, this lounge doesn't disappoint. While these features have led to crowding issues at Centurion lounges nationwide, that wasn't an issue during my recent visit.
Curious what Amex Centurion lounges are all about? Read our master guide to these best-in-class airport lounges!
Let's take a look at the Centurion Lounge in Miami.
Getting In
The Centurion Lounge at Miami airport is located on the fourth floor in Concourse D, right by Gate D12. And unfortunately, if you're not traveling out of Concourse D, it will be a pain to get in. As it states on their website "if you're entering from another terminal, you must re-enter through security with either a connecting or onward boarding pass."
The lounge is open daily from 5 a.m. to 11 p.m.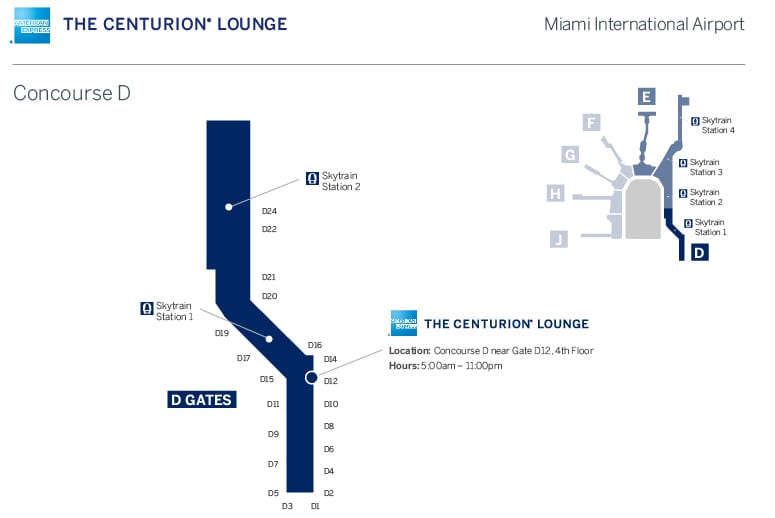 Want to get in? You'll need the Platinum Card from American Express.
No travel credit card opens more lounge doors than the Amex Platinum. Card members get a free Priority Pass Select membership, which will get you and two guests into 1,000-plus Priority Pass lounges across the world. You can get into Delta SkyClubs if you're flying Delta that day. And you can also enter Escape Lounges, like one of our favorites at Minneapolis-St. Paul. 
And then there are the American Express Centurion lounges, the cream of the crop.
Getting into the Miami Centurion Lounge is similar to all other airport lounges. You'll need to show the receptionist your photo ID, a valid boarding pass, and of course your Amex Platinum card. But you can no longer bring guests in free: As of Feb. 1, 2023, guests cost $50 apiece (or $30 for minors) unless you charged a whopping $75,000 to your Platinum Card in the last year. Guests two years and younger are still complimentary.
Lounge Amenities
A lush green wall enclosed by polished stainless steel absolutely sets the tone for a great experience at the Miami Centurion lounge. Along with friendly service and smooth check-in, the first impression is top-notch.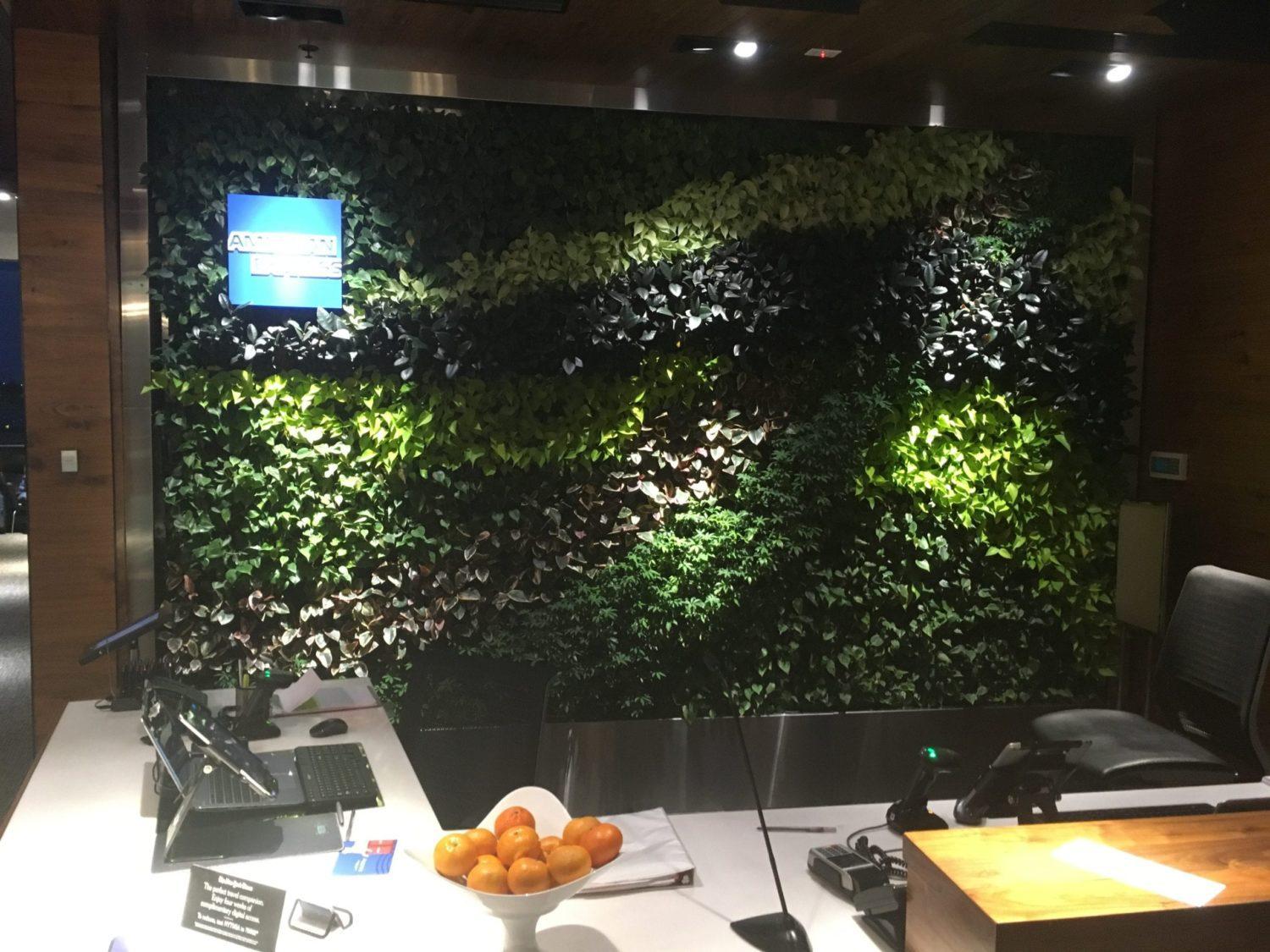 But the secret is out. Now that it's fairly simple to access these top-tier lounges with credit cards, you should expect a fairly crowded Centurion lounge. American Express is trying to combat this with some relatively new restrictions: banning visitors from getting in at their arrival airport and restricting visits to within three hours of a departing flight.
On the bright side, the Miami Centurion lounge is among American Express's biggest, at over 12,000 square feet after a recent expansion. And while I was still bracing for a packed lounge, I got lucky.
During my visit at 6 p.m. on a Saturday, the lounge wasn't too crowded. There weren't many lines at the bar or buffet, and there was plenty of space to relax. More room to spread out and decompress is always welcome, especially inside a hectic international airport.
Like all Centurion lounges, the space is open and airy. That's aided by lots of nearly floor-to-ceiling windows overlooking the tarmac. Grab a seat and enjoy some planespotting!
Or head to the bullpen. Belly up at the bar or grab a spot at a nearby table. This is where the action takes place.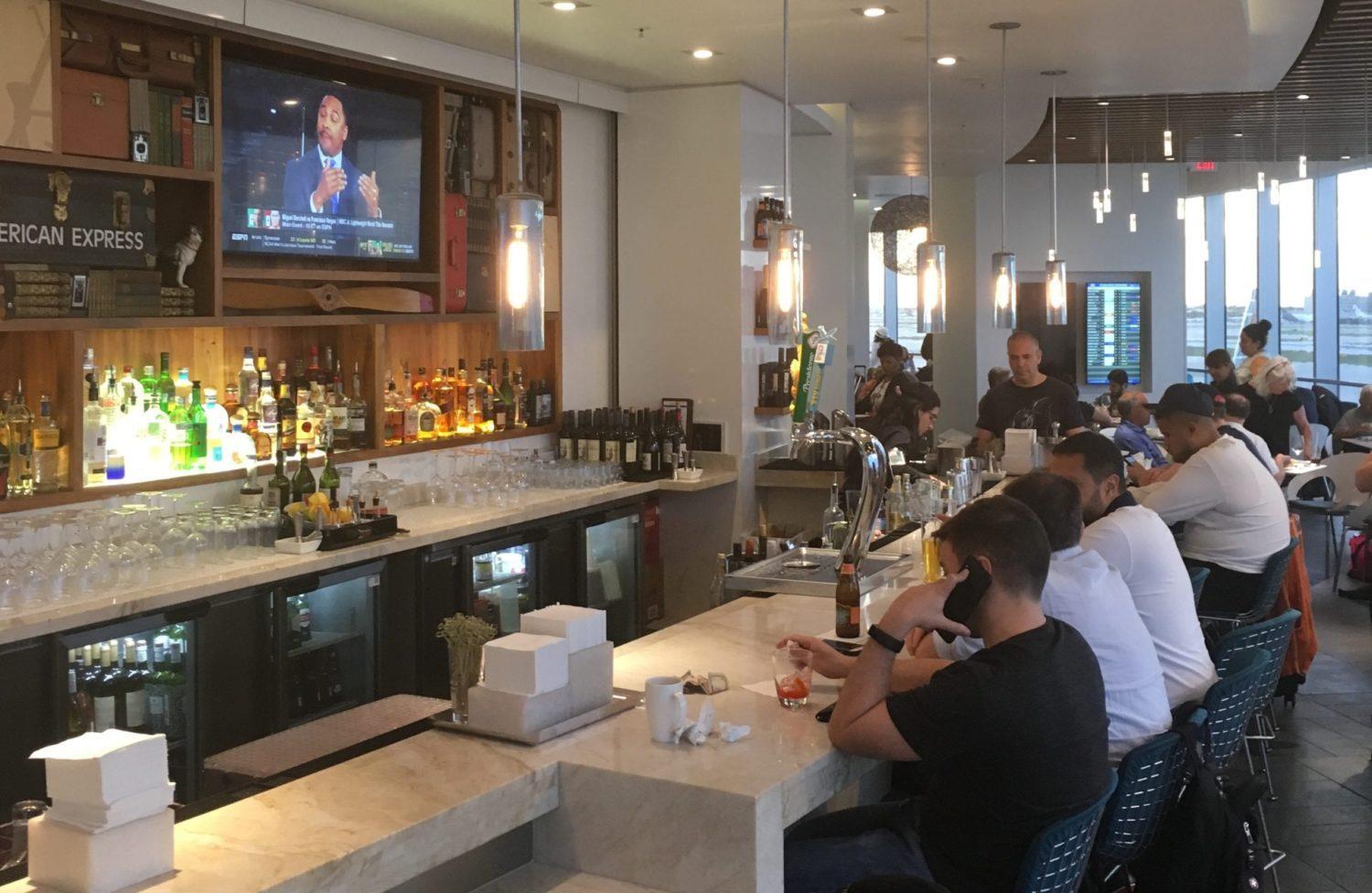 Don't worry, there is a nearby monitor constantly shuffling through upcoming departures in case you lose track of time. If this isn't your style you can always relocate to one of the many other seating options scattered throughout the lounge nearby such as the comfy couches or large lounge chairs.
Looking to sample some wine? You're in luck. This mini vineyard away from the crowded main bar allows you to unwind with some vino.
If you need some extra time to finish a bit of work there is a generous workspace. This room is equipped with a large conference table including built-in outlets and plenty of room to operate, making this is a solid office on the road.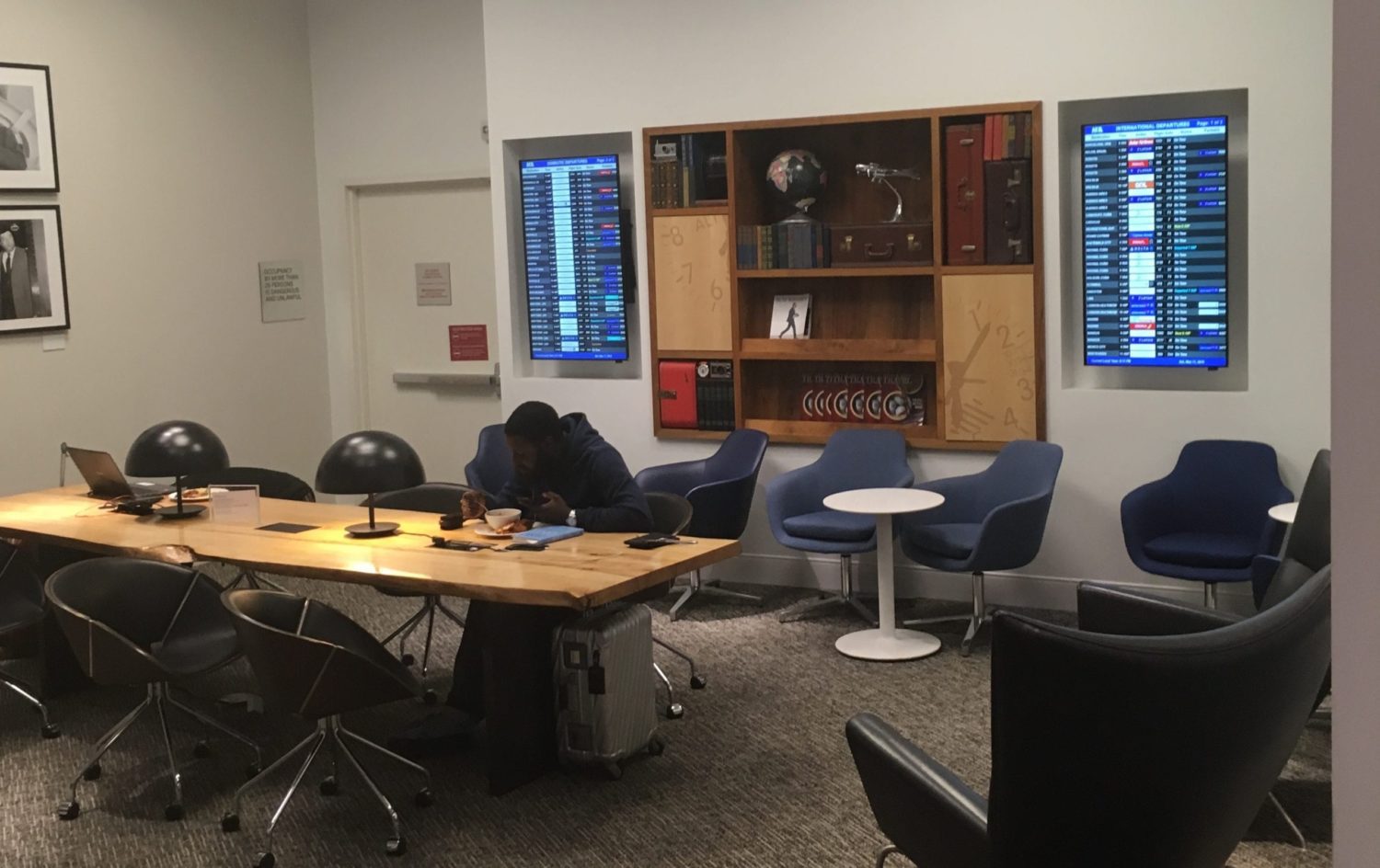 Spa day anyone? No joke. Just as you enter the lounge you'll have the option to spend some time in the on-site spa. Grab yourself a massage, or maybe you're due for a manicure. It's all included – just head to the front desk to schedule a free appointment. Definitely not a bad way to kill some time between flights!
Food and Drinks
It's fitting that the superb amenities are complimented with delicious food. The dining program was designed by the James Beard award-winning chef Michelle Bernstein.
No matter which Centurion lounge you're at, the selections are typically scrumptious. And the buffet setup goes well beyond your typical lounge snacks and finger food.
So grab yourself a full meal or just some finger foods to take the edge off! During my visit, they had perfectly baked chicken and fresh vegetables for dinner. Don't forget a handful of cookies (for yourself). There's also always a fresh salad bar if you're looking to stay healthy while traveling.
But Centurion lounges are best known for their brilliant libations. The Miami mixologists uphold that reputation and shake up some of the best concoctions you'll find. A solid addition is their selection of craft beers on tap if that's more up your alley. And it's all free.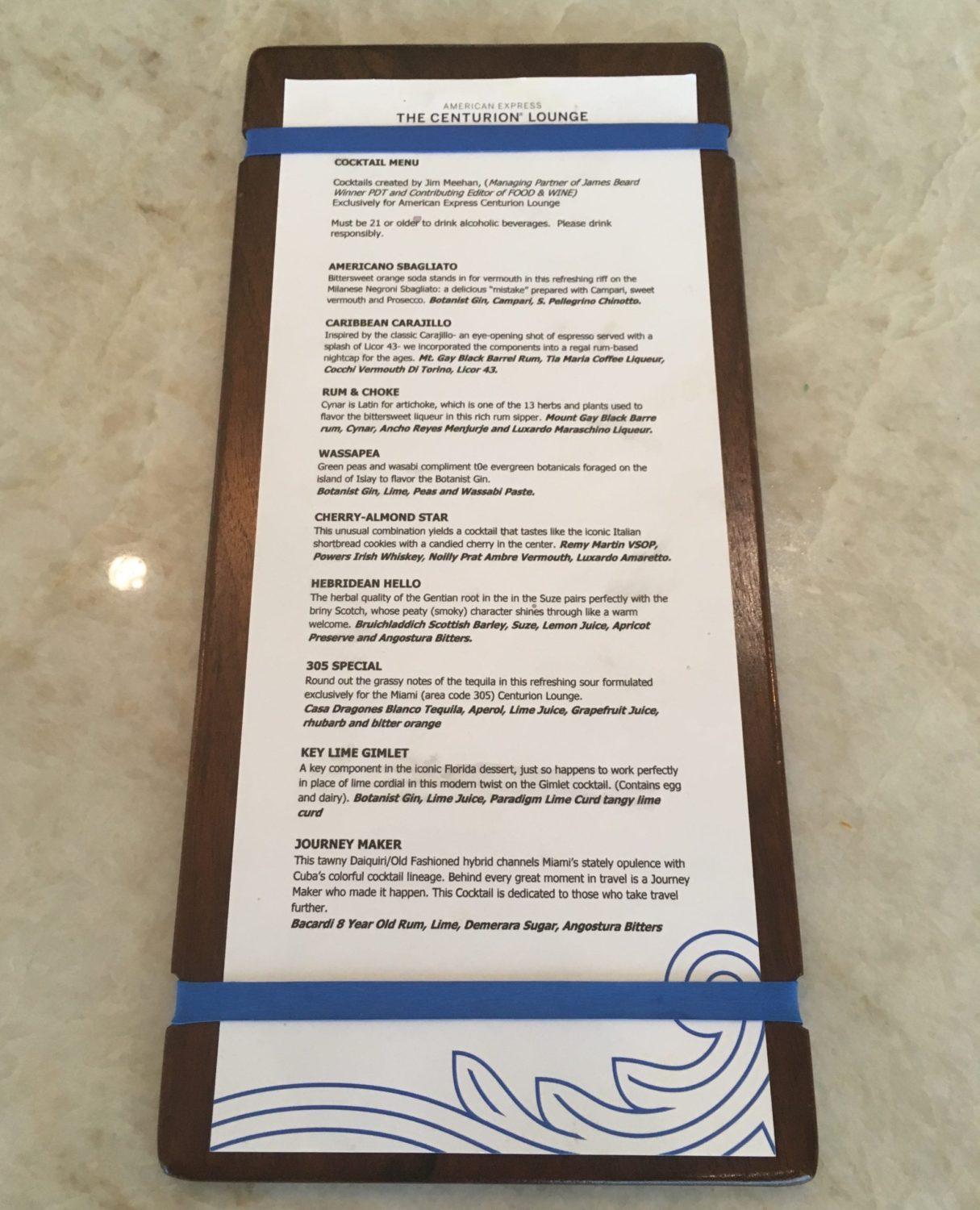 When you're in the 305, you need to try the "305 Special." It's a refreshing, citrusy cocktail that has sweetened grapefruit juice combined with a bold top-shelf tequila. Cheers!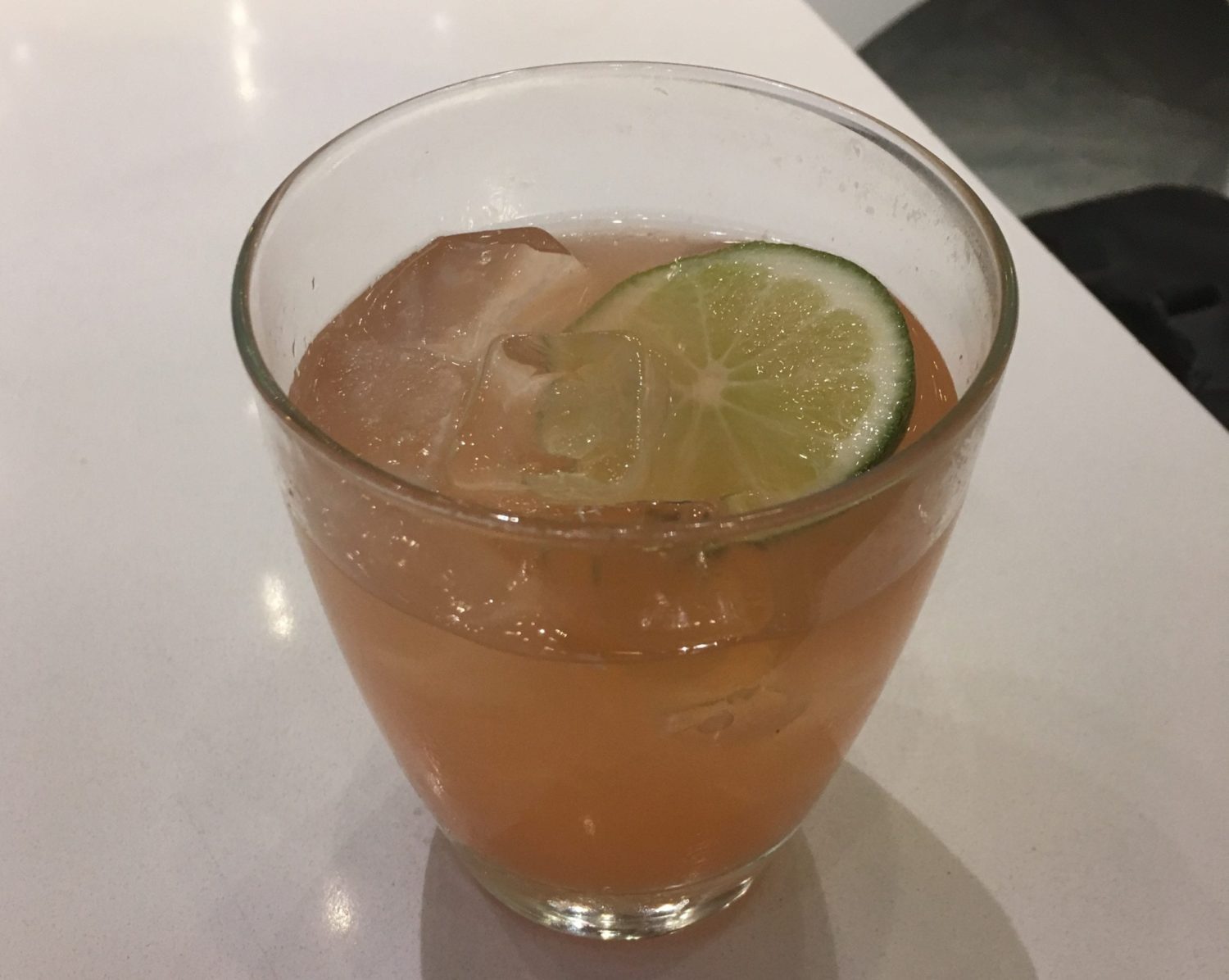 Bottom Line
Centurion Lounges do not disappoint, and the one in Miami certainly lives up to the hype – especially if you can miss the crowds as I did.
Be sure you utilize one of the best benefits of holding an American Express Platinum card and swing into this welcoming oasis.