It's out with the old and in with the new at New York City-LaGuardia (LGA). And that includes a new (and drastically improved) LGA Centurion Lounge.
Gone are the days of decrepit concourses and security checkpoints at LaGuardia, thanks to a sparkly new Terminal B renovation. Meanwhile, Amex ditched its undersized and ill-placed lounge at LaGuardia with an equally impressive rebuild that opened in June 2021.
It's one of the highlights in a stellar pandemic rebound for Amex Centurion lounges. In the last year (and change) alone, Amex has opened three brand new locations and expanded several more, including this new LaGuardia location as well as a brand new JFK Centurion Lounge.
So what's in store for travelers visiting the LGA Centurion Lounge? Take a look and see.

Getting into the LGA Centurion Lounge
Perhaps the biggest gamechanger with the new LGA Centurion Lounge is its location.
You'll find it at the drastically improved Terminal B at LaGuardia, which has undergone a major facelift in recent years. But unlike the previous LaGuardia lounge, this one is located airside behind security checkpoints. The old lounge was before security, which meant you'd have to leave the lounge with time to spare to clear security.

Unfortunately, getting to the LGA Centurion Lounge isn't the easiest task if you're not flying out of Terminal B, which is home to airlines including American, United, Air Canada, and Southwest. LaGuardia's terminals are not connected airside, so departing from a different terminal means you'll need to clear security several times in order to access this lounge. Fortunately, your boarding pass will get you through security at Terminal B no matter which terminal you're flying from that day.
LaGuardia has a free shuttle you can use to hop from one terminal to the next. But depending on where you're starting from and the security situation, you'll probably want to budget 15 to 30 minutes or more each way. That could make heading to Terminal B and back more trouble than it's worth, depending on how long you have.

Once you make it through security at Terminal B, head upstairs to the concourse and follow the signs for gates 40-59. You'll find the Centurion lounge entrance just before the bridge to those gates.

To get into any Centurion Lounge, you'll need the right credit card. And few are better than the Platinum Card® from American Express. It'll get you into all 15 Amex Centurion lounges and counting for free.
But you can no longer bring guests in with you for free: As of Feb. 1, 2023, guests cost $50 apiece (or $30 for minors) unless you charged a whopping $75,000 to your Platinum Card in the last year.
The Platinum Card also opens doors to 1,000-plus Priority Pass lounges, Delta Sky Clubs if you're flying Delta that day, Escape Lounges, and more. Terms apply and enrollment is required for select benefits.
Read our full review of the Amex Platinum Card!

Click Here to learn more about the Platinum Card from American Express.

The Business Platinum Card® from American Express will get you in as well. And there's a relatively new option: The Delta SkyMiles® Reserve American Express Card, Delta's top-tier travel card. But you have to be flying Delta that day to use a Centurion lounge, and you also can't bring free guests with you, either – they'll be $50 each.
Read our master guide to getting into & using Amex Centurion lounges!
Once you make it to the lounge, get your card, boarding pass, and photo ID ready to show to an agent at the desk, who will whisk you into the lounge.
The Lounge
The LGA Centurion lacks some of the panache of other, new Centurion Lounges across the U.S. It doesn't have a speakeasy, like the JFK Centurion Lounge, or a special craft beer bar like the one in the new Denver Centurion Lounge.
But what it lacks in style, the new and improved LaGuardia Centurion lounge makes up for in substance. This is just a well-designed lounge that covers all the basics of what you want out of a great airport lounge – and then some.
At roughly 10,000 square feet, it's considerably bigger than the old lounge it replaced. But the layout of this lounge is what really shines: It's second-to-none among its peers, if you ask me. It's divvied up into distinct lounging, eating, drinking, and dining spaces, flowing seamlessly from one to the next with plenty of natural light flooding in thanks to floor-to-ceiling windows that overlook the bright concourse below.
That helped the lounge feel much quieter than it truly was throughout my stay, when at least 80 to 100 other guests were inside the lounge.
After checking in, you walk down a narrow hallway with a clever divider on the right-hand side.

Just behind that divider is the first of several lounging areas, with a long couch in the center and cafe seating scattered around it. Of course, there's the signature Centurion TV wall.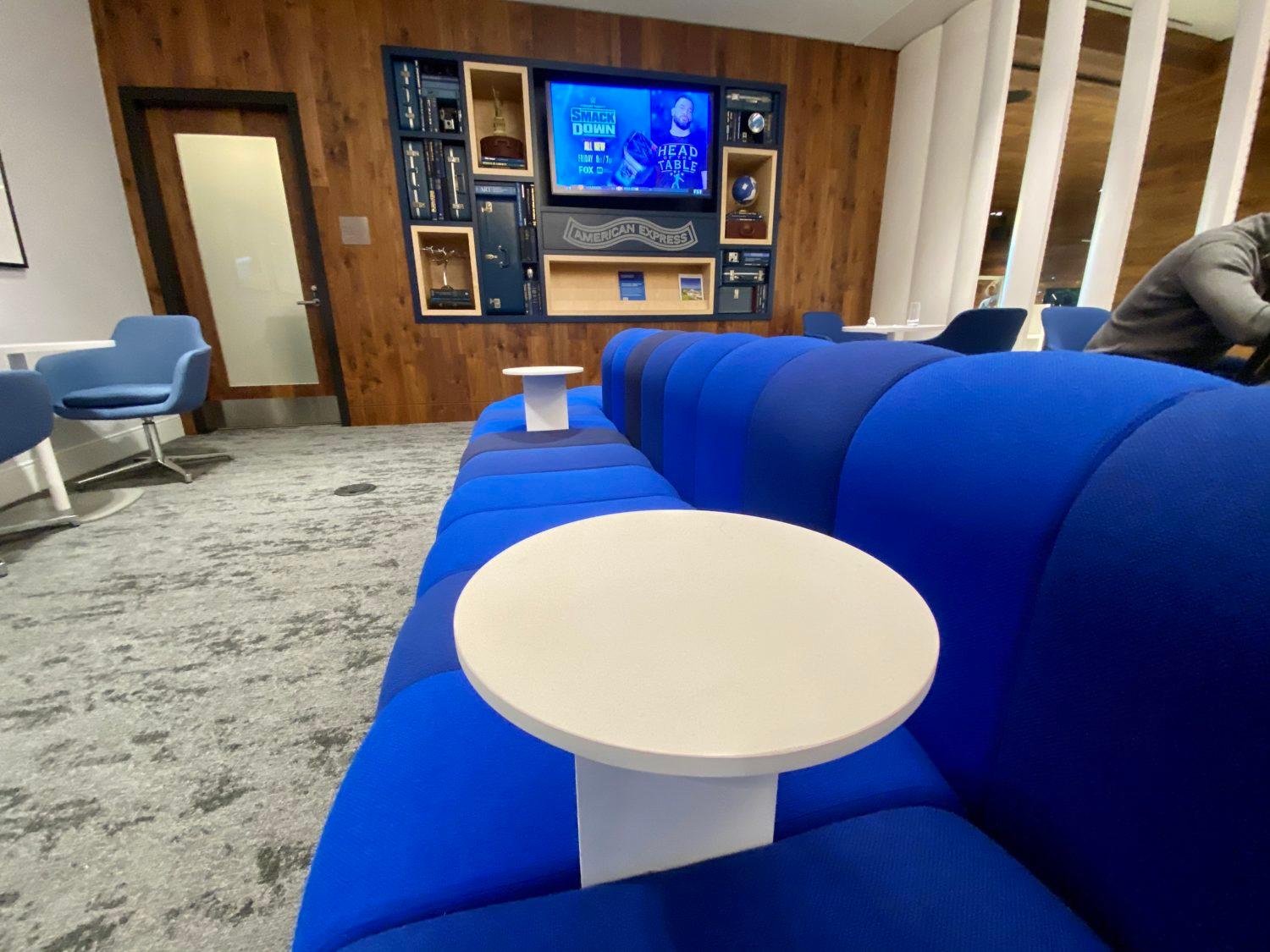 Just a tad farther into the lounge was a second seating area, with a honey-combed arrangement of high-backed chairs and more cafe seating. The subway tile wall in the background provided a pop of New York City flair. This was easily the most popular place to sit throughout my stay, as it remained fairly full.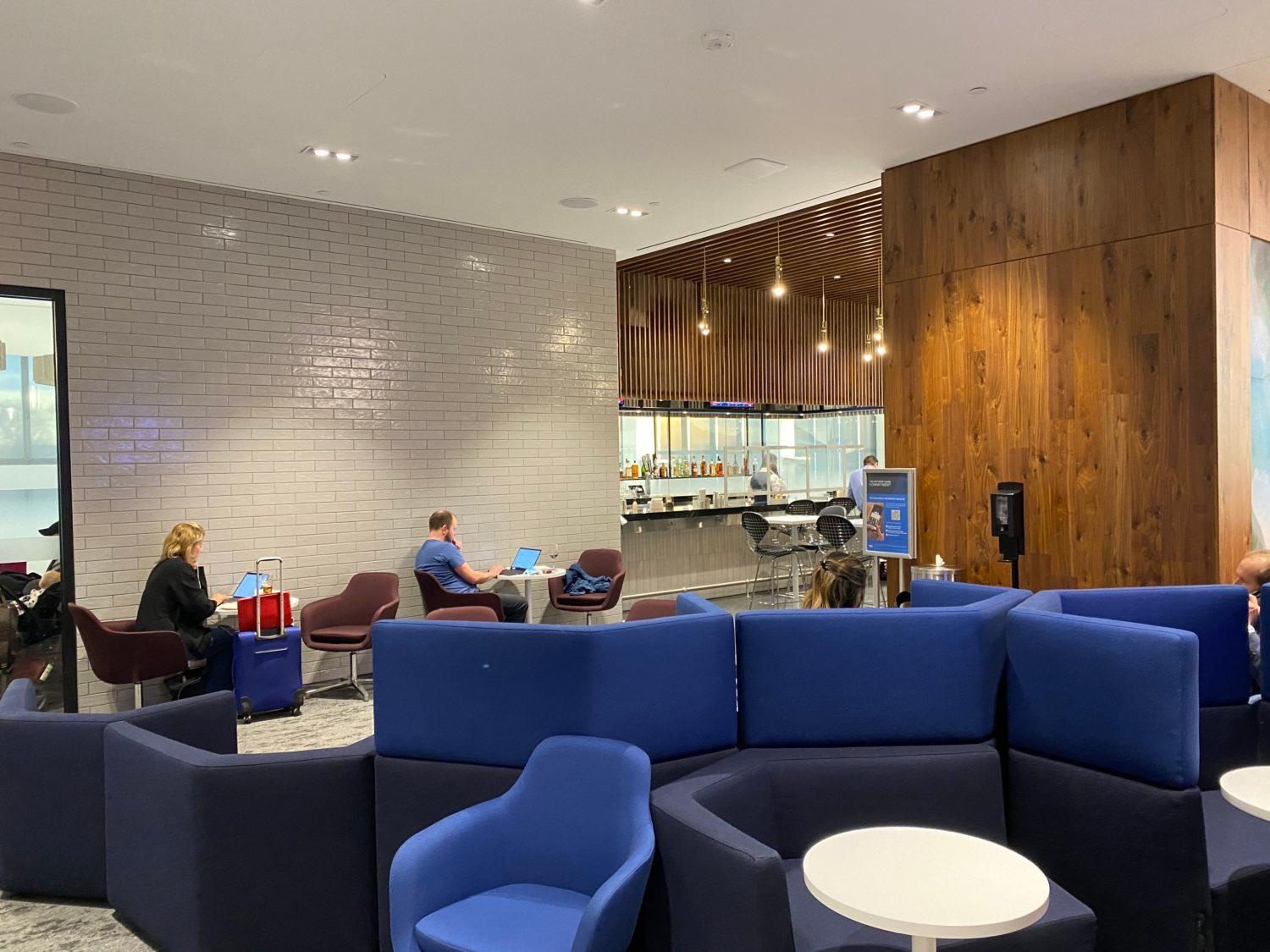 Just off this lounge area there was a meeting room with a couch and TV, which functioned mostly as a family room – and was in use by families without children throughout my three hours in the lounge.
But you can also head from this area into the dining and bar areas. Let's start with the dining room, which remained pretty busy throughout the evening. It's a well-designed space, flanked by floor-to-ceiling windows and great lighting overhead.

There's a good mix of seating in this space, with cafe tables, high-top bar seating, and a nice bench at the back set along an accent wall.

Finally, there's some additional seating and a high-top table along the windows.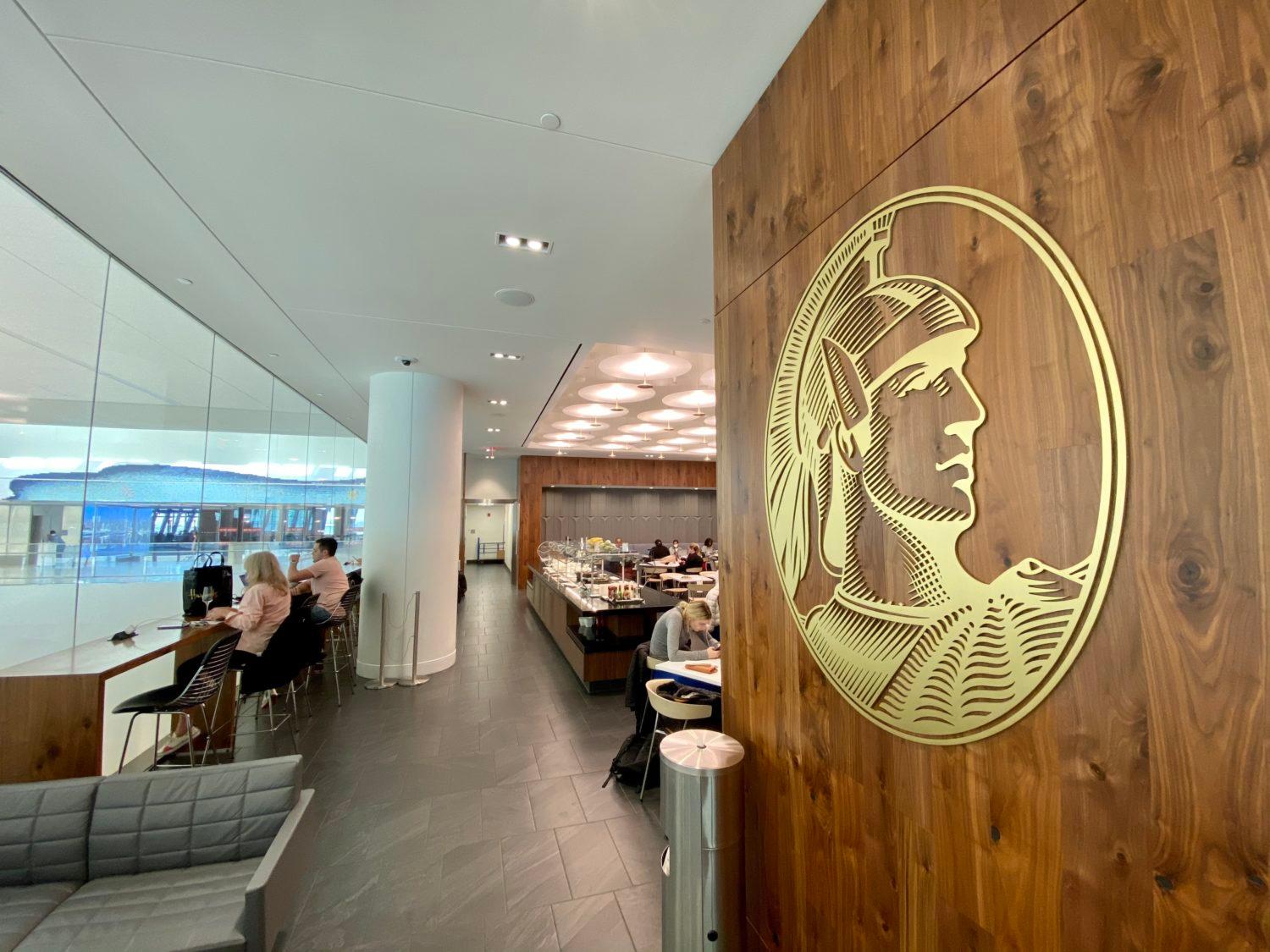 And then there's the bar, an equally impressive space just to the side of the dining room. I really loved the lighting overhead combined with the wood slat ceiling.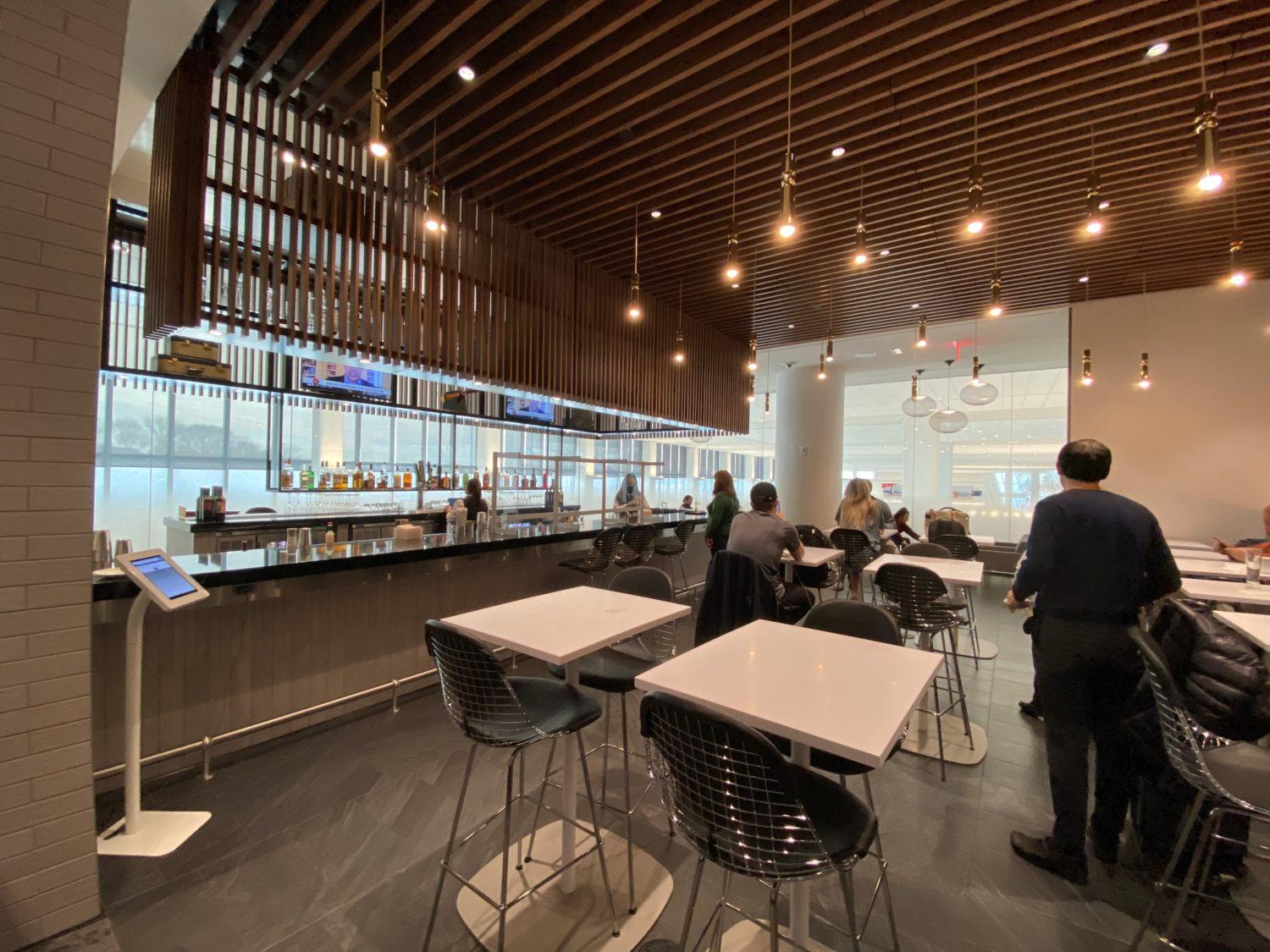 Here, too, there's a good assortment of seating, including another nice padded bench to sit with a drink or work.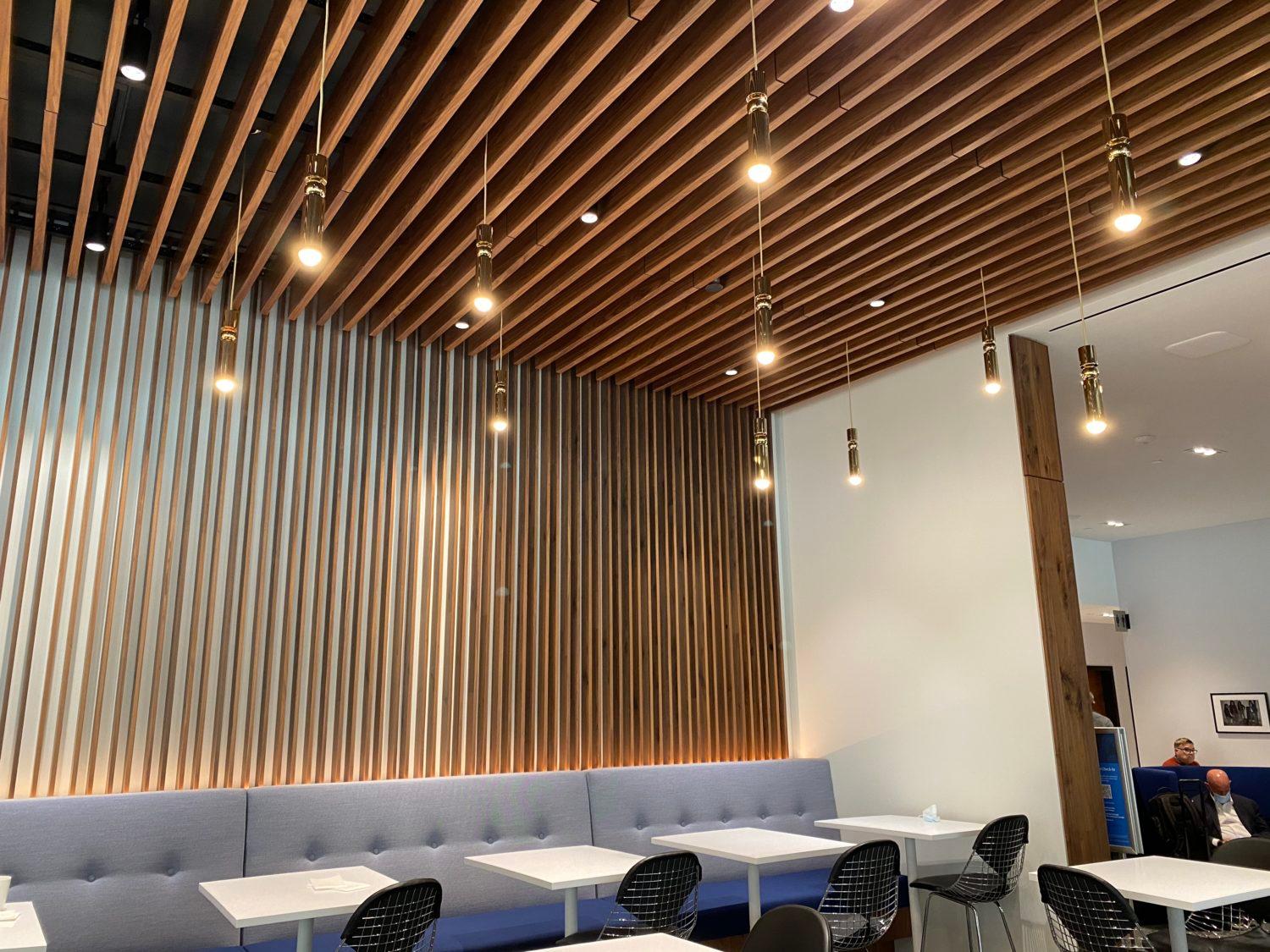 But there's an entirely separate, massive space we haven't gotten to yet. Amex has labeled it the "Business Lounge," but that's a bit of a misnomer: It's just a great space with plenty of additional seating – though it was noticeably quieter than the rest of the lounge. I spent much of my time here and thoroughly enjoyed it.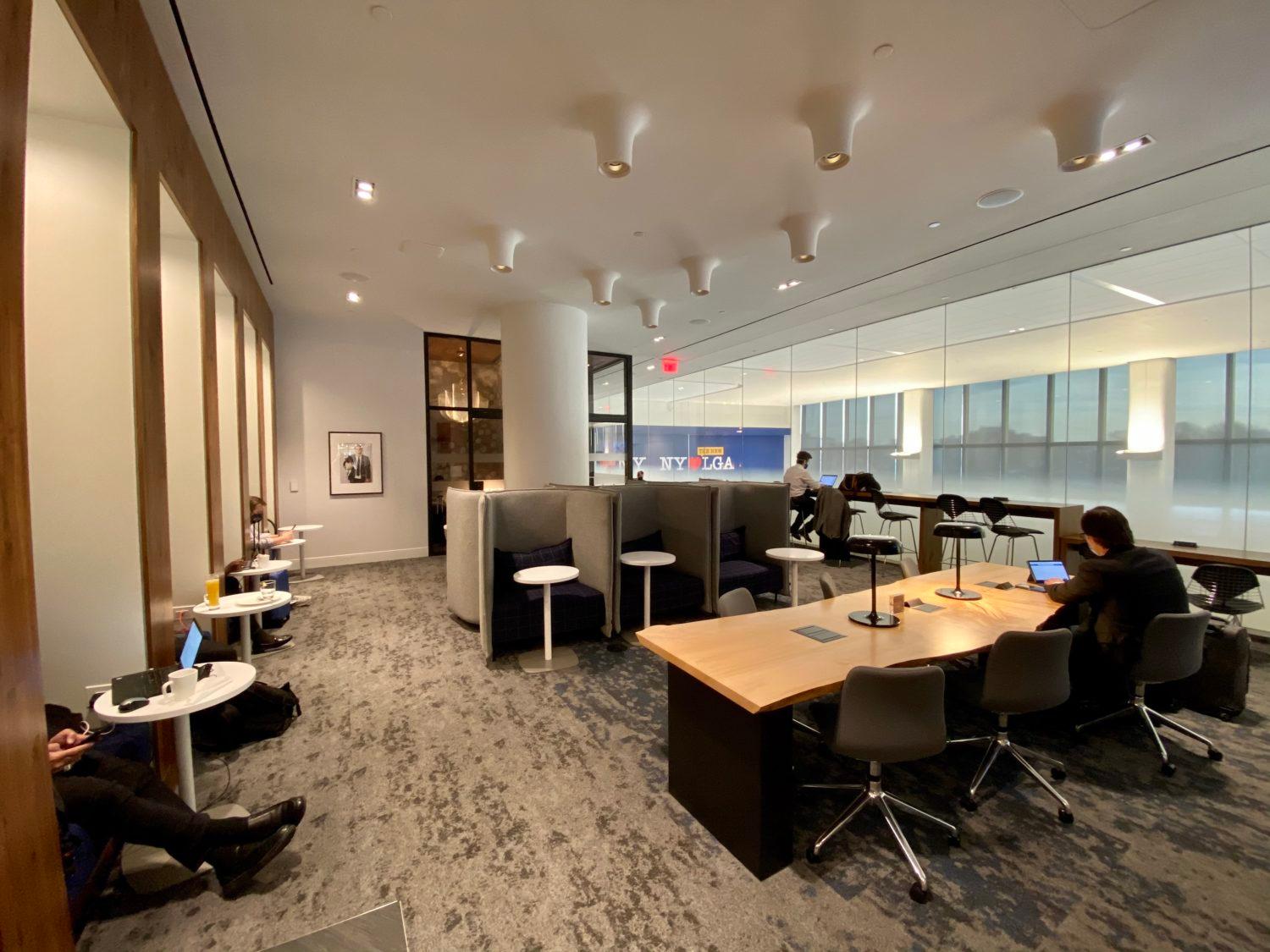 There was a signature co-working table, set in front of yet another Centurion TV wall.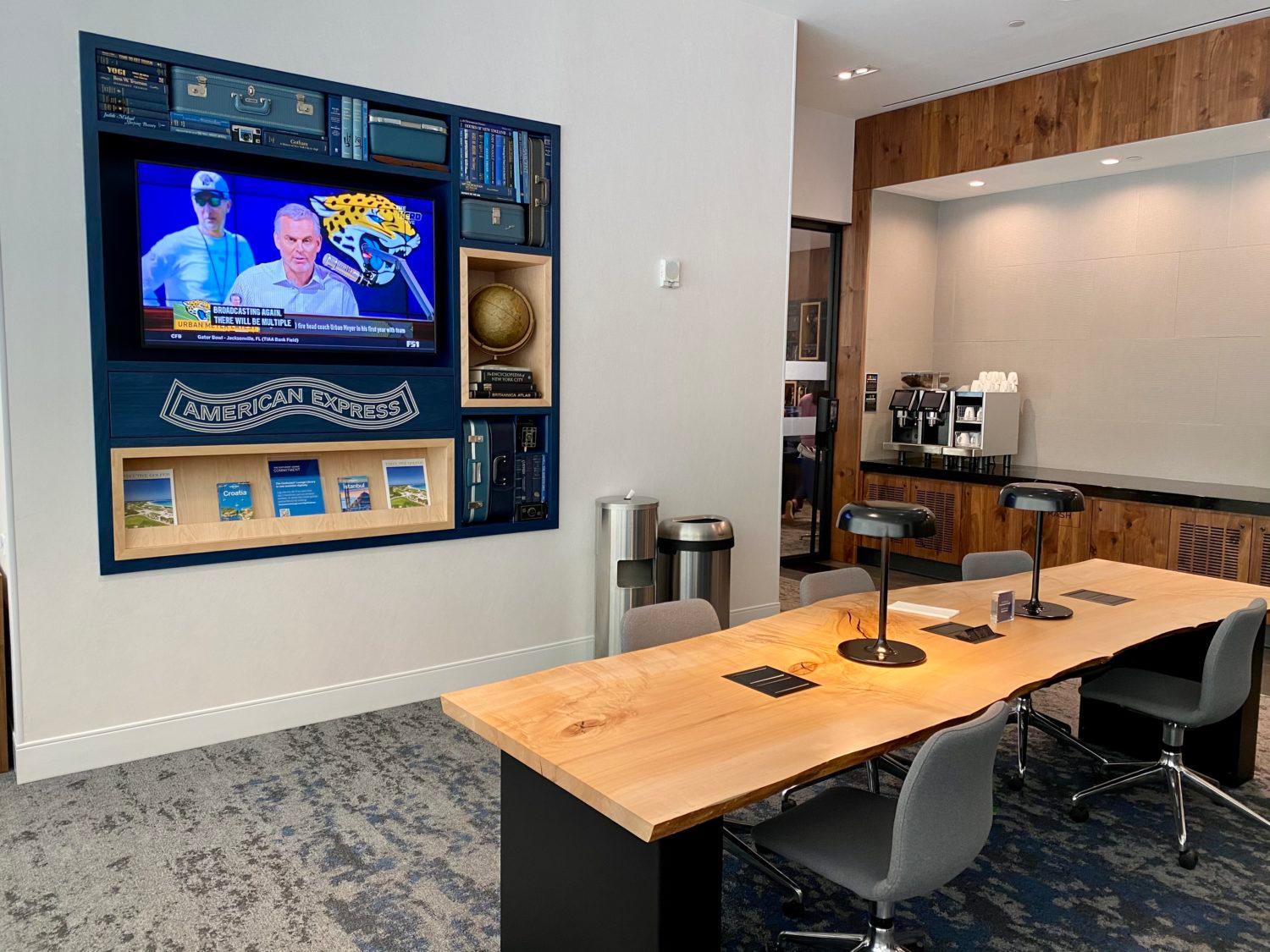 The whole room was built around a nucleus of these high-backed armchairs, which I'm quite fond of.

But my favorite spot to hang out was inside one of the individual cubbies built into the wall, which were cozy and private.

Each cubby has its own movable table and access to outlets – as you'll find at almost every seat throughout the LGA Centurion Lounge.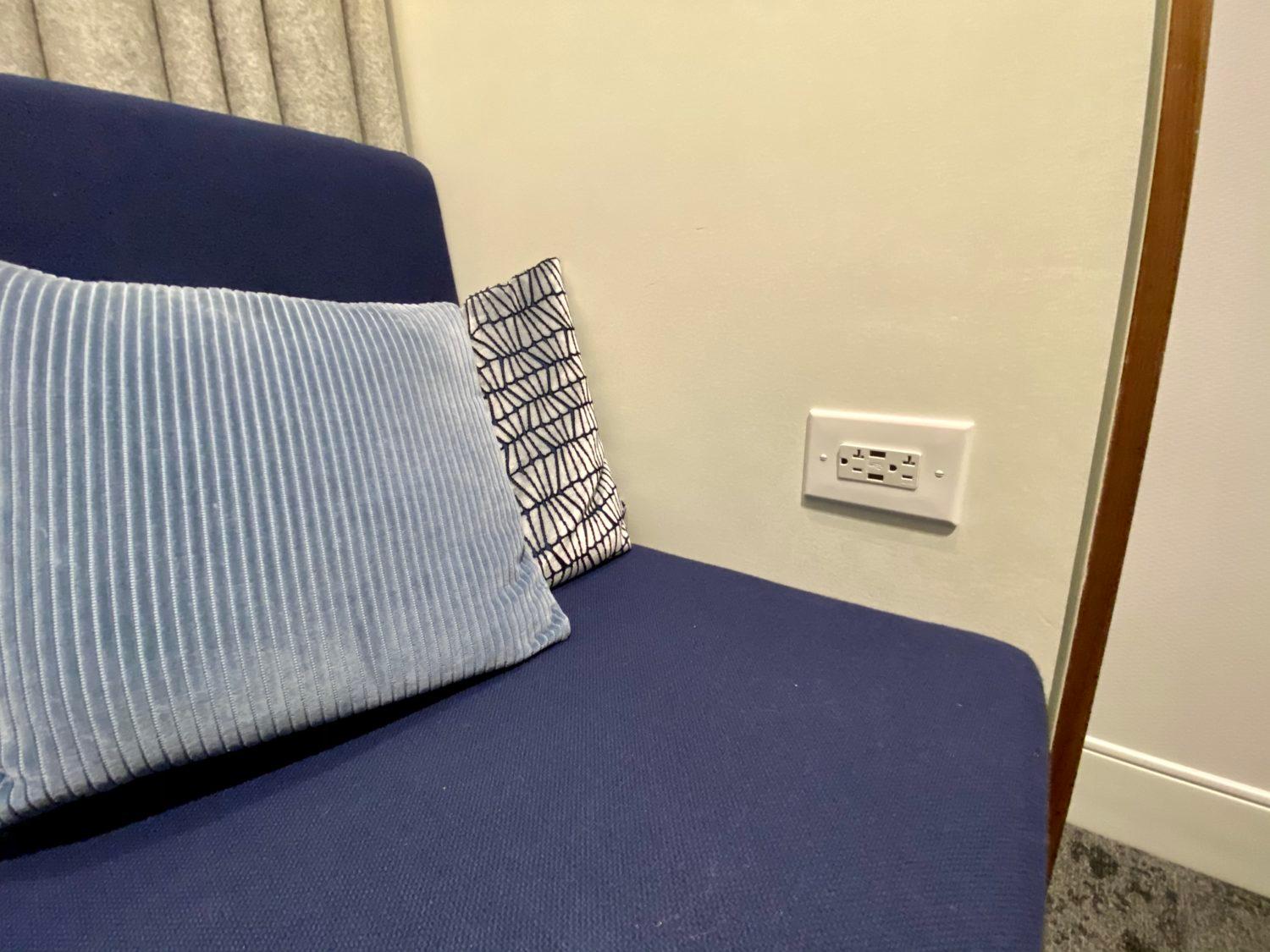 There are also two phone rooms, small (and slightly strangely designed) rooms inside glass doors if you need to pop inside for even more privacy and quiet.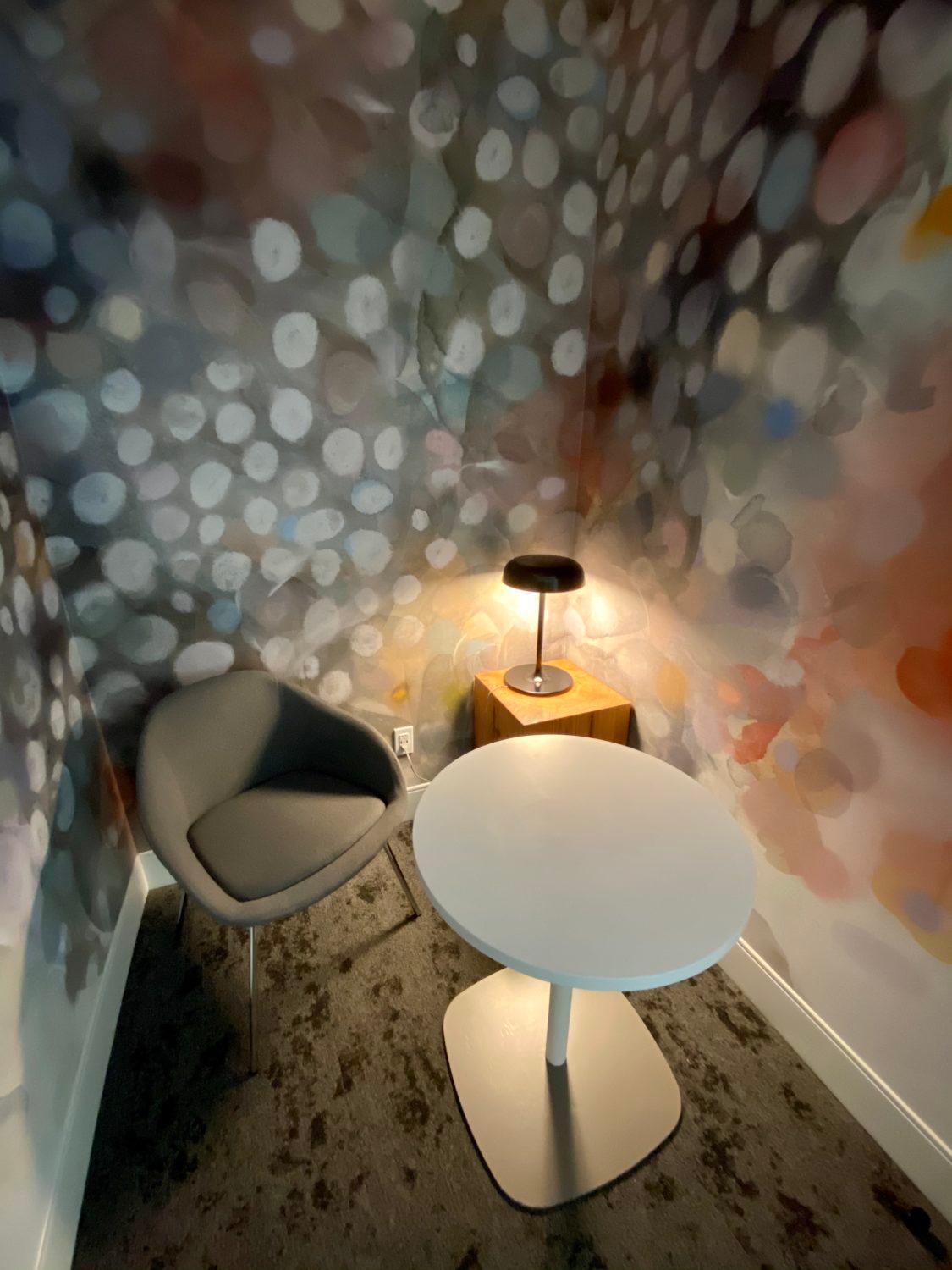 As you get to the back of the lounge, there's a long table pressed up against the glass windows. There are a few more seats and tables as you make your way down the long, sloping hallway.

Down this hallway you'll find a truly unique space: A study, and a beautifully designed one at that. Unfortunately, this space was reserved (and occupied) during my stay, so I didn't get a chance to snap a photo or give it a spin.
Located near the center of the lounge, the bathrooms are about as standard as it gets for Centurion Lounges – and that's not a bad thing. In the men's room, there was one urinal, a few single-stall toilets, and a well-designed sink setup. As always, there were L'Occitane amenities to wash up and moisturize. Though I wouldn't go so far as calling it dirty, it wasn't quite as well-kept as I'm used to seeing these bathrooms.

Finally, there's a single shower suite available in the LGA Centurion Lounge, though I didn't get a chance to check it out.
Food & Drink in the LGA Centurion Lounge
Some Amex Centurion Lounges are renowned for their food and drink, while others are lackluster. At the LGA Centurion Lounge, it was somewhere in between, in my experience.
After the pandemic led Amex to change up its food service, Amex has since reverted to its serve-yourself buffets at all its lounges.
Like all Amex lounges, the LGA Centurion has partnered up with an acclaimed local chef to design the menu. In this case, it's chef Cédric Vongerichten, who runs the Indonesian restaurant Wayan in the city. And that influence showed in what was available to eat for dinner: beef rendang, crispy tofu in a spicy mushroom, ginger coconut rice, and marinated vegetables along with the usual assortment of salads and sweets.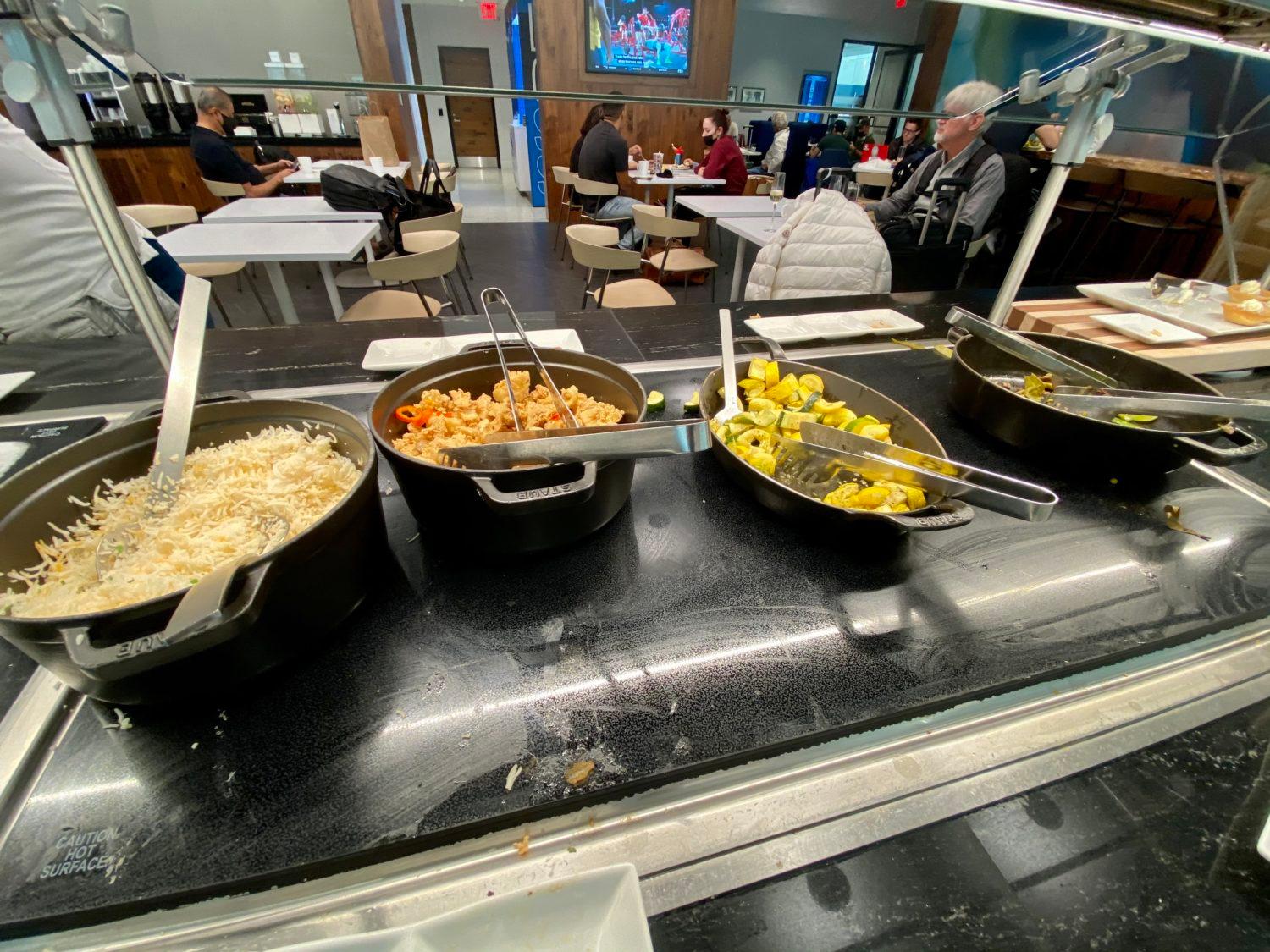 I really enjoyed every bite I tried – though it took a few tries to get some of the beef rendang, which seemed to be so popular that lounge attendants had trouble keeping it stocked. But the crispy tofu was the standout for me, especially with some of the fresh chilis that you rarely find these days.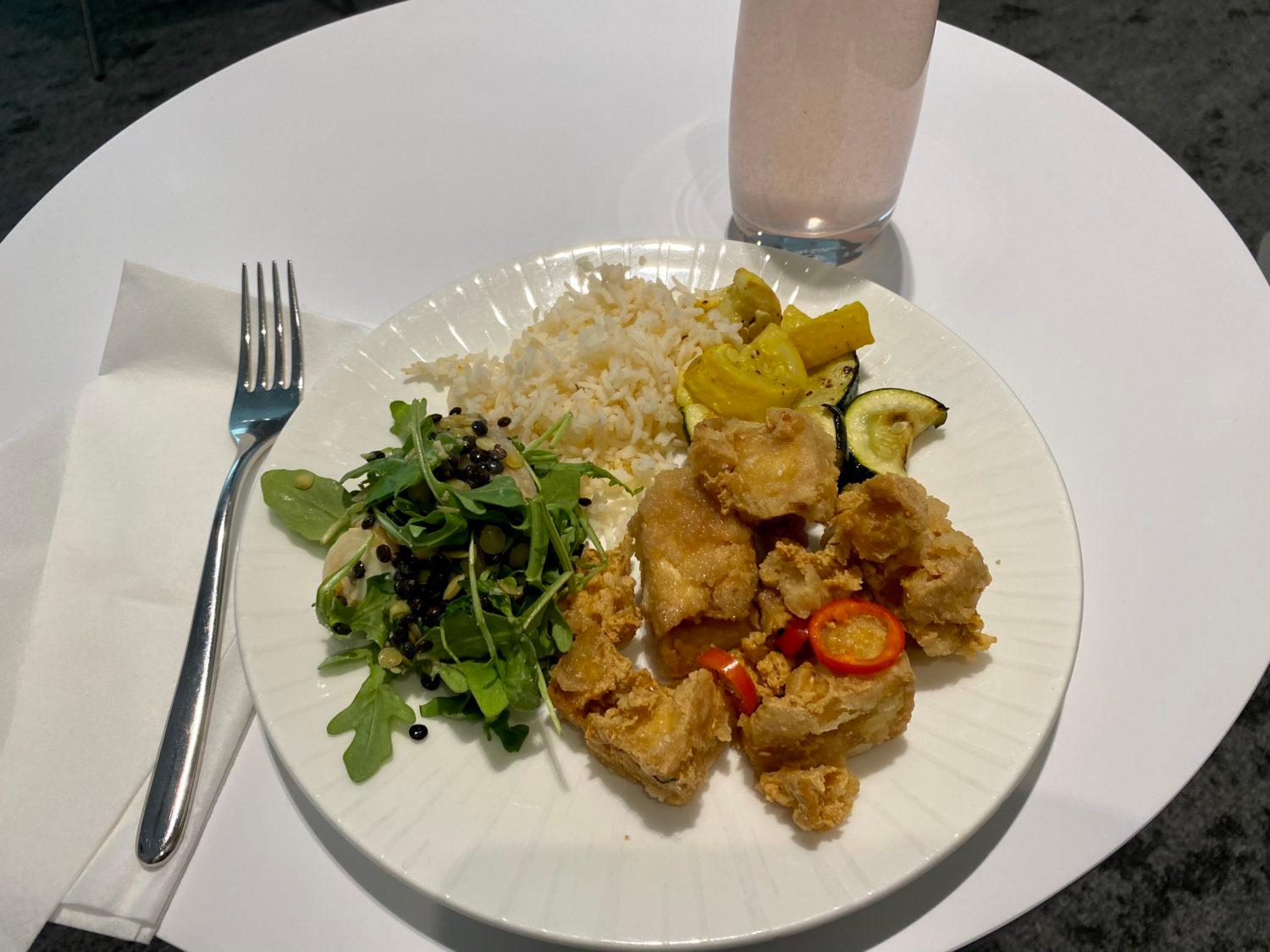 There were several beverage stations scattered around the lounge, with water dispensers and coffee and espresso machines. It's nice that these machines give you an option between milk and oat milk.

As for the bar, it was … a bit of a miss. There's no question that the bar itself is beautiful and well-stocked with all the complimentary wines and beers you can expect at any Centurion Lounge.

Yet try as I might, I couldn't find a menu anywhere in sight. The bar menus don't change too much at Centurion Lounges – here's a sample menu for the LGA Centurion Lounge bar – but I could imagine this presented problems for some guests. It seems like a strange oversight.
I had a friendly bartender whip me up a bourbon Old Fashioned, which was fine … but much too sweet for my tastes.

Bottom Line
The new LGA Centurion Lounge is a much-needed improvement – and a great airport lounge in its own right. It may lack some of the surprising amenities you'll find at other Centurion Lounges across the country. But the space itself is incredibly well designed, with an outstanding layout and decor throughout.
Just be sure to put out some bar menus next time, Amex.