American Express is planning a major overhaul of its Las Vegas (LAS) Centurion Lounge, substantially expanding its footprint and adding new features.
Amex's Centurion Lounges are easily among the best in the U.S. And while they're all currently shut down due to coronavirus, American Express is moving ahead with a renovation at its very first Centurion Lounge in Las Vegas.
The Las Vegas Lounge will be expanded by about 50%, from its current 9,000 square feet to over 13,400 square feet. That will make it among the largest lounges in the Centurion Lounge network. And American Express also said Friday that it will add multi-purpose areas, new private telephone rooms, a newly designed reception area, and new workspace areas.
The work will start "when full airport operations and activities resume," American Express said in a statement. It's expected to be completed sometime in 2021. The Las Vegas Centurion Lounge will remain open through the project, with some intermittent closures.
Read more: The Master Guide to Amex Centurion Lounges

Centurion Lounge at LAS Newly Designed Reception Area
It's still unclear when Centurion Lounges across the country will re-open. But extra space will be critical for airport lounges and airports as a whole as travel resumes – and in the case of the Las Vegas Centurion, more space is much needed. Like many Centurion Lounges, it's regularly overcrowded. And that just won't fly as we adjust to a more socially distanced world of travel.
Read our full review of the Las Vegas Centurion Lounge.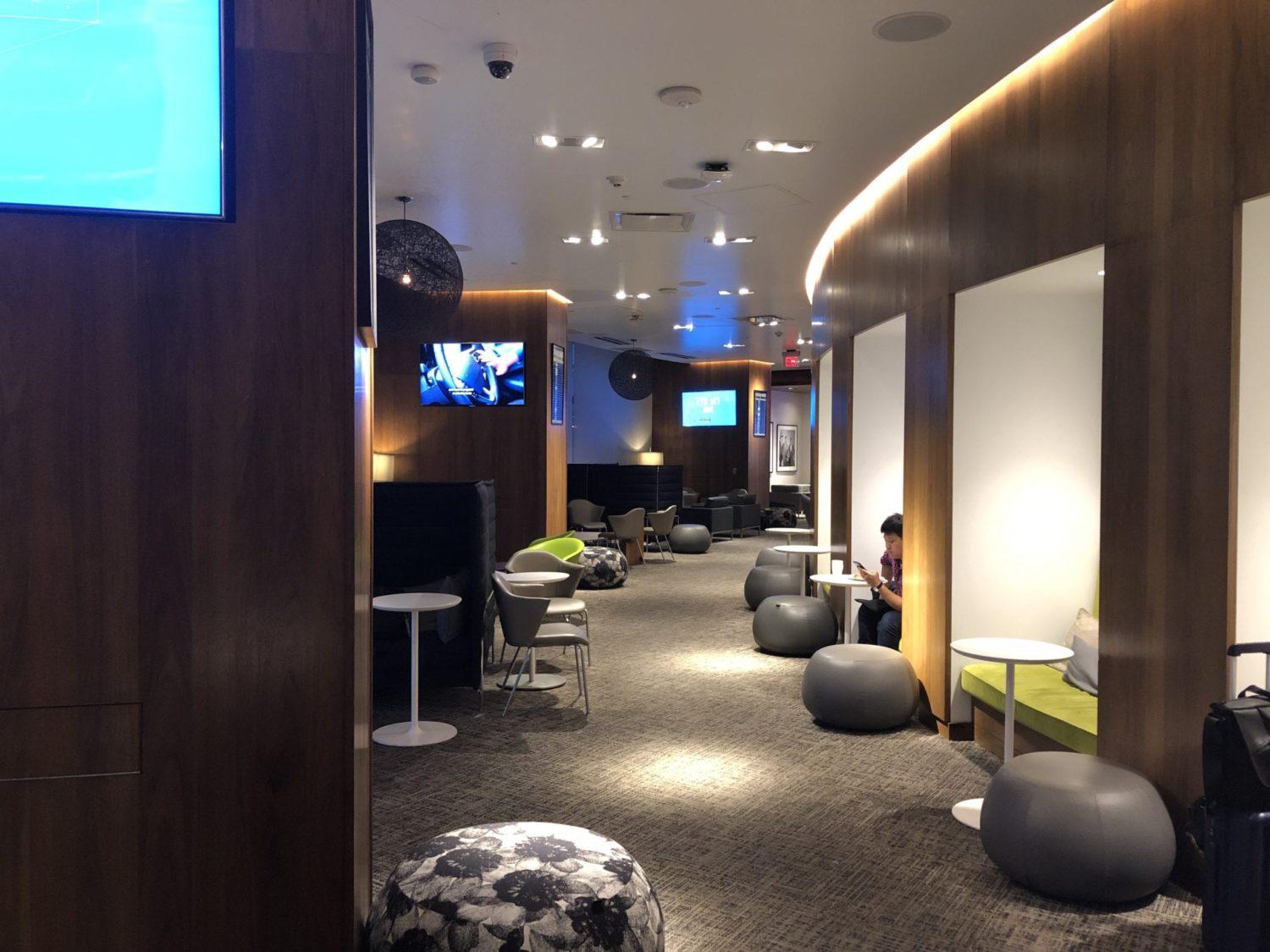 In addition to the expansion at LAS, Amex is currently working on completing lounges at Denver (DEN), New York (JFK), and London Heathrow (LHR). These lounges were originally expected to open this year but it is likely that will be delayed due to the coronavirus.
Getting Into Centurion Lounges
If you want to get into the Seattle Centurion Lounge when it re-opens, you'll want one card in particular.
It's the Platinum Card® from American Express. You can get into any Centurion Lounge with your boarding pass and Platinum Card. But you can no longer bring guests in free: As of Feb. 1, 2023, guests cost $50 apiece (or $30 for minors) unless you charged a whopping $75,000 to your Platinum Card in the last year. Guests two years and younger are still complimentary.
You can only get into Centurion lounges within three hours of your flight departing (unless you're on a layover.) The Business Platinum® Card from American Express will also get you in.
These cards are king when it comes to airport lounge access, as you can get into all 11 (and counting) Centurion Lounges, Escape Lounges, 1,300-plus Priority Pass locations, and even Delta Sky Clubs if you're flying Delta that day. The card comes with a $695 annual fee (see rates & fees), but perks like lounge access and annual credits for airline fees, streaming services, and Uber rides can easily offset that.
And make sure to see if you are eligible for the 125,000 point welcome bonus offer!
Another option is the Delta SkyMiles® Reserve American Express Card. Delta recently added Centurion Lounge access to this card, although you have to be flying Delta that day to get in. Unlike the American Express Platinum Card, you can't bring any guests with you at no additional cost (terms apply).
Click Here to learn more about the Delta Reserve Card from American Express.
Bottom Line
Amex's first-ever Centurion Lounge at LAS is a great one, though it could certainly use more space. This is great news and should provide a better lounge experience once travel picks up and lounges are being frequented again.
Lead photo courtesy of American Express