When travel ground to a screeching halt this time last year, the future of American Express Centurion Lounges was murky at best. Amex quickly closed up all its lounges across the globe and gave no indication of when they may reopen.
A year later, the story couldn't be more different. Through the pandemic, American Express pivoted, then doubled down on Centurion Lounges. 
Today, all but one Centurion Lounge in the U.S. has reopened. American Express opened five brand new lounges since early 2020. A second international location is set to open by the end of 2021 in London-Heathrow (LHR), and Amex recently announced plans for a new lounge in Washington, D.C.-Reagan (DCA).
Most importantly, while many airline lounges have cut food and service back to the bone in the name of safety, Amex has threaded the needle between increasing safety while maintaining the amenities and service that set Centurion Lounges apart as some of the best in the country.
"The pandemic has drastically changed what travelers want and need in today's travel environment and we're proud to continue to provide card members with a peaceful respite to relax and unwind, making the journey as special as the destination itself," said Alexander Lee, American Express' vice president of travel experiences and benefits.
Read our master guide to getting into Amex Centurion Lounges!
Tweaking the Centurion Lounge Experience
Travel is slowly-but-surely coming back, and so are airport lounges. And yet in most places, the lounge experience is a shadow of its former self.
And that's what stands out most about Centurion Lounges' transformation during the pandemic. They've clearly adapted to the times without detracting from what makes Centurion Lounges … well, Centurion Lounges. I saw that firsthand at the brand new Denver Centurion Lounge last month.
Lounge capacity has been capped, and attendants were regularly cycling through to place and replace signs blocking seats to ensure guests were spaced out. In many cases, agents at check-in escorted travelers to an open seat and explained some of the new policies in place. Bars and check-in desks alike were equipped with plexiglass shields.
Throughout my stay, lounge employees were sweeping, cleaning, and wiping down surfaces. And I lost track of how many times I heard an agent ask someone to make sure they had their mask on when not eating or drinking. It was constant.
Self-service buffets are out, and pre-portioned plates are in – but the food itself hasn't suffered in the process. Nor has the beer, wine, and specialty cocktails on offer, which are flowing free as ever. Due to local regulations, the Los Angeles (LAX) Centurion Lounge is still only serving grab-and-go food and beverages.
Of course, COVID-19 has changed everything. But that doesn't mean it's gotten worse inside these Amex lounges. In fact, thanks to capacity controls and the smart way American Express has implemented some of these new practices, you could argue that once-crowded Centurion Lounges are better than ever.
Lee and American Express have wrapped these changes into a package they call the Centurion Lounge Commitment.
"As we reopened our lounges last year, we wanted to find a safe way to keep the signature amenities our Card Members know and love available, so we introduced the 'Centurion Lounge Commitment.' These practices have been implemented across the lounge network," Lee said.
New Lounges and Expansions Too
Airlines have retired planes, downsized their fleets, and in many cases, put off plans to give seats and cabins upgrades. American Express has done the opposite.
Since January 2020, the company has opened brand new locations in Phoenix (PHX), Charlotte (CLT), Los Angeles (LAX), New York City-JFK (JFK), and Denver (DEN). The long-awaited Denver and New York locations opened in the midst of the pandemic. Meanwhile, American Express is also capitalizing on the downturn in travel by giving many of its older spaces a much-needed facelift – and some extra space, too.
Add it up, and American Express will have opened or retouched more than half of its lounges in the last year and change. So much for giving up on travel, right?
The New York City-LaGuardia (LGA) lounge, panned for both its size and location before airport security, is moving to a new space twice the size behind security. Seattle's tiny Centurion Lounge is moving, too, tripling in size from its current 4,500-square foot space to a nearly 14,000-square-foot spot.
Two lounges notorious for overcrowding will get some extra space too. The Las Vegas (LAS) Centurion Lounge, American Express' first-ever lounge, is in the midst of an expansion expected to conclude sometime this year that will give it a 50% larger footprint. The San Francisco (SFO) Centurion lounge will nearly double in size to 16,000 square feet, taking the crown as Amex's largest lounge – adding a second bar and café area, to boot.
Moreso than the massive welcome bonuses and huge retention offers on The Platinum Card® from American Express, Amex plowing ahead with these projects speaks volumes about how it sees travel unfolding in the months to come.
"We know there is pent-up demand for travel and want to be there to support our card members when they are ready," Lee said. "The Centurion Lounge network is a top benefit for our cardmembers, so we are committed to investing in the program and backing our Card Members through their travel journeys."
Read more: Amex Peels Back the Curtain on 2020 Pivot, What 2021 May Bring
Some Extra Flair
For years, Centurion Lounges across the country were more or less interchangeable. Great, yes.
But aside from the food, there was little to set apart the San Francisco (SFO) lounge from Las Vegas (LAS) or Dallas-Fort Worth (DFW). Same style, same decor, same artwork, same chairs.
But as American Express builds out more lounges, that's changing. You'll find some signature touches and local flair at many of the newest locations.
Denver has a dedicated craft beer bar pouring brews from many of the area's acclaimed local breweries. The New York City (JFK) location has a speakeasy dubbed "1850," an homage to Amex's founding date that serves special cocktails. Los Angeles has a wall art installation designed to look like the Hollywood hills, "Moonrise" and "Sunrise" tranquility rooms, and a spa.
Lee said that's the model for Centurion Lounges going forward.
"As part of our efforts to elevate the end to end lounge experience, we're building on our signature features to introduce new, unique amenities and design features to further bring to the local culture each lounge sits in, while also continuing to make our lounges unique and welcoming spaces to visit during our Card Members' travels," he said.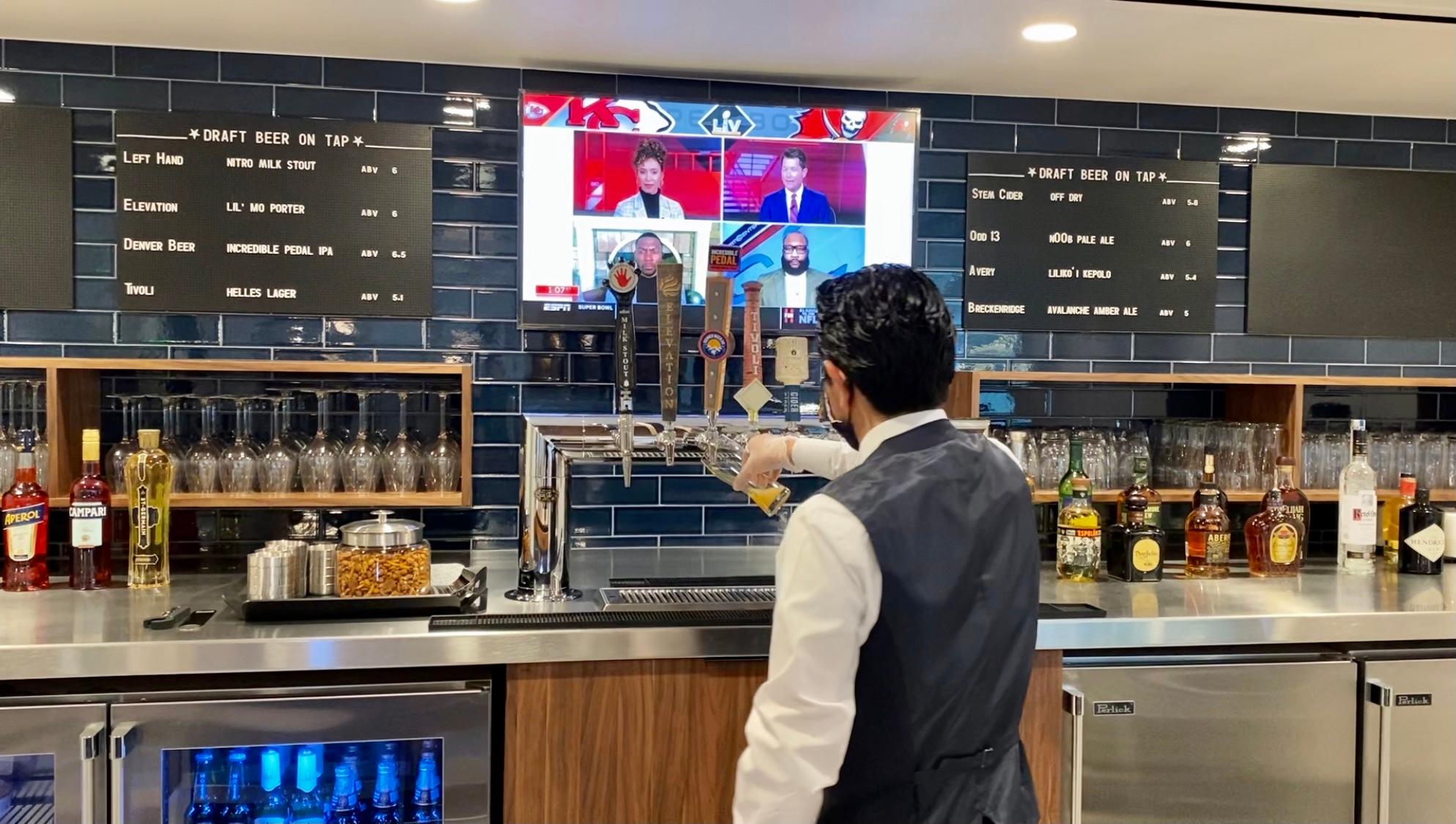 Even older Centurion Lounges will get some new signature touches as they undergo renovations and expansions. Not only will the once-tiny Seattle (SEA) lounge relocate to a new space more than triple the current size, but it'll sport an open-air feel with huge windows looking out to the tarmac and the Olympic Mountains.
Where To Next?
Even after opening five new lounges and launching expansions at another four in the last year, it's clear American Express isn't done yet.
Amex is tight-lipped about where it may look to expand next, but Lee said the company is looking at both domestic and international locations. That may come as a surprise, given international travel is expected to take much longer to recover than domestic trips.
Despite some setbacks, Amex is still on track to open its lounge in London-Heathrow (LHR) later this year, Lee said. That will be its second international location, after Hong Kong (HKG) opened way back in 2017.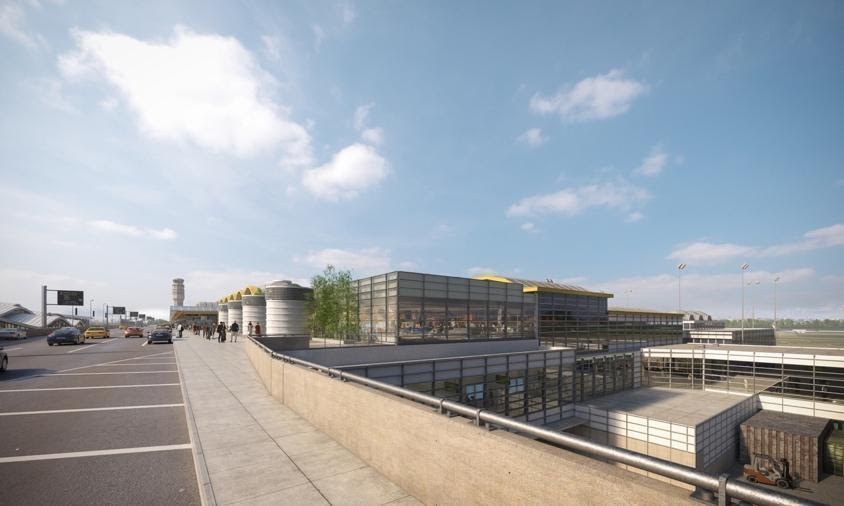 Lee was tight-lipped about where Amex is looking to build its next lounge, but said the company looks at data showing where cardholders are traveling to find the locations that make most sense. That's the same data that brought Centurion Lounges to Denver and, soon, Washington, D.C.-Reagan (DCA).
Of course, there's more to it than that. There's also a matter of space: Real estate is always at a premium in airports. For example, the upcoming Washington, D.C. Centurion lounge at the notoriously cramped "National" airport was made possible largely thanks to a massive expansion underway at the airport. It's expected to open sometime in late 2022.
"We are always looking to open new Centurion Lounge locations where we see our Card Members traveling most, and while our Card Members may not be ready to travel right now, we still have a pulse on the destinations our Card Members are most interested in," Lee said.
Bottom Line
In a year where travel was a painful afterthought for most Americans, American Express has doubled down on Centurion Lounges. That should pay off for travelers with the Platinum Card from American Express as they return to the skies.
And if American Express keeps up the momentum it built rounding into 2021, even bigger and better news may be on the horizon.