Every traveler just wants a good deal on flights, but the world of airfare can be confounding. Especially when two things can be true at once:
Average flight prices are down right now, leading to some of the best flight deals we've ever seen for travel this year or next.
The flight prices you find from your home airport might still be astronomically high, leading you to wonder what I'm smoking – and how you can possibly get some.
What gives? Well, airfare is not a monolith. It's made up of tens of millions of individual fares out there: Some are up, some are down … and some are way, way down. So while average flight prices are down for a trip to Las Vegas, Italy, or Tahiti in 2024, even a short hop from Pittsburgh (PIT) to Kansas (MCI) might still clock in at $600 or more.
Seeing high prices no matter where you look? It probably comes down to your home airport and how many flights it's got, the amount of competition between different carriers, and when you're actually booking – or flying.
Let's dig into what's driving your fares higher, then chart a course to get you out of the airfare abyss and into the world of cheap flights … no matter where you live.

#1: You Live at an Airline's Major Hub
I'm going to try to stay objective here, but I'm not going to lie: This one hits really close to home. I'm Gunnar, and I'm what's called a "hub captive."
But I'm not alone. We hub captives are spread across the country, based around airports that are dominated by a single airline. My home airport of Minneapolis-St. Paul (MSP) is a particularly egregious example, with more than 70% of flights a day operated by Delta Air Lines.
Why does this lead to higher fares, though? Because Delta is the only game in town, they can dictate the flight prices. Sure, I could fly American, Southwest, or United from Minneapolis instead … but that often means taking a connection. Like tens of thousands of other Minnesotans, I don't want to do that – and Delta knows it, so they charge more.
We call it the hub penalty, and flyers see it everywhere. Nonstop flights on a hub airport's major carrier price out much higher than a one-stop itinerary on a competitor … or even a connecting flight from a smaller nearby airport on the dominant airline.
Here's an example. Spring break in Puerto Vallarta, anyone?


For travelers in Sioux Falls (FSD) in South Dakota, this is about the fastest and cheapest route you'll find to the west coast of Mexico. One quick stop in Minneapolis, then it's smooth sailing down to Mexico for just over $400.
But what about losing the connecting flights and just booking on the nonstop from Minneapolis to Puerto Vallarta? With fewer flights, it should cost the airline less and therefore be cheaper, right?
Wrong. You get penalized by almost $130 a ticket. 

That's the hub penalty in action. We see examples just like this play out again and again and again – all because the airlines know they can charge their loyal hub customers more and get away with it.
Minneapolis is not alone here. Salt Lake City (SLC) is another hub held captive by Delta, as is Atlanta (ATL) and Detroit (DTW). Other airports like San Francisco (SFO), Houston-Intercontinental (IAH), Dallas-Fort Worth (DFW), Charlotte (CLT), Washington, D.C.-Dulles (IAD), and more all fit the bill, too.
If there's one thing that drives flight prices down, its competition between airlines. At airports that don't have much competition, you can safely assume you'll see higher prices.
But there's one other big factor that drives flight prices higher.
#2: There's Not Enough Supply (or Flights)
Airfare is chiefly a game of supply and demand.
The number of flights (or seats) is the supply, and the number of travelers looking to fill them is demand. It needs to be balanced just the right way for prices to look nice. Too far one way or the other is where we see drastic swings in flight prices – good or bad.
Consider this past summer, when we saw two concrete flight deal trends emerge:
Flight prices to Europe skyrocketed because travel demand to cross the pond (for the first time in years since the start of the pandemic) exploded, outpacing airlines' supply to carry all those passengers.
With travelers looking overseas, seats on domestic flights were going unfilled even as airlines added more flights, leading to some of the lowest flight prices we've ever seen within the U.S.
After a summer of exorbitantly expensive flight prices, cheap flights to Europe have made a dramatic comeback recently with sub-$500 (and even under $400) fares to Dublin (DUB), Italy, Paris, and more. Why? Again, because of supply and demand.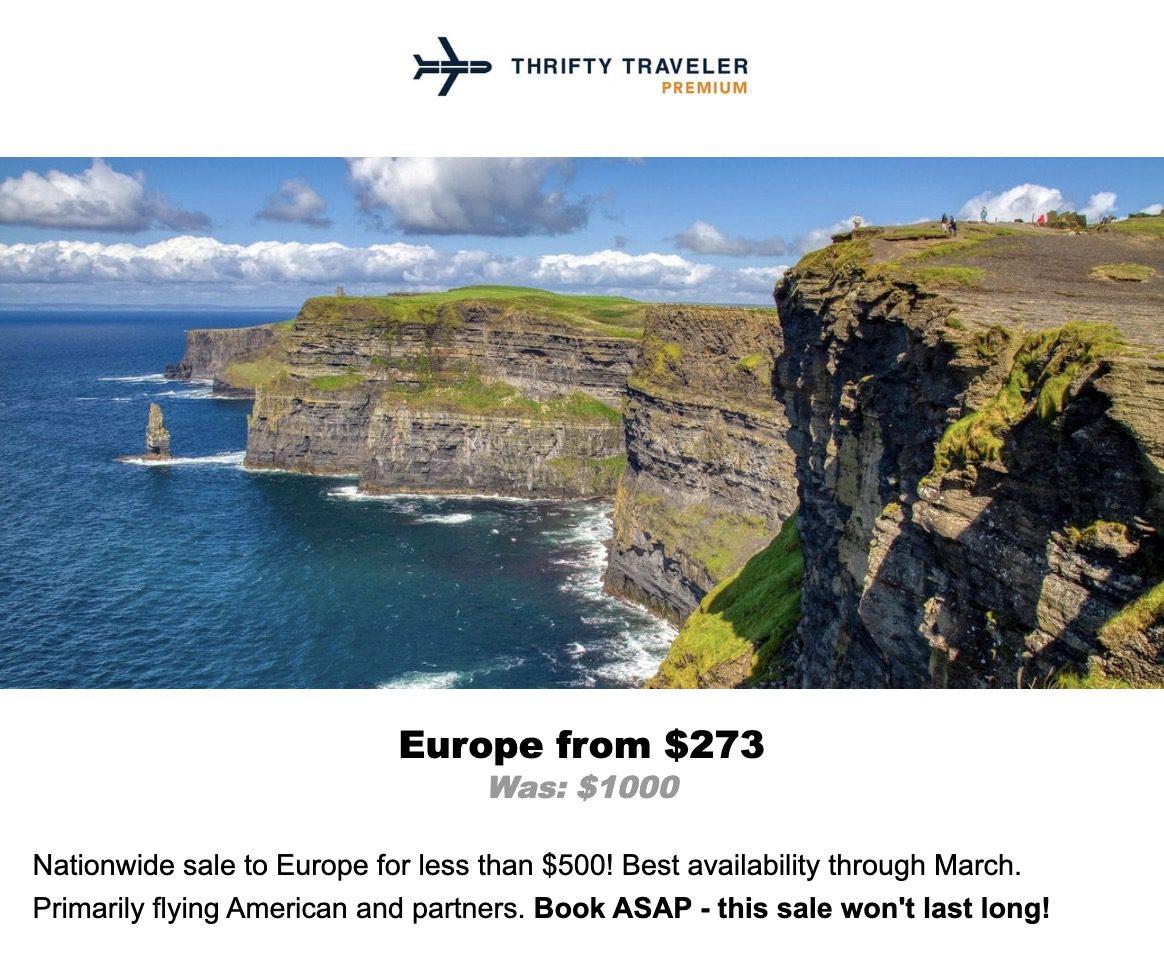 But the supply of flights (or lack thereof) can also play out in smaller ways – especially from smaller airports.
Some airports just don't have that many flights, and that's likely to hurt travelers looking for a good deal. Let's say you live in Devil's Lake, North Dakota (DVL) and are looking for a flight to … well, anywhere.
If you want to fly nonstop, there's only one place you can go every day: Denver (DEN) flying United.

That issue compounds when you want to go beyond that nonstop route. Sure, you can connect beyond Denver … but you're still relying entirely on United's network out of Denver to get where you want to go. Look at this Google Flights Explore map of one-stop itineraries from Devil's Lake and you'll see the problem clearly.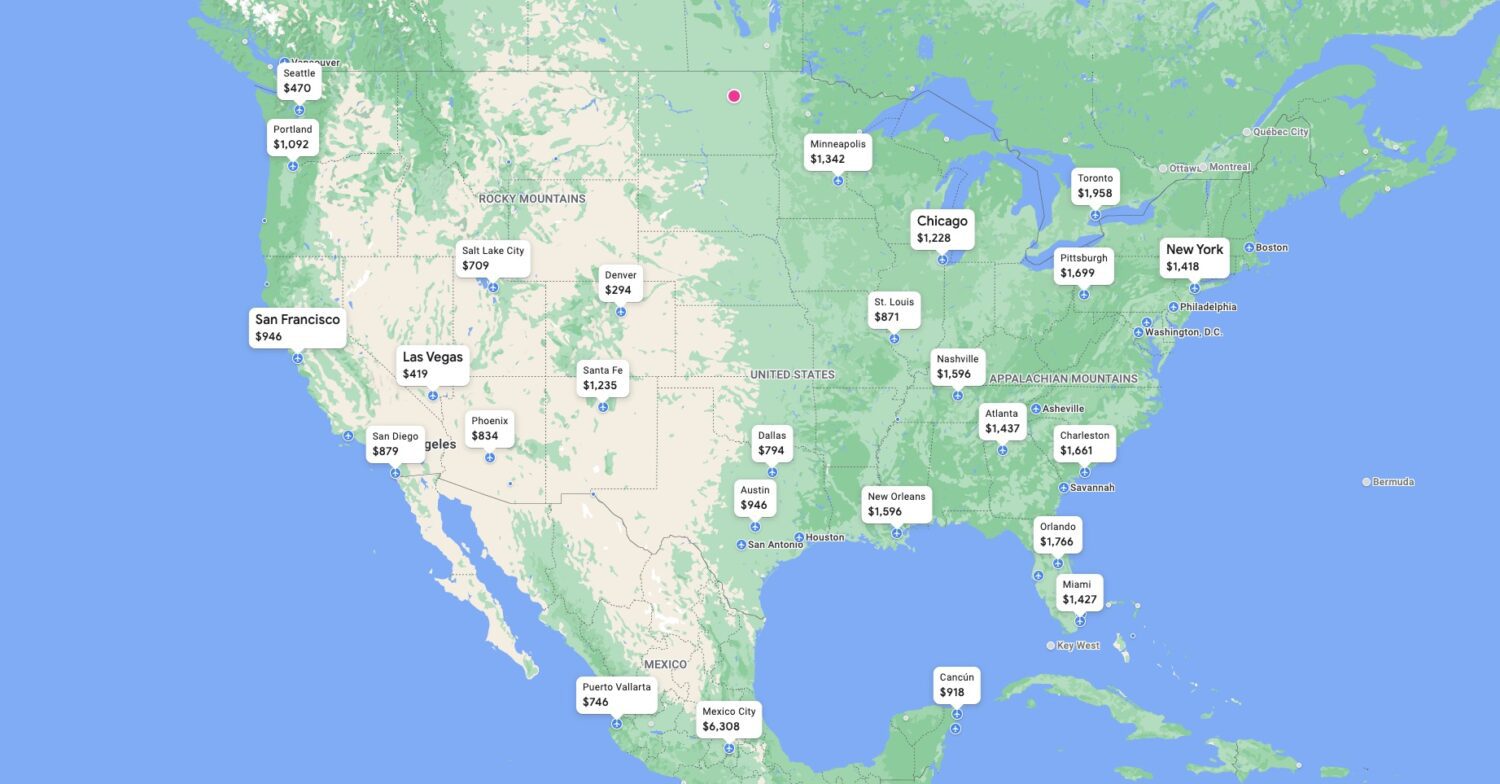 It's an extreme example of a common problem. Dozens of U.S. and Canadian airports deal with this same issue: There just isn't enough supply of flights – or more importantly, competition between two or more airlines – to keep prices down.
Do flight deals from small communities like Devil's Lake, Dothan (DHN) in Alabama, or Pasco (PSC) in Washington ever happen? Of course! We search for flight deals from more than 200 U.S. and Canadian airports big and small, and regularly find great deals from all of them.
But these dynamics mean your searches from Waco (ACT) are more likely to turn up eye-popping prices than from Washington, D.C.
#3: It's Just a Matter of Timing … When You Book & Fly
Let's say you and your partner are sitting around the dinner table and decide it's time to book a trip to Cancún (CUN) for some much-needed rest and relaxation. You pop open that laptop and look at flights to CUN, and then slam that computer shut in pure terror after seeing airfare nearing $700 or $800 roundtrip – maybe even more.
Don't give up. Airfare is constantly changing.
I'm a flight deal analyst here at Thrifty Traveler, so I track airfare all day, every day. No matter where you're searching from or looking to go, that price can change in an instant. Thirty minutes after seeing that $800 fare to Cancún, that price might drop below $400.
It happens all the time. Heck, it's why I have a job in the first place. Here's a concrete example.
For next year's total solar eclipse, I thought a trip to Burlington, Vermont (BTV) – which is in the eclipse's path of totality – would be a great setting to soak it in. But when I looked at roundtrip flights from Minneapolis, the fares were a painful $500-plus roundtrip. So I started tracking the fares with a Google Flights price alert.

Just a few days after I set the alert, prices bottomed out at nearly $300! Since then, it's been a rollercoaster ride.
If you want a better deal, you may need to be patient … and do your homework.
Start searching early: Most airlines start selling fares at least 11 months in advance. While booking that far ahead might not be the best way to get a good price, it'll give you a full picture of what prices on your route look like
Look as often as you can – or better yet, set a Google Flights price alert on your flights and get the heads up when fares increase or decrease.
The other issue that might be causing your astronomical flight pricing is the timing of your flights. Whether it's the wrong day of the week or the wrong time of year (think peak summer or the hectic and expensive holiday travel season), the day you actually get on the plane can drive prices much, much higher.
Read up on the cheapest days to fly – and the best time to book flights!
That's why we've coined the Flight First Rule. It's exactly what it sounds like: By starting your travel-planning process with a flight search, you give yourself the flexibility to adjust your travel dates by just a day or two, saving hundreds of dollars on airfare.
Let's say you're in St. Louis (STL) and want to do a long weekend in Las Vegas (LAS) next month. First, you take your open weekend, and you pop it into Google Flights from a Thursday to Sunday.
But here's the problem: Sunday flights can make itineraries far more expensive because everyone wants to fly home on Sunday. So here's what you'll see.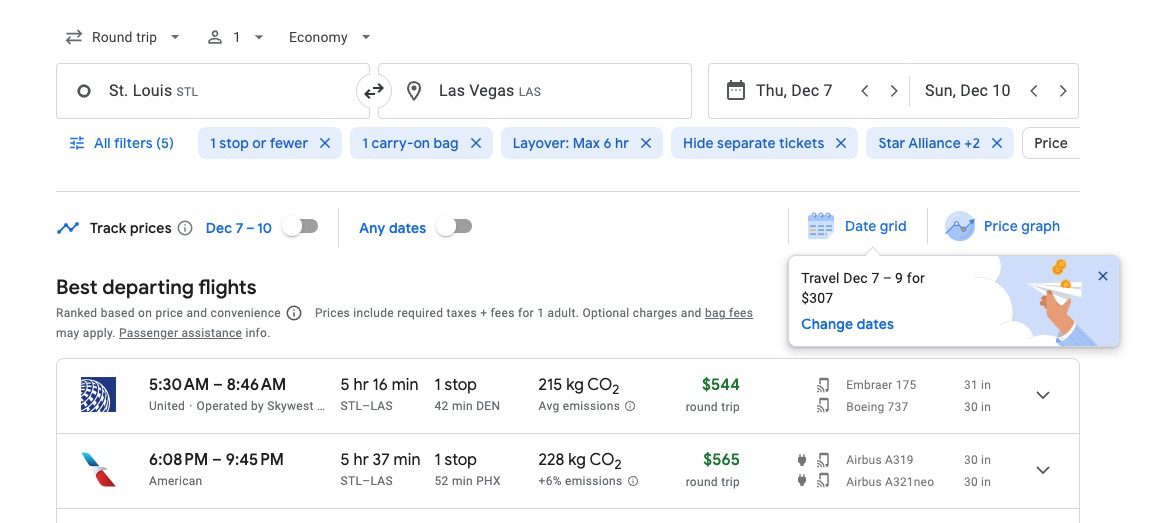 Yeah … $544 is a little steep for a weekend trip. You'd have to do pretty well at the blackjack table to make this trip worth it.
But look at that pop-up box in the upper right of the search results! That's Google telling you that by adjusting your return date from Dec. 10 to Dec. 9, you can save $240 or more. Shift those dates to Wednesday, Dec. 6 to Saturday, Dec. 9, and your flights drop below $300 roundtrip.

The timing of both booking your flight and actually taking it is crucial. While there's not a single best day to book flights – that's always changing – it's almost always better to avoid Sunday flights if you want to make a trip to and from your home airport affordable.
How to Avoid These Expensive Flights
We've touched on a few of your options already, but let's look at the best ways to save on flights from your home airport.
Adjust Your Travel Dates
We've been over this, so I won't belabor the point here. By adjusting your dates of travel by just a day here and there (and trying to avoid Sundays), you stand to save hundreds on your flights. Flexibility is key.
Give yourself more flexibility to get the best deals by following the Flight First Rule!
Book a Positioning Flight or Position Yourself Another Way
If your home airport suffers from bad flight times, a low supply of flights, or inopportune routes, change your own fortune!
Booking positioning flights is the easiest way – especially for international flights. Instead of searching from your home airport with higher fares, start your search from an airport with better deals, then build your own connection to take advantage of a lower fare and come out ahead.
Say flights from your home airport of Spokane, Washington (GEG) to Tokyo are looking a little steep … but the same flights from Seattle (SEA) are more than $1,000 cheaper. Book yourself a $200 roundtrip positioning flight to Seattle instead and save big.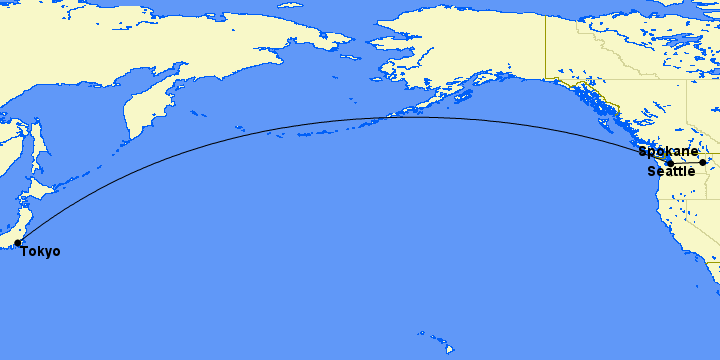 Depending on where you live, you don't have to fly – you could take a positioning drive (or transit!) In the Northeast, for instance, you can take the Amtrak or jump in the car and drive to one of the dozens of international airports all within a few hours of you.
Not sure which airports to start your search from? The best hubs for lower fares depend on where you're going, but here's a list of airports where we frequently find the best deals on international airfare:
Los Angeles (LAX)
San Francisco (SFO)
Seattle (SEA)
Chicago-O'Hare (ORD)
Dallas-Fort Worth (DFW)
Houston-Intercontinental (IAH)
Boston (BOS)
New York City (JFK)
Newark (EWR)
Washington, D.C.-Dulles (IAD)
Atlanta (ATL)
Miami (MIA)
Read our full guide to booking positioning flights – including risks to be aware of!

Use Google Flights Price Alerts to Monitor Your Fares
Google Flights is by far the best airfare searching and booking tool out there. And perhaps the best feature of Google Flights are Google Flights price alerts.
You can track a flight and get an immediate alert in your inbox when prices drop – or go up. That can give you an invaluable heads-up to book when the price is right. A smart alert could help you save money when prices drop – even after you've booked!
If you don't want to spend time searching and re-searching and re-searching, let Google do it for you.

Get Flight Deal Alerts Instead!
Tired of missing out on great deals from your home airport? Let us do the work for you.
Sign up for our cheap flight alerts, pick which airport(s) you want to receive deals from, and start getting deals you can actually book straight to your inbox … for free! Trust us, deeply discounted flight deals from your home airport are out there – and we'll help you find them, sending them straight to your email so you can click and book a cheap trip.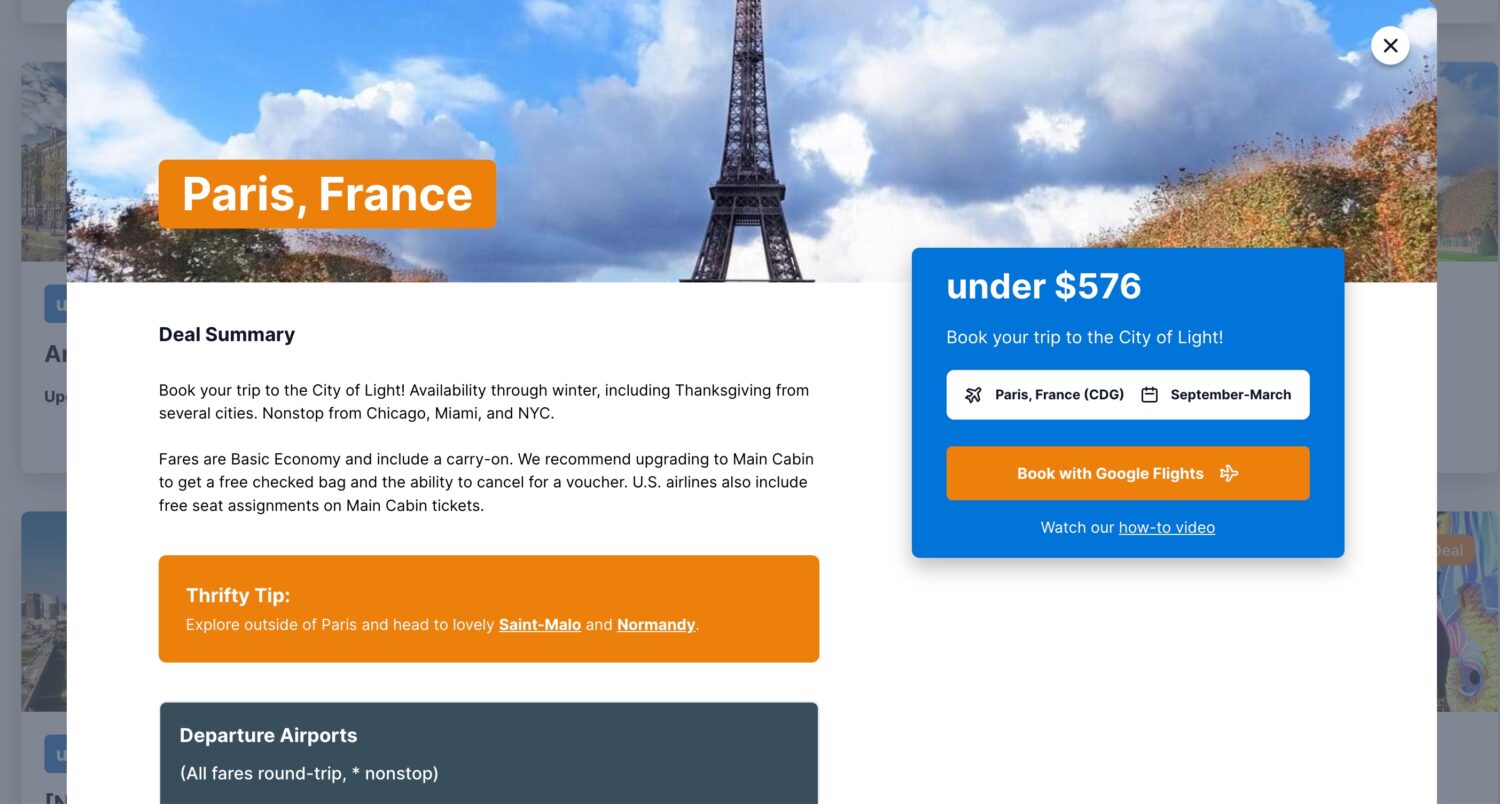 Our team of flight deal analysts is searching around the clock for the best domestic, international, and even points and miles deals. We send some (but not all – more on that later…) of them straight to your inbox so you can book a great deal within a few clicks. Each of these airfare alerts saves travelers at least $250 compared to normal prices – if not much, much more.
Ready to take things to the next level? Want 10x more domestic and international flight deals tailored to your home airport, business class deals, mistake fares, and more? We send our top Thrifty Traveler Premium members all our cheap fares as well as award alerts to use points and miles – including deals flying lie-flat first and business class seats!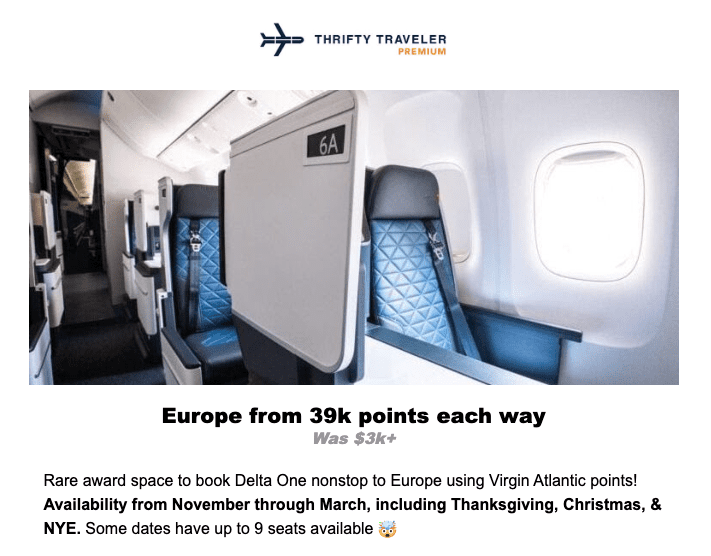 Use Points & Miles Instead
Stop waiting to use your credit card points and airline miles. They're not getting more valuable as you leave them untouched – just the opposite.
Here's my personal policy: I will use my miles on any flight that I otherwise couldn't afford to take. It's that simple.
Need to book a positioning flight from your home airport before taking a big trip abroad? That's a great use of miles. Is your short Delta flights looking expensive? Booking it via Virgin Atlantic is a great use of miles – or even with your own Delta SkyMiles if prices are high. Same goes for booking American Airlines flights via British Airways, and on and on.
Your points and miles are your points and miles. Don't let Instagram influencers shame you into thinking you need to fly first class to get the most value from your points.
Bottom Line
We hear it from travelers all the time: "Why are flights from my airport so expensive?" There are three main reasons why.
Your main airport is an airline's hub, your airport has a low supply of flights, or your timing is slightly off. Luckily, there are some easy ways around your expensive flights problem if you know where to look.