There's peak summer travel season, shoulder season just before or afterwards, and the hectic holiday travel season. But right now, we're in the heart of the best time of year for travelers on the hunt for cheap flights: We call it "Booking Season."
It's exactly what you think. The concept of Booking Season is simple: October and November are two of the best months of the year to book flights – paying cash or redeeming points and miles. It's an undeniable trend we've recognized from years and years of finding and analyzing flight deals here at Thrifty Traveler.
Looking for a flight across the pond under $499 roundtrip? Flight prices to Europe have been falling fast lately, as they do every year around this time. Same goes for many domestic flights and warm weather getaways to escape the cold this coming winter. The upside is enormous for travelers with points and miles: Even incredibly rare deals like flying business class to Paris for the Summer 2024 Olympics and lie-flat redemptions to Australia and New Zealand are easier to book.
What gives? Think of it like a hangover for the airlines after the incredibly busy (and incredibly profitable) summer. As Americans tune out travel before heading into the holidays, airlines are eager to start filling seats through the end of the year and deep into 2024 … and the best way to do that is to cut you and I a better deal.
Here's what Booking Season is all about – and how you can take advantage while the getting is good.
What & When is Booking Season?
We spend all day, every day scouring for the cheapest flights and best award fares for our Thrifty Traveler Premium members. We know a good trend when we see it.
We've coined the term Booking Season to capture a roughly seven-week sweet spot for booking flights when prices tend to be lowest and award availability to book tickets with points and miles is highest. Each year, Booking Season runs from roughly early October (maybe late September, if you're lucky) to just before the holidays kick off with Thanksgiving.
It's playing out again as we speak this year, making it much easier for travelers to find a better deal on flights later this year and deep into 2024 – aside from over the outrageously expensive holidays themselves, of course. During Booking Season, the deals are about as good as they may get all year.
Many flight prices have been falling (and award availability has been increasing) all over North America, down to Mexico and the Caribbean, across the pond to Europe, and even over to bucket-list destinations like Japan, French Polynesia, Australia, and New Zealand. While it's no sure thing, even incredibly rare award tickets and cheaper peak summer 2024 fares are easier to find.
But why is this stretch of the calendar so ripe for affordable and easy-to-book travel? There are a few reasons.
Softer Fall & Winter Demand
Flight prices are all about supply and demand.
Airlines almost always see demand soften during the fall window of November and early December, as well and the winter months of January and February. Lower demand means fewer bookings, which can lead to significantly lower prices.
After slashing service during the worst of the pandemic, airlines have been furiously adding flights back over the last few years – in many cases, surpassing pre-pandemic levels. That means supply is high … but demand is lower: a surefire recipe for deals.
To top it off, Booking Season falls 30 to 90 days or so away from those dreary winter months – prime time to score a good deal, according to data analyzed by Google Flights. Google Flights says travelers can typically find the best international flight prices about 72 days before travel, on average – or 44 days in advance for domestic fares. Both sweet spots fall nearly into the winter travel season, when prices are low to begin with.
Look at this Google Flights calendar search for nonstop flights between Denver (DEN) and London-Heathrow (LHR), for example. The peak holiday season travel prices are … heinous. You're looking at $800 or more roundtrip in many cases. But once you get a week clear of New Year's Day, you can fly for the cheapest price (in green) on any day of the week!

The same pricing extends through February and into March as well.
If you want to book using your points and miles, winter is also a great time of year to target. With plane seats unfilled during those lower-demand winter months, airlines are more likely to make those seats bookable using points and miles or partner points and miles.
From lie-flat seats to Europe or New Zealand to Delta SkyMiles flash sales to Las Vegas, booking for the winter season is usually easier (or cheaper) now, giving you the best deal on the places you want to get to.
But the savings of Booking Season extend far beyond traveling in the winter and early spring.

You Can Book All the Way Through Summer 2024
If off-season travel in the winter months isn't for you, you're going to like the next reason why Booking Season is such a win for travelers.
Most airlines put their fares on sale roughly 11 months out. That means as of early November, you can already book flights all the way through September 2024. That, of course, includes the peak summer months of June, July, and August. But crucially, it only just includes those months.
As of this moment, you could book flights all the way through late September 2024.

This time of year, those peak summer months are still more than eight to 10 months away, meaning many of the seats on those planes may still be sitting empty. While booking that far in advance isn't always a slam dunk for a deal, right now could be your best shot at getting a deal on those seats before other travelers start piecing together 2024 travel plans.
But it's an undeniable advantage when it comes to using points and miles. Let's say you want to fly business class to the Paris Olympics next July. Well, duh: So does everyone else. But if you're paying attention during Booking Season (like our Thrifty Traveler Premium flight deal analysts were), you could have found yourself a lie-flat seat to Paris for the games from just 55,000 points each way!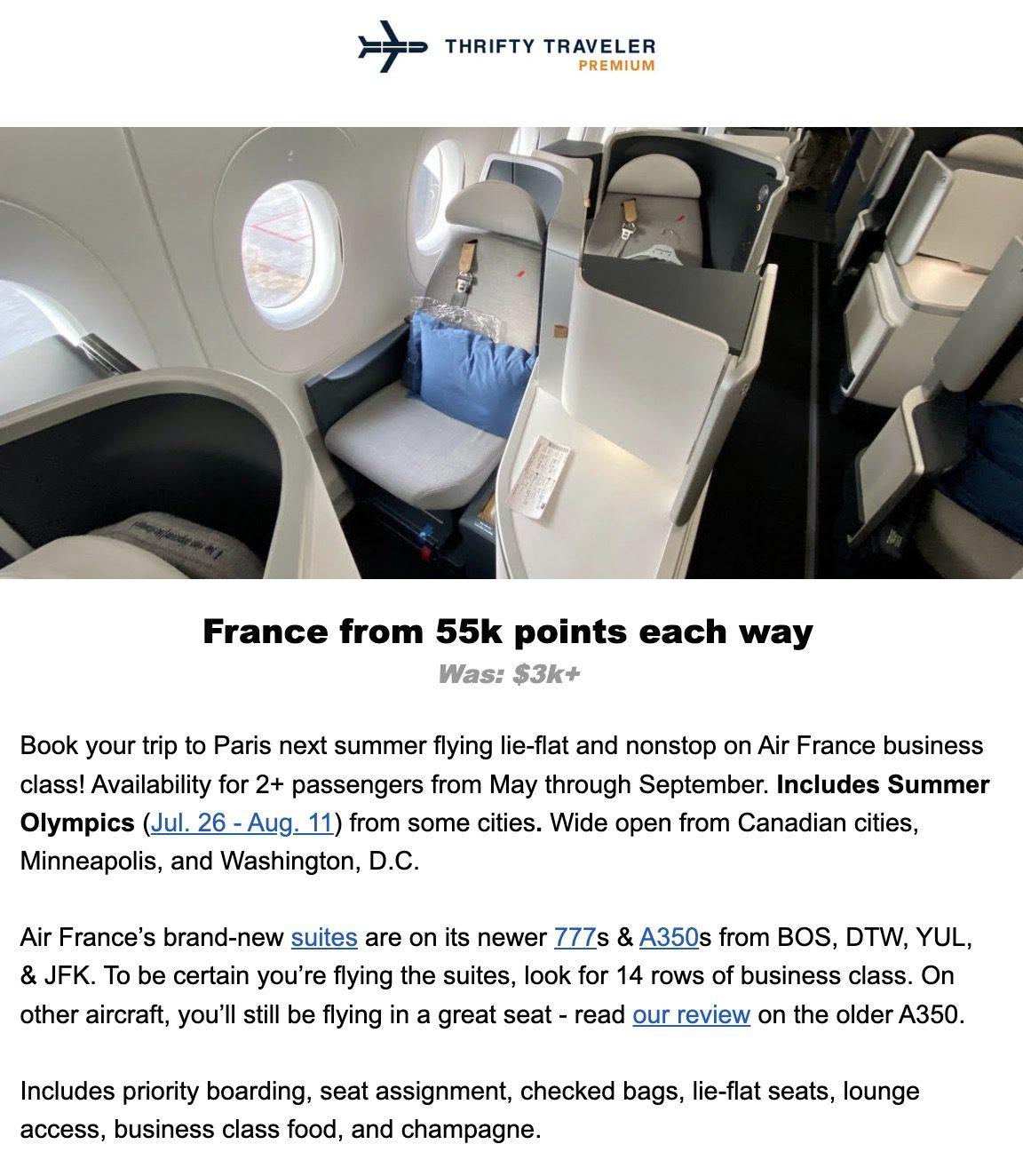 In fact, October was a record-breaking month for business class award alerts for Thrifty Traveler Premium. It included eight different peak summer business class deals to destinations like Amsterdam (AMS), Frankfurt (FRA), Dublin (DUB), Lisbon (LIS), Rome (FCO), and more.
New Route Announcement Season
Part of the reason why looking and booking for next spring, summer, and fall is so good right now comes down to how airlines plan their routes. Airlines typically announce their new nonstop service around Booking Season, too.
Most airlines start don't start flying new European routes until sometime between March and May, but carriers want a solid seven-to-nine month window to start selling those tickets to fill up seats and make money. That means new routes for 2024 get announced during the fall.
Just since Oct. 1, we've seen a slew of new route announcements as airlines ramp up their transatlantic flying. American Airlines is adding nonstops from Philadelphia (PHL) to Copenhagen (CPH), Nice (NCE), and Naples (NAP). Italian carrier ITA Airways is adding Chicago-O'Hare (ORD) to Rome (FCO) service, while United announced flights from Newark (EWR) to Faro (FAO) in Portugal and Reykjavik (KEF), too.
New routes are a prime source of cheap flight deals and solid award availability to book with points. When those routes are announced and go on sale, airlines need to fill 100% of seats.  That supply surplus makes those flights a perfect target for budget-conscious travelers or those looking to burn points and miles.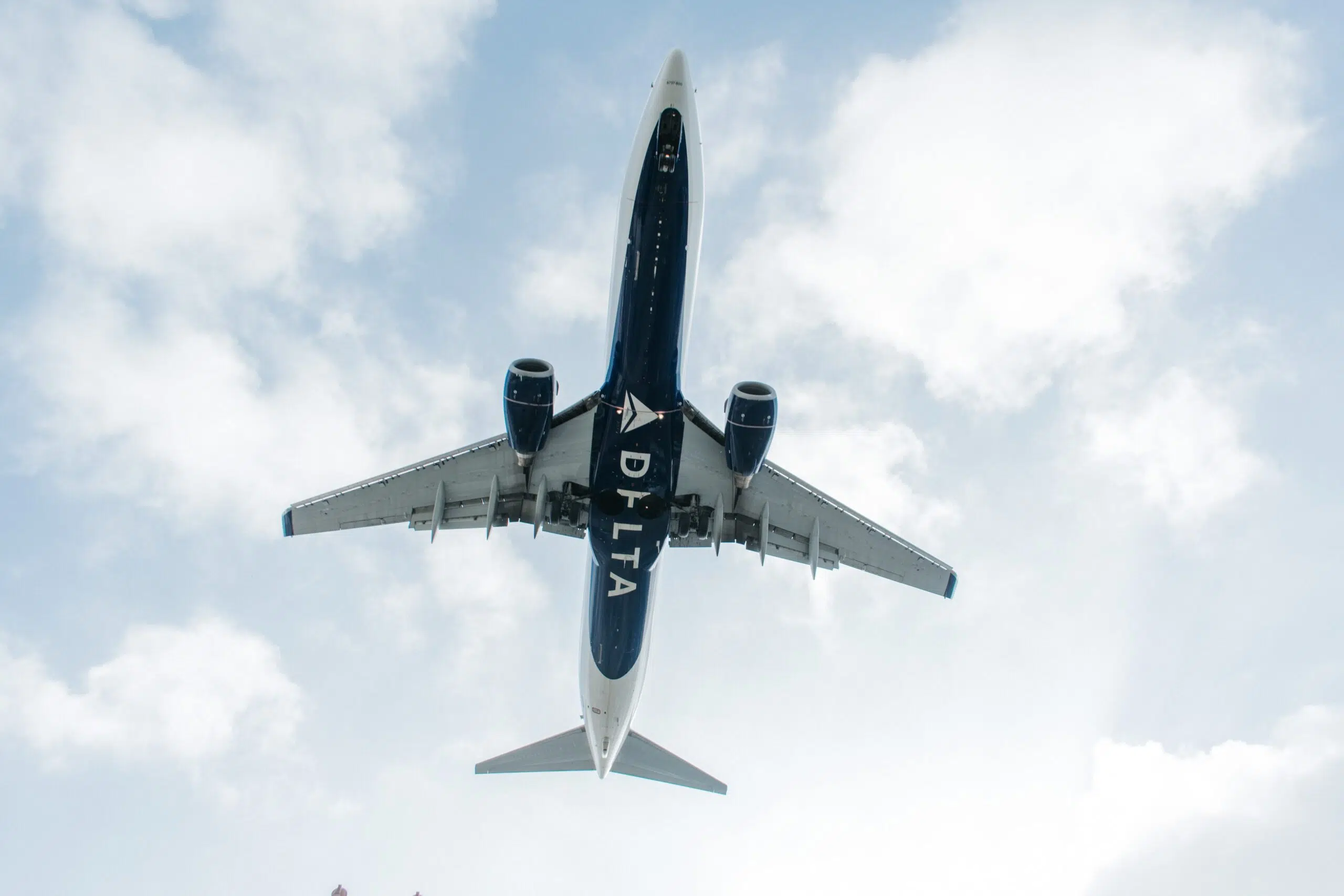 Read more: Want Cheaper Flights & Better Points Deals? Watch for New Airline Routes
It extends beyond Europe.
We've also seen tons of new Mexico and Caribbean routes get announced lately, too. That includes new nonstops from Boston (BOS) and Minneapolis-St. Paul (MSP) to Turks and Caicos (PLS) and Grand Cayman (GCM) on Delta; the first-ever nonstop service straight to Tulum (TQO); and dozens of other new additions all over the continent for this winter.
That's why we're so obsessed with new routes here at Thrifty Traveler. "New route announcement season" and Booking Season are one and the same.
Booking Season: 2023 vs. 2024
Alright, enough talk! It's time for some proof. Let's take a look at some of our favorite Booking Season deals.
Over the past couple weeks during the 2024 Booking Season, we've found some insane flight deals for our Thrifty Traveler Premium members. These alerts are emailed to our subscribers, who can book directly with the airline at these low prices with just a few clicks.
Here's a small sample of some of the alerts we've sent during this booking season:
Croatia from $519 roundtrip
Barcelona and Madrid from $374 roundtrip
Nonstop to London from $505 roundtrip
Europe from $388 roundtrip
Italy from $476 roundtrip
Business Class to Tokyo for 60k points each way
Business Class to Rome from 58k points each way
Nonstop to Las Vegas from $57 roundtrip
Athens from $511 roundtrip
Is Booking Season a 2023 phenomenon? Or is this something bigger? Well, here are some deals we sent members during the same stretch of fall 2022:
Croatia from $484 roundtrip
Barcelona and Madrid from $373 roundtrip
Nonstop to London from $472 roundtrip
Europe under $399 roundtrip
Italy under $494 roundtrip
Business Class to Tokyo for 60k points each way
Business Class to Rome from 45k points each way
Nonstop to Las Vegas from $77 roundtrip
Athens from $483 roundtrip
Look familiar? For travelers looking to save a few bucks – and believe me, I'm one of them – circle Booking Season on your calendar every year and start planning your next year's travels then. This is when flight prices tend to plummet.

Our Favorite 2024 Booking Season Deals (So Far)
Right around this time, the airlines all start fighting for you – the customer. That's when you win.
They fight with their fares, each taking turns dropping their rates until the big three airlines of American, Delta, United, and their foreign partners all sell flights at rates that look like this.

Just last week, we found two consecutive Europe-wide flight deals with fares all under $500 roundtrip. These were the nonstop fares we found, giving you a layover-free trip to Europe and back if you live in a major hub.

For everyone else, the savings were still immense. These fares from all over North America to some of Europe's most sought-after cities were similarly spectacular – a clear byproduct of Booking Season.

Just a few days later, Delta SkyMiles rates to Europe followed the same trend, dropping roundtrip fares to 32,000 SkyMiles roundtrip from almost every airport in the country!

With Delta's TakeOff 15 perk, you could book these as cheap as 27,200 miles roundtrip.

This bonanza of cheap flights to Europe didn't just include heavy hitters like Paris and London, though. How about this flight deal we sent to our members with fares to Naples (NAP) – just a short hop from Italy's dreamy Amalfi Coast.

The peak season in New Zealand is during our winter months – their summer. This year's Booking Season has been a very sweet spot to book a New Zealand adventure for this coming winter, too. Our latest find featured roundtrip Delta fares for just $684 and included Christmas and New Year's Eve availability from Los Angeles (LAX).

Right at the beginning of Booking Season, Delta ran a different kind of sale to New Zealand: Slashing roundtrip SkyMiles rates to as low as 42,000 miles roundtrip from tons of U.S. cities, too. Best of all: The fares were in Main Cabin!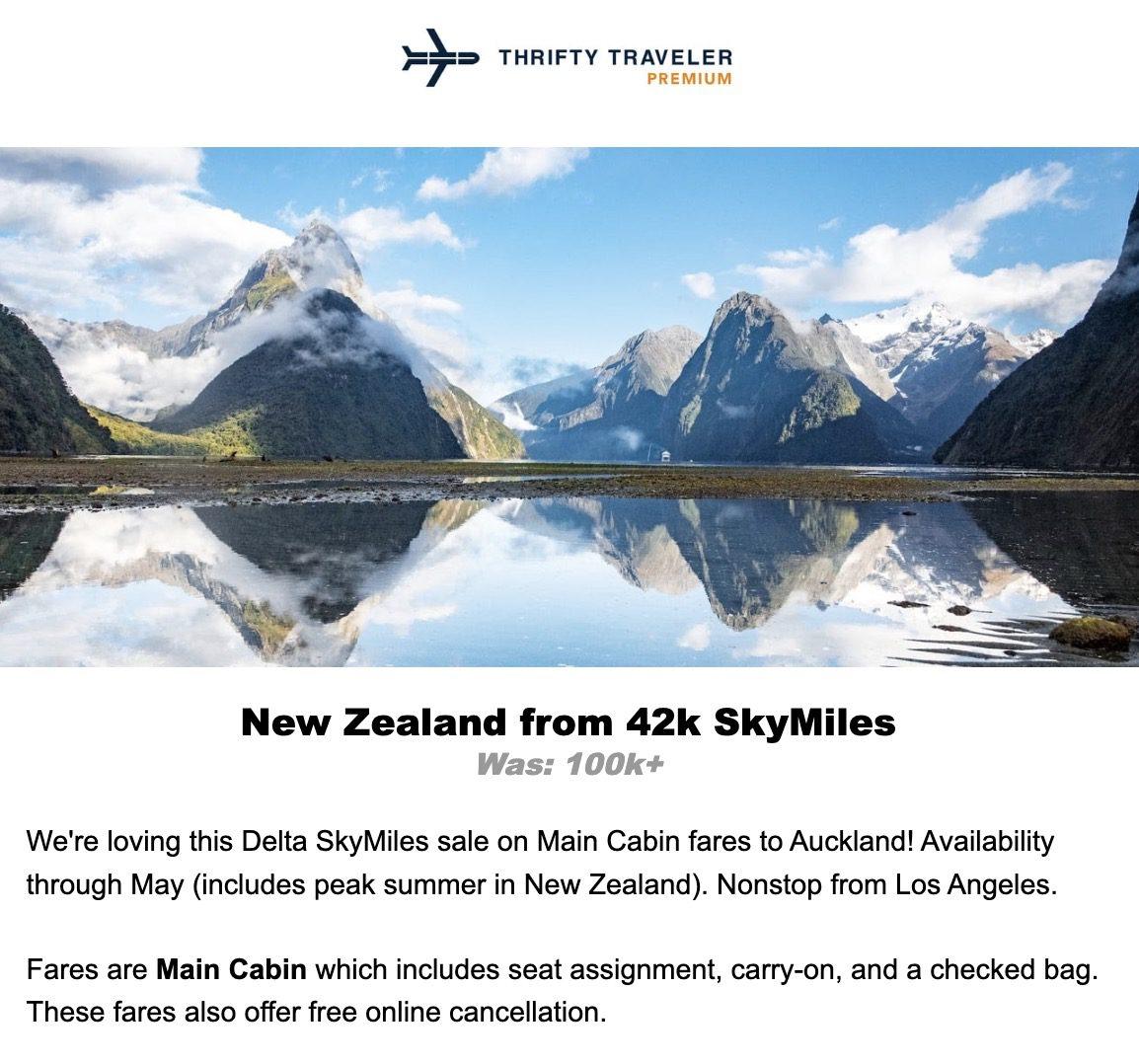 Further north across the Pacific, the demand for cheap flights to Japan is as high as ever. Despite that demand, these fares starting at just $656 roundtrip could put you there in the heart of the winter season, when you can explore Japan's mountains with legendary snowfall and ski terrain.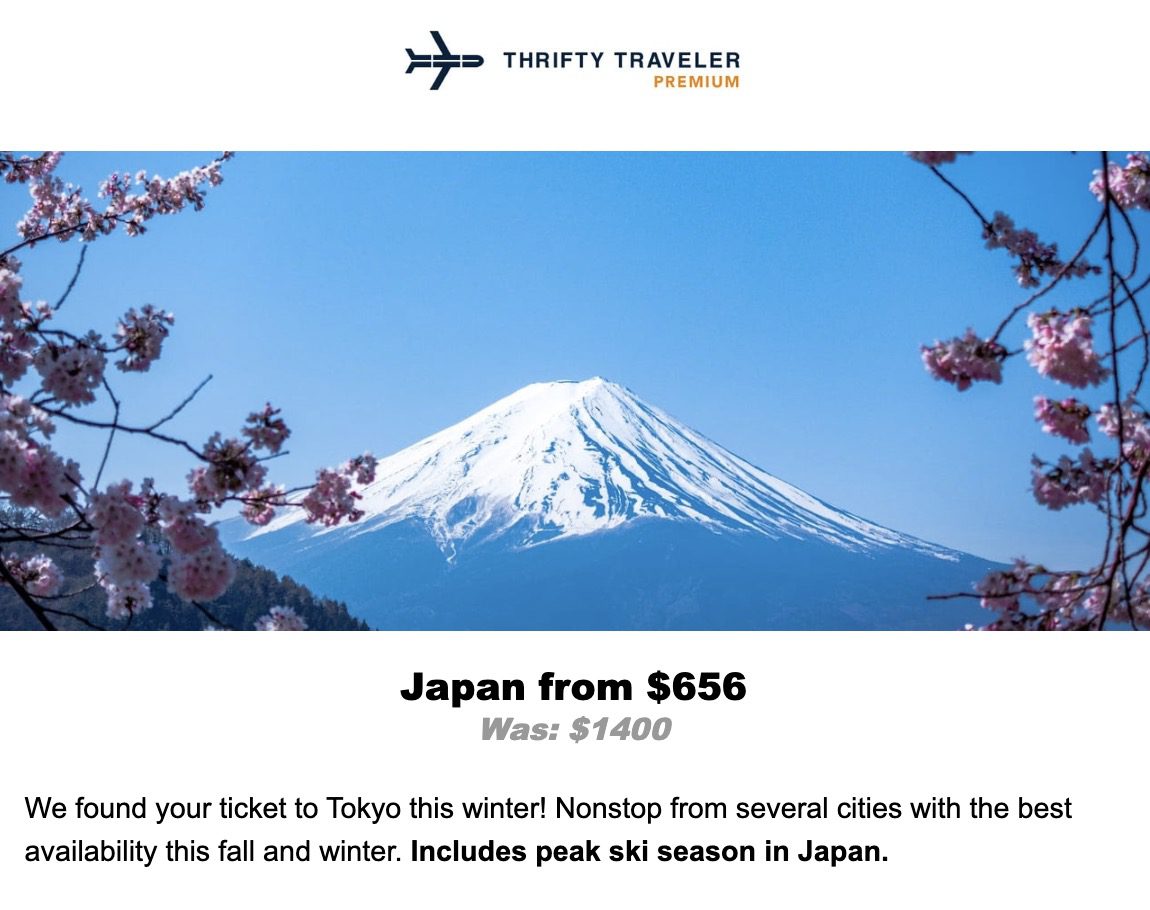 You don't have to cross an ocean to take advantage of Booking Season deals, though. Sometimes, a quick escape down to the beach is the perfect solution.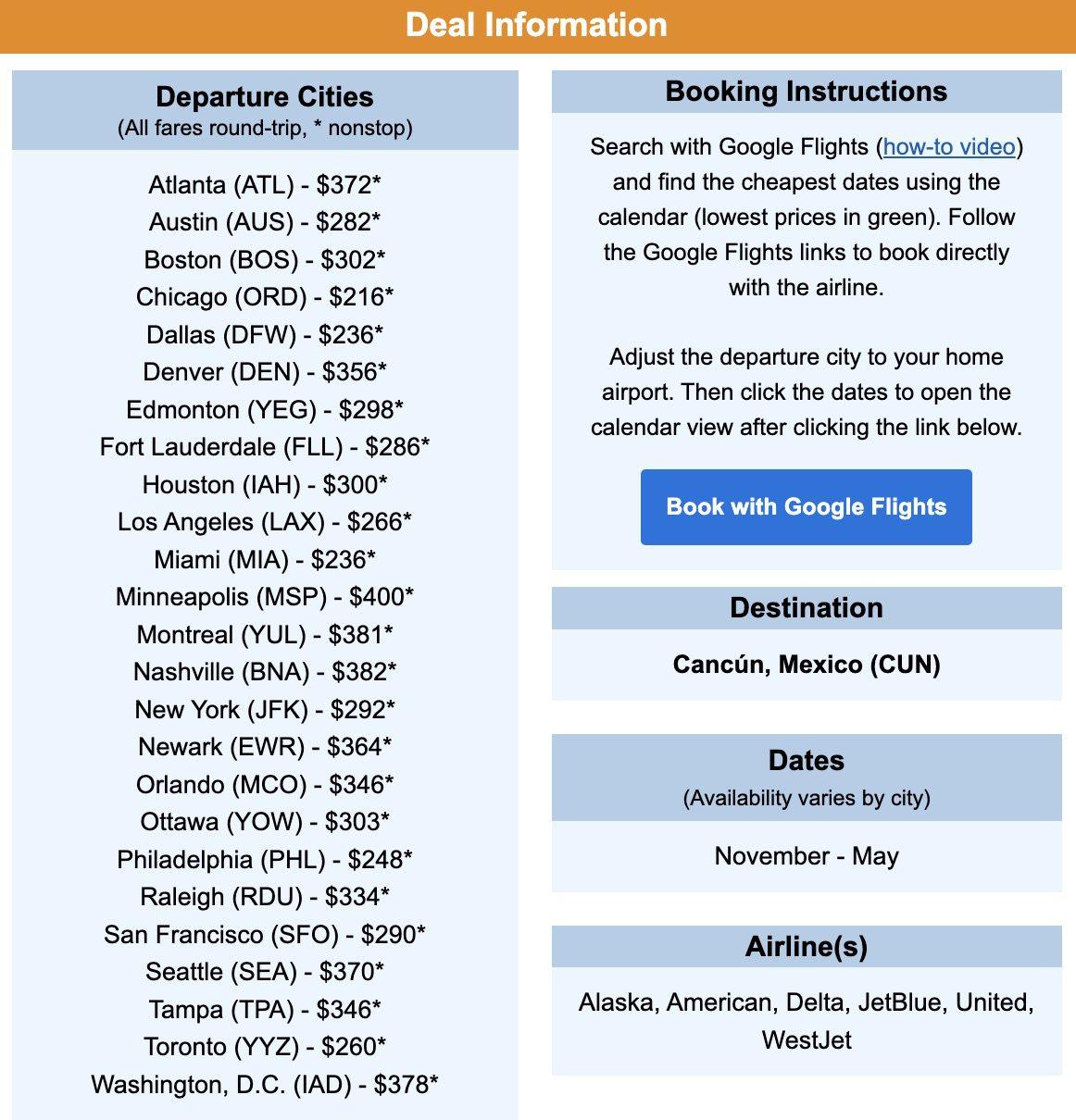 A little place called Cancún (CUN) has beaches in droves, lucky for you! There was even some Christmas and New Year's availability on this Cancún deal
Of course, Booking Season deals work within the U.S., too. We have too many examples to count, but Phoenix (PHX) is about as tried-and-true of a winter getaway as you'll find. Starting at just $57 roundtrip, you could book sub-$200 roundtrip flights to Phoenix to warm up your winter on this deal.

Booking Season is the best time to score lie-flat seats during the calendar year, too. For travelers hoping and wishing to find award availability for Delta One without blowing 300,000-plus SkyMiles, Booking Season delivered this year.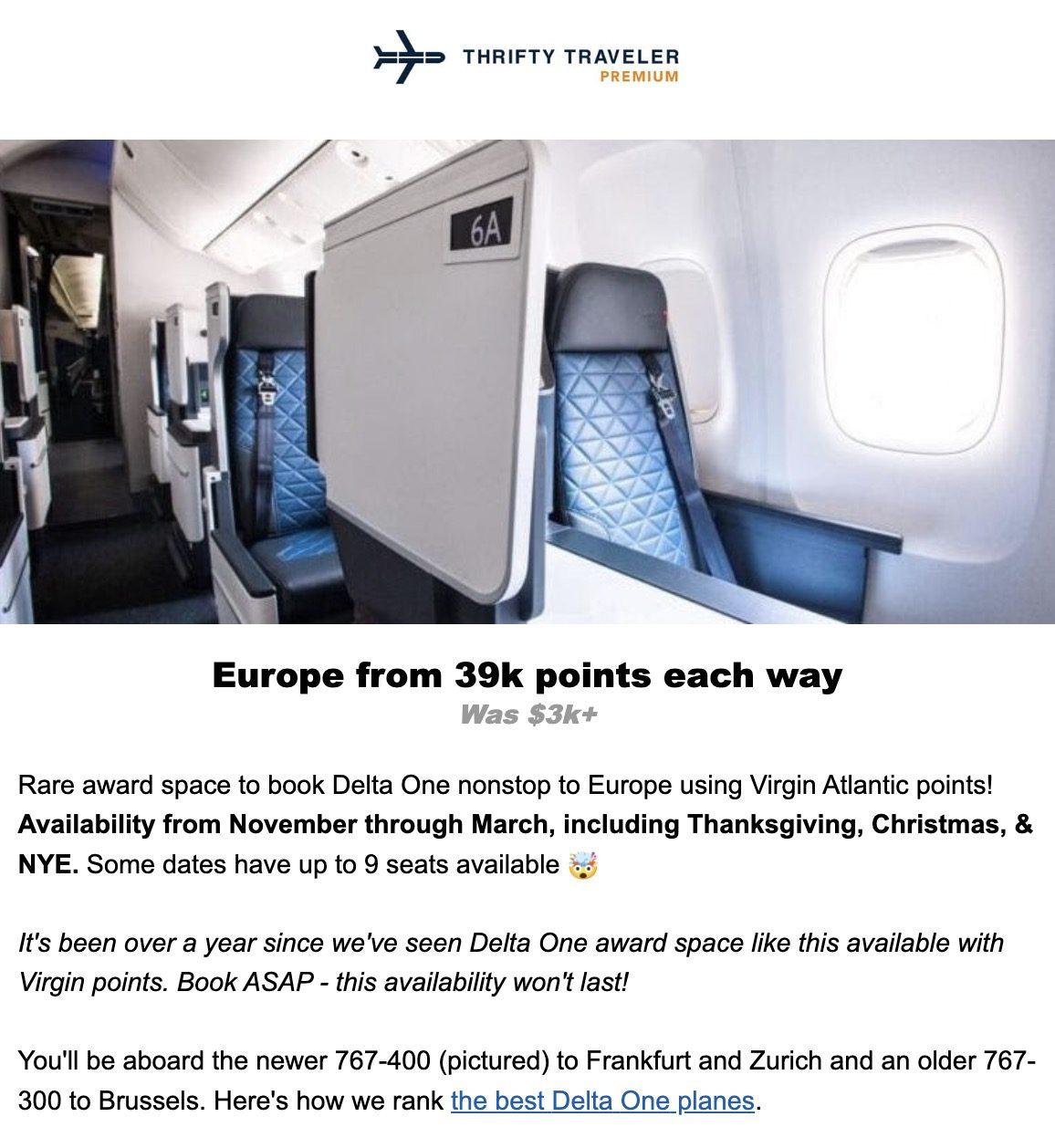 Using Virgin Atlantic points, you could fly Delta One Business Class to Europe for just 50,000 points each way. It had been more than a year since we saw this amazing deal pop up, but Booking Season made it happen again.
Another place that turns into a winter wonderland in the months of January and February is Switzerland. Despite being such a fantastic winter destination, the country still benefits from off-season travel patterns in those months. That leads to deals like this one from SWISS in their business class seats.

Remember how we told you that there are peak summer business class seats available during Booking Season, too? Here's exhibit A.
Lufthansa's brand new routes from Minneapolis-St. Paul (MSP) and Raleigh (RDU) to Frankfurt (FRA) both had tons of peak summer availability when we sent this deal to our subscribers last month, giving our tens of thousands of subscribers their first shot at making one of these seats home for the nine-hour journey to Germany.

This Booking Season has been one to remember, and it's not over yet. If you want to travel in 2024, you might not do better than right now to get the very best deal.
Bottom Line
We're past the peak summer travel season and shoulder season, and we're not quite to the holiday season yet. We're in Booking Season, and it's the best time of the year to book cheap travel for next year.
Booking Season is a pattern we've recognized analyzing years and years of flight deals at Thrifty Traveler. The concept of Booking Season is simple: October and November are the two best months of the year to book flights. So get to it.