There's nothing quite like the feeling of booking a free (or nearly free) flight with points and miles. But there is one equal and opposite feeling: Realizing you could have gotten much more value out of the points you just forked over.
One of the steepest parts of the learning curve when getting started with points and miles is understanding the best times to use that big stash of points and miles versus paying cash out of pocket for flights instead. The answer? It depends. 
There's no hard-and-fast rule, as the right time and place for one person to use their miles may not make sense for another person.
But let's walk through a few factors to consider when deciding whether to use your hard-earned points or miles.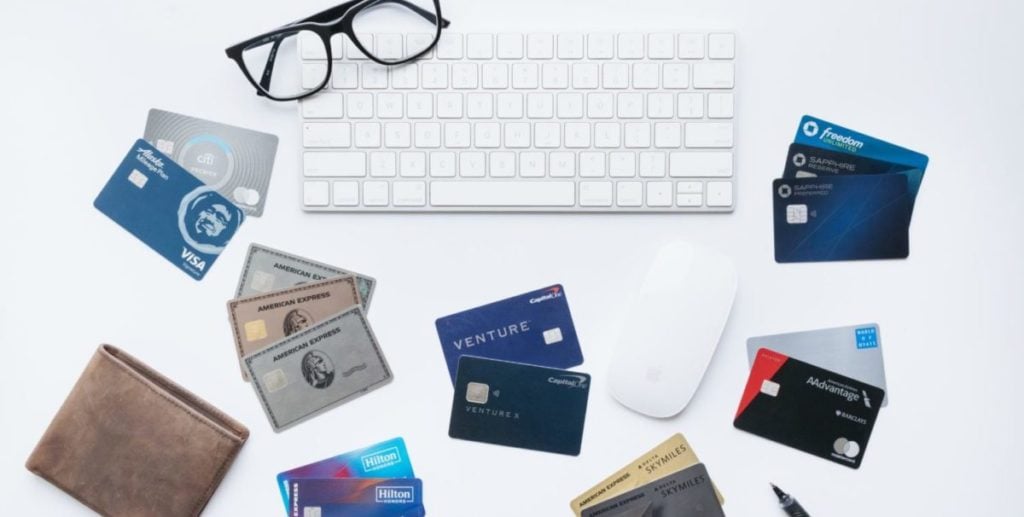 Figure Out How Much Your Miles are Worth
Three letters can help you weigh the right time to turn to your points or miles to book flights: CPM.
CPM stands for cents per mile, and it's a simple equation. It works like this:
Cost of flight in cash / cost of same flight in miles = cents per mile (CPM)
Say you're looking at a roundtrip flight from Minneapolis-St. Paul (MSP) to Washington, D.C. (DCA) on American. You could pay $250 for the trip, or you could book the flight for 25,000 American AAdvantage miles. Plug those numbers in and you'll see that works out to exactly 1 cent per mile.
But if flights are more expensive at, say, $500 roundtrip and American is still charging just 25,000 miles? That's 2 cents per mile.

Exactly what each point and mile can be worth varies by airline or credit card program. Having 1,000 Delta SkyMiles is not the same as 1,000 Chase Ultimate Rewards points. And it varies by person: Because I live in a Delta hub, I may value a big stash of SkyMiles much more than someone who lives in Chicago or San Francisco.
Related reading: How Much are Delta SkyMiles Really Worth?
But in general, you should shoot to get at least 1 cent per mile, if not more. If you crunch the numbers and it feels like you're not getting much out of your miles, consider saving them for the next redemption opportunity.
Keep in mind that when you're using your miles to book a flight, you won't earn miles or build on any airline status on that trip. There are some exceptions, such as earning Delta status even when redeeming SkyMiles. And if you're booking a good flight deal with points through the Chase Ultimate Rewards travel portal or covering your travel purchases with Capital One Venture Miles, you'll earn status and miles just like any paid ticket.
And finally, you'll need to make sure you factor in any taxes and fees associated with an award ticket. While it may cost fewer miles, some programs have astronomical fees on award tickets. Check out the best programs to use, to avoid hefty cash fees.
Reconsider Using Your Miles on Short Flights
Using your miles on short flights may not make sense from a cents-per-mile perspective, and logically, you need longer than a few hours on a plane to appreciate the fruits of your labor.
A quick trip to Denver (DEN) or Chicago-O'Hare (ORD) will rarely get you the most bang for your buck with those airline miles since domestic flight prices are generally quite low lately. Unless you're booking a last-minute flight that would cost you an arm and a leg, you're likely better off saving up those points and miles for a bigger redemption.

That said, that said, this is all changing in the U.S. Airlines left and right have rolled out dynamic award pricing, where the amount of miles isn't set by a concrete award chart but based largely on the cash price. The more expensive the flight, the fewer miles you need to book it – and vice versa.
That's why we regularly see Delta offer roundtrip flights in the U.S. for 10,000 SkyMiles or less roundtrip – plus a constant barrage of Delta SkyMiles flash sales on domestic routes. United has matched by frequently offering one-way flights as low as 5,000 miles, and the same is true for American.
Are these the top-dollar ways to get the most out of your miles? No. But as airlines increasingly pivot to this pricing model – and with domestic flight prices skyrocketing recently – it's about as good as it gets for domestic travel.
Read more: 13 Great Ways to Book Domestic U.S. Flights with Points & Miles
Make Sure You're Getting the Lowest Mileage Price
While flight prices can fluctuate wildly, award flights on many airlines tend to be more stable. That's especially true if you're making a partner airline award booking: Using Delta SkyMiles to book a flight on KLM or Air France or using a stash of AAdvantage miles to fly Japan Airlines, for example.
That stability makes it easier to ensure you're getting a bargain for your miles. This is because most airlines have just two or three tiers of award tickets: the low redemption level (which is often labeled "saver"), and a second and/or third, higher amount.
When you're zeroing in on the flight you want to book, look at a month or more of award availability to ensure you're getting the lowest possible amount. Or Google the "award chart" of the airline you're booking through, which will help you determine the baseline price for your flight.
That's the difference between booking Qatar Qsuites for 85,000 Alaska miles …


… or instead paying a whopping 170,000 miles. Ouch.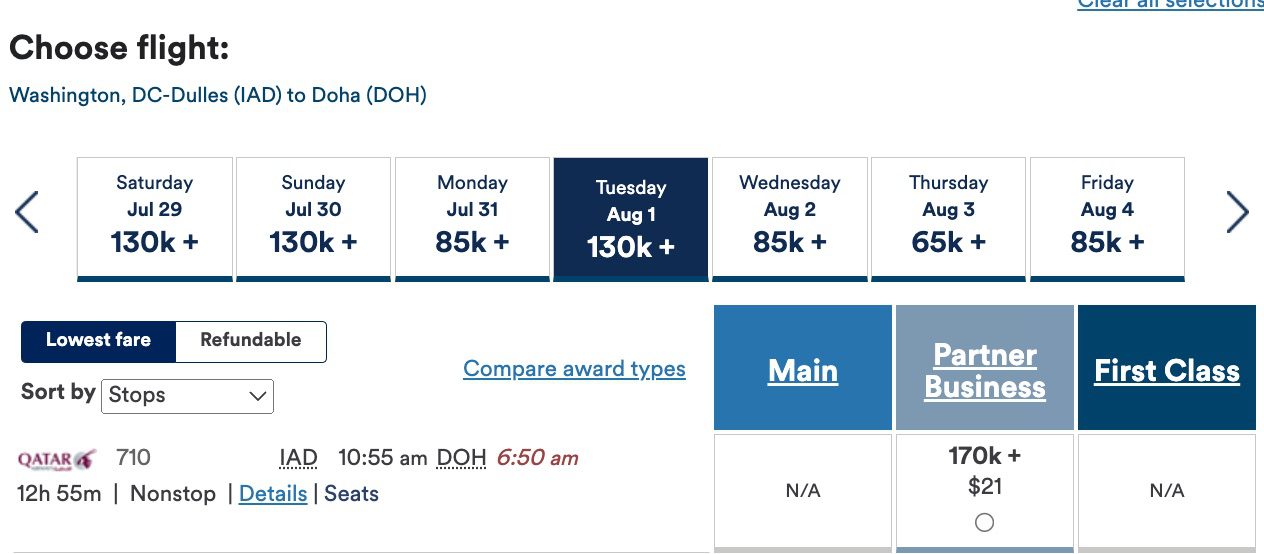 Booking award flights at the lowest mileage level is critical to ensuring you get the most out of your points and miles. Working out exactly what is that "lowest level" isn't always so easy. But it's worth doing some homework to make sure you're getting the most out of your miles.
If you can't find your fare at the base or saver level, you may want to considering paying out of pocket or going back to the drawing board.
Read More: 9 of the Best Deals in the World of Points & Miles
Think Big
As you start traversing continents, the price of your flight generally increases. The money you're squeezing out of your miles rises when this happens as well.
Booking a big international trip is almost always the easiest way to get the most value from your points, as these long-haul flights can sometimes cost $1,000 or more roundtrip. That makes those trips a great use of your points from a cents-per-mile standpoint. But it also highlights the true value of miles and points that you can't quantify.
These points you've earned are your license to see the world and enjoy experiences you otherwise couldn't afford. If you've got the miles to splurge, their value is even higher when you book first or business class, where you can get the most bang for your buck. Although the flights often cost thousands (or tens of thousands) of dollars, the amount of miles you'll pay generally isn't exorbitantly higher than an economy ticket. 
After racking up Chase Ultimate Rewards and American Express Membership Rewards points I earned from cards like the Chase Sapphire Preferred® Card and The Platinum Card® from American Express a few years back, I booked a bucket-list flight in Emirates first-class from Los Angeles (LAX) to Dubai (DXB) for around 136,000 miles and a few hundred dollars of taxes and fees. 

Paying cash, this flight would have been more than $15,000! I could never afford that, but luckily, Emirates is a transfer partner from most credit card points programs. At the time, I could transfer 136,500 Ultimate Rewards points to Emirates for my ticket, making it attainable. That also works out to nearly 11 cents per mile!
Pay Cash When Flights are Cheap
This is what it all boils down to.
When flights are cheap, you should consider using your cash instead of tapping into your reserve of points and miles. When flights are expensive – a huge trip, first or business class, a last-minute flight – your miles can help out.
So what's cheap? That's up to you. At the end of the day, you should use your hard-earned points and miles on a trip that you otherwise couldn't afford. And that threshold is going to be different for everybody.
Bottom Line
Getting the best value out of your points and miles is the key to making them last longer and go further. That can sometimes involve a difficult decision to use cash even when you're sitting on a pile of points.
But don't get paralyzed or consumed by the chase to get more out of your miles. Ultimately, these are just guidelines. At the end of the day, the best use of your points and miles is for a flight that you wouldn't take without out them.