Australia. The land down under. Kangaroos and koalas. Surfing and diving. Wine, coffee, beer, and food. From amazing cities like Sydney and Melbourne to the natural wonders like the Great Barrier Reef, there's just something magical about this island, country, and continent that beckons travelers all the way to the other side of the earth.
Getting there … well, that's another story. Flying those 8,000 miles or more can get expensive – but not always. And if there's one great way to make it happen, it's by using some points and miles to make your flights free, or close to it.
Whether you're still dreaming about your first trip to Australia, or like some of us, you've been before and just can't wait to go back, we've put together a list of the best ways to get to Australia with points and miles.
An Intro to Points & Miles Redemptions to Australia
Let's set some expectations first.
Whether you want to fly in economy or up front in a lie-flat seat, booking flights to Australia using miles is one of the hardest redemptions to pull off – especially in business or first class. It all comes down to award availability, and that can prove very difficult to find on these high-demand routes.
On the plus side, there are plenty of flights to pick from. All the major U.S. airlines (as well as some international carriers) fly nonstop to Australia. If you're willing to make a pitstop in Oceania or even Asia on your way, there are even more options. And whichever airline you land on, they've all got plenty of partner carriers whose miles you can use to redeem for flights.
How much will it cost you to get to Australia? It depends on which airline you're flying – and whose miles you're using. Each airline sets its own award rates, and many use a different pricing model when you're booking a partner airline with their miles. That means the price to use United MileagePlus miles to fly United to Australia may be different than using those same miles on an Air Canada flight – and vice versa.
And then there are airlines like Delta that deploy a dynamic pricing model. Without an award chart that sets the pricing, award rates are constantly changing based on the cash price, season, demand, and more. Exactly how many SkyMiles you'll need can change at any time.
Luckily, you don't have to worry about all of those overwhelming award charts. We've done that work for you. Below, we'll go over what we believe are the best ways to get to Australia with miles.
Are these the only ways to get there? Certainly not. But each of the options we will present is a solid redemption option with realistic availability, easy-to-earn miles, and will have you hopping around with the kangaroos in no time.
The Best Ways to Use Points & Miles to Get to Australia
Make a Flight Deal Free Using Flexible Points
While there are a lot of ways to fly to Australia using credit card points and miles, many of them will still require paying some taxes and fees along with your points – and sometimes a lot of them. There's only one way to fly there for free, and it all starts with a cheap flight.
Using credit card points like Chase Ultimate Rewards to book flights is one of the simplest ways to book travel using points, and it's one of our favorites – plus you'll earn airline miles on your flight, too.
While cheap cash flights from the U.S. to Australia can be rare, we're always on the hunt to send a great deal to our Thrifty Traveler Premium members.
Flights typically cost north of $1,400 or much more round-trip in economy, but we've found flights for much less than that recently – including this deal sent from $750 round-trip from many U.S. gateways. A few years back, we regularly saw roundtrip fares to Australia around $500 … or even less.
Get flight deals like this one in your inbox with Thrifty Traveler Premium!
These deals are gone now, but if you've got the Chase Sapphire Preferred® Card, you could have booked those same flights for just 60,000 points through the Chase Travel Portal. That's because each point will be worth 1.25 cents each when used in the portal.
It's even cheaper if you carry the Chase Sapphire Reserve®. Since each point will be worth 1.5 cents each, you could book for 50,000 points total!
Read our guide to booking flights through the Chase Travel Portal!
How to Earn the Points You Need
You can use other credit card points to book flight deals like this, but Chase Ultimate Rewards points should be your go-to here.
That's because of the bonus you get when booking flights directly through Chase. As mentioned, every point from the Chase Sapphire Preferred® Card is worth 1.25 cents toward your flight. That means 60,000-points are worth at least $750 toward airfare.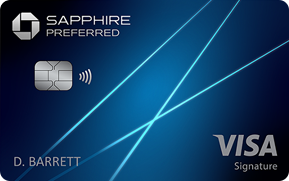 Click Here to get more information about the Chase Sapphire Preferred® Card. 
And with the Chase Sapphire Reserve®, every point is worth more at 1.5 cents apiece. So 60,000 would be worth $900 toward your flight to Australia.
Delta SkyMiles for 70K or 80K Miles Roundtrip!
Delta SkyMiles can truly be a mixed bag, and determining exactly how much they are worth can sometimes feel like rocket science. But you don't need a doctorate in nuclear physics to see that roundtrip flights to Sydney (SYD) for 70,000 or 80,000 SkyMiles is a great deal.
Earlier this year, we uncovered just that with a SkyMiles flash sale to Australia. You could fly Delta to Sydney (SYD) for just 80,000 SkyMiles round trip in economy – and previously, even less. But here's the best part: These weren't just non-stops from the West Coast. You could find these rates from almost every airport nationwide whether you start from Los Angeles (LAX), or get a one-stop itinerary from other Delta hubs like Minneapolis-St. Paul (MSP) and Detroit (DTW), or even two-stop journeys from tiny airports like Duluth (DLH) or Fargo (FAR).
Delta doesn't advertise its best SkyMiles deals, but we find them! Get award alerts like this one sent to your inbox with Thrifty Traveler Premium!
At 80,000 SkyMiles round trip, this is actually quite the bargain – especially for Delta, which typically charges 200,000 SkyMiles or more for these routes. Oh, and there's this: These exact same flights cost $2,000 or more. That's a pretty phenomenal use of your SkyMiles. You'd pay about $120 in government taxes and fees, but those are unavoidable.

How to Earn Delta SkyMiles
There are tons of ways to earn Delta SkyMiles. First, there is the suite of co-branded Delta SkyMiles American Express cards.
But since Delta is an Amex transfer partner, you can even earn SkyMiles from cards like The Platinum Card® from American Express and the American Express® Gold Card. Pile up those points, then transfer them to Delta when you see a great deal like this one.
But the ability to earn SkyMiles goes far beyond holding credit cards. You can rack them up from grocery shopping on Instacart, booking car rentals through Turo, and even booking an Airbnb stay.
Read more: The Best Ways to Earn Delta SkyMiles
Use American Airlines or Alaska Miles
American Airlines AAdvantage miles can be invaluable due to their large flight network, both domestically and internationally, and the variety of co-branded credit cards that they offer from both Citibank and Barclays. And because American is a member of the Oneworld airline alliance, there are a lot of great values for getting to Australia if you have American Miles.
If you're aiming to fly American itself, there's bad news. American Airlines has moved to a variable award pricing model. This means it's difficult to predict what an award on American will cost, though that doesn't always mean that booking awards on their flights will be a bad deal. Searching for space on American Airlines is definitely still worth your time. You might just find a lower-priced award than you can find anywhere else.
For flights on partner airlines like Australia's own Qantas, American AAdvantage still uses a fixed award chart which keeps prices more stable. From the mainland U.S., one-way rates to Australia are 40,000 for economy, 65,000 for premium economy, 80,000 for business, and 110,000 for first class.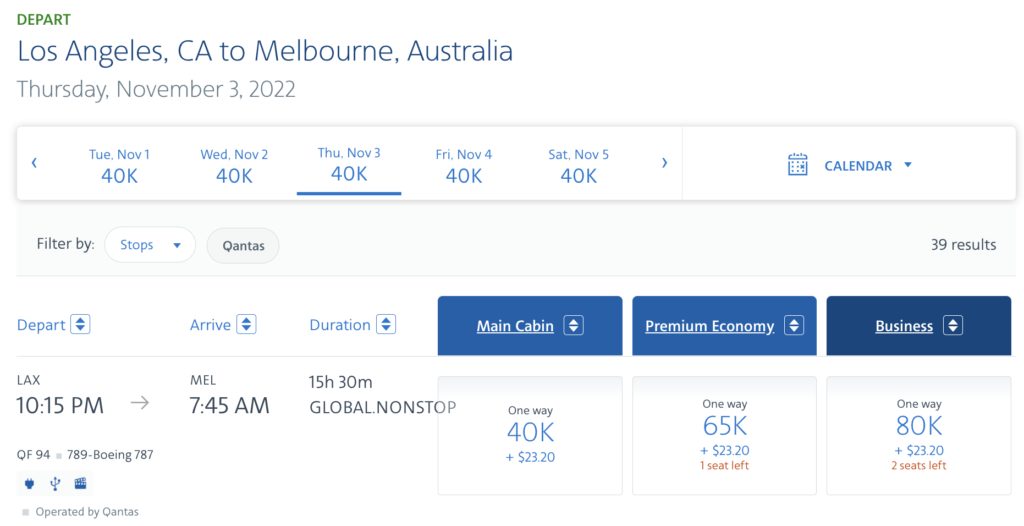 Qantas is the only AA partner with direct flights between the US and Australia, but they are fairly tight in releasing award seats in their upper classes. Another option would be to connect through Hong Kong on Cathay Pacific if you want a better chance of finding a seat or two in a premium cabin.
Thanks to Alaska Airlines recently joining the OneWorld airline alliance, booking Qantas flights with Alaska miles is also a great option and will cost fewer miles – at least for now.
You can book for 42,500 Alaska Miles each way in economy, 47,500 in premium economy, 55,000 in business, and only 70,000 miles in first class. Alaska Mileage Plan miles are much harder to earn than American Airlines miles, so it may be easier said than done. But if you've got them, you can't beat a trip to Australia for so few miles.
While Qantas business class award space to Australia is very rare, it does come around from time to time. Thanks to our constant searches for that availability as a part of our Thrifty Traveler Premium service, we uncovered an absolute unicorn this past summer: Qantas business class seats for two this coming winter!

This deal is long, long gone now – get the next award alert straight to your inbox with Thrifty Traveler Premium!
Earning American Airlines Miles
American Airlines miles have historically only been able to be earned in bulk with their co-branded credit cards or by transferring in from Marriott Bonvoy. Luckily, that's changed.
A relative newcomer in the points area that helps out renters, BILT Rewards, is now also a 1:1 transfer partner with American AAdvantage.
Besides BILT, you can still transfer in from Marriott at a 3:1 ratio with a 5,000-mile bonus for every 60,000 points transferred. Co-branded credit cards from both Citi and Barclays also allow for rapid earning of American Airlines miles with welcome offers and spending multipliers as well.
Read more: How to Quickly Earn 100k American Airlines Miles (And Why You Should)
Fly Delta Economy for 45K Miles Each Way via Virgin Atlantic
Virgin Atlantic doesn't fly direct from the U.S. to Australia, but they partner with three other airlines that do: Hawaiian Airlines and Delta. That means you to use Virgin Atlantic points to book on any of those airlines – at least when you can find award availability.
Hawaiian Airlines flies to Australia from Honolulu (HNL) and is a great way to pair a few days in Hawaii with your Australian adventure. Delta, meanwhile, flies nonstop from Los Angeles (LAX), making it a more reasonable option for those based in the continental U.S.
Neither option is a slam dunk, but your best chance of finding availability is with Delta flying from Los Angeles (LAX) to Sydney (SYD). That said, at the time of publication, we couldn't find a single seat of award availability. That may change.
So while you'll be using Virgin Atlantic Miles to book, you would actually be flying on Delta planes. After a big blow in early 2021 to Delta award redemptions with Virgin Atlantic miles, the number of miles you need to get from the U.S. to Australia is based on the distance you are flying.
Because you'll be flying more than 6,000 miles, if you can find award availability, it will price out at 45,000 miles each way in economy and a whopping 165,000 miles each way in business class. While the price for business class is unreasonably high, and not a great value, using 90,000 miles to fly round trip in economy is solid.
Related reading: The Sneaky Way You Can Still Use the Price Calendar on Virgin's Award Search
Earning Virgin Atlantic Miles
Virgin Atlantic points are some of the easiest to earn. In addition to flying with the airline, they are also transfer partners with American Express Membership Rewards, BILT Rewards, Chase Ultimate Rewards, Citi ThankYou Rewards, Capital One, and Marriott Bonvoy. Whew, that's a lot.
Points transfer to Virgin at a 1:1 ratio (meaning 1 point always equals 1 Virgin point … unless you get even more from a transfer bonus!) from Amex, BILT, Chase, Capital One, and Citi. Marriott Bonvoy transfers at their standard 3:1 ratio with a 5,000-mile bonus for every 60,000 points transferred.
75K RT Economy or 120T RT Business with ANA Mileage Club
ANA Mileage Club is the loyalty program of Japan's flag carrier All Nippon Airways (ANA). Whether you're heading to Japan, Europe, or even Australia, it's a stellar option.
While you might be able to hop on an ANA flight to Tokyo and then connect down to Australia, your best bet is probably booking some airline partners with the most direct flights: Air Canada and United.
ANA is one of the few programs that require a round trip when redeeming miles, so that's something you need to be aware of. If you need to book a one-way flight in one direction or the other, you'll need to look at other options. But even roundtrip rates are a steal.
Whether you're flying with either United or Air Canada, it's just 75,000 ANA miles for a round trip in economy and 120,000 miles round trip in business class.
If you can find the award availability and don't mind connecting in Canada, Air Canada business class is probably the sweet spot for redeeming with ANA Mileage Club for flights to Australia. However, flying business in United's Polaris Business Class is still a great option.
Read our full review of United Polaris business class!
Earning ANA Miles
ANA Mileage Club is a transfer partner with American Express Membership Rewards. Points transfer at a 1:1 ratio (one Amex point equals one ANA mile). But be warned: those transfers won't be instant. Generally speaking, it will take 24 to 48 hours to process, which means you may need to plan ahead.
40K in Economy or 80K in Business with Avianca Lifemiles
Avianca LifeMiles is another great option for getting to Australia with miles – if only because it's so easy to get their miles thanks to transfer partners.
In addition to the list of transfer partners that we go over below, they are also known for having regular miles sales with bonuses of 100%, 150%, or even 200%. It's one of just a handful of airline programs where it can actually make sense to buy miles to redeem for a trip. Of course, always confirm availability before buying a ton of miles – or at least have a plan for a redemption.
However you get the miles, you'll be looking for flights, again, on United and Air Canada. While it'll cost you a few more miles, you gain a lot of flexibility as you can redeem for one-way awards. That's especially helpful if you are looking to do an extended trip hitting several countries once you get over to the other side of the world.
Redeeming your Avianca LifeMiles for one-way flights to Australia from the US will cost you 40,000 miles in economy and 80,000 miles in business class. If you're OK with a quick connection up in Canada, flying with Air Canada will likely be a little bit better of an experience for you.
A word of warning though about using Avianca LifeMiles. Their customer service is notoriously bad. If things go well, then you won't have any problems, but if you want to do a less than straightforward booking, you have necessary changes due to delays, cancelation, or schedule changes, or you have any problems while actually on your trip, you will probably have a tough time getting it taken care of.
Long hold times and customer service reps who don't have the power to actually do anything can lead to slow resolution of problems.
Earning Avianca LifeMiles
Avianca LifeMiles is another program that partners with several transferrable currencies. American Express Membership Rewards, Capital One Rewards, and Citi ThankYou Rewards all transfer in at a 1:1 ratio. Marriott Bonvoy points transfer at a 3:1 ratio with a 5,000-mile bonus for every 60,000 points transferred.
We have seen fairly regular transfer bonuses from both Citi and Amex to LifeMiles, so be sure to keep an eye out for those if you think you may want to use Avianca LifeMiles to book an award in the near future.
Bottom Line
Whether you want to hold out for that next great flight deal and go the whole way in the back of the plane, or you want to use some of your airline miles and be able to lay flat as you travel to the other side of the world, we hope this has given you a few ideas of how you can get yourself to Australia with miles.
The programs we've discussed above all have miles that are fairly easy to earn with credit cards. We did our best to focus on airline programs that actually have availability, though sometimes scarce, and allow transfers from multiple bank programs. With just a couple of credit card welcome offers and a little bit of extra spending, you can quickly earn enough points and miles to book your flights.
If you're one of those people who has been thinking about an Australia trip for years, take this as your sign to make it happen. It's an amazing country to visit.