Travelers and readers ask us all the time: Can I upgrade the cheap flight I bought with miles? It's a nice thought: Who wouldn't want to buy a cheaper fare, then burn some miles to fly business class instead of sitting back in economy?
As with many things in the world of travel and points and miles, there's not a black and white answer. But if there's a short answer, it's this: It rarely makes sense – and in many cases, it's just not even possible to upgrade with miles. 
Ninety nine times out of 100, your best bet is to book that business class fare from the start rather than angling for an upgrade. And while that may seem daunting, there are some great ways to book business class – including some that won't cost you many (or any) more miles than economy.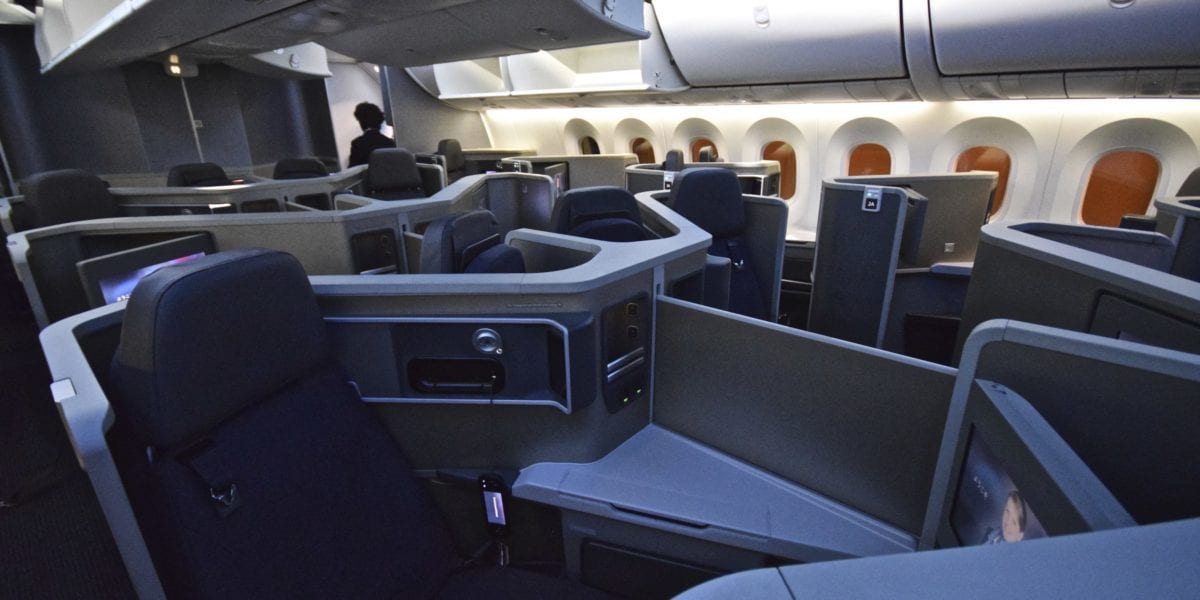 But with the right airlines, it can be done. Read on for an explanation of how it works – and why it's often the better value just to book your flight with miles outright.

All About Fare Classes
When you walk onto a plane, you see first class and economy. You might see business class and premium economy if it's a long international flight, too. There's much more to it than that.
Behind the scenes, airlines have their own classifications for passengers' tickets, breaking out into an alphabet soup of fare classes. It's literally an alphabet, as most airlines have a fare class for every letter. Award tickets booked with miles may even have their own fare classes, too.
Each fare class has its own rules for pricing, earning miles, cancellations, and more – including its own price. This array of 20-plus fare classes is often the reason why the price of a flight you're eyeing might jump hours, if not minutes after you last looked. Once the airline sells a given number of tickets in the lowest-priced fare class, it will move up the list to a more expensive fare class.
But most importantly, each fare class has its own rules for upgrades … and most airlines only allow certain fare classes to be upgraded using miles.
Thrifty Tip: Having trouble finding what class your fare is? Expand a flight's details or keep clicking through the booking process and look for a single capitalized letter in parentheses – for example, (Y). That's what you're looking for. If you've already purchased the ticket, it's on there.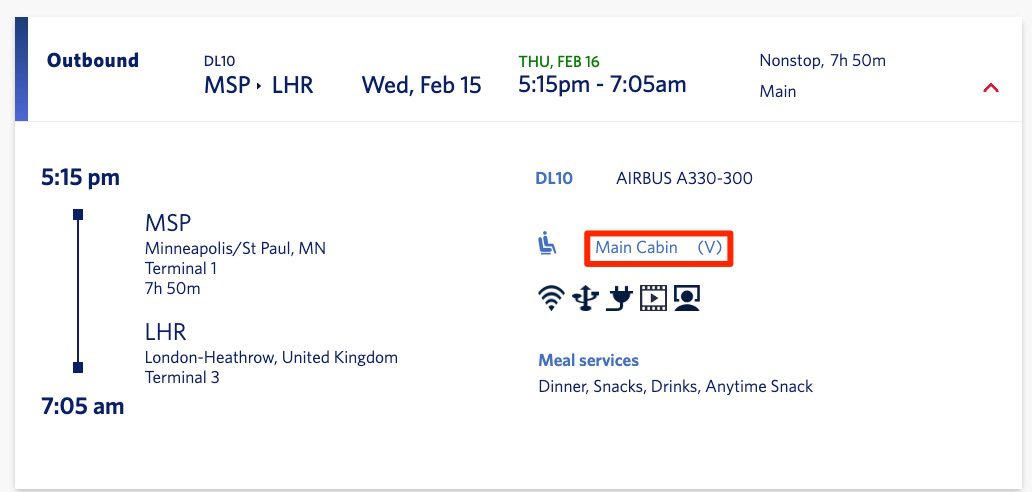 For example, take a look at United's rules for MileagePlus Upgrade Awards, their name for using United miles to upgrade a ticket. It specifically doesn't allow you to upgrade award tickets initially booked using miles, United basic economy fares, and "deeply discounted promotional tickets" – airline lingo for the cheapest economy tickets. 


So you might be hoping to upgrade a cheap economy ticket that you just scored to business or first class. More often than not, it's simply not possible.
That's because those cheap tickets are often what the airlines call "deep discount fares" – especially those sold through online search engines like Kayak, Expedia or Priceline. And they rarely are eligible for upgrades. In fact, you'll find that many of the fares sold directly by the airline aren't upgradeable, either.
Another fare class that almost always doesn't make the cut? Basic economy. Many airlines won't let you upgrade basic economy fares – and you often earn fewer miles on these flights as well. American Airlines basic economy is a notable exception to that rule.
Are Upgrades Worth It?
The difference between a fare that's upgradable and one that isn't is regularly several hundred dollars. Add in the miles you'll pay for the upgrade – and with some airlines, a cash copay or hefty surcharges on top of that – and it can be tough to work out a good deal. This is true even with airlines that aren't so stingy with upgrades.
American is among the most generous among the major U.S. airlines when it comes to allowing cabin upgrades with miles on a cash fare. More fare classes qualify for potential upgrades. But those cheaper fares require a copay.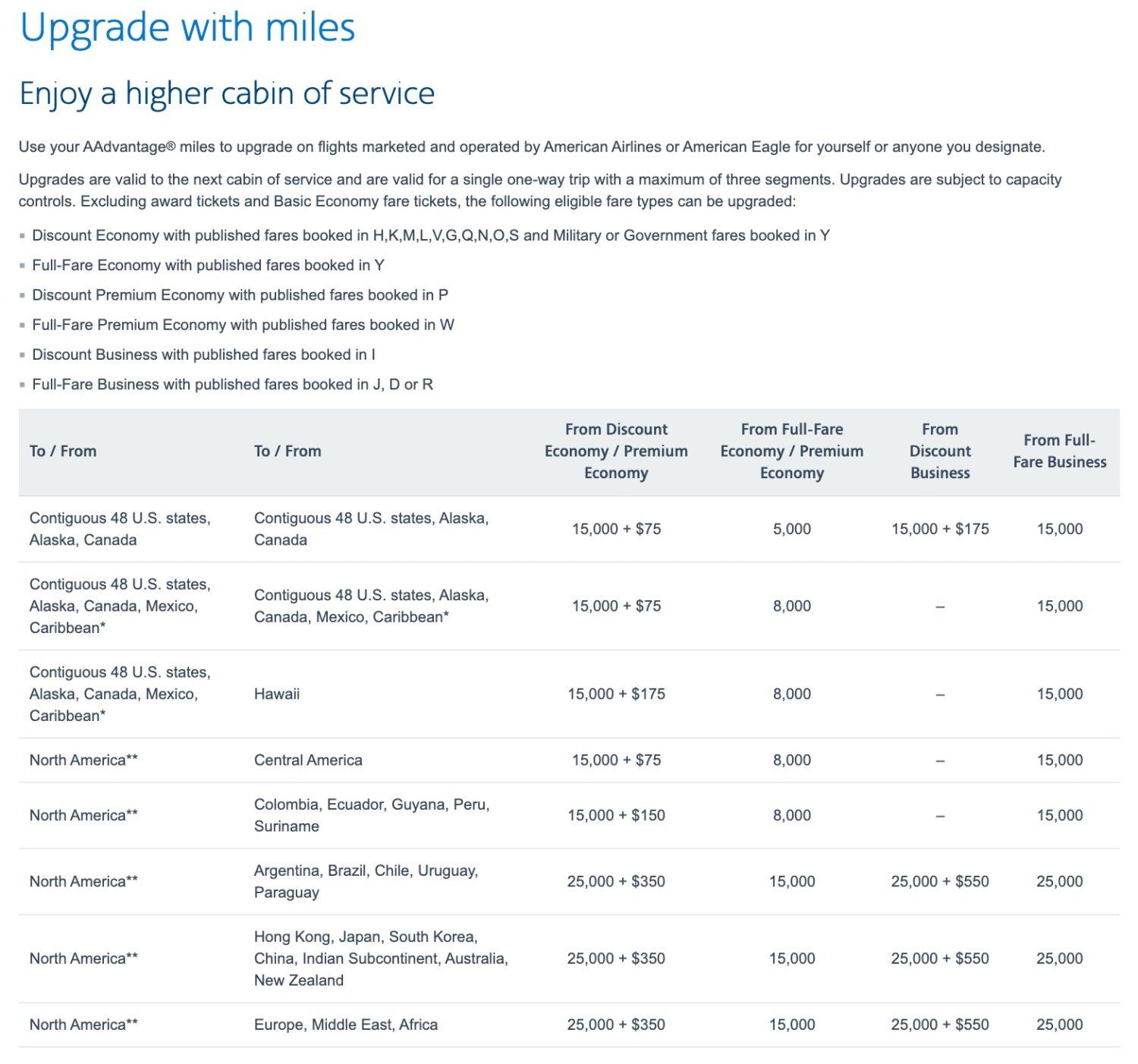 So let's look at a flight from Los Angeles (LAX) to Tokyo-Haneda (HND). So long as you don't buy the cheapest American Airlines basic economy fare, it's eligible for an upgrade. Considering a premium economy fare is $700 more than economy, you might think upgrading with your miles is the best bet. 

But that $1,057 main cabin fare is an (O) fare class, which makes it a discount economy ticket. That means upgrading to AA Premium Economy would cost you 25,000 AAdvantage miles plus a $350 copay – just for a one-way upgrade. That's certainly not the best deal, and it gets even worse trying to upgrade to business class.
Plus, just because it's possible doesn't mean you can upgrade with your miles: Airlines don't make these upgrades available on every single flight. Much like you need to find award availability to book any ticket with miles, you often need to find upgrade availability. That can be much easier said than done.
So odds are, you'd be much better off booking a straight award flight in the cabin you want to fly from the get go using your miles.
Trying to upgrade your Delta flight using SkyMiles? Delta has made it easier to upgrade using miles than any other U.S. airline – but that doesn't mean it's a bargain. In fact, it's typically not the best deal. It's always tied directly to the cash cost of an upgrade. Each SkyMile typically gets you just over 1 cent toward the upgrade cost … maybe 1.25 cents, if you're really lucky.
For example, I could have upgraded to a Delta One seat on my flight from Minneapolis-St. Paul (MSP) to Honolulu (HNL) earlier this year. The cash cost was $965 for an upgrade on that one-way flight … or I could have used a whopping 89,800 SkyMiles. Hard pass.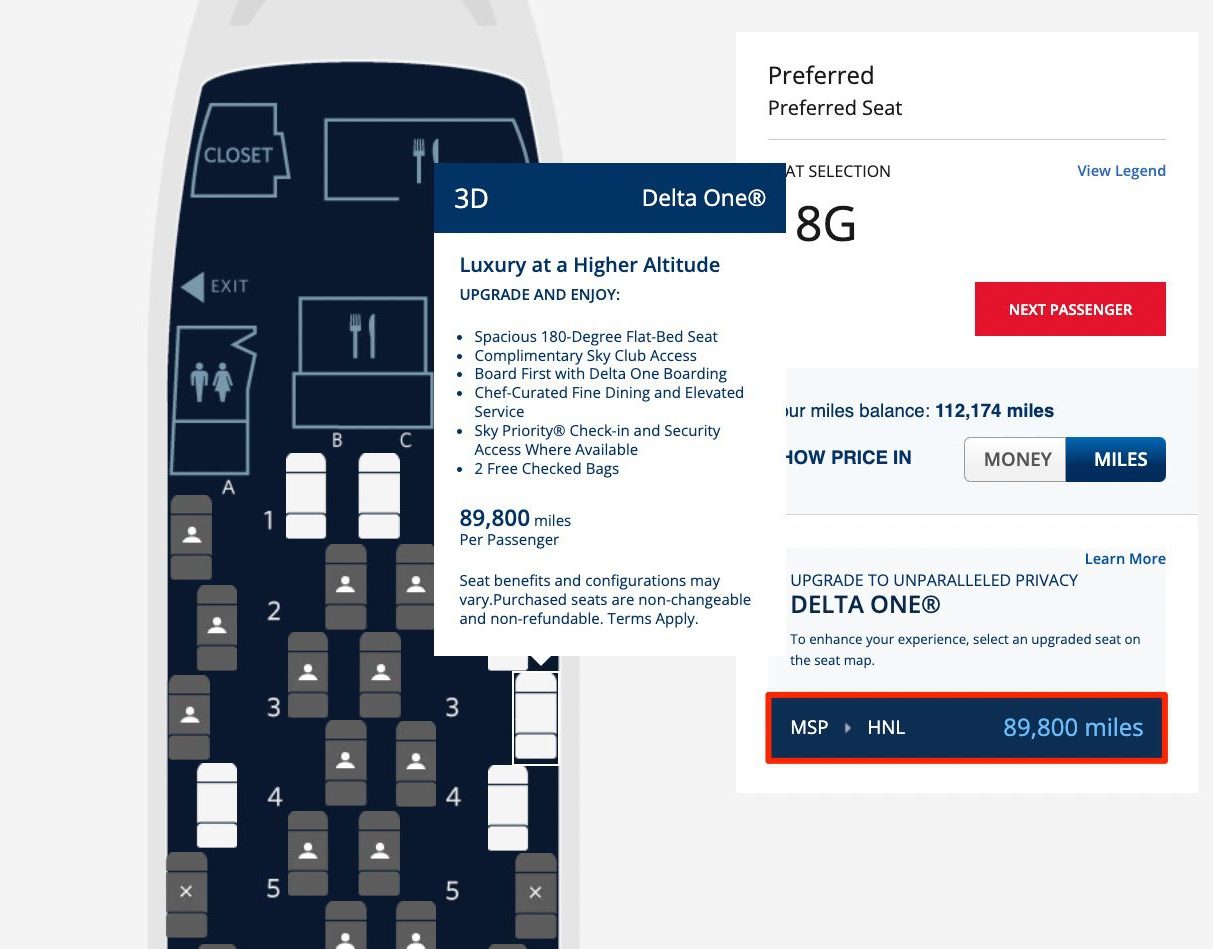 The Premium Economy Roadblock
The growth of premium economy cabins on international flights has made these upgrades a bit more tricky. 
Most airlines' policies are clear: You can only upgrade one cabin at a time – or you'll have to pay even more to upgrade not just one but two cabins. So while you could once upgrade from economy straight to business class, these days you generally bump into premium economy.
That may not be a bad move. There are some excellent premium economy products out there, such as Delta Premium Select – an excellent middle ground between economy and Delta One business class.

And of course, you could buy a full-fare premium economy ticket with the hopes of upgrading into business class. If the route you're flying doesn't have premium economy seats, you may still be able to do a straight-shot upgrade to business class from economy.
But keep this in mind the next time you're angling for a seat up front. In some cases, the best you can do may be a seat in the Premium Economy cabin.
Airlines with Upgrade Sweet Spots
You should never assume upgrading from your cheap fare up to business class is a slam-dunk strategy. More often than not, it won't work out. But that doesn't mean it's impossible.
More than anything else, it depends upon which airline you're flying. Over time, we've seen more and more airlines roll out new ways to upgrade up to business class using cash or miles. Some have even rolled out the ability to bid for an upgrade to business class.
British Airways allows you to use Avios miles to upgrade one cabin – for example, from a paid premium economy seat to business class – on some paid fares – by paying the mileage difference in miles between the two cabins. Since Premium Economy from Chicago-O'Hare (ORD) to London-Heathrow (LHR) typically costs 26,000 Avios each way and business class is 50,000 Avios, you could upgrade your paid premium economy seat to business class using another 24,000 Avios and fees – so long as there's award availability.
Delta Air Lines has made it much easier to upgrade to Delta Comfort Plus, domestic first class or international business class using cash or SkyMiles … much to the chagrin of loyal flyers with Delta Medallion Status angling for a free upgrade. Unless you've got a Delta basic economy ticket, you'll have the option to upgrade through the seat map. Delta also still offers a little-known way to move up front called Mileage Upgrade Awards at incredibly reasonable rates, but tracking down flights where this is available and getting a Delta agent to process your upgrade is far easier said than done.
We've seen Air France selling upgrades on to its business class seats from economy on long-haul flights to Europe for as low as $400, which isn't bad.
Emirates allows you to upgrade using Skywards miles at the check-in desk, so you could try a last-minute upgrade from economy to Emirates business class (or business class to Emirates First Class) and come out ahead.
A few airlines including TAP Air Portugal and Icelandair allow you to bid using cash to move to the front of the cabin. The prices vary wildly – and you can't use miles to do it. You won't pay unless your bid is accepted.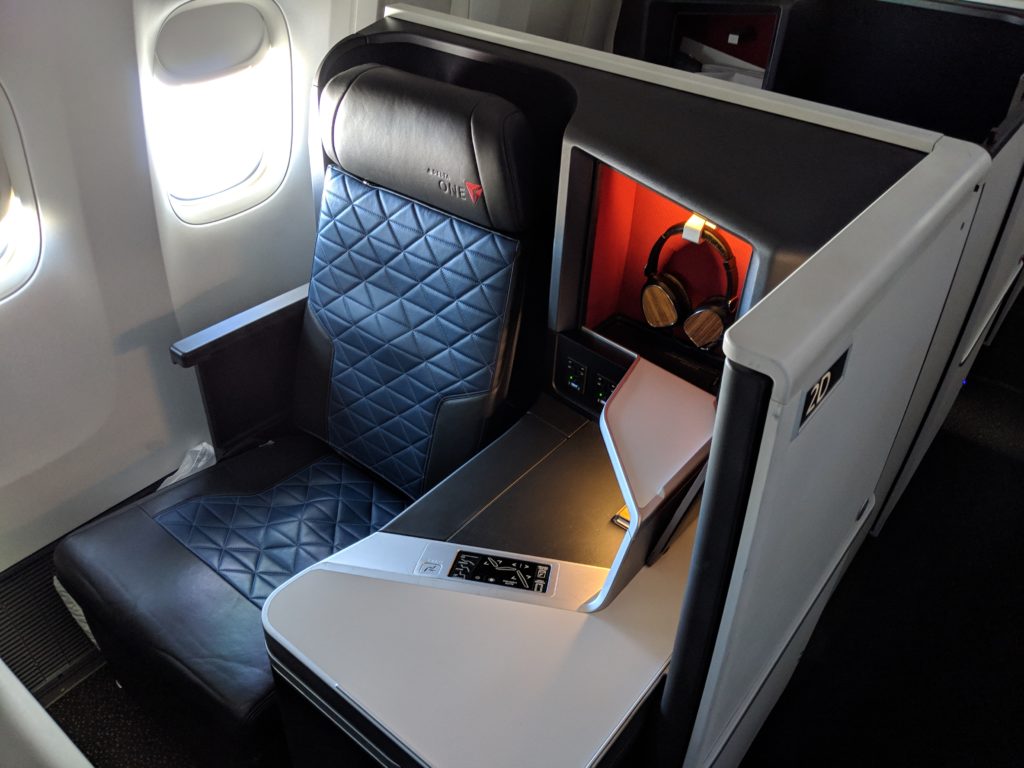 Bottom Line
While it might seem straightforward to use miles (or even some extra cash) to upgrade your cheap cash fare, it's not always possible. And even when it is, only you can decide whether it's worth the miles.
Crunch some numbers beforehand and figure out whether you'd be better off booking the flight with miles upfront. In most (but not all) cases, you'd be better off using your miles to book into a premium cabin from the get-go.