There has perhaps never been a more lucrative time to earn American Airlines AAdvantage miles – or, more importantly, to earn a lot of them quickly.
Even if you have no plans to fly with American Airlines, the airline's AAdvantage mileage program is incredibly valuable. Their amazing array of partner airlines make AA miles among the best to fuel your future travels, allowing you to book flights with Qatar Airways, Japan Airlines, and many more.
We'll outline how you can quickly and easily earn 100,000 American Airlines miles – and why you might want to.
Read more: 7 Reasons You Should Be Earning American Airlines Miles
How to Earn American Airlines Miles Fast
The easiest way to earn miles isn't by flying. It's through credit cards – and especially when credit cards are offering big sign-up bonuses.
Most airlines offer these co-branded credit cards through just one bank. Delta has its suite of SkyMiles American Express credit cards. United Airlines, meanwhile, has a handful of Chase credit cards like the United℠ Explorer Card.
But American Airlines is different. They have co-branded credit cards with two different banks: Citi and Barclays. The Barclays card is a holdover from the merger of American and U.S. Airways way back in 2015, yet both credit card relationships have survived to this day.
Why does this matter? It means you can apply for and open credit cards from both banks – and earn the sign-up bonus on each.
Let's be clear: Credit cards are serious business. You should never open one credit card, let alone several, and spend money you don't have just for the sake of earning miles. If you can't pay off every charge in full, it's not worth it. But if you're financially responsible, this opportunity is great.
You'll want to make sure you have an American Airlines AAdvantage account. That way, you can use your account number on both card applications. If you don't have one, you can create one here first.
To start, few credit cards offer a better, more lucrative sign-up bonus offer than the AAdvantage World Elite Mastercard from Barclays. Just for opening the card, and making a single purchase, you will earn 50,000 American Airlines miles. The card's $99 annual fee is even waived in your first year of card membership.
While most credit cards require you to spend $2,000 or more in the first three months to unlock a big welcome bonus, that's not the case here. Make one purchase and you can earn a quick and easy 50,000 miles. They're some of the easiest points and miles you will ever earn.
Make sure to read our full review of the AAdvantage Aviator Red World Elite Mastercard.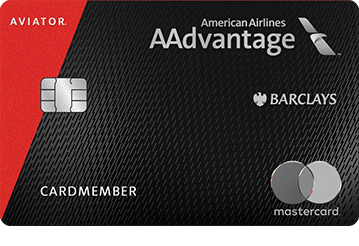 Click Here to learn more about the Barclays AAdvantage World Elite MasterCard (for full disclosure, this is not an affiliate link) 
And then there's American's relationship with Citi, which means you can also apply for the Citi® / AAdvantage® Platinum Select® World Elite Mastercard®. This card currently has a welcome offer bonus to earn 50,000 AAdvantage Miles after spending $2,500 within the three months of card membership. And the card's $99 annual fee is also waived for the first year of card membership.
Read our full review of the Citi AAdvantage Platinum Select World Elite Mastercard.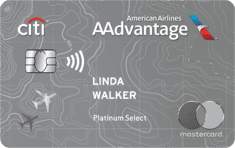 Click Here to learn more about the Citi AAdvantage Platinum Select World Elite Mastercard.
Put these two cards together, and spend just $2,500 on the other (the Citi Platinum Select World Elite card) in the first three months. Bam: You've got 100,000 American Airlines miles. All without paying an annual fee in your first year.
That's an easier (and cheaper) path to pile up more than 100,000 miles than you'll find with almost any other airline. Of course, it requires opening two credit cards and responsibly meeting the minimum spending requirement.
If you don't want to keep these cards past the first year and keep paying annual fees, you don't have to. You can read more about this in our post about what happens to your points and miles after you close a credit card.
Read more: 4 Credit Card Myths You Should Stop Believing
How Far Can 100K American Miles Take You?
"What can I even do with 100,000 AA miles?" you may ask. The answer? A lot.
Whether your goal is to fly in some of the world's best business & first-class seats or simply fly in economy for a very reasonable price, AA miles offer something for most.
Book Qatar Airways Qsuites
While there is a new way to book Qsuites with Qatar Avios, American AAdvantage miles remain the absolute best way to book a flight in Qatar's incredible Qsuites business class.
You'll need 70,000 AAdvantage miles to book a one-way flight from the U.S. to Qatar's hub in Doha (DOH), or vice versa. You can also continue onward elsewhere in the Middle East – to Muscat (MCT) in Oman, Dubai (DXB), or Amman (AMM) in Jordan – and still pay just 70,000 miles.
Unfortunately, finding and booking these flights through AA has gotten more challenging lately. But it's still possible: You may just need to check some other sites for award availability, then call American Airlines to book.
By the time you met the spending requirement on the Citi card and earn the bonus on the Aviator card, you should have right around 115,000 American miles: enough for a one-way ticket in Qsuites to the Middle East with plenty of miles to spare.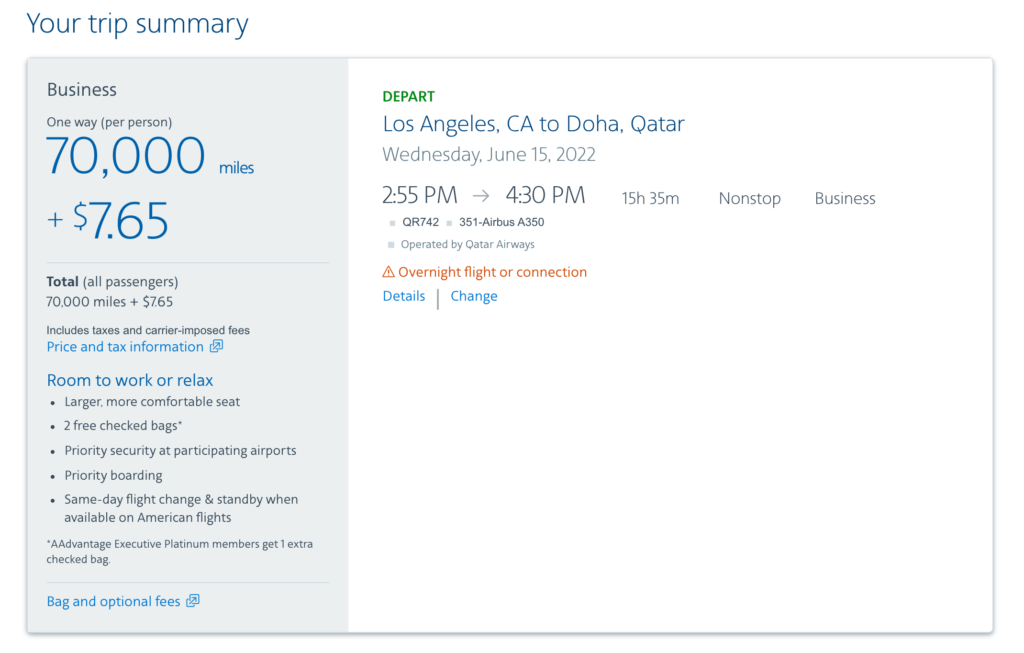 Want to get to the Maldives or Seychelles? Or even as far as India or Sri Lanka? It's still just 70,000 AAdvantage miles, with a connection in Doha on your way.
Or you could head from the U.S. down to South Africa (or anywhere else on the continent) and pay just 75,000 AAdvantage miles each way. It's a massive sweet spot on the American Airlines award chart, and one of the best deals in points and miles.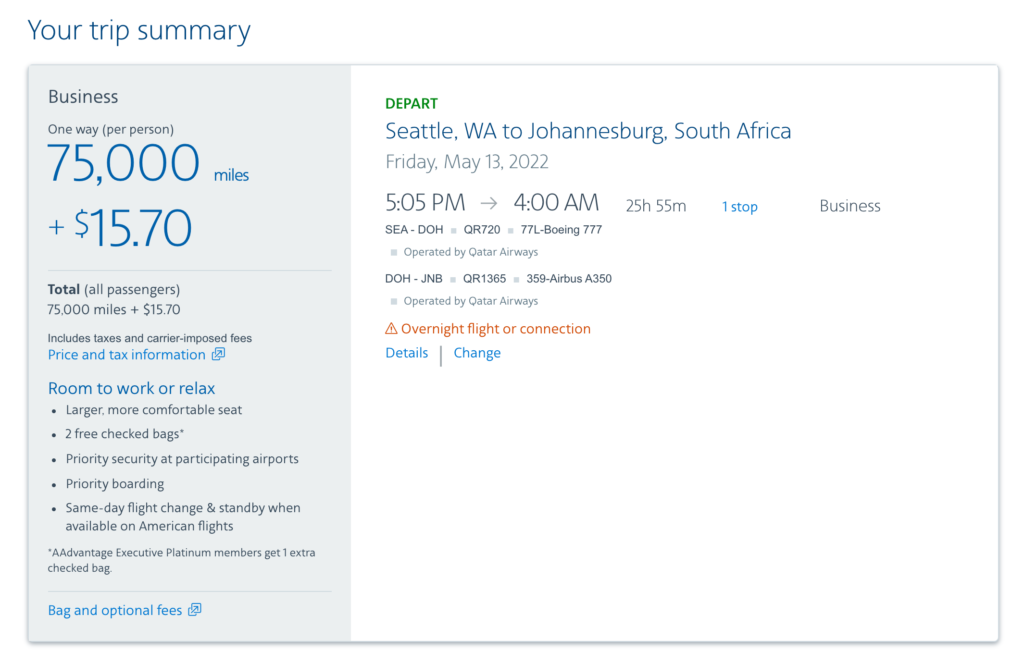 Though change is in the air, American Airlines still has one award chart for all redemptions on its partner airlines. Select your departure region to determine the number of points required. As you can see from the chart below, flying Qatar Qsuites from the U.S. to the Middle East or the Maldives (defined as part of the "Indian Subcontinent") would also cost just 70,000 AAdvantage miles.
We send award alerts for Qatar Airways Qsuites availability to our Thrifty Traveler Premium+ members!
Qatar Airways has a massive network so it's easy to get just about anywhere in the world if you have American Airlines miles. But, as is often the case in the world of points and miles, just because it is possible, doesn't mean you'll be able to book it. There needs to be award availability to book, which often comes in waves.
Read our full review of the Qsuites experience from Dallas-Fort Worth (DFW) to Doha (DOH)!
Book Japan Airlines Business or First Class
Or what about flying in style to Japan now that it's open again? When you're flying 10-plus hours to Asia, it's worth some extra miles to fly in comfort. How about a SkySuite?
Japan Airlines has one of the world's best business class seats out there, and they're called SkySuites. In the right seat, it's both spacious and insanely private. Some of the best food you'll find in the sky doesn't hurt either.
After our sterling review of Japan Airlines Business Class, we're convinced it's one of the best ways to use your AA miles.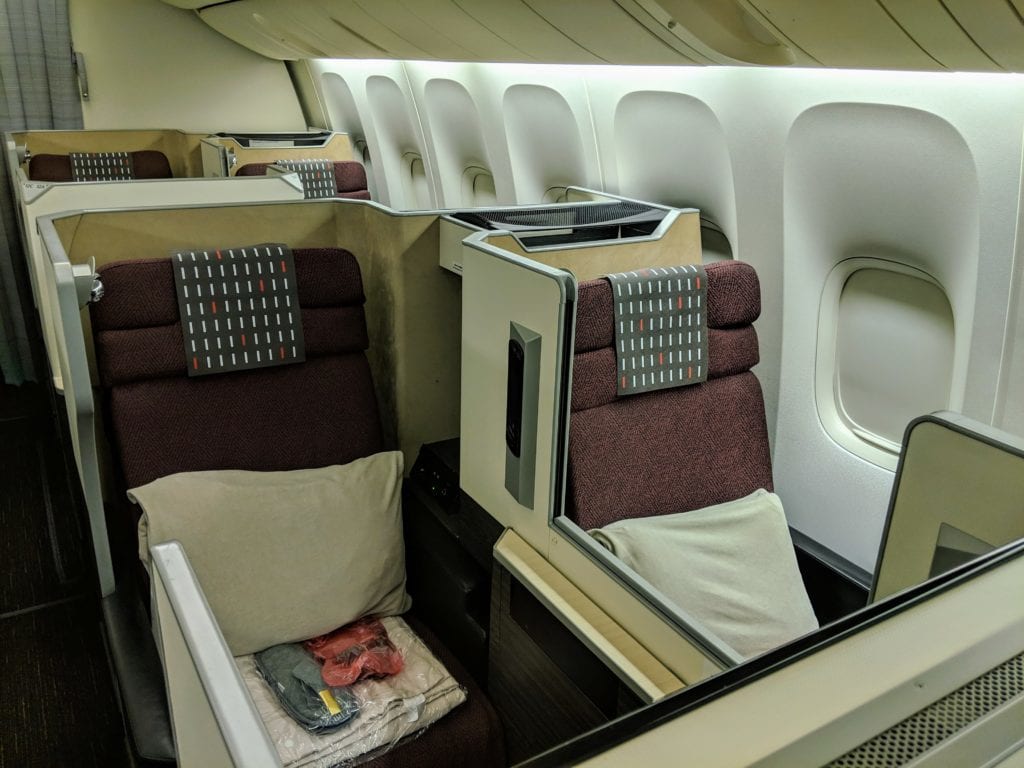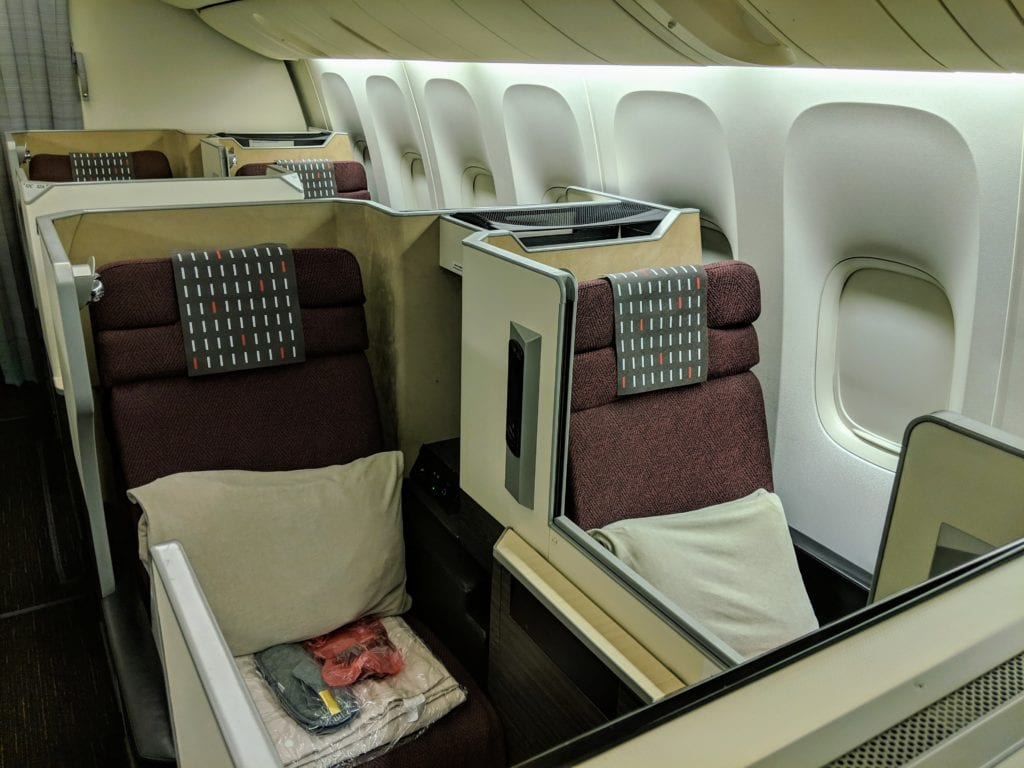 The best part? This incredible flight – which normally costs $5,000 or more – is just 60,000 AAdvantage miles each way. With 100,000 miles, you would have almost enough miles to book it round-trip.
Want to fly first class to Tokyo? Japan Airlines' First Class can be booked for only 80,000 AAdvantage miles each way. And we think it's worth it. Check out our full review of a flight from Tokyo to Chicago.
Read more: The Best Ways to Use American AAdvantage Miles
Bottom Line
There is never a bad time to earn American Airlines miles. But with the ability to quickly earn 100,000 miles, right now is one of the most lucrative times we've ever seen.
Great partner carriers and reasonable award rates make AAdvantage miles incredibly valuable even if you never plan to fly American. But most importantly, no other airline makes it so easy to pile up 100,000-plus miles so quickly – or cheaply.
Don't sleep on this opportunity as you are thinking about your travels.