Let's start with a disclaimer: This points and miles sweet spot isn't for everyone. It's a bit niche. But the best experiences in the sky require some creativity and extra legwork.
What we're showing you is the cheapest, easiest way to fly one of the most luxurious first class cabins in the world. And that's no small thing.
The Etihad Apartment really needs no introduction. You get your own private suite on the top deck of an Airbus A380, with a separate recliner and nearly 7-foot-long bed. Oh, and there's a shower and bar onboard, too.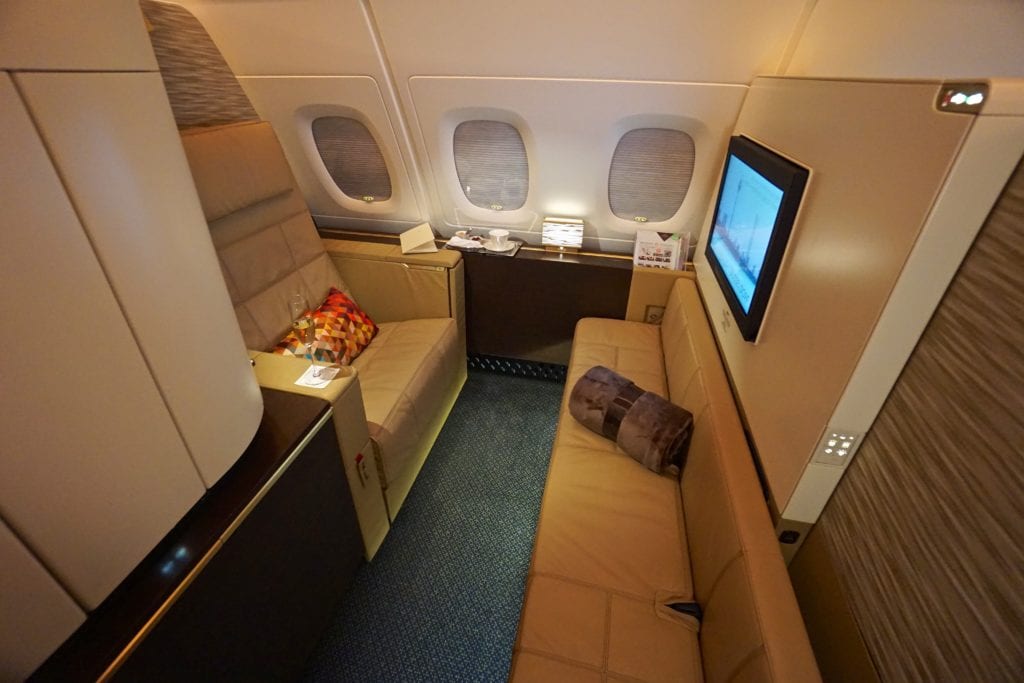 And though you can use American AAdvantage miles to book an Etihad Apartment, it's not always easy – there are only a handful of routes where you can fly it. And the only option from the U.S. – New York City-JFK (JFK) to Abu Dhabi (AUH) – is pricy. It costs a whopping 115,000 AAdvantage miles each way, and finding a seat can be a pain.
One of the go-tos to fly the Apartment is between Europe and the Middle East. It costs just 62,500 AAdvantage miles for the roughly seven-hour flight from either London-Heathrow (LHR) or Paris-Charles de Gaulle (CDG).
But there's an even better way. You can spend fewer miles for an even longer flight in your own Apartment.
Get on the Seoul Train
Earlier this year, Etihad started flying one of its Apartment-equipped A380s between its Abu Dhabi (AUH) hub and Seoul-Incheon (ICN). The change largely slid under the radar.
And amazingly, you need only 50,000 AAdvantage miles to get an Apartment for the 10-hour flight. That's substantially cheaper than the favored way to fly to or from Europe. This is by far the best, cheapest way to lock in a ticket.
Of course, it won't be for everyone. You need to get to Seoul or the Middle East and take the long way home. But if you've got AAdvantage miles and want to fly in style around the world, this might be one of the best deals in luxury travel.
Finding award availability for the Apartment is usually a chore. So it's incredible to see the Apartment available three to five days a week from November through April – and many with two seats available. After a recent change, you can even book these awards online through AA.com
Here's a look at availability flying from Seoul-Incheon (ICN) to Abu Dhabi (AUH) in November.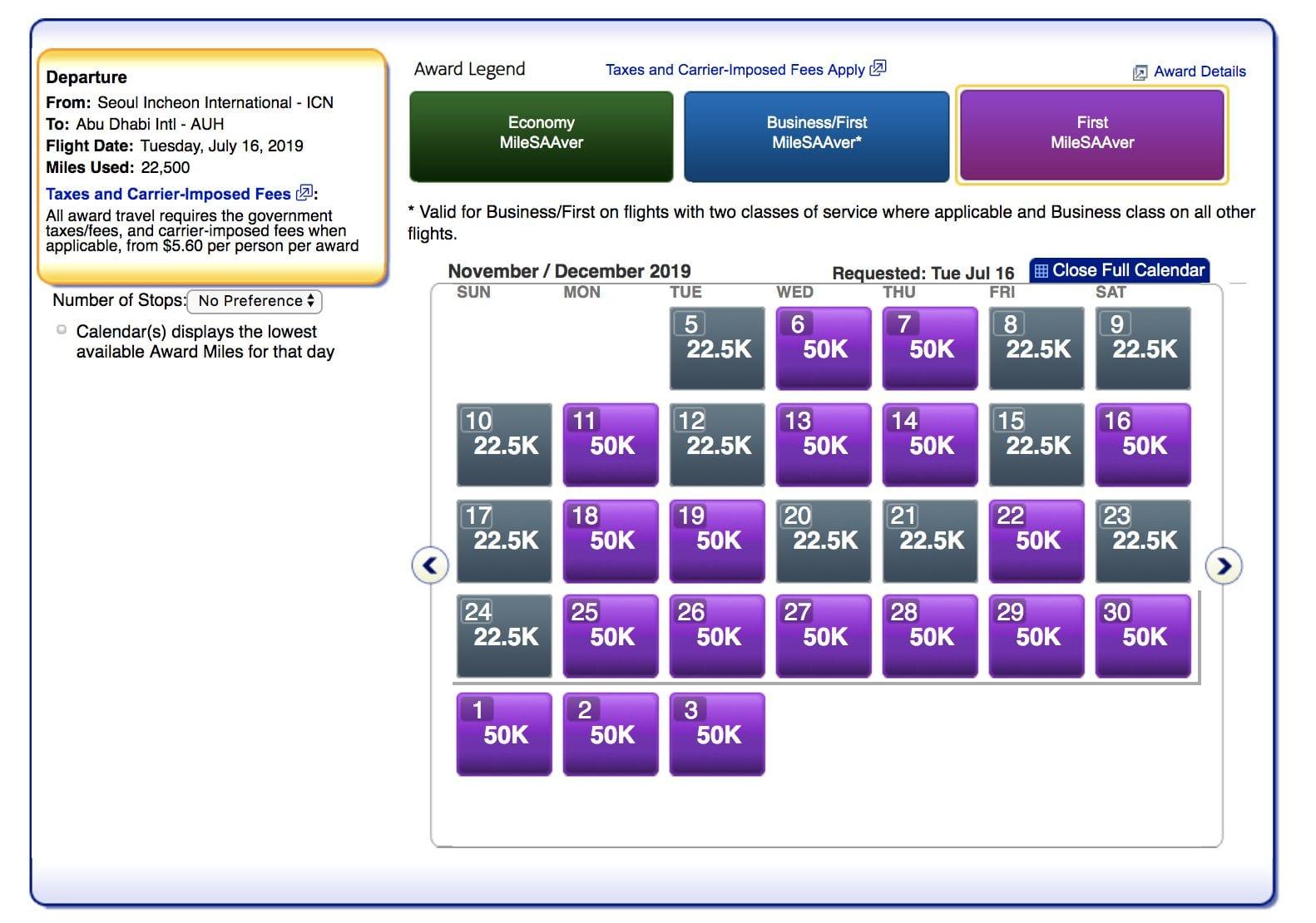 The availability gets more spotty during the holiday season in December and January. But then it picks right back up again with near-daily availability through the winter and spring. Check out how easy it is for two people to fly the Apartments together in March!
While the westbound flight from Korea to the U.A.E. is the best play here – it's slightly longer, which gives you more time for a shower and fine dining – availability is also rock solid flying from Abu Dhabi (AUH) to Seoul-Incheon (ICN).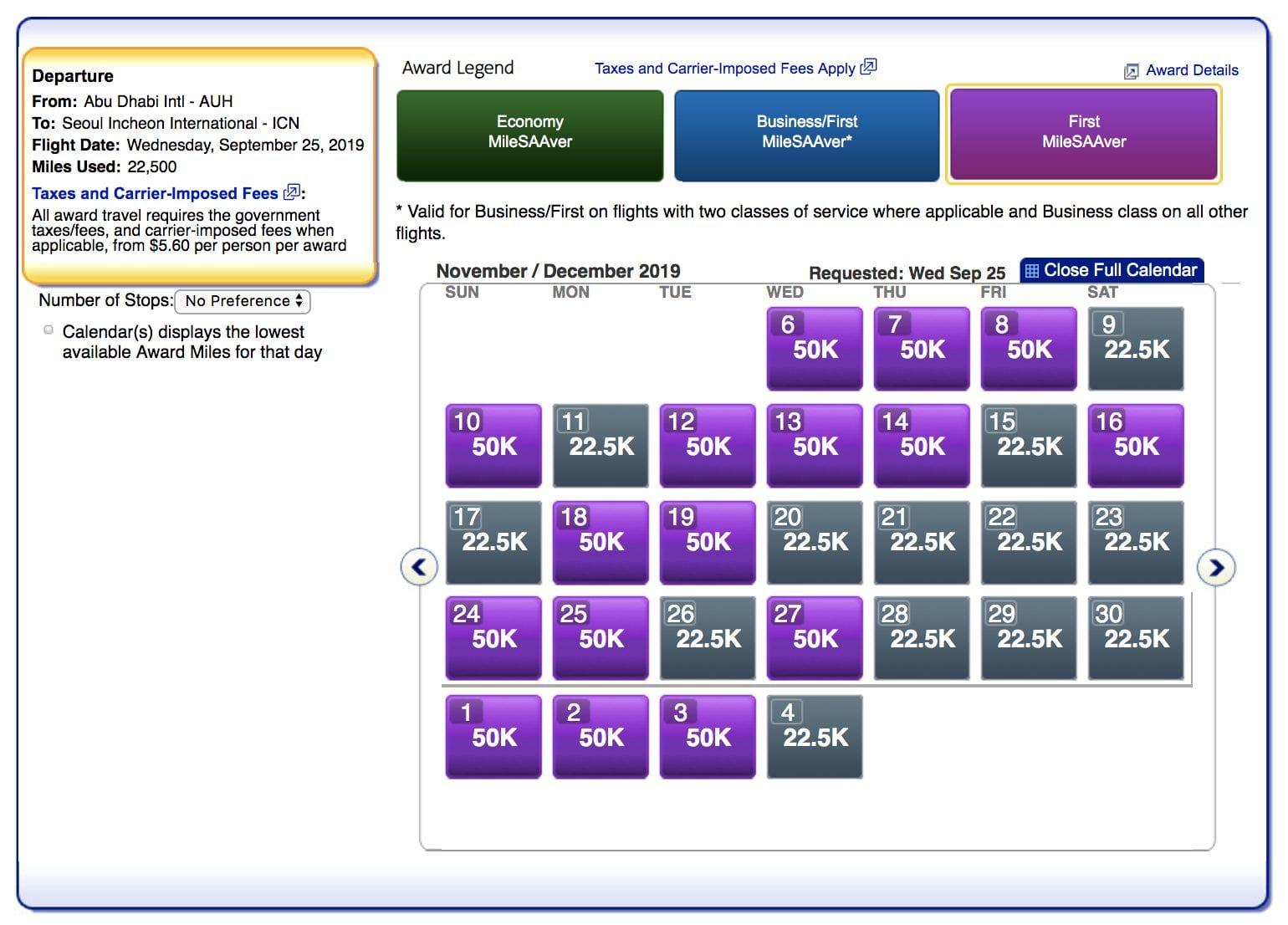 Bottom Line
Again, we know this won't be for everyone. But the ability to fly for 10 hours in an Etihad Apartment for just 50,000 AAdvantage miles is almost unbelievable.
Add in just how easy it is to snag a flight at those rates throughout the fall, winter, and spring, and we're convinced this is one of the best sweet spots out there in luxury travel.