Basic economy fares are here to stay. But every airline handles these cheaper, no-frills fares a bit differently, with varying restrictions. They can be confusing.
So we set out to compare basic economy fares on domestic flights between the three major U.S. airlines: American, Delta, and United. All in one day.
From check-in to baggage and boarding to seat selection, this overview will give you the skinny on what you get and what you don't on each of the three major airlines.
Read our master guide withall the restrictions with basic economy fares in the U.S. to get up to speed.
Safe to say, each airline has its strengths and weaknesses when it comes to flying basic economy, so we'll rank each of them in a handful of categories from 0 to 3 and pick an overall winner, too. The goal is to help you navigate whether basic economy is right for you – and which airline's fares fits your needs best.
Remember, this is only for domestic flights – basic economy flights to Europe, Mexico or the Caribbean are another ball game. Check out how these airlines compare on some of the most important categories when flying with a basic economy fare:
Have questions about flying basic economy? Join us for a Facebook Live at 12 p.m. CST and we'll help walk you through it!
Booking
Here's a little hint: Airlines don't actually want you to buy a basic economy fare.
All the different restrictions that come with basic economy – and we'll get into those soon – aren't meant to get you a better deal by unbundling. Instead, they're meant to convince you to pay up to avoid the punishment.
And whether you're flying Delta, United, or American, it doesn't matter: None of them are shy about trying to get you with the upsell. They practically beg you not to book the cheaper basic economy ticket. You'll always get a warning like this and essentially have to opt into buying the basic economy fare you just selected.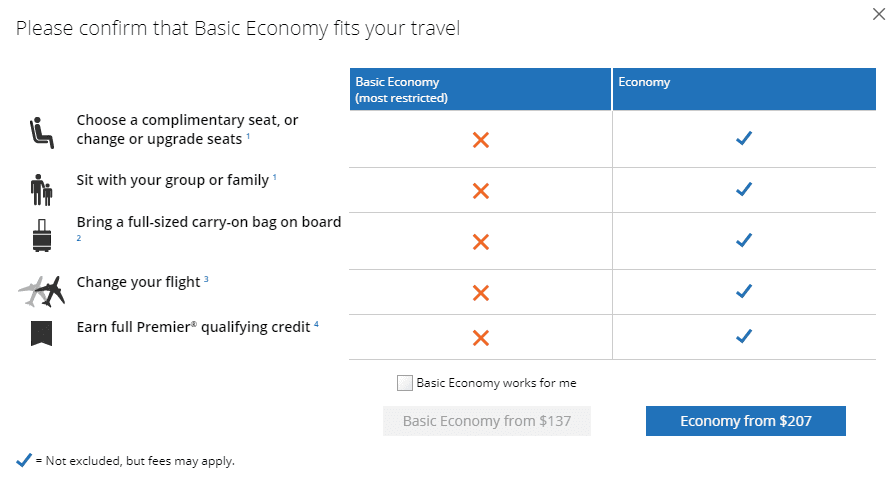 This is how the airlines get you. They lure you in with the prospect of a lower fare, then slap you with some of the restrictions in hopes of making you pay to avoid it. And remember that airlines didn't actually introduce lower fares with the advent of basic economy – they just started charging more for the all-inclusive, main cabin fare. In reality, these fares have simply driven a standard economy ticket higher.
And unfortunately, it's getting more expensive to avoid basic economy. All three major airlines have generally started charging $35 each way – or $70 round trip – on most domestic flights to upgrade out of basic economy.
But the booking process for basic economy itself is basically the same on all three carriers. So there's no clear winner here.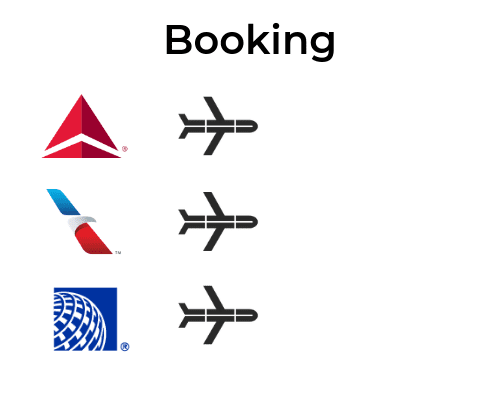 Baggage Allowance
There's a clear loser in this bunch.
Flying basic economy domestically with either American or Delta, you'll get both a carry-on bag and a personal item for free. Delta led the pack with this policy ever since launching basic economy fares years ago. American followed suit by relaxing its ban on carry ons for basic economy last year.
But with United, you cannot bring a carry-on bag on board – only a personal item like backpack or purse. United executives have said they have no plans to change it.
This is, hands down, the most punitive restriction for all basic economy fares among the three major U.S. airlines. And while it might work for some travelers or short trips, it's worth highlighting.
Keep in mind that you can beat basic economy on all three airlines by carrying one of their co-branded credit cards. Whether you've got the United Explorer card, the AAdvantage Aviator Red World Elite Mastercard, or one of the Delta SkyMiles American Express cards, it will get you a free checked bag on every flight on each respective airline.
But by the books, United stands apart for being stingy with bags in basic economy.
Seat Selection
On paper, you don't get to pick your seat when you buy a basic economy ticket no matter which airline you're flying – your seat is assigned. The fear of getting stuck in a middle seat is one of the primary ways airlines try to convince you to upgrade.
But in practice, there are ways to pay up to get a better seat – and one airline even gives you a window to move around the cabin for free.
United is an early favorite, thanks to the most generous policy of paying to pick a seat you'll find among all three carriers. From the time you're buying your flight until check-in 24 hours before departure, you can buy a seat. And in many cases, you'll find the fees to pick a seat are pretty reasonable.
While I was buying my flight from Minneapolis-St. Paul (MSP) to Denver (DEN) more than a month in advance, I was able to pick from a fairly open seat map: $9 for a middle seat, $10 for a window seat, or $15 for a seat on the aisle. These rates will vary flight-by-flight, but they're fairly cheap – especially when compared to the competition.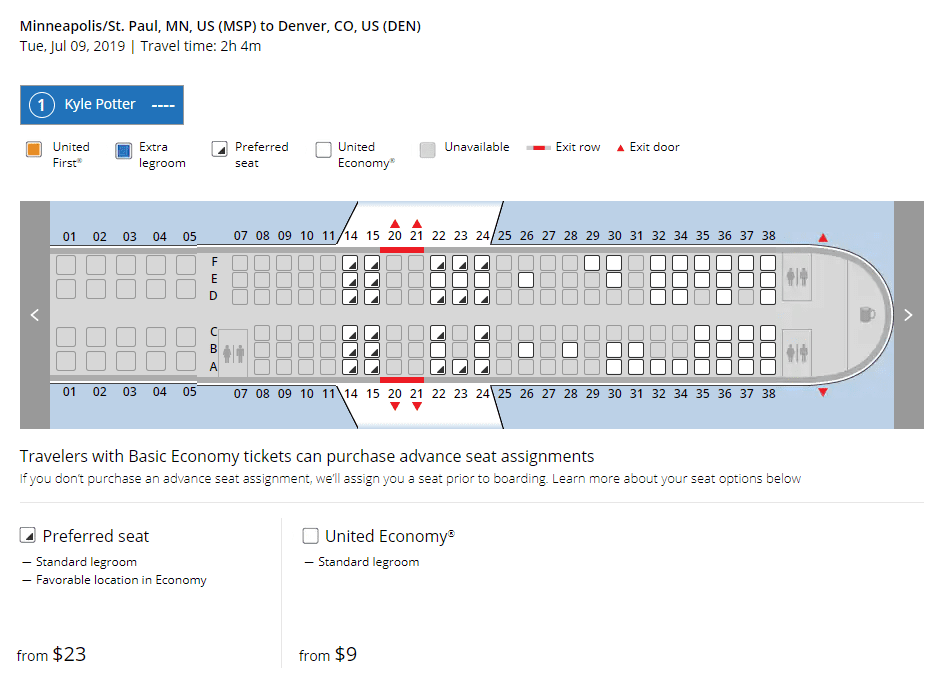 The ability to pay up for a seat from the time you buy your ticket makes United basic economy a great choice for families who need to sit next to children, or someone anxious to avoid a dreaded middle seat. You could get a pair of seats next to each other for under $20 on a nonstop domestic flight.
It's worth noting that these prices generally increase as departure draws closer. About a week before my flight, United was charging $22 to pick even a middle seat at the back of the plane. And once the check-in window opens, you won't be able to move around the cabin with a United basic economy fare.
With American, it's a bit different. Basic economy travelers can select a seat starting a week before departure on domestic flights for a fee.
Seat fees are also reasonable with American Airlines, appearing to start at $12 for a middle seat and $13 for an aisle or window seat toward the back of the plane. Your seat is automatically assigned at check-in with American, but you can still move around the cabin for a fee after the check-in window opens at 24 hours before departure.
But don't count on getting a better seat for free by talking to a gate agent shortly before departure – a favorite trick among frequent flyers. An American Airlines agent told me that you still have to pay up to move to a better, empty seat before boarding. Of course, this may vary by agent – and if your flight is full, you're out of luck.
So if you're not willing to roll the dice with the seat lottery (or waiting to check in for your flight in hopes of being assigned a better seat by American), you're probably better off ponying up for a seat in advance.
Flying basic economy with Delta is a mixed bag for picking a seat. Though the airline doesn't advertise it, there are two options to pick a seat.
For starters, you can pay to pick a seat starting exactly a week before departure. But oddly, Delta seems to charge a flat fee of $29 – regardless of whether you pick an aisle, middle, or window seat. That means you should expect to pay nearly $60 to ensure you and your companion can sit together on a one-way flight. It's the priciest option to pay to secure a seat among the big three airlines.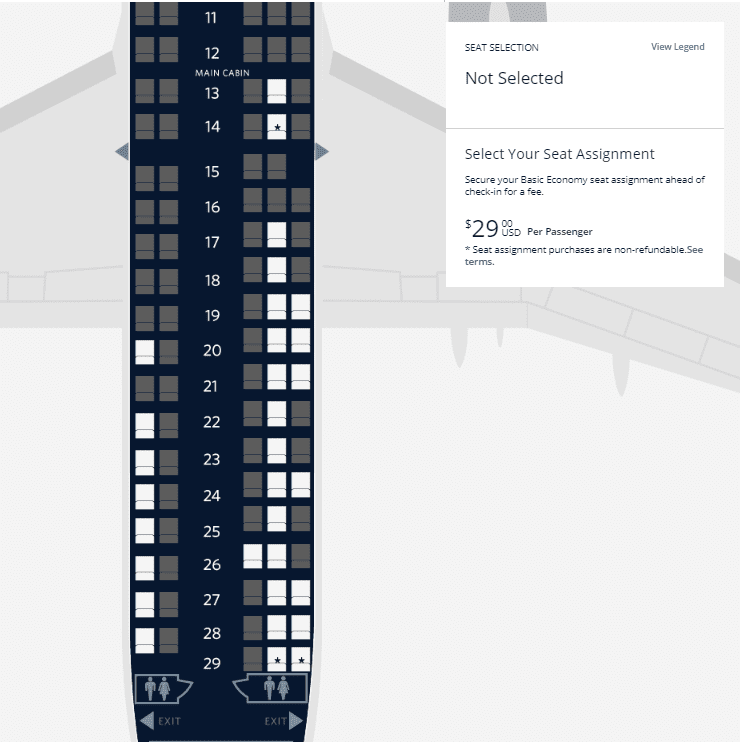 But there's another way that you may be able to pick your seat for free. Once the check-in window opens 24 hours before departure, it's a free-for-all: Even basic economy travelers can move to the best of whatever seats are still available with Delta.
This ability to potentially pick your seat for free is an advantage you won't find with the other carriers in basic economy, and it can pay off huge. But be warned: It won't work every time, and you'll need to be vigilant. Check right away when the check-in window opens, and again occasionally to see if better seats open.
United gets some major points for reasonable fees and the ability to pay for a seat right off the bat. And despite the fact that Delta's pay options are much more expensive, the unique ability to pick a seat for free after the check-in window opens is unbeatable.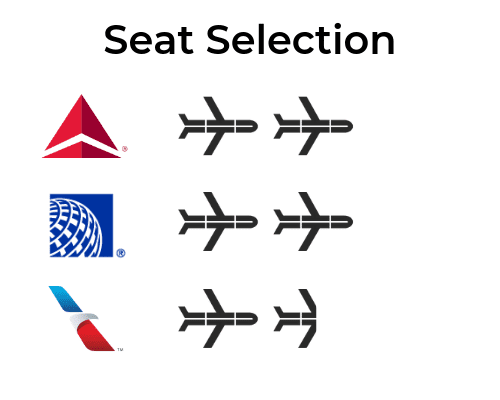 Check-In
No carry-on bags will come back to bite you when your journey starts with a United basic economy fare.
Because you're not allowed to have a carry-on bag, United agents have to check to ensure you're not trying to bring one on board. And that means you can't check in online or via mobile – you have to check in at the airport when you have a United basic economy fare.
Luckily, you should be able to check-in at the automated kiosks and just wait for an agent. Still, for travelers accustomed to the modern world of skipping check-in desks altogether, it's a pain. It also complicates the process of trying to change seats after the 24-hour check-in window opens.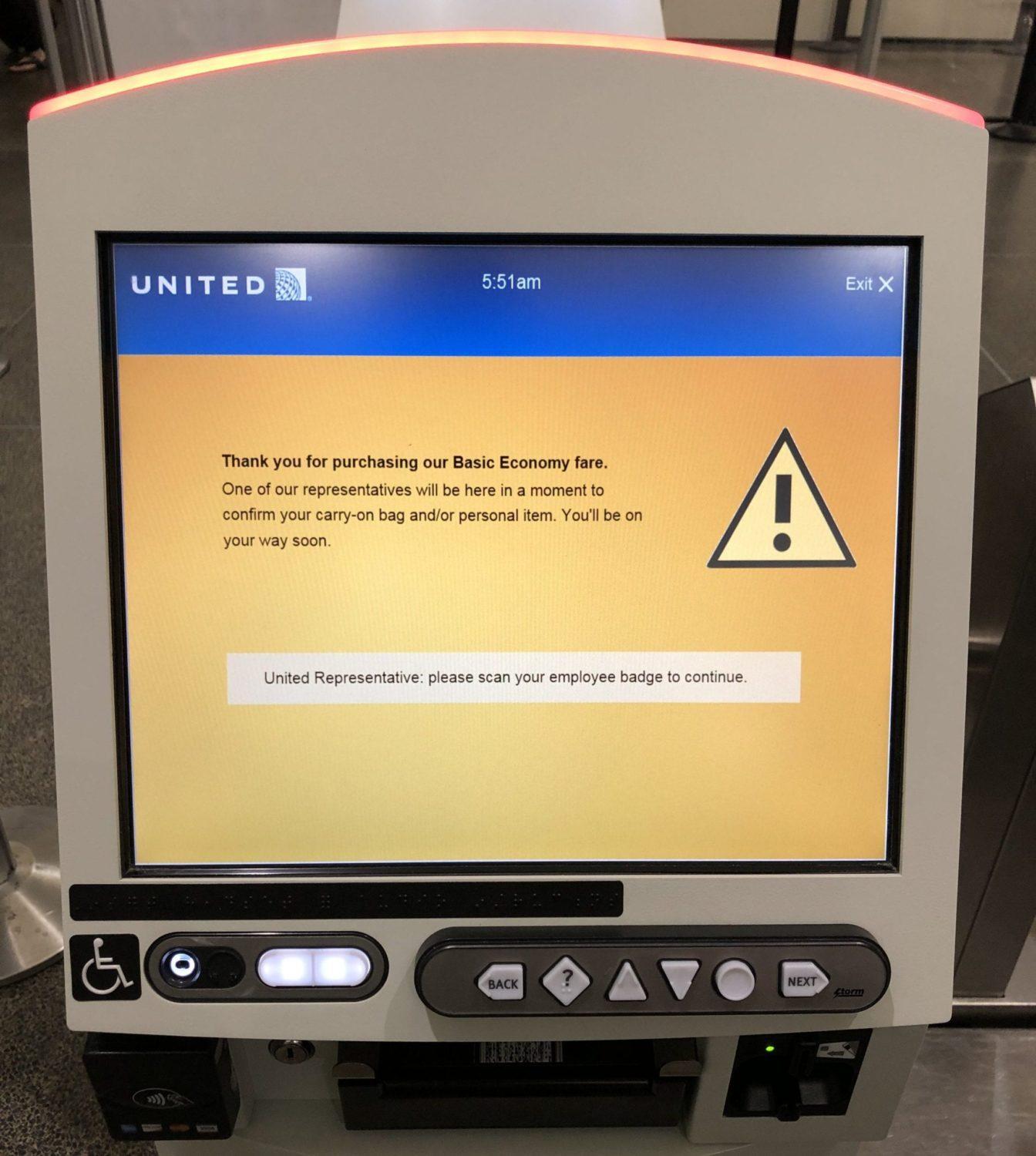 Meanwhile, American and Delta both offer online check-in, including mobile boarding passes – just the same as with any other economy fare. So while checking in at the airport kiosks isn't the end of the world, it's still a pain – and it costs United.
Boarding
It's never clearer where you stand in the pecking order than when it comes time to board the aircraft.
Whether you're flying United, American, or Delta, it's much the same: You board in the very last boarding group with a basic economy fare. So even when you can bring a carry-on bag with you, there might not be room in the overhead bins by the time you get on board.
There's one way around this: Carrying one of the airline's co-branded credit cards will get you priority boarding on those flights, even with a basic economy fare. Combined with a free checked bag on every flight, that could make carrying one of these cards worth considering. So look at the  United MileagePlus Explorer card, the AAdvantage Aviator Red World Elite Mastercard, or one of the Delta SkyMiles American Express cards.
But on paper, you board last when flying basic economy. And so every airline fares the same in this ranking.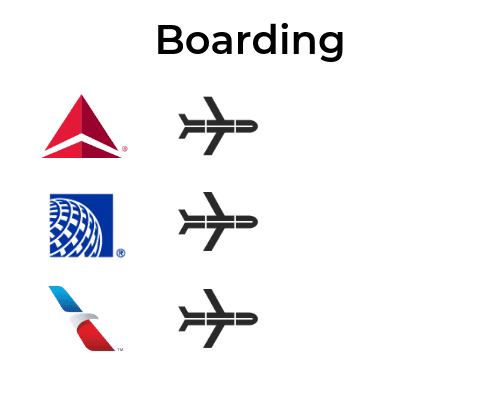 In-Flight Experience
Once you're on board, even basic economy passengers at the back of the plane are treated just like any other passenger. You're in the same seats with the same amenities and service as everyone else.
And because it's the typical experience on all three airlines, Delta really pulls away from the pack. While United and American both squeeze more seats into their usual domestic aircraft (eating into legroom) and pull out seatback screens, Delta is moving the opposite direction. And it really showed on these flights.
My first flight of the day from Minneapolis-St. Paul (MSP) to Denver (DEN) with United was on one of their Boeing 737-900s, a workhorse of their domestic fleet. With a whopping 39 rows of seats, the legroom was certainly bearable but not great. With 30 inches of legroom, it's just a step above what you typically get on budget carriers like Frontier. And because I was in a window seat in the very last row of the plane, it felt pretty cramped.
Service throughout the flight was prompt and pleasant, so there are no complaints there. In addition to beverage service, United recently started giving economy flyers the choice between pretzels, maple cookies, and the world-famous stroopwafels on even short-haul economy flights like this one.
But the entertainment was … conspicuously absent on this flight, as is often the case with shorter domestic flights on United.
It was a similar story on the flight from Denver (DEN) to Dallas-Fort Worth (DFW) with American Airlines. This flight was on one of American's infamous "Project Oasis" retrofitted planes, the airline's code name for an overhaul that put an extra three rows of seats into the same planes – and stripped out seatback screens, too.
The extra rows of seating left me with 30 inches of legroom, the same as on the United flight. Yet it felt a bit more spacious than the seat on United – perhaps because I was assigned a seat in the very last row on the United flight. On the downside, the under-seat storage area was so small that my standard-sized backpack could hardly fit, and ate into precious legroom.
Service on this flight was bright and cheery, with drinks and snacks on offer.
But much like United, seats on this flight weren't equipped with entertainment screens. Instead, there's holder you can flip down to hold a smartphone or tablet, from which you can connect to inflight Wi-Fi to stream movies and TV shows for free.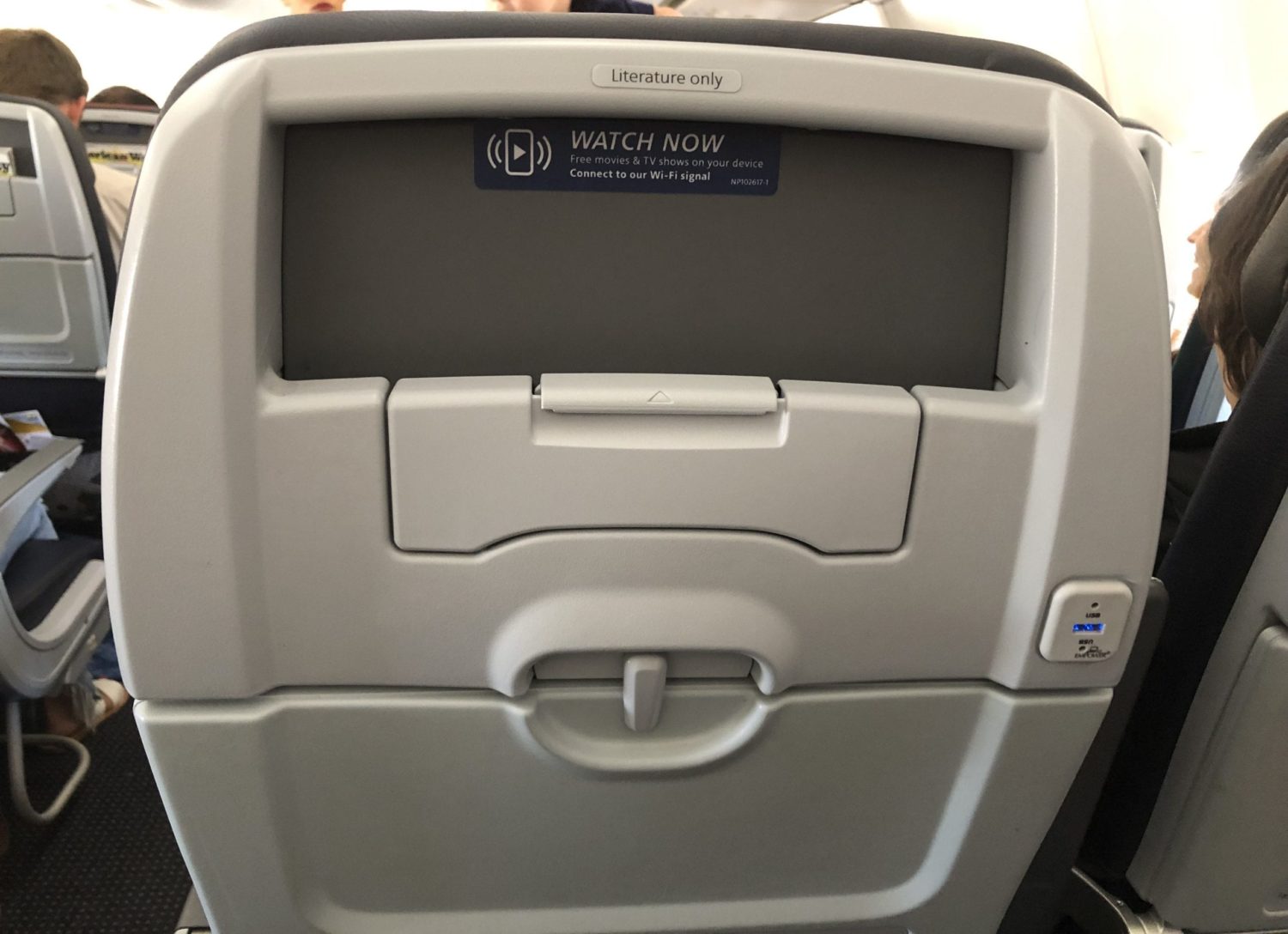 But perhaps the worst part of these "Project Oasis" planes is the lavatory. They're tiny, measuring just two feet across – more like a small coat closet than a restroom. It gets the job done, but not pleasantly.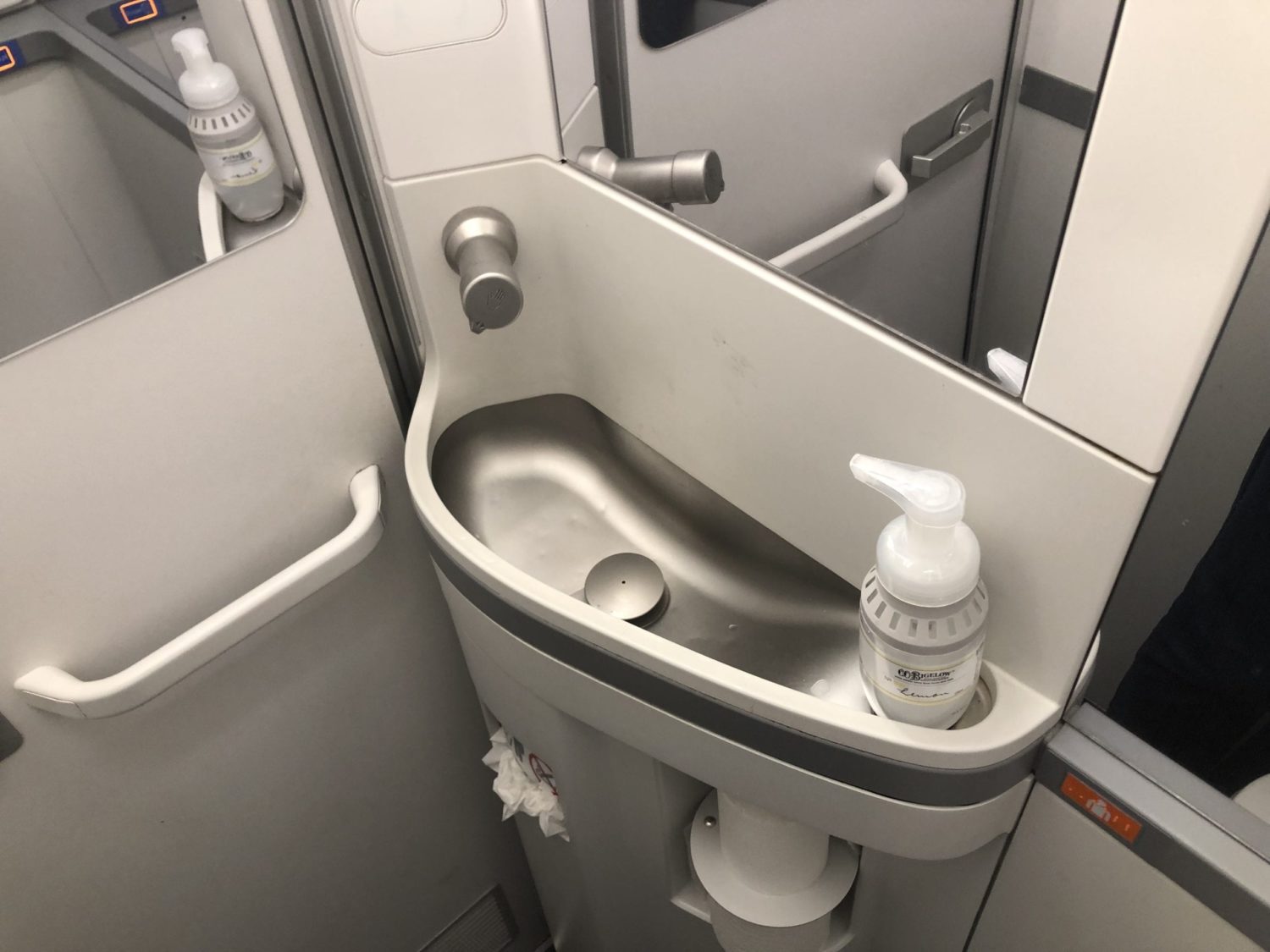 Compare that to the spacious and airy lavatory on my flight Delta flight from Dallas-Fort Worth (DFW) to Minneapolis-St. Paul (MSP). It has a window – yes, a window.
Welcome to the new Airbus A220, the latest and greatest plane in Delta's fleet. As American and United move increasingly toward planes like the troubled Boeing 737 MAX for domestic flights, Delta is putting money into this plane and others like them. So while it may seem unfair to compare Delta's brand-new plane to older models, it's truly representative of how the three airlines are positioning themselves to flyers.
And it's not just the lavatory where Delta stands apart.
For starters, the A220 is configured with just five seats across in each row, with one section of three seats and a section with just two seats across the aisle. That's great news for basic economy flyers, as there's less of a chance of getting a dreaded middle seat.
Fewer seats in the cabin also mean they're wider: 18 1/2 inches across, to be exact – more than an inch wider than the similar seats on both American and United. And the legroom is also more generous on this Delta plane, which sported 32 inches of pitch. Even in a game of inches, I could really tell that these seats were much more spacious than what I sat in on my previous two flights.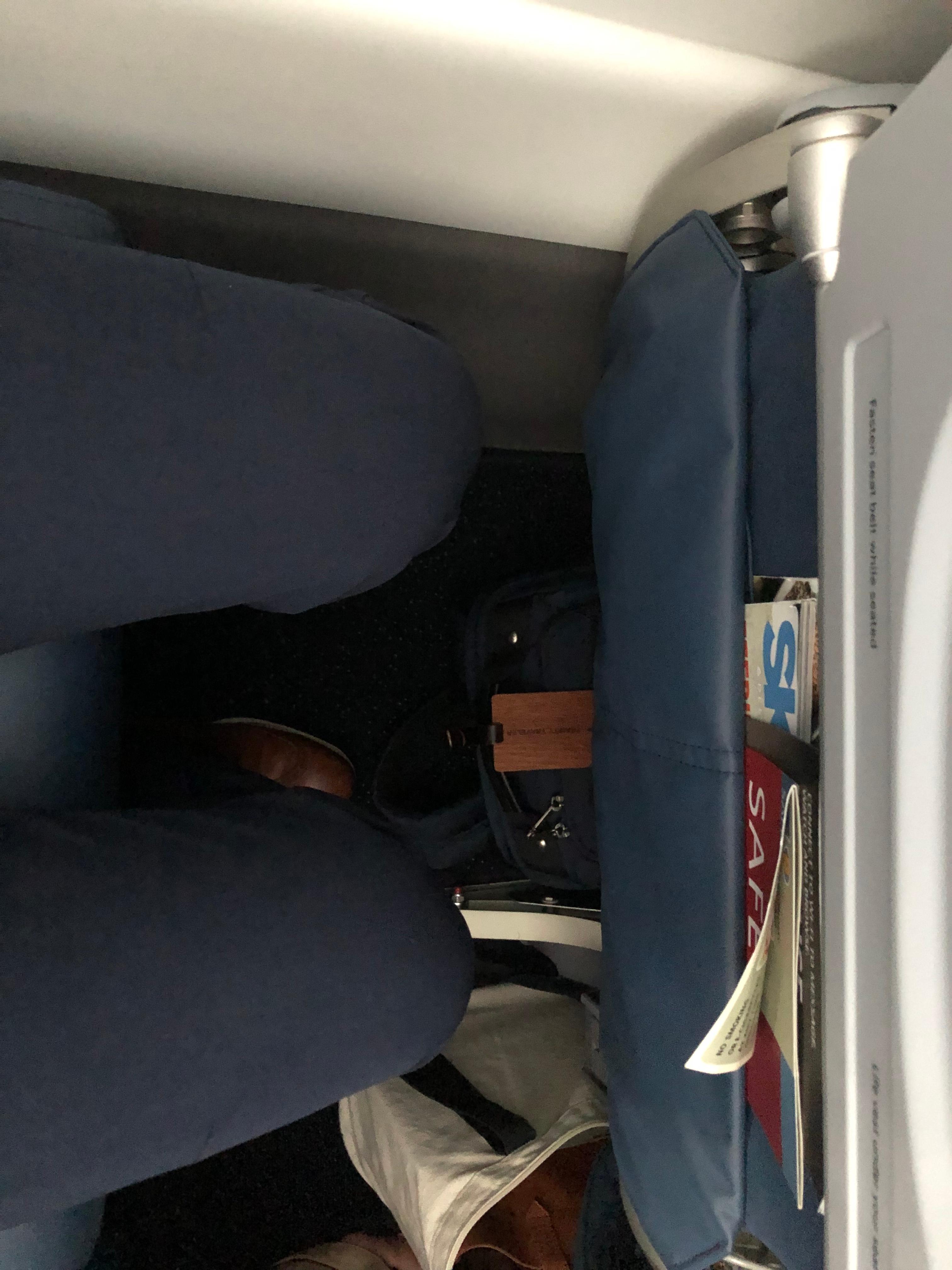 Despite Delta's reputation for superior service among the three major domestic airlines, there wasn't a noticeable difference in this case. That doesn't mean Delta flight attendants were bad – the service on United and American was simply on par with Delta.
But the real difference here was that Delta's Airbus A220 has an entertainment screen at every seat. Not every basic economy flight will be onboard one of these new planes – though as Delta puts more and more A220s on new routes, it's becoming more likely. But Delta has doubled down on seatback screens while their competitors have done the opposite, so your chances of staying entertained while flying are generally much greater with Delta.
With all three flights under two hours, American, United, and Delta all got the job done – with no delays, to boot! But in addition to just how different the basic economy restrictions are between all three carriers, these flights really underscored how Delta is setting itself apart against the competition.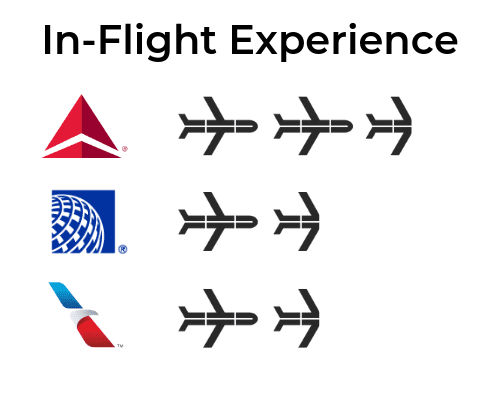 Final Score
Here's a final look at the totals for each airline.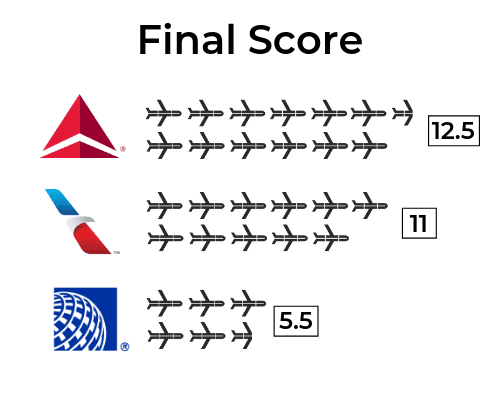 At the end of the day, it's tough to ignore Delta's superior in-flight experience, carry-on bag allowance, and the ability to potentially pick your seat for free. Those three factors combine to really set Delta's basic economy fares apart from the rest of the pack.
But this doesn't tell the whole story. Just which basic economy fare is right for you depends on your needs. Don't care about a carry on or checking in at the airport? United's basic economy fares could fit the bill just fine. And if you need to sit with a companion, the ability to buy a seat from the moment you book your United flight is unbeatable.
Just remember: No matter which airline you're flying, there are ways to take the restrictive basic economy fares and turn them in your favor.