We've all been there: Fretfully watching the radar, worrying what an incoming storm will do to our travel plans. 
Every airline handles these cases a bit differently. Delta makes it relatively easy to change your travel plans and help operations run smoothly even in the wake of the worst storms. 
Here's what you need to know. 
How It Works
Like all airlines, Delta's team of meteorologists closely monitor the weather. And once they determine an upcoming weather event will have a significant impact on flying in and out of certain airports, a weather waiver may be issued.
Affected passengers are notified via any notification means they are signed up for: email, text message, or through Delta's app. Delta also has a dedicated page for all ongoing weather-related travel alerts.
Remain on Your Current Flight
Simply put, you can do nothing, remain on your scheduled flight, and hope for the best. But be warned: You are taking the risk that your flight could be canceled or delayed.
And if that happens, you will be automatically re-booked onto a different flight. While this may not always be the best option, sometimes changing your travel plans just isn't possible. 

Change to a Different Flight
Once Delta issues a weather waiver, it gives passengers the option to make a one-time change to their itinerary for free.
And while there are always some limits to how much you can change your ticket, all fares are treated equally with this option. Yes, even flyers in Basic Economy can make a change to their otherwise non-changeable and non-refundable tickets. The instructions in the weather notification can quickly guide you through the process of changing your flight.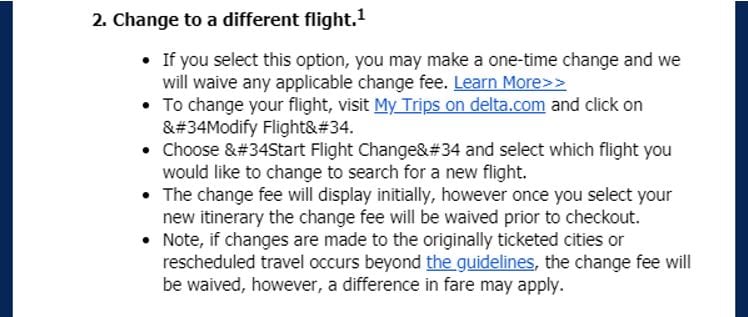 Reading through any travel waiver on Delta's website, it's clear there is always a specific window during which you can move around your flight. Typically, that window closes a few days after the storm ends. So as a blizzard sweeps through the Upper Midwest, affected travelers can push their flight out as late as Sunday, April 14.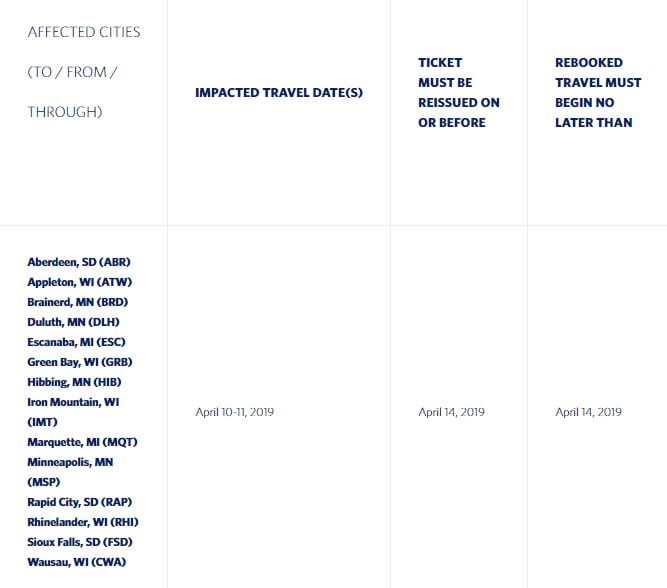 Need to change your flights, but push them out beyond the waiver window? I've been there. 
I needed to push my itinerary out two whole weeks. So I called up Delta's customer service and talked to an agent.
I was flying on a Basic Economy fare so I was worried the ticket would not be changeable outside the listed dates. Delta was very accommodating: With the waiver, tickets can be changed for free to a new date – no change fee no matter when you reschedule. However, the applicable fare difference applies if it's outside the stated travel window.
I paid the fare difference and was on my way.
Cancel Your Trip
The third option offered under the weather waiver program is to completely cancel your itinerary. You'll be able to do this at no charge and will receive a voucher for the value of the ticket.
That voucher must be used within one year. The instructions are clear and guide you through the process. In most cases, you should be able to take care of your trip modifications online or by using the Delta app.
Bottom Line
Bad weather can cause a lot of stress for travelers. It's tough when mother nature gets in the way of travel. 
But all airlines have a system in place to handle whatever schedule changes or cancelations you may need to make. And thankfully, Delta's is fairly easy to navigate.