Basic economy fares have spread like wildfire among the major domestic airlines. With JetBlue joining the fold later this year with a basic economy offering, almost every major U.S. airline is selling basic economy tickets.
But here's the secret: Airlines don't actually want you to pay for that seemingly cheaper fare. They'd much rather you pay to upgrade to a main with seat selection and a guaranteed carry-on.
American Airlines underscored that fact on Thursday, as airline executives highlighted the fact that 60% of basic economy passengers pay to upgrade to a main economy ticket. That number is even higher on United, which has the most punitive restrictions: United basic economy fares don't earn elite status credits and don't allow a carry-on bag. United executives said last week that "we continue to be pleased with the operational benefits of our bag policy."
Translation: It forces more passengers to buy up to a standard economy ticket. And that's exactly what they want. In short, airlines don't measure the success of basic economy by how many of those tickets they sell. It's measured by how many passengers pay to upgrade and avoid it.
Anyone who has tried to buy a Delta basic economy has seen how difficult they make it to actually buy that fare. They're practically pleading with you to pay more for a normal ticket.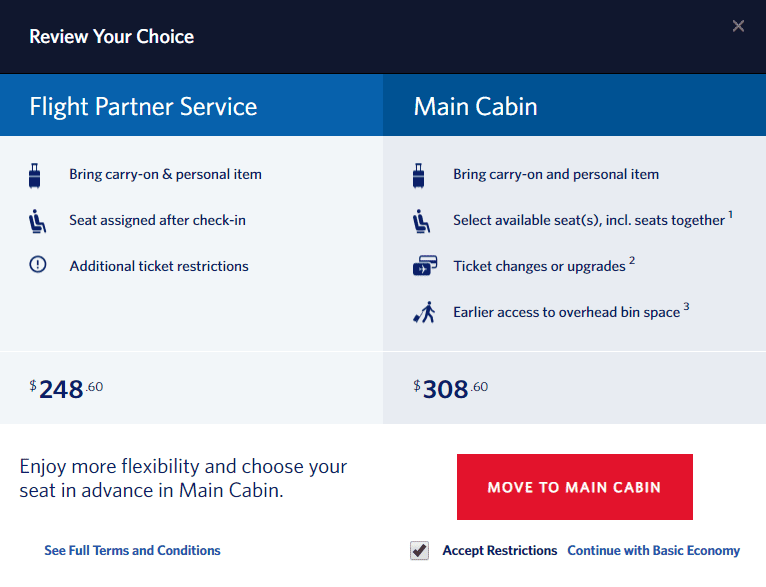 The big airlines began rolling out these fares in 2013, starting with Delta. It was their way of competing with budget carriers like Spirit and Frontier, teasing lower prices and more choices for travelers in exchange for fewer frills or benefits.
In reality, these fares have simply driven a standard economy ticket higher. Basic economy passengers pay the old price of a normal economy ticket, and simply get less. American Airlines President Robert Isom made that painfully clear last year, telling CNBC: "Basic economy is not a price cut,"
Our Analysis 
Basic economy is a mirage.
These tickets are an illusion, promising lower prices to compete with the likes of Spirit Airlines. That illusion gets travelers in the door when they might otherwise opt for the budget carriers that have given major domestic airlines like Delta, American, and United some competition.
When the mirage works and travelers click on that basic economy fare, the airlines hit them with the upsell effort. This is what basic economy fares were designed to do, and it's clearly working. Basic economy is here to stay. And sadly, it might even be expanding: Delta is toying with selling basic economy fares when you use your SkyMiles.
Remember: There are ways to beat basic economy. Carrying an airline's co-branded credit card – like the Delta SkyMiles Gold American Express Card – gets you a free checked bag and priority boarding.
Bottom Line
Wise up to the airlines' game. Basic economy is designed to make you pay more, not less.