Alright, so this isn't a travel deal. And it won't be for everyone. But if you want to get some top-notch wine at a big discount, this one is for you.
The trick is shopping through wineaccess.com and stacking two offers to cut your order by 50%. Using a referral link will get you $50 off your first order of $150 or more. And with a new Amex Offer, you can get another $50 back on an order of $150-plus.
Adding up those discounts, you can score $200 in wine for just over $100 after taxes. You can drop the cost even more by using a shopping portal plugin like Rakuten, going through Topcashback, or even earn extra Delta SkyMiles.
These wines will impress anyone from the newbie all the way up to the master sommelier. Keep reading and we'll walk you through how to get them for half the price.
Wineaccess.com Basics 
Wineaccess.com is a website that allows you to buy wine directly without an annoying subscription. When you order at least $120 (or 6 bottles of wine), you also get free shipping.
Their base pricing might be higher than you'll find at your local liquor store. But using this deal, you can pick up some great wine at a big discount. It's worth noting that wineaccess.com only ships to the following states:
Alaska, Arizona, California, Colorado, Connecticut, District of Columbia, Florida, Georgia, Hawaii, Idaho, Illinois, Indiana, Iowa, Kansas, Louisiana, Maine, Maryland, Massachusetts, Michigan, Minnesota, Missouri, Montana, Nebraska, Nevada, New Hampshire, New Jersey, New York, North Carolina, North Dakota, Ohio, Oregon, Pennsylvania, South Carolina, Tennessee, Texas, Vermont, Virginia, Washington, West Virginia, Wisconsin, and Wyoming.
Now, let's get to the deal.
Step #1: Wine Access Refer A Friend
The first step to take advantage of this deal is using wine access's generous referral program. Through their referral program, you'll get $50 off your first order of $150 or more in wine. We also get a $50 credit, so it helps us and helps you too!
If you add $150 of wine to your cart, the cost will come down to $100 assuming you use our referral link. The referral discount is automatic.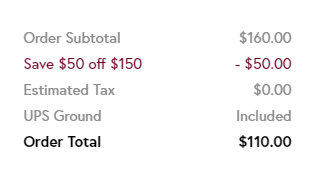 But you can take it a step farther and get even more wine for the same price.
Step #2: Amex Offer for $50 off a $150-$200 Purchase at wineaccess.com 
We're huge fans of Amex Offers. They are a great way to save money on your spending, and an easy way to justify credit card annual fees. And this one works perfect.
Right now, there is a targeted offer to get $50 dollars back on a purchase of $150 or more at wineaccess.com. When you combine this with the referral bonus mentioned above, it is now possible to get $100 off of a $200 wine purchase. The offer must be used by Feb. 19  but can be used up to three times.
Not familiar with Amex Offers? See our full guide on how they work.
You could also be targeted for a "Spend $200+, get $50 back" offer that would require a bit more spending.
If you haven't used Amex Offers before, simply log into your American Express account and scroll down near the bottom of the screen and there should be a box called Amex Offers & Benefits (this is available through the Amex mobile app as well). If you see an offer you like, simply add the offer to the card and make a qualifying purchase at that business with your card. You should receive a statement credit for the offer within a few days of making a purchase.
So be sure to add the offer to your card before finalizing your purchase. 
Step #3: Use TopCashBack to Receive an Additional 10% Off
While using the two deals mentioned above already makes this a fantastic deal, there is a way to make it even cheaper.
TopCashBack, one of our favorite cash back portals is currently offering 10% off purchases at wineaccess.com for new customers. That means if you first click through TopCashBack on your way to making your purchase, you will receive 10% cashback on the total cost of your purchase. If your order was $150 ($200 minus the $50 referral credit), you would receive $15 cash back!
This is in addition to the $50 back you will receive from the Amex Offer. The one downfall of TopCashBack is that it can take up to twelve weeks to collect your cashback funds.
Don't have a TopCashBack account yet? You can sign up and create one here.
Bottom Line
Just because it's not a travel deal doesn't mean it's not a bargain. If you like awesome quality wine at low prices, stacking these discounts is a no-brainer. Stacking all three offers allows you to get up to $250 of wine for about $130. Don't wait long on this one – deals like this are rarely available for long.