American Express just added a great new offer for flights with Alaska Airlines. Spend $300 or more at Alaska Airlines and you'll get $60 right back. 
Just log in and add this offer to one of your American Express credit cards, then use that card to book an Alaska Airlines flight – or flights! The one-time statement credit should kick in automatically, saving you up to 20% on Alaska flights.
Amex offers like this one are targeted, so not every traveler will see them in their Amex accounts, although this one appears to be fairly widely available. Log into your American Express account and check to see if it's listed among your offers. We're seeing this offer available on cards that earn Membership Rewards points and even on some co-branded Delta, Marriott, and Hilton American Express cards.
This Alaska Airlines Amex Offer is good through Dec. 17. But that doesn't mean you need to fly by then: Once you add the offer to your card, just make $300-plus in purchases directly with Alaska before the end date for future travel and you're golden.
And keep in mind this offer doesn't need to be completed in one transaction. As with all Amex offers, you can reach the spending requirement over multiple Alaska Airlines purchases as long as you make them before the expiration date. Airfare, upgrades, seat selection fees, and baggage fees all count toward that $300 threshold – hotel, car services, travel packages, and travel insurance do not. Buying a lounge membership or Alaska Mileage Plan Miles won't trigger this Amex offer either.
Where to Find Amex Offers
If you haven't used Amex Offers before, simply log into your American Express account and scroll down near the bottom of the screen and there should be a box called Amex Offers & Benefits. You can do this when logged into your Amex account on either the desktop version of the site or the mobile app.
If you're using the desktop version of the American Express website, you'll find Amex Offers about halfway down the homepage. Here, you can view all the Amex Offers that are currently available, see which ones you've already added to your card, and even review your lifetime savings with the Amex Offers program.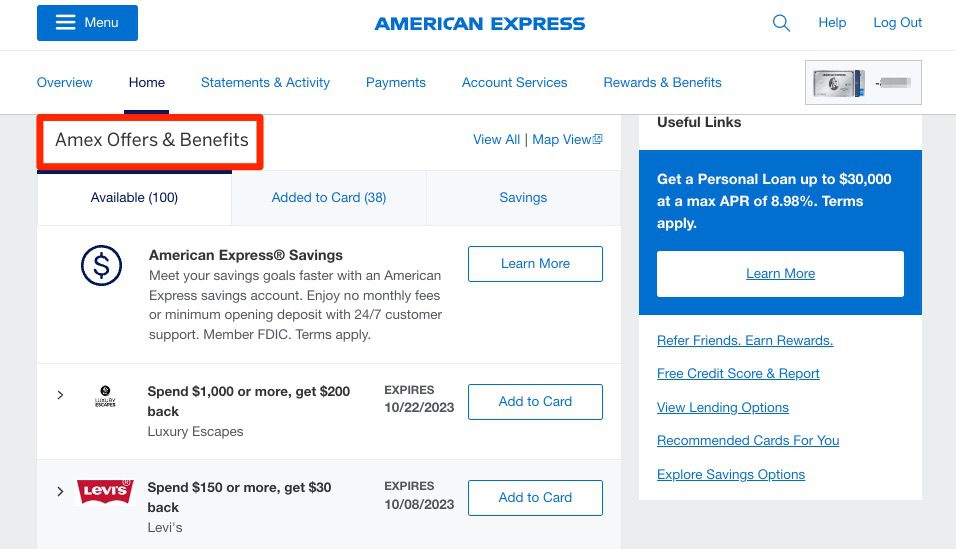 If you're logged in to your account on a mobile device using the Amex app, you'll find a tab at the bottom with all your available Amex Offers.
Just remember that if you have multiple Amex cards, you'll need to toggle through them all, as the offers will be different for each card. If you see an offer you like, simply add the offer to the card and make a qualifying purchase at that business with your card. You should receive a statement credit for the offer within a few days of making a purchase.
Thrifty Tip: Amex displays a maximum of 100 offers at a time. If you're not seeing the one you want, try adding a handful to your card, logging out, and then logging back in to see if you get some new ones!
Not familiar with Amex Offers? See our complete guide to using Amex Offers.
Bottom Line
Amex Offers like these can be a great way to save money on flights. And this is one of the best we've seen for Alaska Airlines in many years.
Check your various American Express credit cards for this offer, then add it and use that card to book Alaska flights. Spend $300-plus on Alaska Airlines flights by Dec. 17 and you'll get a $60 statement credit right back.
But act fast! These offers tend to change daily or vanish when many travelers add them to their cards, so add this one now before it disappears.