Some destinations always get travelers buzzing. We get asked all the time about finding flight deals to Florida, Hawaii, London, and Japan … but then there's Italy, which seems more popular than ever.
It's also cheaper than ever. As flight prices all across Europe have dropped, we've seen an explosion of flight deals to Italy for trips in 2024 – a trend that our Thrifty Traveler Premium members must love. And the deals include dirt-cheap flights to Italy in economy as well as lie-flat business class seats you can book with points and miles.
There have been plenty of sub-$400 roundtrip flights to Rome from across the country as well as ultra-rare fares to Sicily or the Amalfi Coast for under $600 roundtrip. If you want to get to Italy in style, we've recently found discounted business class fares and points deals bookable for under 60,000 miles apiece!
Let's take a look at all the great ways you can make your way to Italy next year for less.
Get the next great flight deal for even less: Sign up for free cheap flight alerts and get our exclusive Black Friday sale!
Cheap Fares to Rome, Milan & Venice
Roundtrip flights to Italy can cost you $1,000 or more, depending on where you're coming from. While it might be easier to grab a deal closer to $600 or $700 from East Coast hubs like New York, D.C., or Miami, that's no sure thing.
But earlier this month, the airlines started dropping prices to fill seats flying overseas. Then the other airlines dropped their prices … leading the competing airlines to drop their fares a little more … which led the other airlines to … OK, you get it by now.
Anyways, here's the result.

And that's not just a cheap flight to Italy from New York or Boston. No, it included super-low fares to Italy from more than 100 U.S. and Canadian airports all across the continent.

Start getting cheap flights to your inbox like this one!
This sizzling flight deal was just the first of many. Some of these fares are still kicking, but most of them evaporated in a matter of days. But the deals just keep coming.
Spring break in Rome, anyone?

Get Off the Beaten Path in Italy
Rome (FCO) and Milan (MXP) are your best bets at getting a low fare to Italy … usually.
This month, a few other popular Italian cities benefitted from some spectacular fares, connecting U.S. travelers with some of the coolest destinations in all of Europe.

A cheap flight to Naples (NAP) is exactly what I'm talking about here. While Naples itself is a marvelous city, it's just an hour away from the dreamy Amalfi Coast. You don't have to be rich and famous and flying in a private jet to get there anymore!

These prices are gone now – get the next one in your inbox with free cheap flight alerts!
We never see fares like this to Naples, and travelers from Pittsburgh (PIT) to Portland (PDX) could make their Amalfi Coast dreams a reality thanks to this deal with fares under $500.
Another destination where we rarely see cheap fares is the island of Sicily. That has changed, too.

This flight deal blew our minds. When we saw sub-$600 fares to Catania (CTA) and Palermo (PMO) from major airports like Atlanta (ATL) and Chicago-O'Hare (ORD), we were ecstatic.
And then we started searching deeper…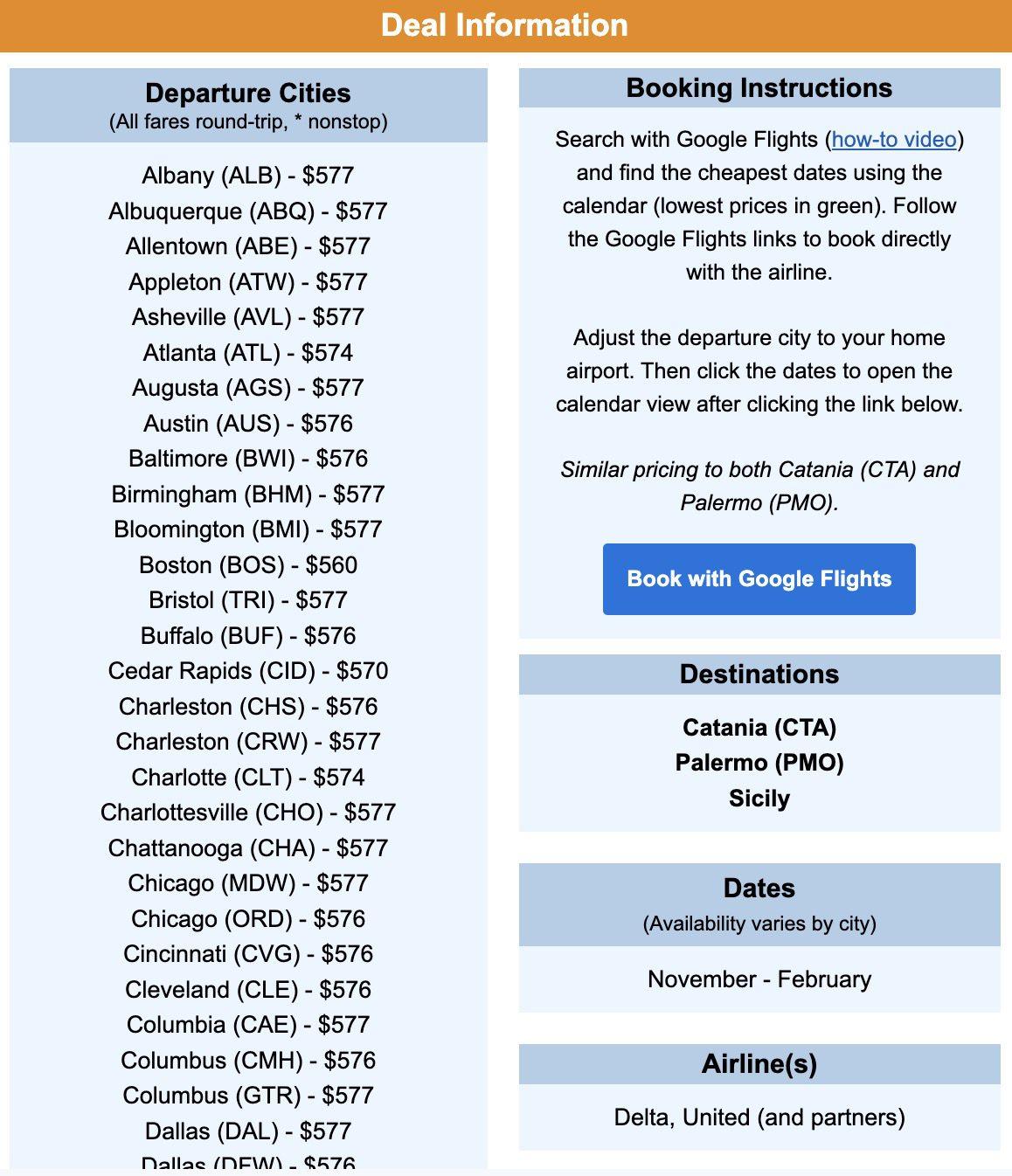 I'd be willing to bet our subscribers in Chattanooga (CHA) never believed a sub-$600 flight to Sicily from their home airport was possible. Honestly, I had my doubts, too. Not anymore, though!
Lie-Flat Business Class Deals to Italy
Everyone loves a cheap flight to Italy, but I'll do you one better: Flying lie-flat business class seats to Italy.
Start with sipping some champagne at the lounge followed by a pre-departure beverage onboard, some white table-clothed meal service at 35,000 feet, and a good night's sleep in your own bed before waking up in Italy. Sounds nice but expensive, right?
Wrong.

ITA Airways flies nonstop to Rome (FCO) and Milan (MXP) from several U.S. cities with some excellent business class seats at the front of the plane. You can book them with Virgin Atlantic Flying Club points – some of the easiest points to earn because you can transfer them from Chase, Amex, Bilt, Capital One, or Citi.
It'll cost you just 75,000 or 85,000 Virgin points each way, depending on your departure city. But thanks to a 30% transfer bonus to Virgin, you could have booked these seats for as few as 58,000 Chase points!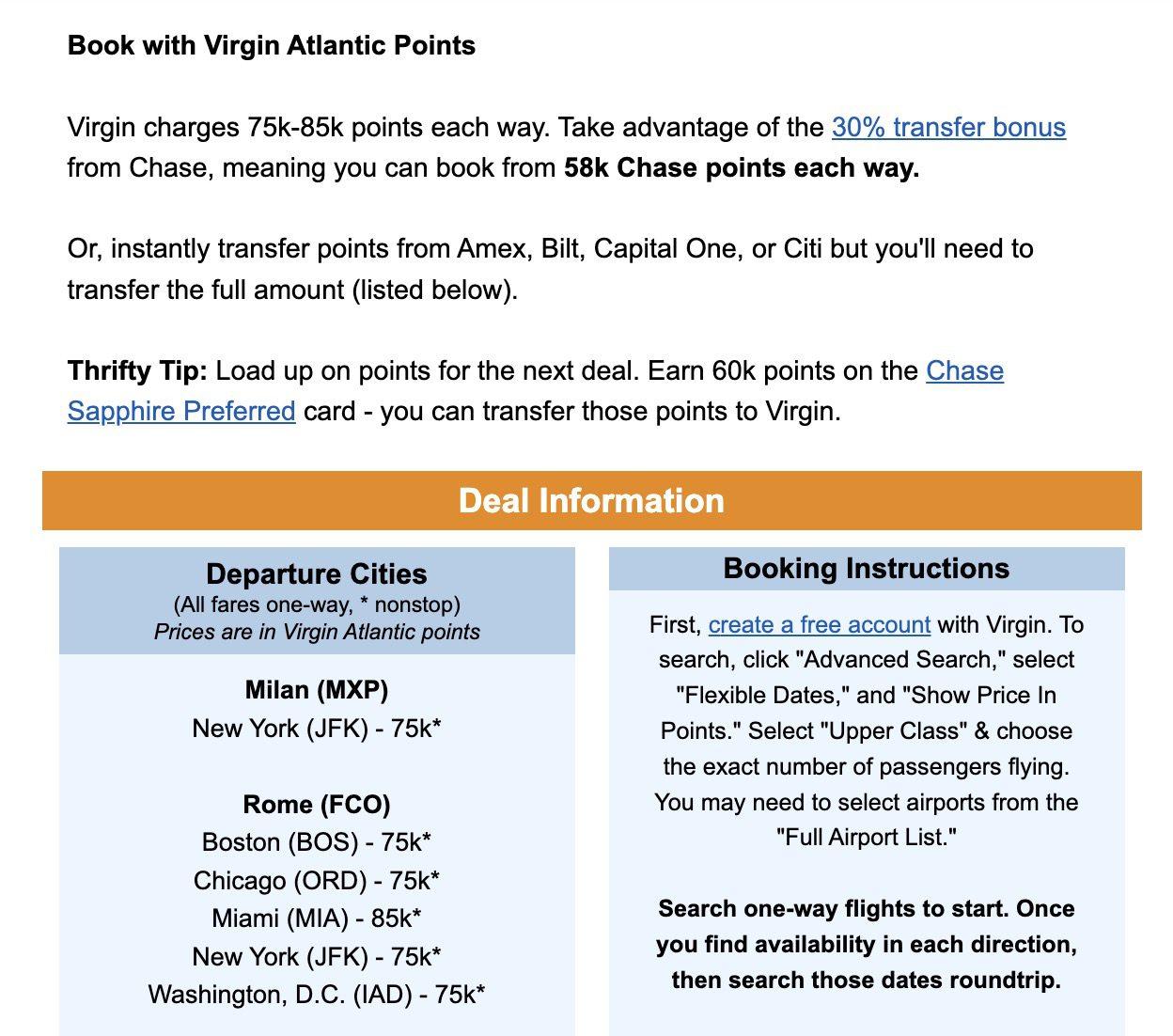 It's a super swanky way to fly to Italy. And that's just the start.
La Compagnie is an all-business class airline. That's right: No economy, only business class seats onboard. As you can imagine, it leads to some great service and a smooth flying experience over to Italy.
The airline doesn't slash fares very often … but we always catch them when they do! Lie-flat fares straight to Milan (MXP) for under $2,000 are tough to beat – especially when it can put you in Italy over Christmas or New Year's!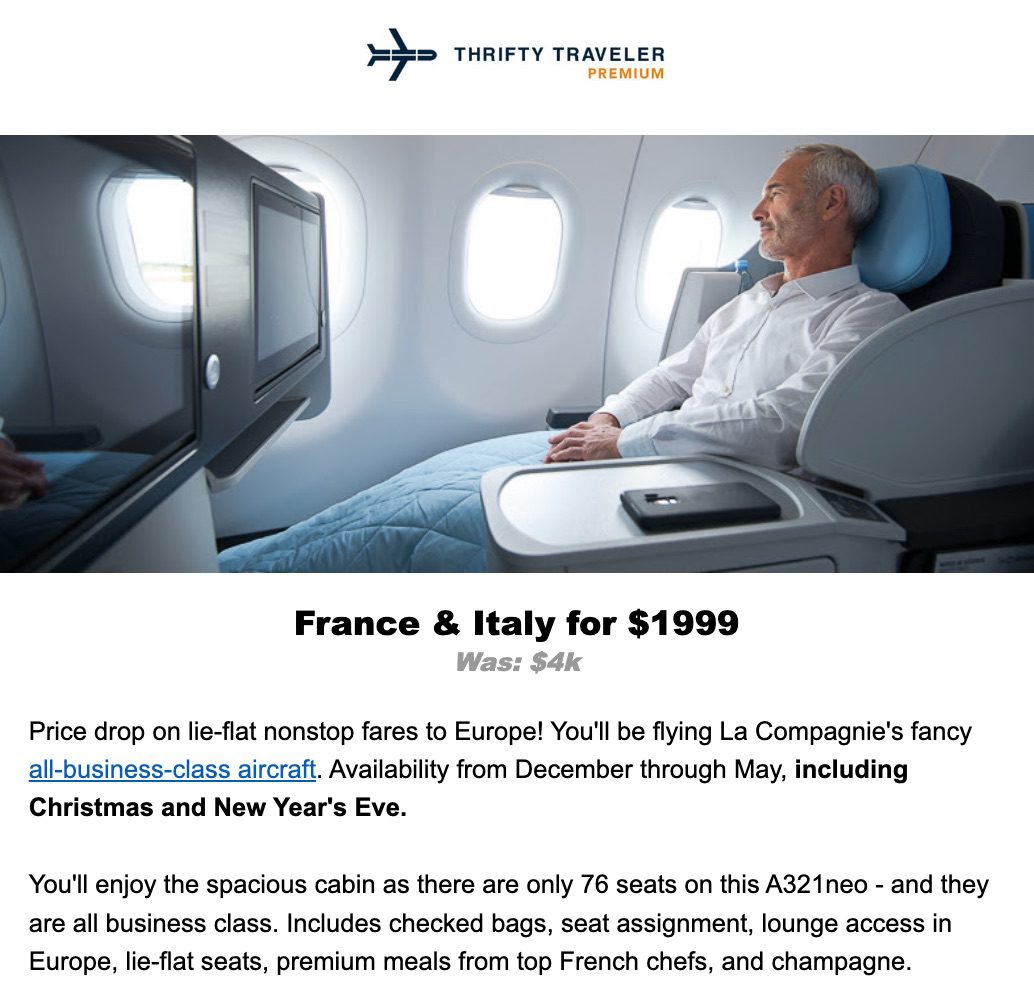 What's that? You'd rather head for Italy in the summer? No problem: We found an outstanding deal over June, July, and August, too.


These fares are typically closer to $4,000 or $5,000, especially during the middle of July. So if you've ruled out a lie-flat seat for your next Italy trip – think again!
Bottom Line
Everyone wants to go to Italy – we get asked about it nonstop. And now we have the best answer: Flight deals to Italy are easier to find than they've been in years … maybe ever.
From lie-flat seats to $395 roundtrip fares in economy, right now could be your best best to book a trip to Italy for 2024.