American Express opened the transfer bonus floodgates this month, launching 12 different transfer bonuses (of up to 40%) to some of the best Amex transfer partners. Where do we begin?!
This is absolutely unprecedented. There are so many opportunities to put your Amex Membership Rewards points to use with some extra value for future travel, as these bonuses are basically like getting free airline miles. Those points come from credit cards like the Platinum Card® from American Express or the American Express® Gold Card – co-branded Amex cards from Delta and Hilton won't cut it.
We could go on for days, but here are nine of our favorite ways to capitalize on these transfer bonuses before they disappear.

A Breakdown of Amex's Ongoing Transfer Bonuses
In all, American Express is currently offering 12 different bonuses on transfers to airline and hotel partners. Here's a look at all of them.

| Airline/Hotel | Bonus | Expires? |
| --- | --- | --- |
| Aer Lingus Avios | 40% | Sept. 30, 2021 |
| Aeromexico | 25% | Sept. 30, 2021 |
| Air Canada Aeroplan | 20% | Sept. 30, 2021 |
| Air France/KLM Flying Blue | 25% | Sept. 30, 2021 |
| Avianca Lifemiles | 15%* | Sept. 30, 2021 |
| British Airways Avios | 40% | Sept. 30, 2021 |
| Hawaiian Airlines | 25% | Sept. 30, 2021 |
| Iberia Avios | 40% | Sept. 30, 2021 |
| Qantas | 20% | Sept. 30, 2021 |
| Virgin Atlantic | 30% | Sept. 30, 2021 |
| Hilton Honors | 30% | Oct. 31, 2021 |
| Marriott Bonvoy | 30% | Oct. 31, 2021 |
Not sure where to start? Read our guide to Amex transfer partners to see how it's done!
As you can see, all these airline transfer bonuses run through the end of September. Transfer bonuses to Hilton and Marriott, meanwhile, last through October.
Any transfer bonus is great, as they're essentially an easy way to get some free airline miles – or hotel points. But before you start transferring your Amex points willy-nilly, there are two important things to keep in mind:
These transfers are a one-way street! Once you send points to one of these partners, you can't get them back. That means it's critical to first scope out award availability and ensure the flights you want to book are there. Check first, transfer second.
Don't transfer points without a redemption in mind. Getting bonus miles is great, but it's rarely worth transferring points just for the sake of earning extra miles. Because transfers are a one-way street, that kind of speculative transfer tends to be a bad idea.
Not all points and miles are created equally, and neither are transfer bonuses. Don't get drawn in by an eye-popping bonus. For example, getting 2,600 Hilton Honors points for every 1,000 Amex points with this bonus may seem amazing … but Hilton points don't get you as much value as many other airline miles. So even with that big bonus, you're probably better off looking elsewhere.
But with a dozen different options, the world is quite literally your oyster. Here are some of our favorite ways to capitalize.
West Coast to Hawaii for 19k RT
One of the cheapest ways to book flights to Hawaii involves … British Airways?
That's right: You can book flights to Hawaii with miles from the massive U.K. carrier, using British Airways Avios to fly American Airlines out to the islands.
While American Airlines frequently charges 45,000 AAdvantage miles or more for these flights, you can fly from the West Coast to Hawaii for just 26,000 Avios. Factor in the 40% transfer bonus, and you need just 19,000 Amex points to make it happen. 
The trick to getting these ultra-low rates is starting your search in either Los Angeles (LAX) or Phoenix (PHX), both of which have nonstop service to the islands.

Read more on the cheapest ways to get to Hawaii using points and miles!
Availability to book these American Airlines flights via British Airways is typically quite solid – especially if you're looking at least a few months in advance.

Nationwide to Hawaii for 28K RT
It might cost you more points, but this option is arguably even more valuable.
Even though there's no transfer bonus to Delta SkyMiles, you can use it to book Delta flights to Hawaii. The trick is using miles from Air France/KLM Flying Blue, which charges just 35,000 miles for roundtrip flights to Hawaii. Factor in this transfer bonus, and you need to transfer just 28,000 points to a Flying Blue account to pull it off.
The beauty of this redemption – beyond the low cost – is just how versatile it is. Nonstop flights from the West Coast to Hawaii? That's 35,000 miles. One-stop flights from Minneapolis-St. Paul (MSP) to the islands and back? Still 35,000 miles. Two-stop journey from a small regional airport? Also just 35,000 miles.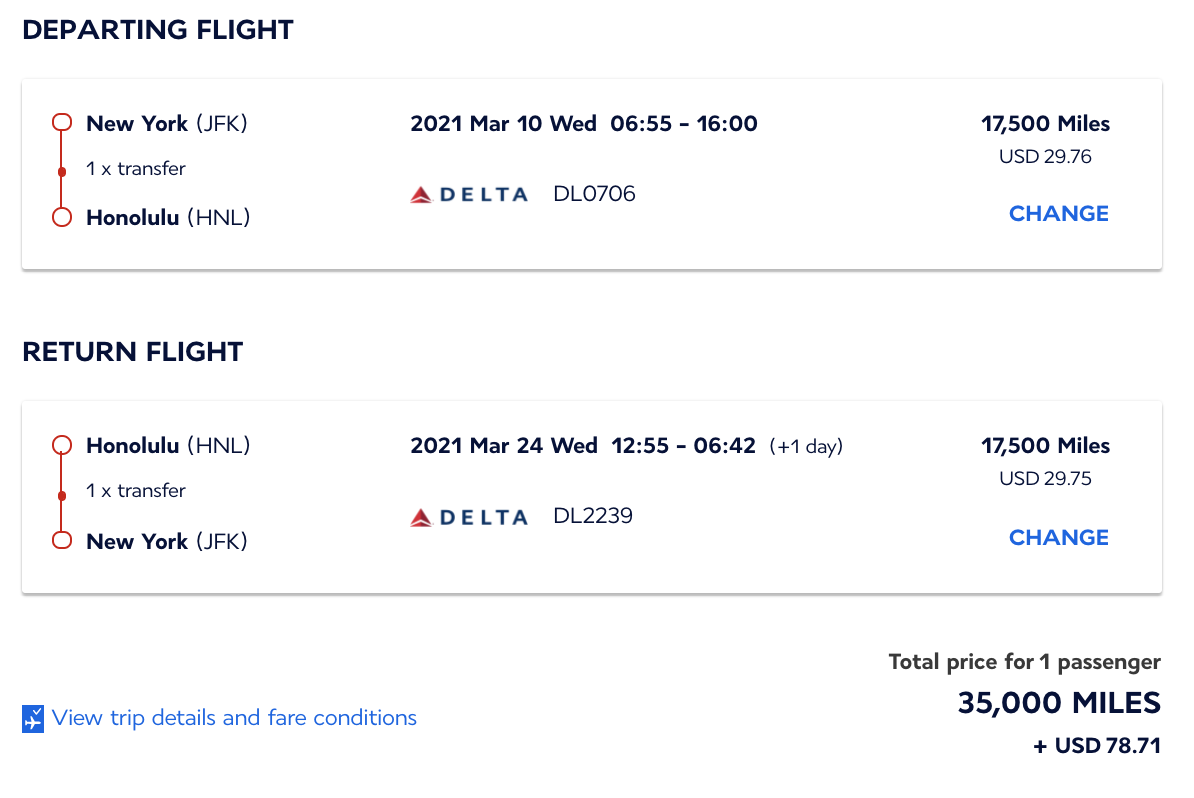 Booking these awards can be a bit of a pain, but it's easily worth the extra legwork to book flights to Hawaii for 28,000 points – especially since Delta would charge 50,000 SkyMiles or more for these exact same flights.
You'll have to be flexible, as availability on these Delta flights through Flying Blue can be tricky. And using Air France or KLM's websites to find these awards requires some patience. But don't get scared off.
Read our full guide to booking Delta flights to Hawaii, and you'll pick up all the tricks you need to make it happen.

Roundtrip to Spain for 25K Points
Most airlines charge about 60,000 to 70,000 miles to fly from the U.S. to Europe and back. One airline can get you there and back for half that price.
It's Iberia, the Spanish flag carrier. Depart from the right cities and at the right time, and you can score round-trip flights straight to Madrid (MAD) for just 34,000 miles plus about $100 in taxes and fees. With a 40% transfer bonus to Iberia, that reduces your all-in cost to just 25,000 points. 
The trick? Iberia's distance-based award pricing system means you have to start your journey from the East Coast hubs of Boston (BOS), or New York City (JFK). Luckily for Midwesterners, Chicago-O'Hare (ORD) still works at this price, too – despite some recent troubling signs. Departing from other Iberia outposts like Miami (MIA), San Francisco (SFO), or Los Angeles (LAX) will cost you more miles.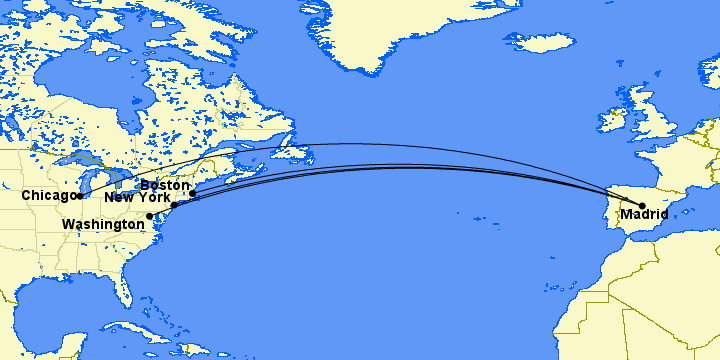 Thrifty Tip: Don't live in one of these cities? Use a positioning flight to get there and then book your flights to Spain separately.
You also need to time it right. Iberia uses peak and off-peak pricing, which means getting these cheap flights at 34,000 miles requires traveling during the off-peak season. Luckily, Iberia's definition of "off-peak" is typically quite generous: It means you can fly at the lowest rates for nearly 2/3 of the year. Mid-June through mid-September are generally considered peak summer season, with some scattered weekends and holidays blocked off, too. Check out Iberia's full calendar to scope out the dates.
In all, it's not hard to find dates in the for 34,000 miles round-trip. And that means you need to transfer just 25,000 points.


Oh, and one of the best parts about booking with Iberia miles? You can book flights almost a year in advance! Hello, spring 2022 plans! Make plans to explore Madrid, head to Barcelona, or hop onward throughout Europe using Madrid as your starting point.
Read more: How to Fly to Europe for Just 34K Miles RT with Iberia Airlines
Iberia Biz Class to Europe and Back for 49K Points
At 34,000 miles each way, flying Iberia business class between the East Coast (or Chicago) to Madrid (MAD) is one of the best deals in the world of points and miles. With a 40% transfer bonus to Iberia Avios, the best somehow gets even better.
That bonus brings your final tally to just 25,000 points for a one-way business class flight – or 49,000 points roundtrip! That's a roundrip flight in business class for less than what almost every other would charge you to fly in economy.

Read our full review of Iberia business class!
Iberia business class won't win awards for the best in the world, but it's a solid, roomy seat with good food and service – it beats flying economy any day of the week. And at this price, you cannot beat it.
Booking Iberia business class flights follows the same script as the economy example above. Focus on flights from New York City, Boston, and Chicago to Madrid to get the lowest rates. Off-peak travel times are key.
Better yet, there's plenty of Iberia business class award availability deep into 2022 thanks to a glut of space we alerted our Thrifty Traveler Premium members to last week. That should make it easy to book your roundtrip flights to Spain in style using just 49,000 Amex Membership Rewards points.
Need more info? Read our guide to booking Iberia business class! 
Business Class to Tokyo From 70K Points RT
Tokyo may not be on your radar for a trip in the near future, but these transfer bonuses are a perfect opportunity to start planning a big trip in 2022. And one way to book stands out.
Virgin Atlantic offers one of the best ways to book flights to Japan, using Virgin Atlantic Flying Club miles to fly Japanese flag carrier ANA. It doesn't get much cheaper than this.
From West Coast cities, you can fly ANA business class to Tokyo and back for just 90,000 miles. With the current 30% bonus on transfers to Virgin Atlantic, that's just 70,000 points! From the Midwest or East Coast, it's 95,000 miles – or 74,000 points after factoring in the transfer bonus.
ANA is one of the world's best airlines. And with the brand new "The Room" business class on select flights from New York City-JFK (JFK) and Los Angeles (LAX), they've undoubtedly got one of the best business class seats, too.

Just be warned: Finding ANA business class award space can be difficult, making flexibility paramount. At times, finding more than one seat per flight is close to impossible. And the booking process isn't as simple as simply going to Virgin's site and searching.
So before you do anything start by searching for award availability on United.com, filtering for nonstop flights from ANA's U.S. gateways like San Francisco (SFO), Seattle (SEA), Chicago-O'Hare (ORD), New York City, and several others. Once you find the flights that work, you'll need to call up Virgin Atlantic at 1-800-365-9500 to book.
Virgin Atlantic typically passes on $200 to $300 or so in taxes for these ANA flights. But that's a pittance compared to the cash cost of these flights.
Read our full guide to booking ANA flights with Virgin Atlantic points!
Or Do it in First Class for 85K Points RT
How about using these transfer bonuses to book flights that typically cost $25,000 or more? This is another one of the best points and miles redemptions in the world.
Rather than booking ANA business class, why not book ANA's incredible first class for the flight to Tokyo for just a few thousands points more? The food, drinks, and service are second to none. And whether you're on one of ANA's refurbished 777s or an older plane, you won't find a more comfortable bed in the sky.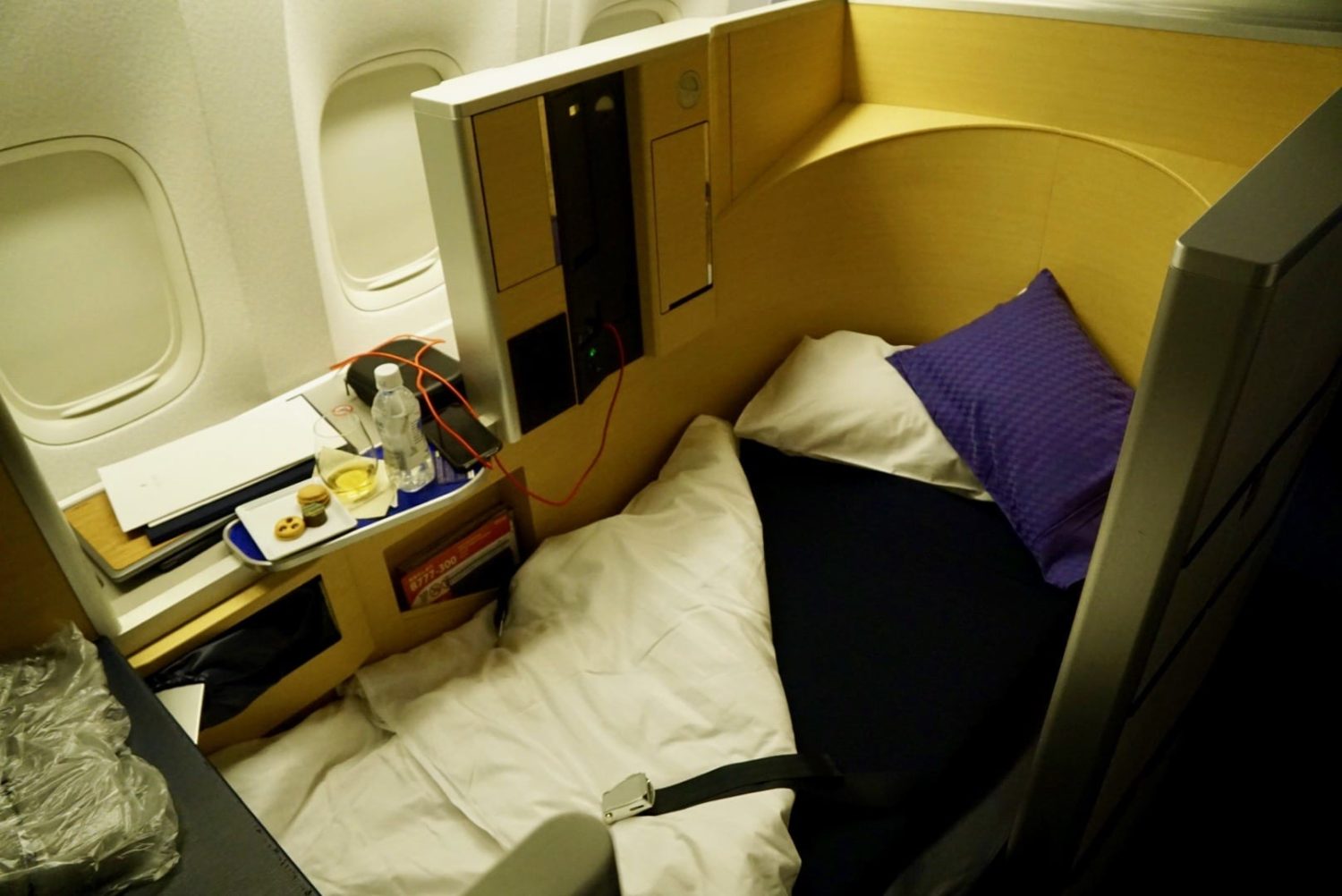 Read our full review of ANA First Class from Chicago-O'Hare (ORD) to Tokyo-Haneda (HND).
Booking through Virgin Atlantic allows you to capitalize on that 30% transfer bonus – and you won't need many more points to do it. From the West Coast, transferring just 85,000 Amex points would get you the Virgin Atlantic points you need to book roundtrip flights to Tokyo in first class. From other U.S. outposts, it'd require transferring just 93,000 Amex points to Virgin Atlantic.
Much like ANA business class, award space for these flights can be hard to come by – especially if you want more than one seat. So be sure to do your research before initiating any transfers.
Swiss or Turkish Biz Class for 48K Each Way
LifeMiles is the quirky mileage program of the South American airline conglomerate Avianca. And even this transfer bonus is quirky. Use it to fly business class on Star Alliance carriers like Swiss Airlines, Turkish, or Lufthansa to Europe for less.
On paper, you get a 15% bonus from American Express when sending your Membership Rewards points to LifeMiles. In practice, it's more like a 32% bonus. That's because LifeMiles has its own 15% bonus on the backend on credit card point transfers. Those two 15% bonuses compound to get you even more miles.
LifeMiles charges 63,000 miles each way for a one-way business class flight – plus just $25 or so in fees, which is incredibly reasonable. Factor in the transfer bonus to LifeMiles, and you can book by transferring just 48,000 Amex points to a LifeMiles account.
There are plenty of Star Alliance airlines you can book through LifeMiles, but two stand out to us: Swiss Airlines and Turkish Airlines. Both carriers have great catering, lounges, and service. Snag a special throne seat if you're flying in Swiss business class. And be sure to watch for Turkish routes flying the Boeing 787 or Airbus A350, which have much better seats than their somewhat outdated Boeing 777 cabins.

As always, be sure that the flights you want are available before transferring points to LifeMiles. And be warned: LifeMiles doesn't always get the same award space as fellow partner airlines like United and other Star Alliance carriers might. So triple-check through LifeMiles that the flights you want are bookable.
Or One-Way to Lisbon in Style for 27K Points
LifeMiles just gets goofier and goofier.
Flying between the U.S. and Europe in business class typically costs 63,000 miles each way … with one exception. You can fly from New York-JFK (JFK) to Lisbon (LIS) in TAP Air Portugal business class for just 35,000 miles – requiring transferring just 27,000 points to book.
And that's it. Every other Star Alliance business class redemption from JFK will run you 63,000 miles. Even the same flight from nearby Newark (EWR) and the return flight from Lisbon back to JFK cost nearly twice as much.
But booking a business class flight to Europe for just 27,000 points? That's one heck of a sweet spot. Consider this: LifeMiles charges just 5,000 miles more to book this flight in business class than they would in economy.


And you're in luck, because the award availability is wide open to make it happen. We recently alerted Thrifty Traveler Premium members to some great award space on this route, with two (or more!) seats available almost every day from late October through June 2022!
Most days TAP flies its new Airbus A330-900neo on this route, which means you'll get the best business class seats TAP has to offer, with lie-flat seats in a spacious 1-2-1 arrangement.

Fly Lufthansa First Class for Less
Lufthansa first class has earned its place on many diehard travelers' and avgeeks' bucket lists. Who doesn't want caviar at 36,000 feet, a ride to straight to your plane in a private Porsche, and an insanely private Lufthansa First Class Terminal, a lounge reserved just for first class passengers.
Although Lufthansa has brought back its first-class equipped Boeing 787-8i's to the U.S., booking these flights can still be a chore, and it's not cheap. But these transfer bonuses give you a few options to do it for less.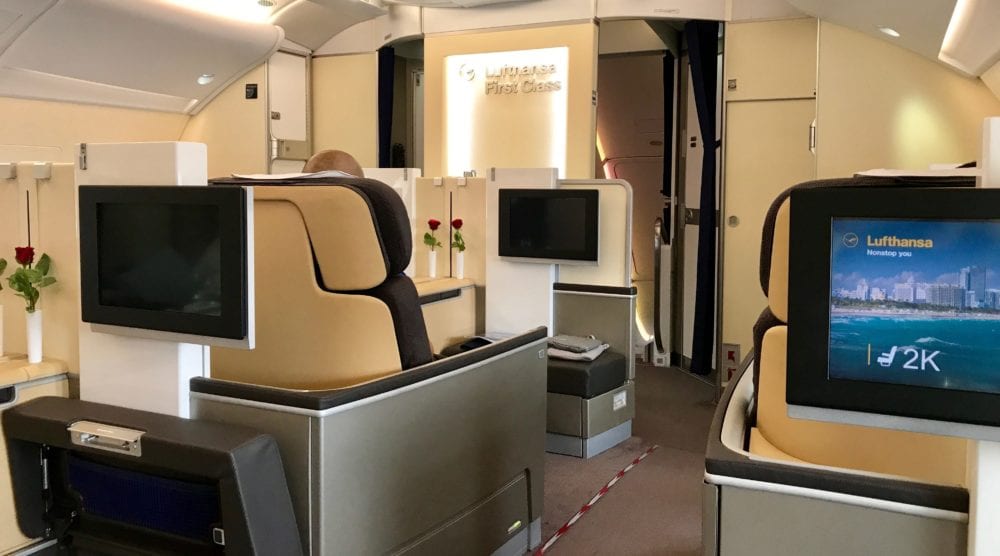 You could book through LifeMiles, which charges 87,000 miles for a one-way flight between the U.S. and Europe – or a bit less if you tack on an extra segment on either end, thanks to the airline's mixed-cabin award pricing. With the 32% transfer bonus to LifeMiles, that works out to just 66,000 Amex points or less! 
Or consider Air Canada Aeroplan, which charges a bit more but could still be a bargain. Most Lufthansa first class flights will run you 100,000 miles each way, while longer flights from the West Coast tally up to 120,000 miles. With a 20% transfer bonus to Aeroplan, that means you can book for as low as 84,000 Amex Membership Rewards.
But don't transfer those points to either Aeroplan or LifeMiles just yet. This is one of the world's most sought-after redemptions, and finding the seats you want is no guarantee.
Lufthansa doesn't release first class award space to partner airline programs until just 30 days before departure. And in our experience, the sweet spots tends to be just five to seven days before departure.
So if you want to capitalize on these transfer bonuses, you'll need to be flexible – and not just when you fly, but where you depart from. Cast as wide a net as you can by searching from Houston-Intercontinental (IAH), Chicago-O'Hare (ORD), and Miami (MIA), along with Los Angeles (LAX) and San Francisco (SFO).
Bottom Line
This slew of Amex transfer bonuses opens up a world of opportunity to use Amex Membership Rewards points to fly for less – especially if you're itching to fly up front in first or business class.
How are you putting these transfer bonuses to use?