Whether you're a diehard American Airlines flyer or swear you'll never set foot on their jets, American AAdvantage miles are worth earning. But the last few weeks have shown it's a great time to have some have American Airlines miles.
Our team searches daily for the best ways Thrifty Traveler Premium+ can redeem their AAdvantage miles for maximum value, and the deals just keep coming. Recent finds include deeply discounted flights to Japan and Europe, including roundtrip flights to overseas hotspots like Paris-Charles de Gaulle (CDG), Barcelona (BCN), and beyond for just 34,000 miles … total. And then there are the amazing ways to book lie-flat business class seats to Japan, the Middle East, and Africa on partner carriers for fewer miles than other airlines charge.
It's an undeniable trend – and, if it continues, a major win for anyone with some AAdvantage miles in the bank. Here's a look at what we've been finding lately.
Cheaper Flights to Europe, the Caribbean & Beyond
American has completed its transition to dynamic award pricing. Award charts that set the price when using miles in stone are long gone, and many points and miles aficionados hate it.
But here's the upside: American Airlines is free to slash award rates as low as they want … and that's exactly what they've been doing. We're finding more and more flash sales with deeply discounted award rates, much like Delta and the SkyMiles flash sales we've loved for years.
Here's just one of many recent finds: Roundtrip flights to Tokyo for just 56,000 miles from cities across the country. Most airlines charge 70,000 miles or more for these fares – including American itself, previously.
Thrifty Traveler Premium+ members get points and miles deals like this one first! 
But these discounted American fares are even better than Delta's for one critical reason. Unlike Delta (and its pesky basic economy awards), these low rates still book into a main cabin fare – not the restrictive American basic economy fares. That's amazing for a few reasons: For starters, it means you can still pick your seat for free. But most importantly, these main cabin award fares are fully refundable.
So when a sale like this stunner to Japan pops up, you can book it straight away and cancel later on if you need to, getting your 56,000 miles (and taxes and fees) right back. Just book it!
It's adhering to the Flights First Rule: our number one tip for booking cheap travel. And American's sales like this one make it even easier to pull the trigger.
Using your points and miles to book flights you can't otherwise afford is what we're all about here at Thrifty Traveler. Europe is the perfect example: Airfare has been through the roof lately. But American Airlines recently came to the rescue with this sizzler of an AA mileage deal to help you out.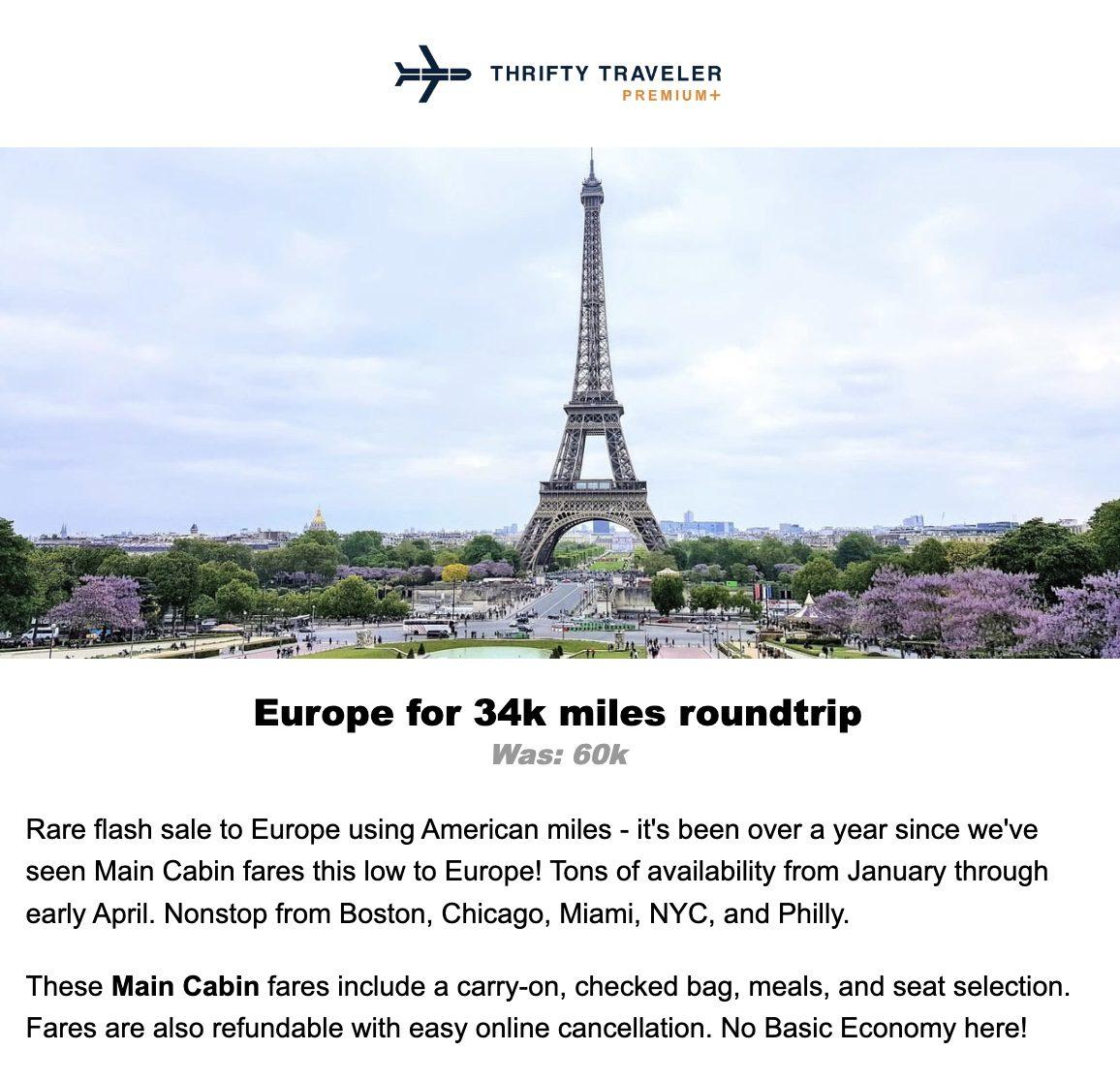 That's right: Just 34,000 miles roundtrip to cities like Paris-Charles de Gaulle (CDG), London-Heathrow (LHR), Barcelona (BCN), Dublin (DUB), and many more. Most airlines charge that (or more) for a one-way flight.
As always, these Main Cabin fares came with a carry-on, a checked bag, meals, and seat selection along with free cancellation. And you could book this deal from dozens of cities at those low rates.
Before, you'd be lucky to break under 50,000 AA miles on fares like these. Lucky for all of us, the folks at AA seem to be doing things differently this year.
What's always been a sweet spot for American is their network of flights to the Caribbean. Using its Miami (MIA) hub, American connects travelers to the picturesque beaches of the Caribbean like no other airline. And because they run so many routes, it's not hard to find a great deal flying to places like Punta Cana (PUJ) or Montego Bay (MBJ) using your AAdvantage miles.
This Dominican Republic deal came at a time when cash fares were creeping into the $600s, $700s, and even $800s roundtrip. Considering those rates, 16,000 AA miles roundtrip is a drop in the bucket.
We have been seeing similar cash flight trends to Jamaica, too. As cash fares soar, flip the switch to your AAdvantage miles to secure roundtrip flights for just 20,000 AA miles instead.
While these Main Cabin fares to the Caribbean don't include a checked bag, you'll still be booking with peace of mind knowing that you can cancel whenever to get your points back in your account. And you can still pick your seat to ensure maximum comfort.
Even ultra-long-haul flights all the way to the land down under occasionally go on sale, like these 70,000-mile roundtrip fares to Auckland (AKL) in New Zealand we found a few weeks back. You're not going to want a middle seat when flying deep into Oceania, and you don't need to worry about it with this deal.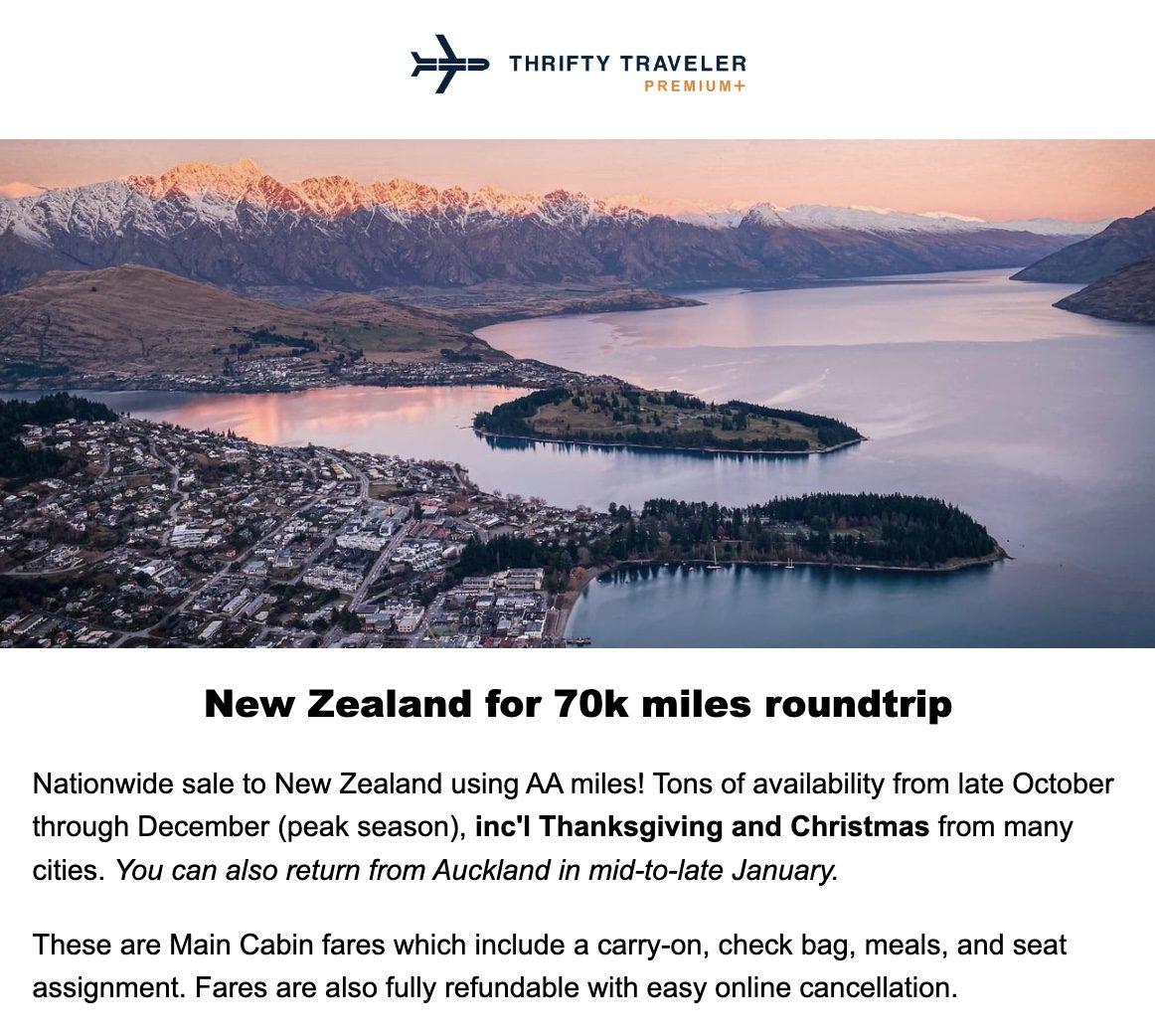 We find flight deals from 200-plus airports in the U.S. and Canada – more than any other flight deal service on the market. And this New Zealand deal was special because it could be booked from almost all of them – at least the ones with American Airlines service. That helped connect tens of thousands of Thrifty Traveler Premium+ subscribers with New Zealand for a trip this year or next.
Or Book AA First & Biz Class at a Discount
With cash fares in the $2,000s and $3,000s, flying business or first class seems like a dream for many travelers. Don't worry: We've seen steep discounts on those fancy cabins using your AAdvantage miles, too.
Watch:
For these long, coast-to-coast domestic flights in the U.S., you can book American Airlines Flagship First Class lie-flat seats for as low as just 42,000 AAdvantage miles each way. That includes all the bells and whistles of first class, including champagne, first class meals, and access to some of the best lounges in the country.
And if you play your cards right, you can book first class seats flying across the Atlantic to London-Heathrow (LHR), too for fewer miles than you'll find through any other airlines.
This American Airlines First Class deal took what were normally $4,500 seats and made them available for 150,000 miles roundtrip instead.
Even Better Deals on Partner Airlines
Read these words: The best way to redeem AAdvantage miles isn't on American Airlines. You can use those miles to book a dozen different partner airlines. And since American is part of the Oneworld alliance, you've got some amazing options.
How about flying Japan Airlines economy – easily one of the most spacious and comfortable seats you can find in the sky – all the way to Thailand for just 75,000 miles roundtrip?
Yep, all the way from Boston (BOS) to Bangkok (BKK) only requires 75,000 AA miles and $69 in taxes and fees. Considering the cash rate on these flights is north of $1,200 right now, that's is a steal.
But the value of using your AAdvantage miles is even better when booking business class abroad on partner carriers. Japan Airlines business class is one of our favorites, and we recently sent yet another alert to Thrifty Traveler Premium+ members to book these cozy suites across the Pacific Ocean next year for just 60,000 AA miles each way!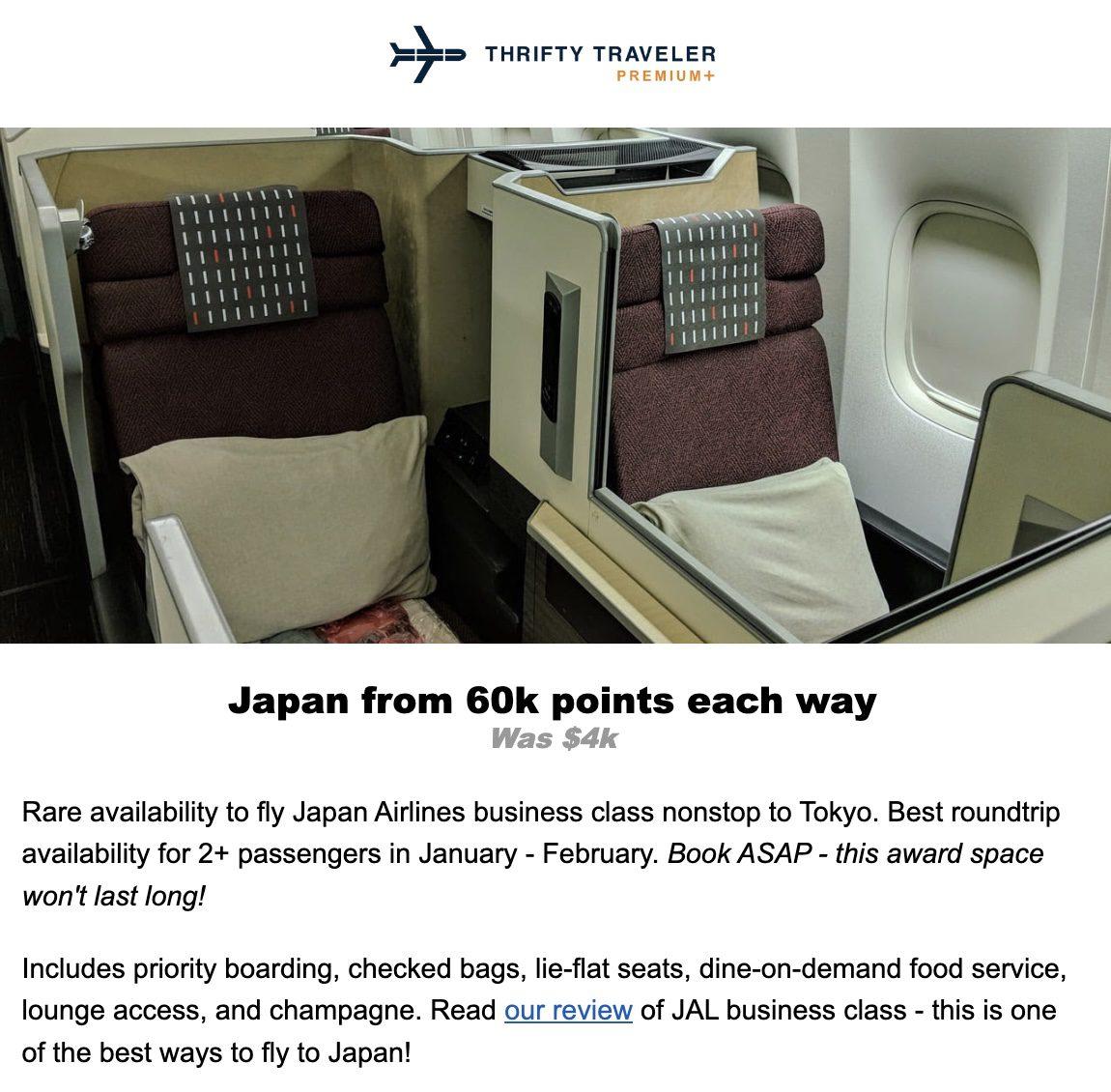 Another fantastic partner of American Airlines is Qantas, the Australian carrier. Qantas also has a bougie business class seat that you can book with AA miles … at least when you can find the award availability. It's one of the hardest redemptions in the world to pull off, so we couldn't believe our eyes when we found seats bookable with AA miles on the coveted Dallas-Fort Worth (DFW) to Melbourne (MEL) route for just 80,000 AA miles.
This amazing deal is long gone – get an instant alert next time with Thrifty Traveler Premium+!
Finally, there is a single best use of AA miles: Qatar Airways Qsuites. It's the best business class in the world, in our opinion, and you can book it from 70,000 points each way if you book far enough in advance – or get an alert from us like this one.
From 70,000 AA miles to the Middle East or the Maldives and just to 75,000 AAdvantage miles to continue all the way down to South Africa, the value you get from flying Qatar Airways is phenomenal. American Airlines AAdvantage miles continue to be some of our favorite ways to book these routes.
How to Earn AAdvantage Miles
You know why AAdvantage miles are worth collecting. Now it's time to start piling them up. But how do you earn AAdvantage miles, besides flying American?
For starters, there's the Citi® / AAdvantage® Platinum Select® World Elite Mastercard® which is currently offering the ability to earn 50,000 AAdvantage miles after spending $2,500 in your first three months of card membership.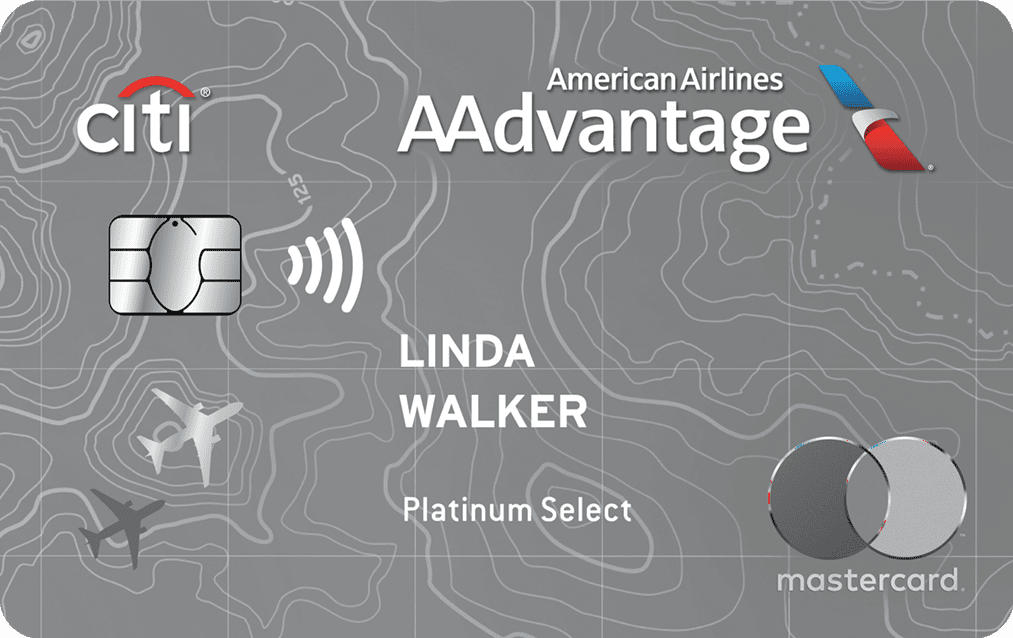 Learn more about the Citi® / AAdvantage® Platinum Select® World Elite Mastercard®
But American Airlines is unique in the fact that they have co-branded credit card relationships with both Citi and Barclays thanks to the merger of American and U.S. Airways a few years ago. For the time being, American has made the decision to continue the relationship with both banks.
That means you've got another option. And few credit cards offer a better, more lucrative welcome offer bonus than the AAdvantage Aviator Red World Elite Mastercard. Just for opening the card and making a single purchase, you can earn 50,000 American Airlines AAdvantage miles. These are some of the easiest miles you will ever earn. The card's $99 annual fee is not waived for the first year.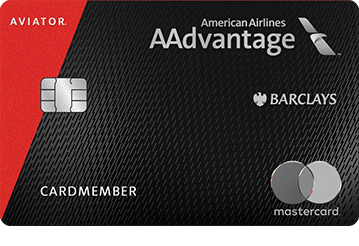 Learn more and apply for the AAdvantage Aviator Red World Elite Mastercard (this is not an affiliate link)
This is significant because you can earn the welcome offer bonus on each card, netting you 100,000 American Airlines miles after spending $2,500 on the Citi AAdvantage Platinum Select Card in the first three months of card membership and making just one purchase on the Barclays card (and paying the card's $99 annual fee).
Bottom Line
Love flying American? You should get some American miles. Can't stand them? You should still get some American miles.
We've seen a slew of incredible deals to redeem AAdvantage miles. That includes some deeply discounted routes flying American to destinations abroad as well as some of the best, tried-and-true partner airlines you can book with those AA miles.
If this keeps up, there's never been a better time to put those American miles to use.