Ultra long-haul flights on Qantas to Australia are about to get much, much more comfortable – at least if you're flying up front.
Qantas pulled back the curtain this week on its new Airbus A350-1000, expected to finally take flight in late 2025. It's an integral piece of what the airline has been calling "Project Sunrise," its mission to launch some of the longest nonstop flights in the world that would connect Australia with both New York City and London.
With flights up to 19 hours long, the emphasis for this new aircraft is on premium, lie-flat seating. Qantas is upping the ante with a brand new, first class cabin: Six private suites, each outfitted with a shoulder-height door, personal wardrobe, and a separate bed. Business class suites will have doors too, along with a new look and new features like wireless charging and a touchscreen seat control.
Details on the rest of the plane are sparse. But, new premium economy seats are on the way and standard economy seats should give flyers a bit more legroom than your typical plane. There'll also be a dedicated "Wellbeing Zone" for passengers to stretch out, and Qantas is promising everyone onboard will have access to free, high-speed Wi-Fi.
"Qantas has been the leader in opening up new long-haul flights for most of our history, and we're bringing everything we've learned, both technically and in terms of passenger comfort, to Project Sunrise flying," Qantas CEO Alan Joyce said in a statement. "We think our A350 cabins have the most sophisticated and thoughtful design of any airline, combining cutting-edge technology with sleep research to shape the look and feel for what is effectively a new era of travel."
Here's a closer look at what Qantas has on tap for flyers at the front of the plane.
6 Private First Class Suites
Qantas is doing something different with its new first class suites on these ultra-long-haul routes. Check it out.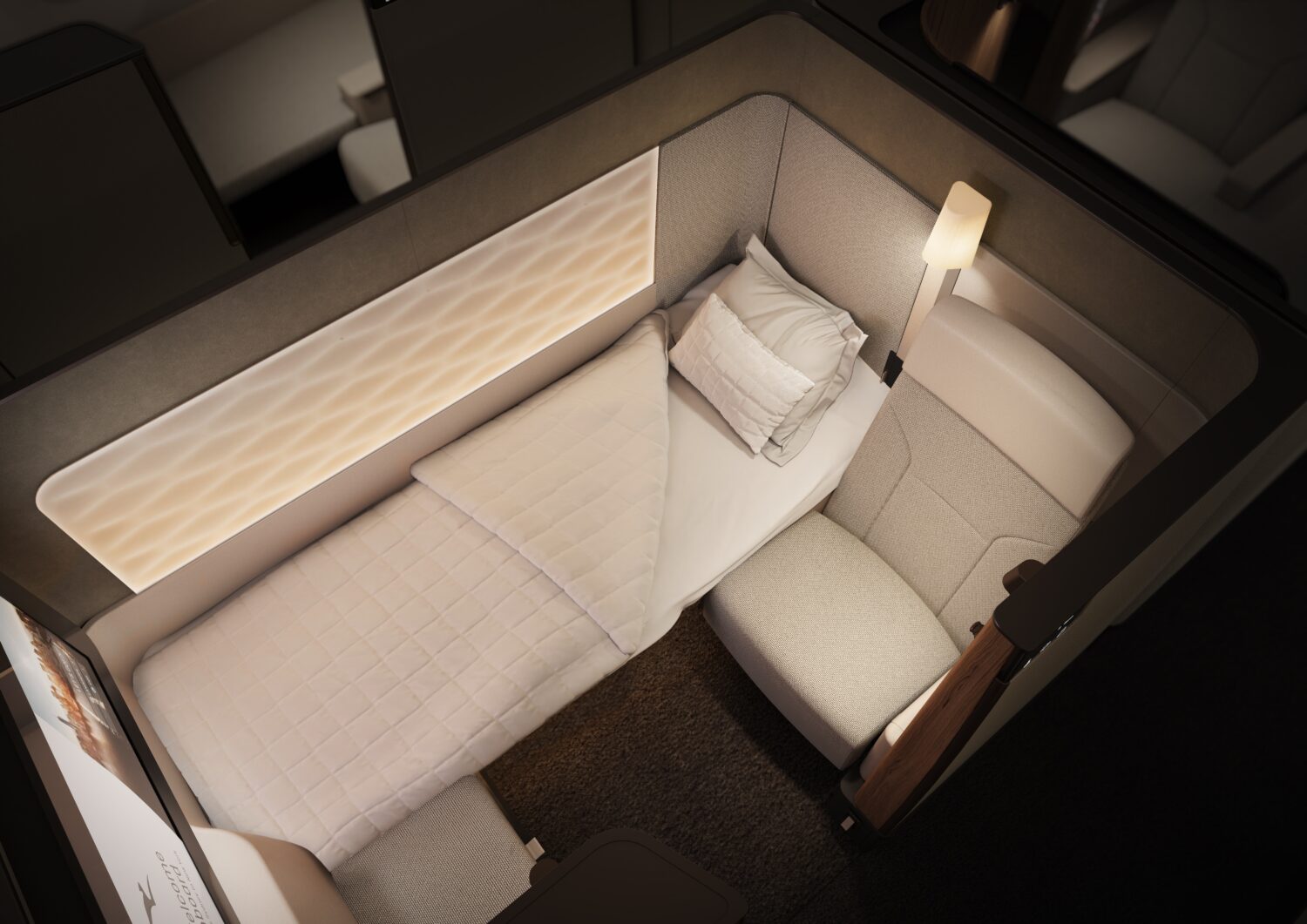 Seat? Check. Bed? Check. Snoozing in what looks like a separate twin bed? You don't see that on a plane every day.
Now, Qantas isn't exactly breaking new ground here. Separate beds are hallmarks of the new Singapore First Class suite and Etihad First Class Apartment, both on their Airbus A380s. Heck, Lufthansa First Class had a seat-and-bed setup more than a decade ago.
But, it's what Qantas is doing with that space that makes it stand out. Each recliner seat is still 22 inches wide, so it's not overly cramped. You can dine face-to-face with a companion inside your own suite. Not only is there a door and shoulder-high walls for more privacy, but there's also a dedicated wardrobe. Plus, the whole suite is decked out with a beautiful color palette of soft whites, forest green, and wood grain.
There will be just six first class suites on these planes, with two rows at the front laid out in a 1-1-1 configuration.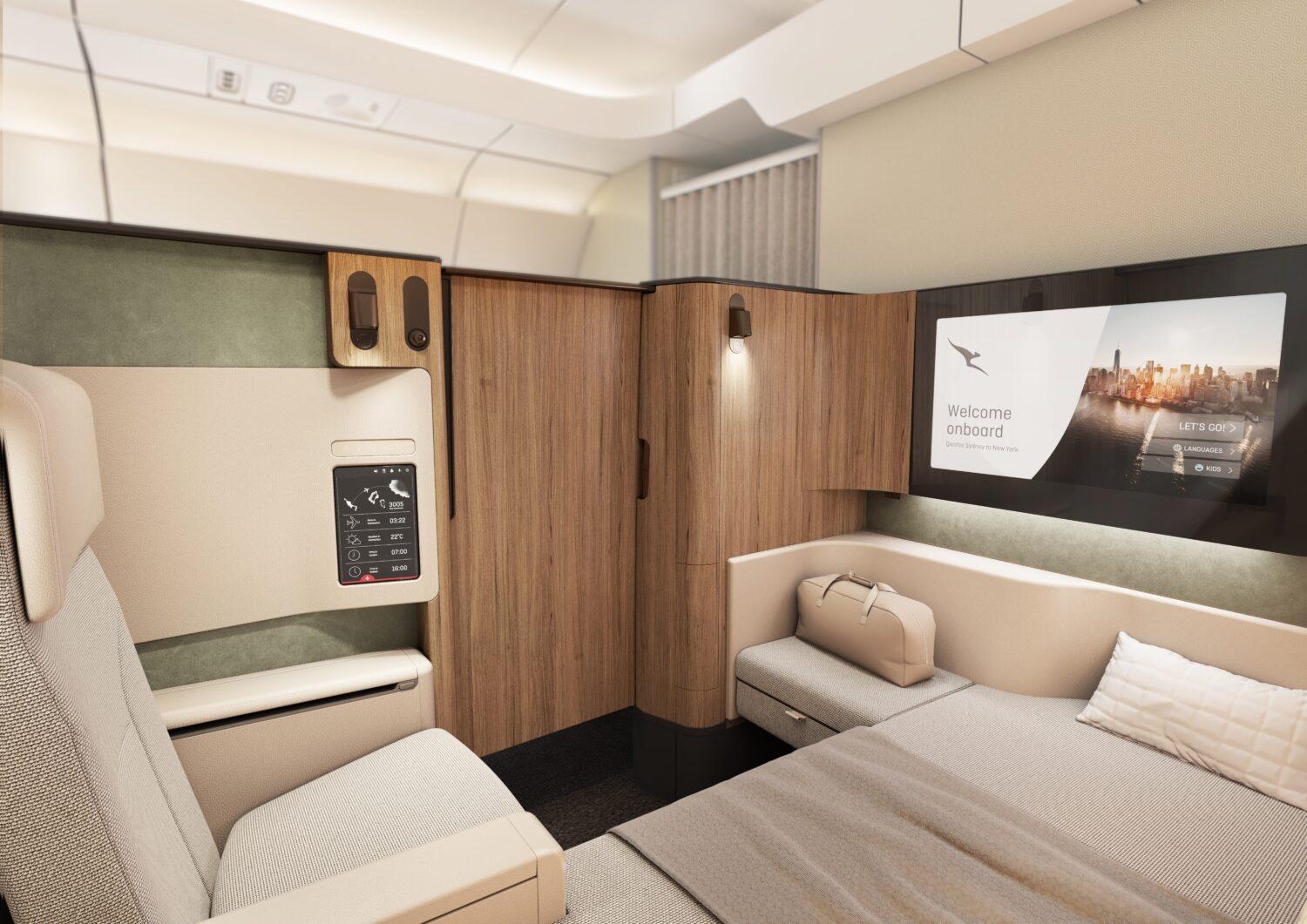 Hoping to use your points and miles to score one of these new Qantas first class suites? Well … good luck.
Booking Qantas First Class awards is already one of the absolute hardest redemptions to pull off in the world, period. In the realm of unicorn fares, it's a unicorn with a horn made of diamonds. And that's with 14 first class seats on the airline's Airbus A380s – the only Qantas plane that currently sports a first class cabin.
With less than half as many seats on these Airbus A350s, don't expect to find any award availability to book this with points and miles.
52 New Business Class Suites
The change isn't as drastic for Qantas' new business class, but it still looks quite nice.

It's a similar configuration with a different seat from the business class you'll find flying with Qantas today on its Airbus A380s and Boeing 787s flying between the U.S. and Australia. Of course, every passenger can step out directly into the aisle with a 1-2-1 setup. That's a given.
But Qantas' new business class seat features a 25-inch wide seat that reclines straight back into a bed, an 18-inch high-definition touchscreen TV, wireless charging as well as both USBA and USB-C outlets, and a brand-new finish that looks much fresher and modern than Qantas' current business class seats.
Oh, and this: Closeable doors on each suite. Doors are all the rage in business class these days. While these 47-inch high suite walls won't allow you to shut out the world, your seat will certainly feel more private.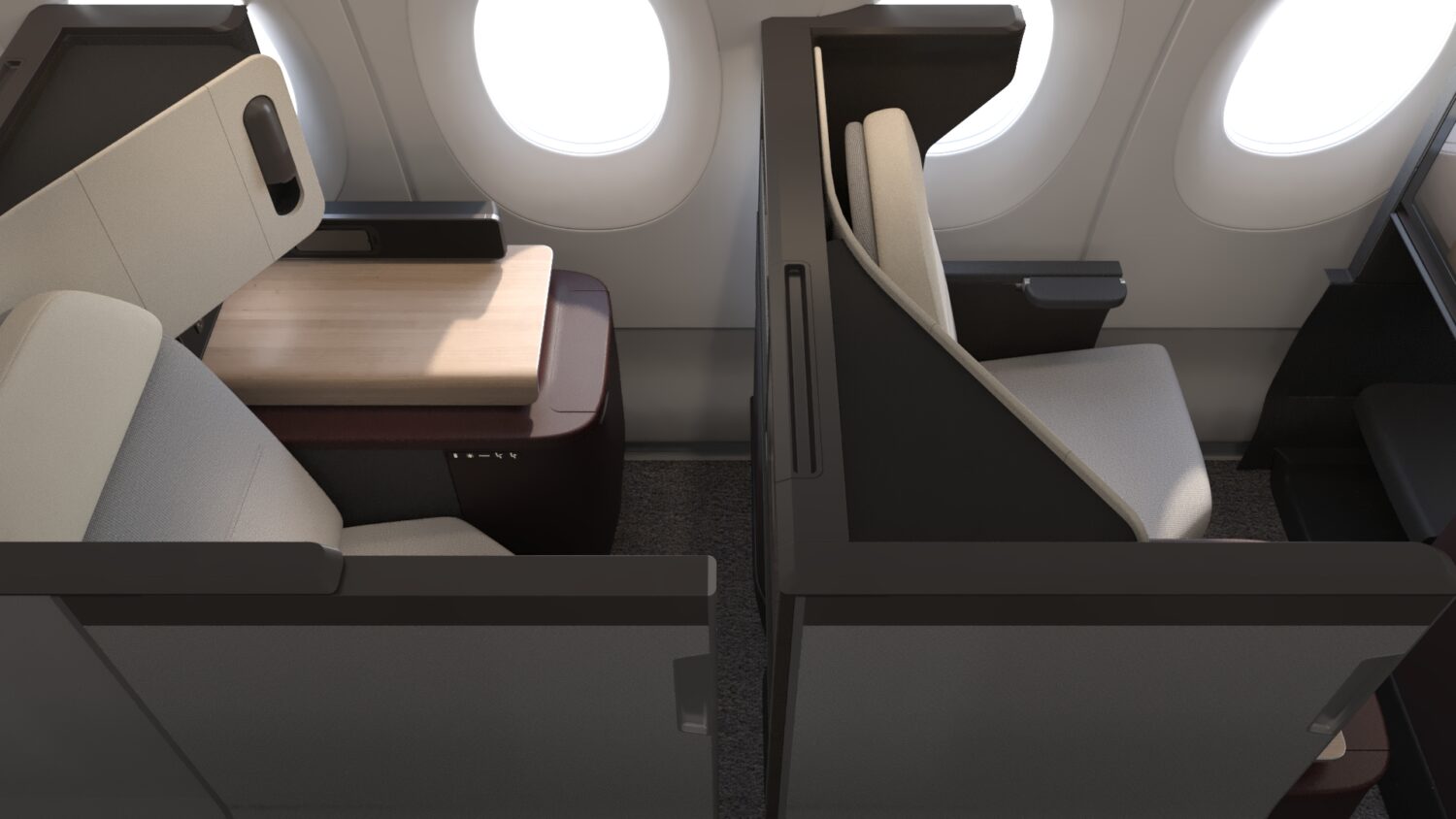 Even with all the points and miles in the world, Qantas business class awards can still be tough to book. You can scroll through nearly a year's worth of flights and come up empty.
But, every once in a while, the floodgates open. Just this week, we discovered some wide-open award space for two passengers to fly from Dallas-Forth Worth (DFW) to Melbourne (MEL) this fall. Thrifty Traveler Premium+ members got the heads-up to book – including an instant text alert!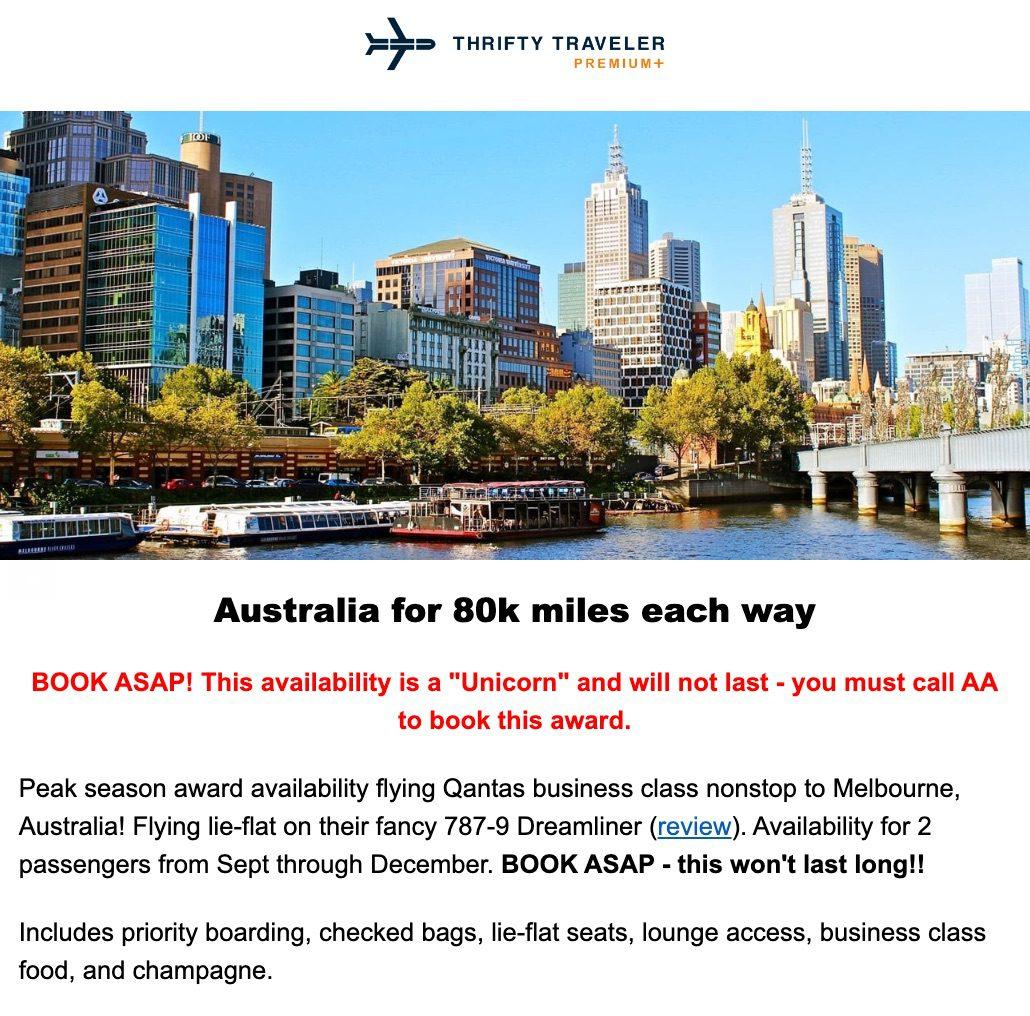 Get rare award alerts like this one to use your points and miles with Thrifty Traveler Premium+!
Bottom Line
Qantas is really stepping it up for Project Sunrise.
You won't see these new first and business class suites flying for another two-plus years. Even then, you'll only see these suites flying the airline's longest routes from Australia to New York and London.
But, if you're on one of those ultra-long-haul planes … by the looks of it, you'll be in for a treat.
All images courtesy of Qantas