Away Luggage launched its first-ever sale, offering up to 50% off everything from their iconic carry-on bags, bigger checked luggage, accessories, and more.
Away has some of the best carry-ons, suitcases, and weekend bags on the market. Their chic suitcases have become a mainstay in airports across the country, and for good reason. Several members of the Thrifty Traveler team use these bags and swear by them. This sale means you can score a carry-on bag for as low as $113. 
There are dozens of sizes, colors, and types of bags on sale with 15%, 30%, or up to 50% off. And while the sale runs through Sept. 15, many deeply discounted bags have already sold out. So you'll want to act fast if you want to get in on one of these deals.
Even if you're not traveling now, this is a great time to upgrade your luggage for 2021 and beyond.
Thrifty Tip: Do you have the American Express Green Card? This is the perfect time to use up a new Away credit, depending on when you signed up for the card.
The Carry-On
The Away carry-on suitcase is one of our favorites: most of the Thrifty Traveler team swears by it. These bags are sleek, durable, and functional. Each one has an unbreakable polycarbonate shell, TSA-approved locks, a hidden laundry bag, and a built-in power bank to keep your devices charged – plus there's a lifetime warranty. While most Away bags have a 100-day money back guarantee, these deeply discounted bags are final sale.
These are a standard carry-on size that should fly with nearly every airline. It currently comes in 22 different colors, 15 of which are half off. Originally $225, you could get one for $113!
Buy Now: Starting at $113 (was $225)
The Bigger Carry-On, which will still fly with most (but not all!) airlines, comes in 21 colors and starts at $122 (was $245).
Buy Now: Starting at $123 (was $145)
The Everywhere Bag
The Everywhere Bag is the perfect personal item. I have this bag and I love it.
There is a pocket for my laptop, a compartment for an umbrella which comes in handy on trips, and a lot of room for toiletries, books, and more. It fits perfectly over the handle of your suitcase. The Away Everywhere Bag comes in 12 different styles including a few leather and limited-edition options.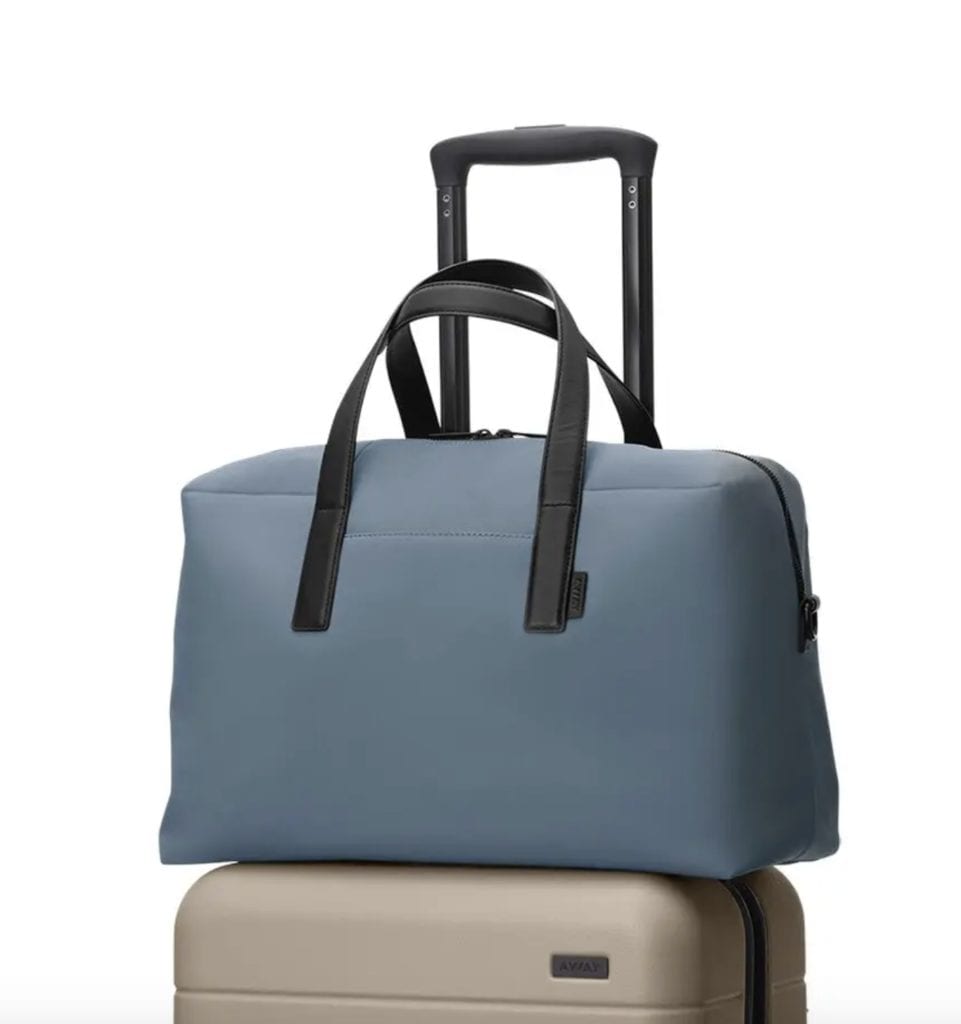 Buy Now: Starting at $97 (was $195-$395)
The Weekender
You might not be traveling too far from home right now or for very long, so the Weekender Away bag could be perfect for you. It comes in nylon and canvas in nine different colors with a separate shoe compartment.
The canvas Weekender pictured is on sale for $122, regularly $245!
Buy Now: Starting at $112 (was $225- $245)
Bottom Line
This is big. There's never been a sale like this on Away Luggage. And the savings on your next carry-on or checked luggage could be enormous.
Get in on this Away Luggage sale to get up to 50% off and upgrade your luggage today!