This is not a drill nor an early April Fool's joke: Hello Kitty-themed flights with EVA Air are officially making a comeback. From planes with special Hello Kitty liveries to pink tablecloths, cutlery, napkins, and even pink puke bags emblazoned with the face of Japan's kawaii character, you can overdose on Hello Kitty inflight once again.
EVA Air is a top-rated airline from Taiwan with a relatively small presence in the U.S. but an outsized reputation, especially for these famous Hello Kitty flights. That special service had been paused since the early days of the pandemic in 2020, with no sign of when it would return – or if it would at all. EVA even repainted some of its special Hello Kitty-themed planes in its standard, green-and-white colors. Sad face.
But now, the cutest flights in the world are back. EVA Air quietly updated its dedicated page this week to note that the full Hello Kitty experience would return starting March 27 – and not just flying its Hello Kitty jets, but bringing back the entire kitty-rific service with all the adorable amenities onboard. And that includes one ultra-long-haul flight to and from the U.S.:
Select flights between Chicago-O'Hare (ORD) and Taipei (TPE) will operate on the airline's "Sanrio Characters Shining Star" jet, though only on Tuesdays, Thursdays, and Saturdays departing Chicago and on Mondays, Wednesdays, and Fridays leaving Taiwan.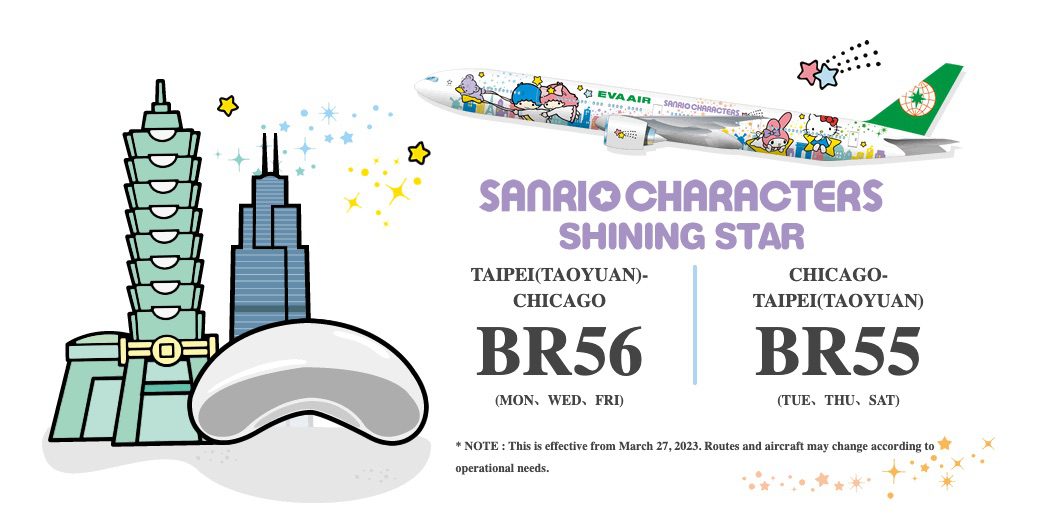 Daily flights between Taipei (TPE) to Bali (DPS) in Indonesia will have Hello Kitty service onboard starting April 1, alternating between the "Joyful Dream" and "Celebration Flight" liveries
Daily flights between Taipei (TPE) and Sapporo (CTS) in Japan will also have Hello Kitty service starting April 1, using the same jets as EVA's Bali flights.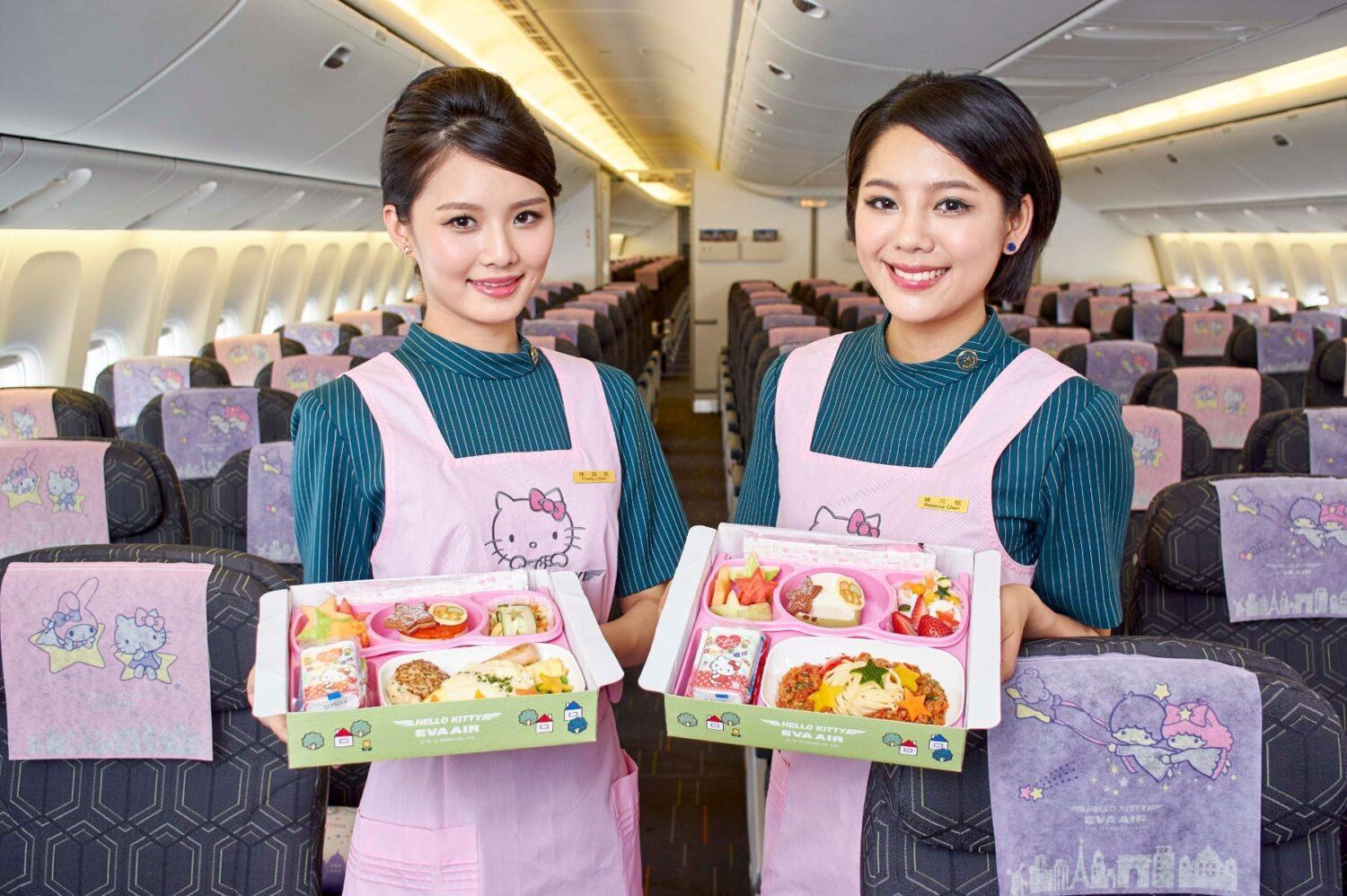 If this all seems over the top, it's because it is … and that's the point. These Hello Kitty flights were wildly popular prior to the pandemic, with many travelers specifically seeking out these flights for a healthy (or arguably unhealthy) dose of their favorite Japanese character. Before hitting the pause button, EVA Air regularly rotated its famous Hello Kitty service between flights from its hub in Taipei and several major U.S. cities, including Chicago, Los Angeles (LAX), San Francisco (SFO), and Houston-Intercontinental (IAH).
Take it from me: It's a wild, wild ride. Almost by accident, my wife and I wound up flying 15 hilariously fun hours with Hello Kitty in EVA Air business class for our honeymoon back in 2018. It was adorable from start to finish. There were cute boarding passes with Hello Kitty and the gang. There were headrest covers, cabin artwork, menus, napkins, and tablecloths – all pink, all Hello Kitty. There was specifically chosen rosé champagne in tribute to Japan's cutest cat. Even the water cups in the lavatory had a kitty on them.
And, there was this.

We ranked every aspect of EVA Air's Hello Kitty flight – from 1 Kitty to 5 Kitties!
Will the resumed Hello Kitty flights be just as hilariously over the top? That remains to be seen. But whether you're a diehard Hello Kitty fan, an aviation geek with a checklist, or simply curious to test your limits on how much Hello Kitty is too much, there's nothing else quite like this.
Bottom Line
The cutest flights in the world are back in the sky.
EVA Air is officially bringing back its famous Hello Kitty-themed flights, including many flights from Chicago to Taipei as well as some other shorter flights within Asia. Book now, Hello Kitty fanatics!
Lead photo courtesy of Joe Hsu via Flickr