With roundtrip fares regularly under $400, flights to Europe don't get much cheaper than flying Scandinavian Airlines (SAS) economy. But what do travelers get for that low price?
It turns out: pretty much what you'd expect from any other airline flying economy across the Atlantic – with a few glaring exceptions. I recently flew SAS economy from Copenhagen (CPH) back to Los Angeles (LAX) on its newest Airbus A350 and found it was a significant step above the experience on ultra-low-cost carriers like Norse Atlantic Airways or Play Airlines, but at a pretty similar price point. Aside from the food and beverages onboard, it was just like any other major airline flying to and from Europe.
From booking to check-in, to boarding and inflight service, here's what it was like to fly SAS Go economy between Europe and the U.S.

How to Book SAS Economy Flights
There aren't really any tricks to book SAS flights in economy.
Because SAS is part of the Star Alliance, you can book with partner airline miles from programs such as United MileagePlus, Air Canada Aeroplan, or Avianca LifeMiles. But SAS stands out for its cheaper fares, so your best bet will almost always be to book using cash instead of points.
SAS flies to and from seven U.S. gateways including Newark (EWR), Boston (BOS), Washington, D.C.-Dulles (IAD), Chicago-O'Hare (ORD), Miami (MIA), Los Angeles (LAX), and San Francisco (SFO). And while you can hitch a cheap ride to its Scandinavian hubs like Copenhagen (CPH), Oslo (OSL), or even Stockholm (ARN), you can also connect onward to almost anywhere in Europe and beyond.
You can simply search through Google Flights for cheap fares to and from Europe. And boy, have there been some amazing deals flying SAS economy to Europe lately. We sent this deal to Thrifty Traveler Premium members earlier this year with fares starting from $368 roundtrip!

Get cheap flight alerts sent straight to your inbox with Thrifty Traveler Premium!
Sure enough, we booked this deal to test out both SAS Premium Economy on the way to Europe and then booked in SAS economy on the way back. In total, we paid $792 to book directly through SAS for the mixed-cabin, multi-city ticket. If you're just looking for a simple roundtrip, you can sometimes book SAS economy flights for under $400 if you book when there is a sale.


At Thrifty Traveler, we don't accept freebies. We use our own points, miles, or cash to pay for every single flight or hotel you see reviewed here – including this one.
SAS Go vs. SAS Go Smart
You'll want to pay close attention to what you're booking when purchasing a SAS economy ticket.
Its version of basic economy is called SAS Go. If you plan to bring a checked bag, you'll definitely want to purchase a standard economy fare, which it calls SAS Go Smart.
While both types of tickets include a carry-on bag, allow changes (for a fee), and charge to pick a seat, you'll get one checked bag included if you book a SAS Go Smart fare. It's usually around $28 each way for an upgrade from SAS Go to SAS Go Smart – much cheaper than paying for a checked bag at the airport.
For my particular flight, it was actually more expensive for a seat in economy than SAS Plus premium economy on the return from Copenhagen (CPH) to Los Angeles (LAX). This is an oddity, and it hurt a little to pay more for a smaller seat, but for the sake of comparison, I booked economy.


SAS Check-In and Departing Copenhagen
I chose to check in online the night before my flight and I found a few interesting options for purchase during the check-in process.
No matter which SAS economy fare you buy, you'll typically pay $30 or so for an advanced seat assignment. I decided to take a gamble and didn't pay up to pick my seat … and that gamble paid off. When checking in online, I was able to choose a seat for free.
Sure, this meant I had fewer available seats to choose from as many travelers had already paid and picked their spot. But as you can see from the seat map, there were still plenty of options for couples to sit next to each other toward the back of the plane. I opted for a window seat in an empty row hoping I would at least get an empty seat next to me.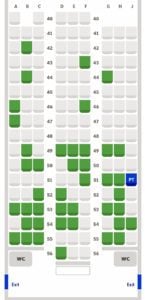 Purchase An Empty Seat & Bidding on Upgrades
Once I was checked in, I noticed there were multiple options to pay for a more comfortable flight, including a fairly novel option.
Most intriguing, I had the option to pay around $30 (299 SEK) to have the seat next to me remain empty. For an 11-hour flight from Copenhagen to Los Angeles, this is an amazing deal and something I wish I had purchased. But, again, I took a gamble thinking I had pretty good odds the seat would remain empty anyway.
Of course, you can't count on this option being available – and the cost could vary from flight to flight. SAS will try to sell all of its seats to paying passengers, but it's pretty neat that they offer the option to book an empty seat next to you during check-in if the flight isn't full.

It was also possible to make a bid for an upgrade to either SAS Plus premium economy or SAS business class. Again, there's no guarantee this will be available, but it's something to look for during check-in. If the flight didn't sell out, it's possible that SAS may be offering upgrades.
For this particular flight, the minimum bid to upgrade from SAS economy to SAS Plus premium economy was 300 euro (~$300). For an upgrade to business class, the minimum bid was 700 euro (~$700). You could also use SAS Eurobonus points to upgrade, but since there's not an easy way to earn those points, I didn't have any to use. It's not possible to use partner airline miles for an upgrade when flying SAS.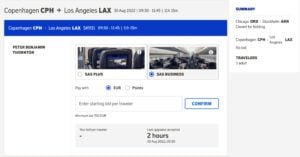 There was also the option to purchase SAS lounge access for 27 euro (~$27). Since I have a Priority Pass membership, which includes access to a few lounges at Copenhagen airport, I passed during online check-in. If you choose to check-in at the airport, there are plenty of kiosks available. I did this as well since I prefer to have a printed paper boarding pass.

Priority Pass Lounge at Copenhagen
There are three Priority Pass lounges at Copenhagen Airport: two in Terminal 2 and one in Terminal 3. My SAS flight departed from Terminal 3, so I got a chance to check out the Eventyr Lounge. It's quite the space with ample seating and large floor-to-ceiling windows offering a nice view of the tarmac.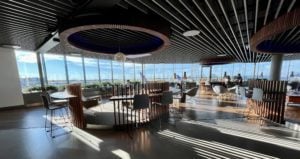 The most comfortable seats were in the middle but I chose to sit near the window to enjoy my breakfast at a table with a view.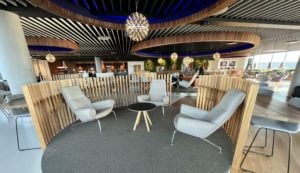 The green decor near the drinks and coffee machine was a nice touch. Spending around an hour or so in this lounge before my 9:30 a.m. departure was great, as I got to fill up with eggs, sausage, beans, cold cuts, cheese, juice, and coffee. This was the perfect way to prepare for an 11-hour flight in economy.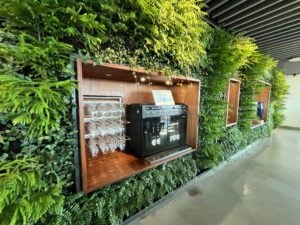 SAS Economy Boarding
Boarding was much more efficient departing from Copenhagen than it was on my flight from Chicago-O'Hare (ORD) over to Europe. In Copenhagen, we all got our boarding passes scanned ahead of time and were held for a short amount of time in a separate gate area before boarding actually began.

Business class passengers boarded first, followed by SAS Plus premium economy passengers. When it came time for economy passengers to board, I was one of the first to board. It was nice to have a jet bridge with windows so you could see outside on your way to the plane.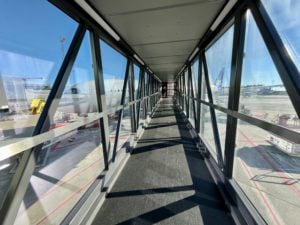 SAS Economy Cabin
On the Airbus A350, the SAS economy cabin is mostly laid out in a 3-3-3 configuration, with three-seat sections on either side and another three seats in the middle. The one exception is in the first row of economy, where you'll find just two seats on the sides – a great spot for couples or traveling companions.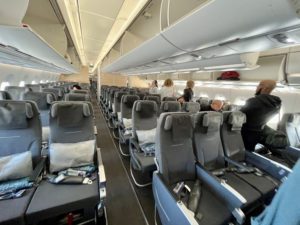 If you're flying the Airbus A330 or A340 aircraft, the economy cabin is laid out in a 2-4-2 configuration, which would allow couples to pick seats along the wall of the aircraft and have more privacy.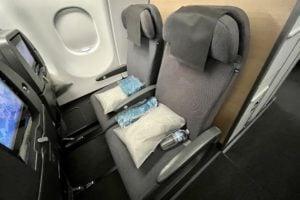 Flying SAS Economy on the A350, the best seats in the cabin are easily the first row, in row 30. I'd go with either seats A, C, D, or J, depending on your preference for aisle or window. The middle-row seats, D, E, and F are also a solid choice thanks to some extra legroom. In row 31, seats C and G have excellent legroom as there is no seat in front. Keep in mind that your entertainment screen and tray table will be in your armrest with these seats and it may feel a bit cramped at the sides.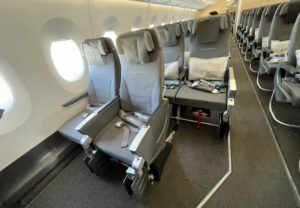 Another great set of seats is behind the exit row on the right-hand side of the plane (facing forward). Row 41, seats G, H, and J all have excellent legroom. On the other side of the plane, Row 41, seat A has similar legroom, but there are seats in front of Row 41, seats B and C so those will be just like the standard seats in other rows.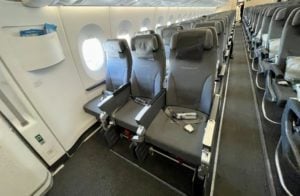 The large overhead bins had plenty of room for my carry-on bag. But there was also plenty of room for my smaller bag under the seat so I could easily access my laptop and reading material.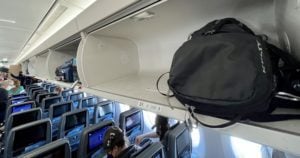 There were a total of six lavatories to share between economy and premium economy passengers – four in the middle near the exit row and two at the back of the plane. The bathrooms were small and basic but served their purpose.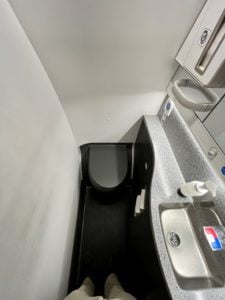 SAS Economy Seats
Once I finally got all the way to my row near the back of the plane, it was time to get seated. These seats in the SAS economy cabin are 17 inches wide, with 31 to 32 inches of legroom. That was a far cry from the legroom in SAS Plus premium economy, but fairly standard compared to other major international airlines in economy.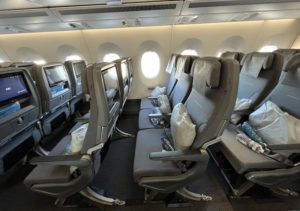 In the middle row, there is direct aisle access on both sides and one middle seat.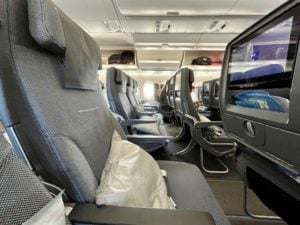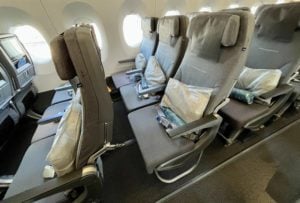 I went with a window seat so I could get some rest by leaning on the window and wouldn't need to get up for others. Of course, the catch is that you'll be stuck if you need to get up to use the bathroom and the others in your row won't wake up – as I experienced on this flight.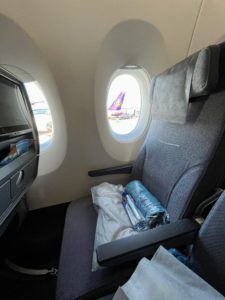 As I mentioned, SAS economy seats have 31 to 32 inches of legroom. I think my seat was most likely on the smaller side, but it still was sufficient for my 5 foot, 9-inch frame. I'm sure this would feel a little more cramped for taller travelers – but it's still on par with other major international airlines.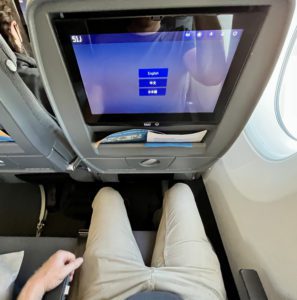 The tray table pulls down from the seat in front but can be folded in half for more space. You receive a bottle of water at your seat during boarding, which a nice touch that you won't get with every airline.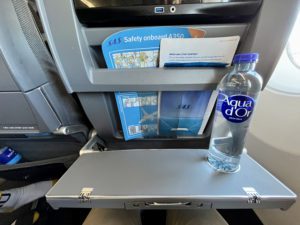 When the tray table is fully extended, it was more than enough space to hold my 13-inch laptop. But be warned: There aren't any universal power ports for large devices like laptops in economy on the SAS A350. I had asked a flight attendant about this and she checked between the seats thinking there were, but then told me "wrong aircraft." Presumably, there could be power devices in the economy cabin on the Airbus A330.
Nonetheless, the inability to charge my laptop during the 11-hour flight meant I wasn't able to get as much work done as I had hoped. There is a USB charging port on the seatback screen that can charge your phone or smaller electronic devices.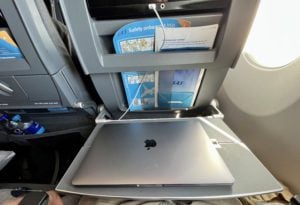 For storage, there is a large seatback pocket with a mesh covering so you can see what you've stashed in there, and a decent amount of space under the seat in front of you to put a small backpack or personal item.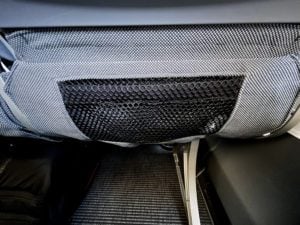 The armrest in between seats is shared and that's also where you'll find the push button to recline your seat.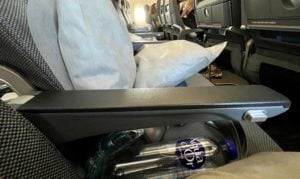 The recline on these seats was better than I expected, so I was able to get a little sleep on this long-haul flight – even in economy.

Entertainment & Amenities
Every passenger in economy receives a pillow and a blanket at their seat. The pillow is pretty flimsy but the blanket was fairly large.

Overhead, each passenger had a reading light … but you could not adjust where it aimed.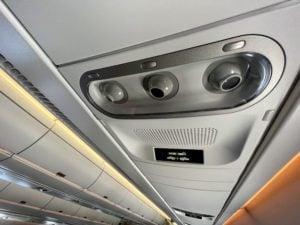 For entertainment, there were over 70 movies to choose from on the seatback screens along with TV shows, games, and a small selection of music. One option I thought was particularly neat was that you could choose to watch video lessons to pick up some basics of the local language during your flight.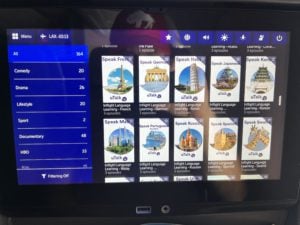 Unfortunately, the moving map was not working during my flight, but it was cool to check out the tail camera from time to time to get an actual view of the large bird flying through the sky.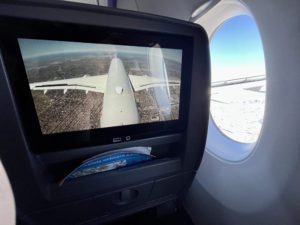 SAS offers free Wi-Fi for its business class and SAS Plus economy passengers, but if you're flying in SAS Go economy, you'll need to pay for inflight WiFi. I thought the $16 charge was more than reasonable for an 11-hour flight.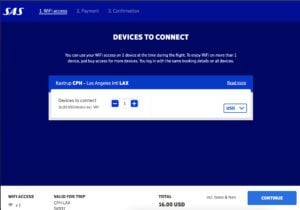 While you can only connect one device at a time, you can still easily switch your internet access from your laptop to your phone (or vice-versa) whenever you'd like. This came in handy when my laptop battery died. I just disconnected my laptop from the internet and surfed the net on my phone for the remainder of the flight.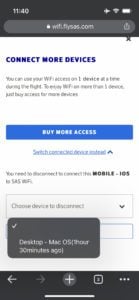 The download speeds were decent and my connection remained fairly stable throughout the flight. The same couldn't be said for my flight over to Europe on the Airbus A330. It very well could have been a one-off experience, because the connection on this flight aboard the Airbus A350 was solid.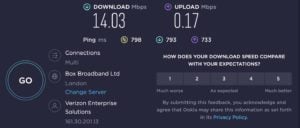 Still, the best entertainment was just looking out the window. After all these years of flying, I never get tired of this view.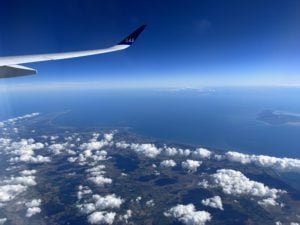 Dining & Service in SAS Economy
While the seats were up to snuff with what you'd get on any airline, service and dining was a bit closer to a budget carrier. The flight attendants themselves were perfectly friendly, but I was slightly surprised at just how little you get during an 11-hour flight across the ocean.
Since SAS is more of a traditional airline that partners with major airlines around the world, I assumed alcohol – or even soft drinks – would be included on an international flight, as is the case with many carriers. Not so.
While you do get one free soft drink with meal service (which is also free), you'll need to pay for any other drinks throughout the flight other than coffee, tea, or water. But you'll have to go to the galley (or ring your call button) to get a glass of water, since flight attendants don't necessarily come through to offer any in-between the two meal services. And no matter when you order, you'll have to pay for an alcoholic beverage.
Soft drinks are around $4, a beer costs $7.50, a small bottle of wine starts at around $10, and cocktails are around $12. Light snacks and snack boxes can also be purchased for around $3 to $10 throughout the flight. Cash is not accepted onboard, so you'll need to pay with a card.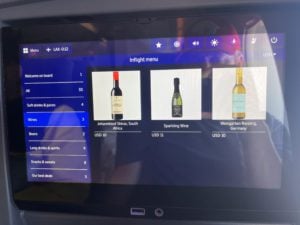 Before the meal, the flight attendants rolled the beverage cart down the aisle and offered one free soft drink – or an alcoholic beverage for purchase. And that was the only time that the beverage cart made its way through the economy cabin during the entire flight. If you're stuck in the middle or a window seat, you might want to stock up.

It took a little bit after getting my drink for the meal cart to get to my row. And I wasn't given a choice for what to eat, but simply handed a tray.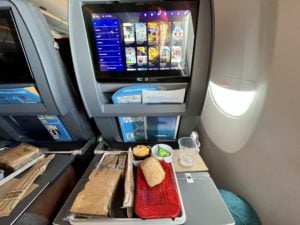 After unwrapping what was on the tray, I found veal meatballs with gravy, mashed potatoes, and peas, a side salad with balsamic olive oil dressing, bread, crackers, and a pouch of milk for coffee or tea. It was better than I had expected … but my expectations were pretty low. I always recommend eating on the ground before a long flight. Airplane food – by design – is never as good as what you can get from an actual kitchen on the ground.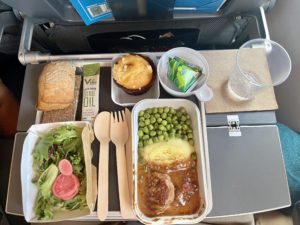 After the meal, most passengers lowered their window shades and the cabin lighting was dimmed with some mood lighting overhead. I slept a bit, got some work done, and waited patiently for the passenger next to me to wake up so I could use the bathroom. Eventually, I had to wake him up.

About 90 minutes before landing, another light meal was served. The cheese wrap didn't have much taste to it, but the mandarin & elderflower froosh juice was absolutely delicious.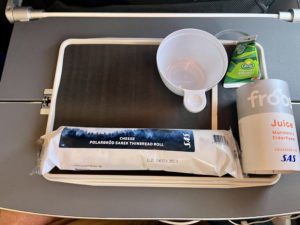 All in all, my flight in SAS Go economy was pretty uneventful. It got me from A to B at a great price.
SAS's bare bones approach to service in economy means it pays to be prepared. I got pretty thirsty during the long flight, so I'd recommend filling up a large water bottle before boarding – you won't get any drink service between meals. And while SAS served two complimentary meals during this long flight, you might want to bring some of your own snacks if you don't want to purchase anything additional onboard.
Bottom Line
SAS Go economy might just be the most cost-effective way to get to Europe and back. The service might be less than what you'd expect on other major airlines, but it's still a step above the bare-bones budget carriers flying similar routes.
I wouldn't hesitate to book another flight in SAS economy when the fares are low. I'll just have to remember to bring a water bottle so I don't go thirsty next time.