Somewhere over Canada, aboard a flight from Chicago (ORD) to Taipei (TPE), I looked around the EVA Air business class cabin for the hundredth time, grinning ear-to-ear. I had to pinch myself. This was real.
I had spent countless hours researching EVA's business class in the weeks and months before this flight, reading other reviews and watching vlogs. And yet somehow, EVA managed to surpass the seemingly unrealistic expectations I had built up. It was that good.
So read on to learn what it's like to fly EVA Air Business Class, dubbed Royal Laurel. And as a bonus, this was one of EVA's famed Hello Kitty flights.

All About EVA Air Business Class
You may not know much about EVA Air, but you should. EVA (pronounced EE – VEE – AY) consistently ranks among the world's best airlines, placing No. 6 in the latest SkyTrax rankings. It's also a favorite among frequent flyers for its business class, which EVA dubs "Royal Laurel."
It's one of two major airlines in Taiwan, competing with China Airlines out of Taipei-Taoyuan (TPE) airport. EVA is a Star Alliance airline, partnering with airlines like United, Singapore, Lufthansa, and many more.
Taiwan may not be the most popular tourist destination in Asia – though perhaps it should be. So EVA's bread and butter is connecting U.S. passengers onward. And it's an area where EVA excels. Many of the airline's departures from the U.S. are perfectly timed to hop on a connecting flight to Singapore, Tokyo, Bali or other hotspots.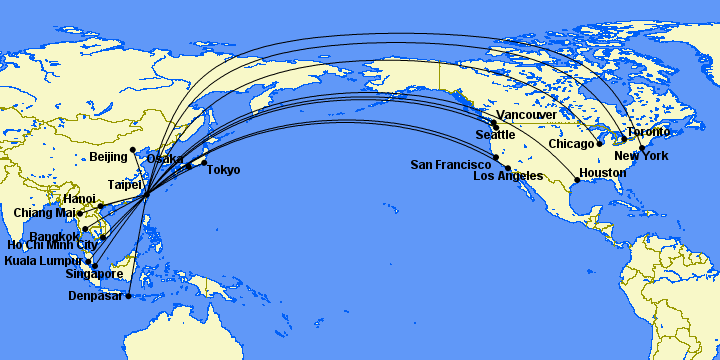 However, there's one critical point business class flyers should keep in mind with EVA Air: The airline doesn't offer first class. And that makes EVA Air business class even better.
While other airlines save their best food, drink, and service for first class, that's not the case with EVA. And the airline is also competing for high-paying customers with other carriers like Cathay Pacific and Singapore and their renowned first class cabins.
As you'll see, there were unmistakable signs of a first class product: an absolutely top-notch champagne, elevated meal choices, pajamas, a great amenity kit and more.
Booking and Departing
I booked our flights through Avianca LifeMiles, a quirky but worthwhile program of the South American airline Avianca. It has a strong award chart for international business class flights and low taxes on award tickets. I paid 78,000 miles and just $31.10 for each ticket.

It's getting easier than ever to earn the LifeMiles needed to book fantastic flights like this. Already a transfer partner of Citi ThankYou points, American Express added LifeMiles as a partner in late 2018. Capital One also joined the fold as a transfer partner, although the 2:1.5 transfer ratio isn't quite as strong.
 But LifeMiles also regularly sells miles at huge discounts, with bonuses of 130% or more. That makes it worth considering if you're short on miles to finalize a dream redemption or just buying the miles outright for a discounted business class ticket – you could buy enough miles for these tickets for just $1,000 or less.
Another great option to book EVA Air is Aeroplan, which charges 75,000 for a transpacific business class flight. You can get those miles by transferring them from your stash of American Express Membership Rewards points. United Airlines, meanwhile, charges at least 88,000 miles to book the same flight. Chase Ultimate Rewards points can transfer to your United account.
EVA generally seems to release at least two business class award seats when its schedule opens roughly 11 months out. But once those seats are booked, you may have to wait until just a week ahead of departure to snag a seat, so it pays to be fast and vigilant.
Our final routing would take us from ORD to TPE and onward to Jakarta (CGK). I'll spare you the story on why we didn't fly direct from TPE to Bali (DPS), our final destination.
EVA flights depart from ORD's Terminal 5, the hub for international flights. Keep in mind that the main international terminal is not connected airside, meaning you'll have to re-clear security at T5 after arriving on a connecting flight.
EVA's flight out of ORD departs late, usually around 12:30 a.m. So unless you arrive super early, you can't use ORD's excellent United Polaris Lounge. In fact, the lounge options for business class flyers or Priority Pass holders are pretty much limited to EVA's contract lounge, the Air France/KLM Lounge.
The word "basic" comes to mind for this lounge, and not in a fun or hip way. Food offerings were limited to two hot options and a vat of soup. Drink selection was limited but at least was self-service. Even at a late hour, the lounge was pretty crowded.
Too anxious for the start of our honeymoon and our first-ever business class flight, we didn't spend much time in the lounge. Before we knew it, it was time to board.

EVA Air Business Class Cabin
EVA is one of the world's highest-ranked airlines, and its business class is beloved. But those accolades don't come from its cabin design. As Much as I loved this flight and love EVA Air as a whole, I can't help but feel that the entire cabin is a bit… well, bland. Some of the airline's newest planes have a bit more panache, with a brighter green finish and some woodgrain.

The dark green and plain cloth finishes just don't do much for me compared to the likes of its competition – Singapore Air, Cathay Pacific, and even Taiwanese competitor China Airlines. But ultimately, that's the smallest of minor complaints. More importantly, the cabin and seats were in immaculate condition for a 3 ½-year-old plane. Looking around the cabin, I could hardly find a smudge or scratch or any sign of age. EVA obviously takes good care of its planes.
Business class on EVA is divided into two cabins: A front section with seven rows of seating and a rear cabin with just four. We sat in the front section, though there wasn't much to differentiate the two.
Some planes are equipped with a beautiful "starry night" feature in the cabins. Unfortunately, ours wasn't. But the in-flight mood lighting still did the trick.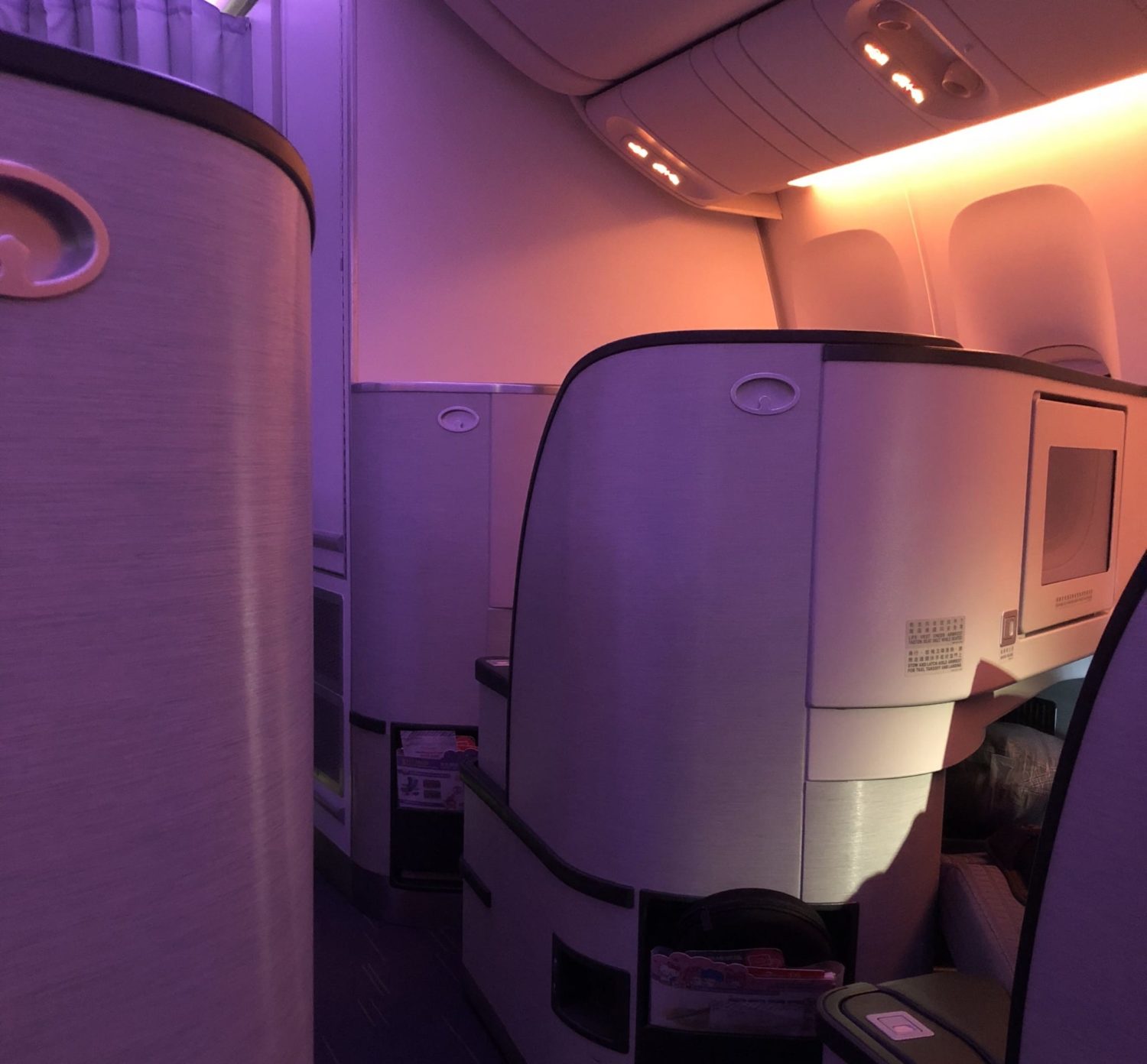 And of course, this wasn't your standard flight: It was a Hello Kitty flight. I wrote a whole post about how unbelievable and ridiculously funny it was flying for 15 hours with Hello Kitty. Suffice it to say, EVA found a way to inject some Hello Kitty into its business cla without being over-the-top or detracting from the business class experience.
There are three lavatories onboard for business class passengers, and they were always spotless. But one stands out: The sole bathroom between the two business class sections is nearly twice as large as the others. So when it comes time to change or get ready, seek this lavatory out.

EVA Air Business Class Seats
Much like the cabin, EVA's business class seats aren't flashy. But boy are they comfortable and functional.

Seats are laid out in a 1-2-1 arrangement, with every seat positioned away from the aisle. These reverse herringbone seats are a favorite among frequent travelers for maximizing both personal space and privacy. It's a winner.

Every seat in EVA Air business class is more or less identical, so your only real consideration is the distance from the galleys and lavatories. We chose seats D and G in row 3 – far enough away from the forward galley, but still close to the front of the plane. It was perfect.
These middle seats are likely your best choice if, like us, you're traveling as a couple. But given how these seats are arranged and the small, immobile partition between the seats, you won't be terribly close to your traveling companion. But there's no denying window seats are better if you're traveling solo.

You have to lean forward a bit to have a conversation with your seatmate. That doesn't detract from the seats at all – just keep in mind there may be a better airline option out there for couples who prioritize being close together.
The big center console dividing these seats provides plenty of room to place a drink or lay out your devices – though EVA is very strict about ensuring everything is put away during take off and landing. The console is also where a large tray is stored, sliding easily in and out for meal times.
It's also where you'll find a wired entertainment remote, a reading light, headphone jack, USB ports, and a power plug.

Closer to the aisle, there's a retractable armrest that's easy to push up or down. I kept mine up for almost the entire flight, as it provided a tiny bit of extra privacy when it came time to sleep.

But it's the extra room you care about. And there's no shortage of it in EVA business class. At 26 inches wide and 81 inches of legroom, these seats are almost as good as it gets. All that extra room means you can stretch out, lounge however you want and, crucially, convert your seat into a lie-flat bed.

At 5 feet 10 inches I'm not the tallest guy in the world, but I can't see anyone under 6 feet 6 inches running out of space in this seat. The design and layout of the seat give you seemingly endless legroom.

While some foot cubbies are restrictive in other business class products, EVA's are plenty spacious, too.

The large sleeping surface meant I could curl up – or lay flat, or lay on my side – and catch nearly six hours of uninterrupted, solid sleep. As a flyer who can't sleep for more than one restless hour in economy, that was huge. It was the single biggest factor that made business class worth the splurge.
EVA Air business class doesn't offer mattress pads in business class per se, but they do have mattress covers – a small but nice touch. And the duvet at each seat is insanely high quality and very plush. If you run hot like I do, use it for some extra cushion.
In all, I found the seat to be both spacious and comfortable while upright and in bed mode. Extra space aside, these seats have extra padding that makes them far more comfortable than a standard economy seat.
And you can adjust your seat however you want, thanks to an intuitive set of controls on the center console. You can lean back or independently move up the leg rest if you want to lounge upright. There's even an adjustable lumbar support. I monkeyed with these a bit but mostly used the straight-forward controls that get you from upright to bed mode in 20 seconds.


While some business class seats could use additional storage space, there's no shortage of storage on EVA. In addition to the large bin in the console, there are two smaller spaces down by your legs. Again, EVA flight attendants are pretty vigilant in making sure these are empty during takeoff and landing. You can also use the ample foot cubby as storage.

Amenities
EVA knocks it out of the park when it comes to amenities. It's an area where the airline's business-first class hybrid model shines through. Let's start with the amenity kit, a collection assembled in a set of two leather pouches from Danish luxury brand Georg Jensen.

EVA is famous for its Rimowa amenity kits – it's one of few airlines that still hand these out, and the only one to do so in business class. Unfortunately, the carrier switched it up in 2018 for flights, subbing in these Georg Jensen kits. The Rimowa kits may still be available for long-haul business class passengers departing Taipei. EVA has also offered Salvatore Ferragamo amenity kits.
But the contents of this kit were still stellar. There's an eye mask, pair of socks, toothbrush with toothpaste, ear plugs, a microfiber cloth for device screens and a comb.

And last but not least, there was a set of amenities from the high-end skincare brand 3Lab, including small bottles of hand cream, lip balm and a face lotion called "M Cream Ultimate Lift." I'm no skincare expert, but a quick price check will tell you these are high-quality goods – a 2 oz jar of M Cream retails for $300.

Also waiting at my seat was a pair of slippers, which were branded with Hello Kitty, naturally. They were both sturdy and comfortable.

EVA's pillows in business class are also top-notch. It was stuffed full, unlike the flimsy pillows you get when flying economy. And it's covered with a high-quality pillow case, which was, of course, Hello Kitty-themed for this flight.

When it's time to sleep, EVA Air business class gives you a killer set of pajamas. The bright blue color may not be for everyone, but I think the design is sharp. And more importantly, they're functional, striking a great balance between comfort while still being lightweight.

Few airlines hand out pajamas in business class, and these are on par with many first class offerings. Case in point: I saved them and still wear them at home occasionally.
Business class passengers also get upgraded audio: A set of EVA-branded noise-canceling headphones called THUNDER. I suspect these are made just for EVA. They're fairly comfortable and they block out plenty of noise in the cabin, though I preferred the Bose set I bring on every trip.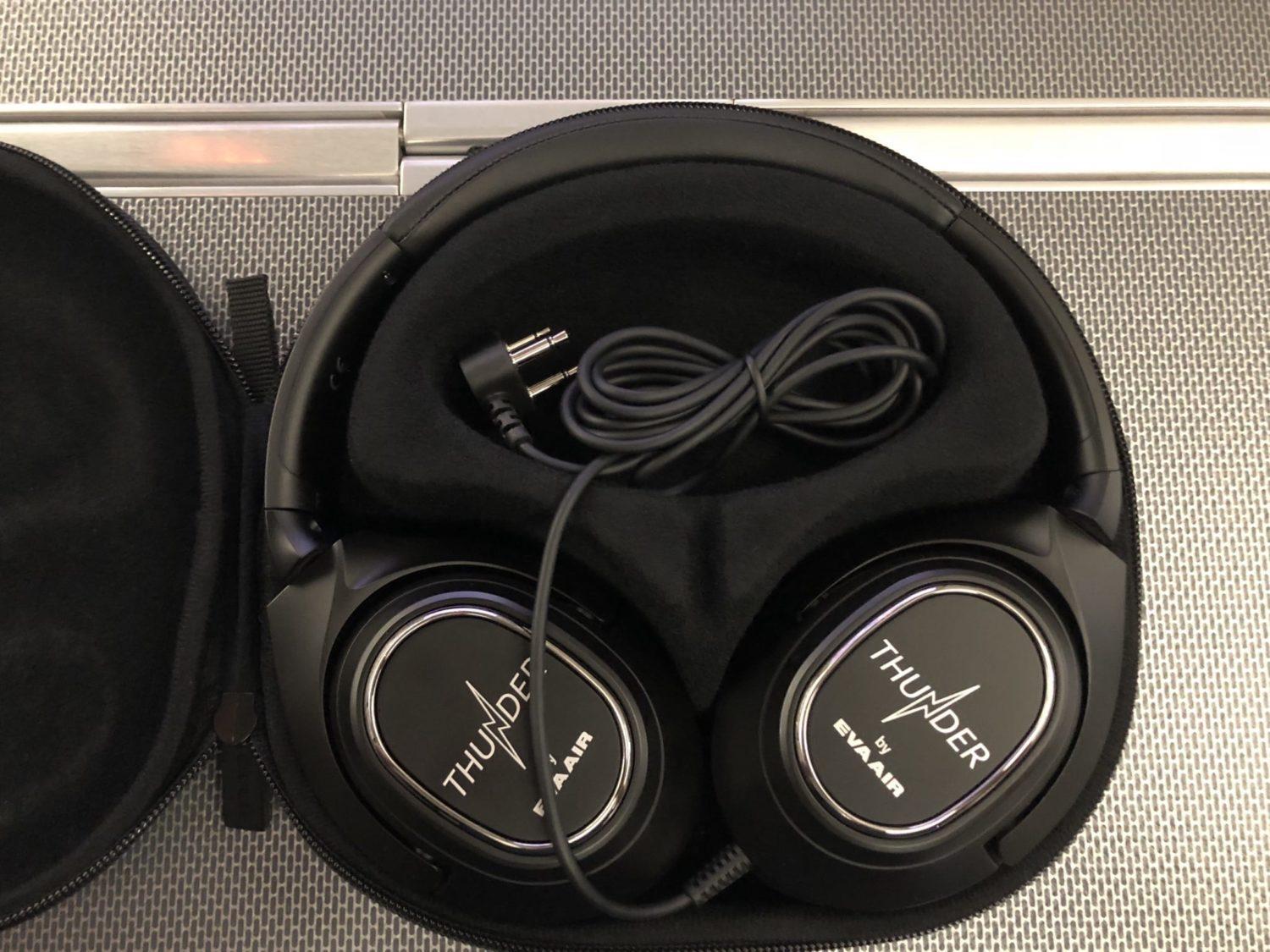 Soon after getting settled into my seat, flight attendants came around and handed out FIJI water bottles to each passenger. It's a small thing, but it's just another area where EVA ups its game for business class passengers.
And the lavatories are well-stocked too. EVA has some Harnn-branded soap, lotion, face mist and cologne on board, all of which smelled fantastic. There were also mouthwash, shaving kits, and some extra toothbrushes and earplugs available.



Service and Dining
The amenities were great, but the service on this flight is what truly blew me away.
This was a redeye flight, and we spent the entire time from takeoff until departure in the dark of night. That can make it difficult for flight attendants, who may not want to bother passengers trying to maximize their sleep. But I was impressed by the near-perfect balance the flight attendants struck in being attentive, yet not overbearing throughout the 15-hour journey.
Iris, the flight attendant working my aisle, was spectacular. She was attentive and eager to help, of course, but also light, funny and earnest. And it didn't hurt that she offered countless refills on champagne.
Service started shortly after boarding with the pre-departure drink, along with a hot towel and a small Godiva chocolate – another small touch that sets EVA Air business class apart.

Flight attendants went through the cabin, kneeling as they took meal orders for both dinner and breakfast and asked passengers how they'd like to be addressed throughout the flight. And every flight attendant – not just Iris – seemed to memorize it.
Meal service started promptly after takeoff. These redeye departures have a more-limited supper service – there's no salad, soup or cheese course that EVA business class passengers on daytime flights get. But that doesn't mean you just get a meal tray plopped in front of you.
Dinner got started with drink orders, and there's an obvious choice. EVA is renowned for stocking top-shelf champagne for business class, but this Hello Kitty flight is a step above. The airline was serving Veuve Clicquot La Grande Dame Rose from 2006.

These bottles retail at $300, easily one of the most expensive champagnes served in business class. In fact, it's a big step above what all but the best airlines serve in first class, too. But most importantly, it was delicious.
If you're not a champagne drinker, there are plenty of other great drink choices. There's a broad wine list, more than a dozen tea options (including a delicious milk tea), Illy coffees and espresso and cocktails, including three EVA special offerings that I didn't try.

I started with a glass of the champagne, which was brought out with a hilarious Hello Kitty coaster and the amuse bouche: a brie and gouda tart and a small bite with turkey, ham, asparagus, and cream cheese. It was all delicious.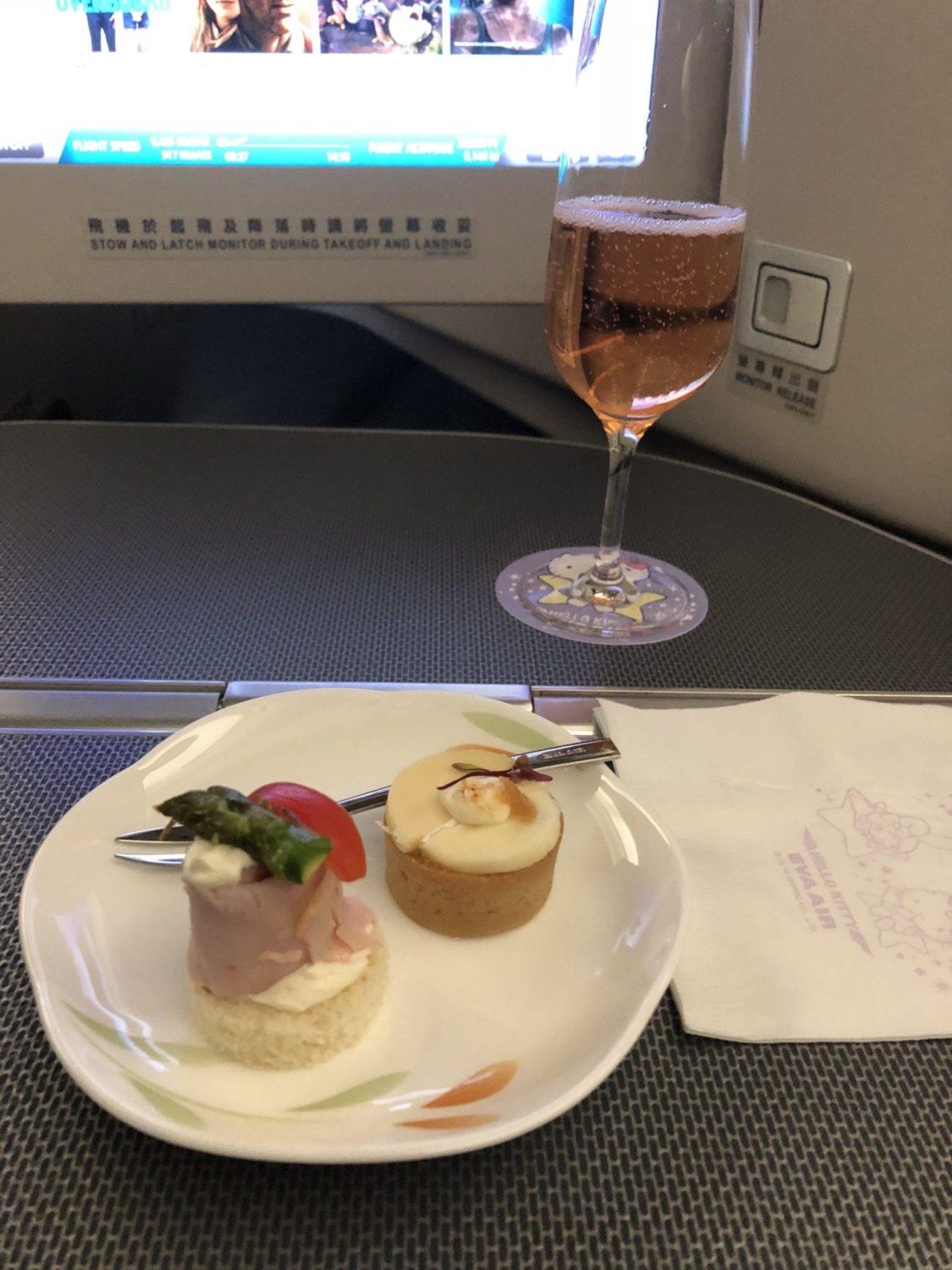 Soon after, a flight attendant cleared my tray and brought over a stunning, Hello Kitty-themed table cloth.

Next up was the h'ors doeurve, a small piece of lobster tail with a quail egg and some quinoa salad. The dish could have used a bit more flavor but it was still delicious.

This came out with a decorative tray with a roll, butter, olive oil and balsamic and the cutest little salt and pepper shakers. Flight attendants also offered some other bread choices – their garlic bread was delicious.

For the entrees, EVA business class flyers have plenty to choose from. There's the on-board menu, of course.

However, starting 21 days out from departure, you can log in to manage your reservation at EVAair.com and select from a far wider list of options. Be sure to lock these in at least 24 hours before your flight leaves.

I went with the Stir-Fried Lobster meat and egg fried rice. The lobster itself was succulent and well done – not to mention pretty huge – but a tad bland. But the fried rice and vegetable medley on the side were out of this world, packed with so much flavor. All in all, it was an outstanding dinner.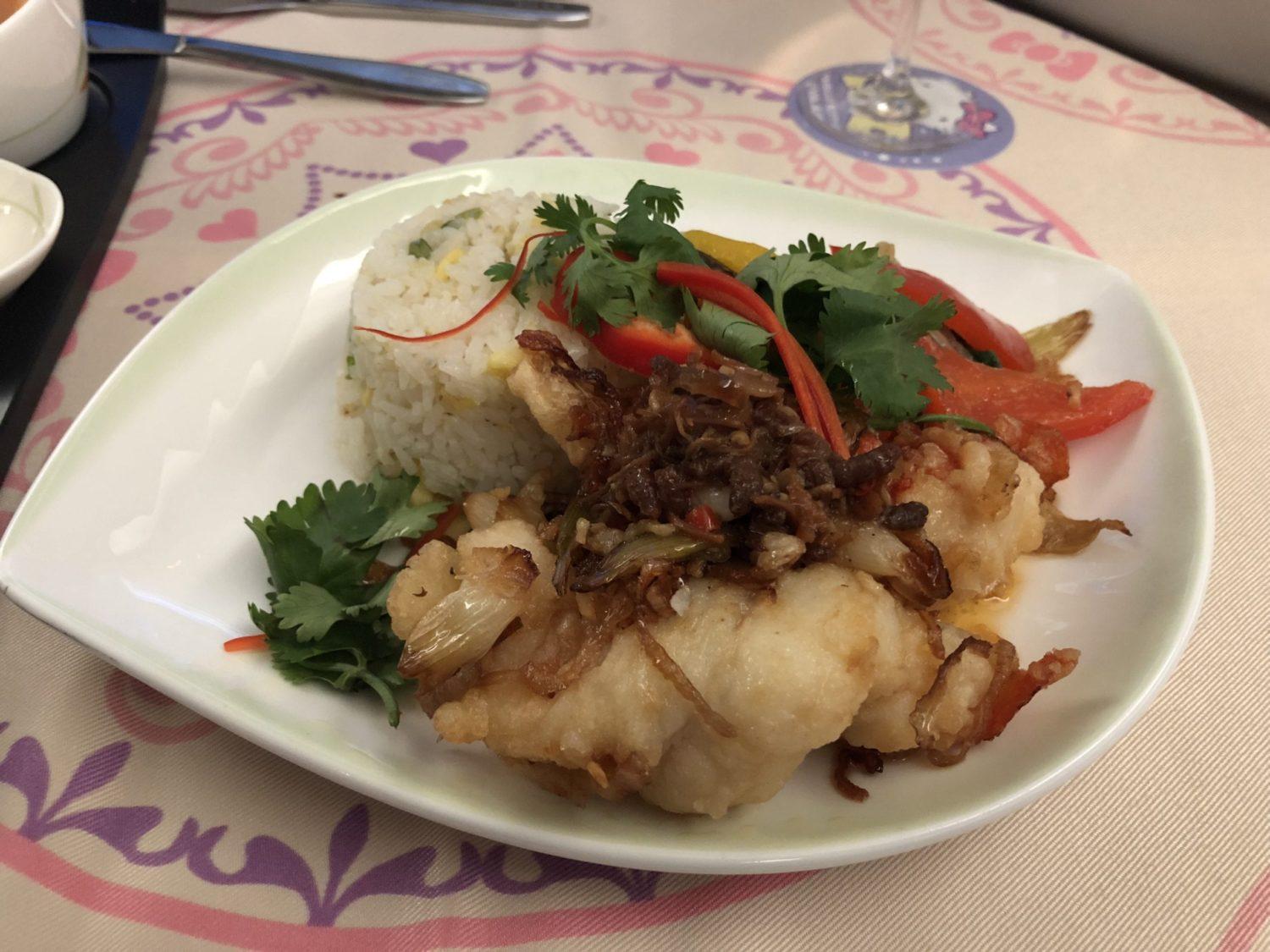 For dessert, we were served a fruit platter and blueberry cheesecake. My wife, a cheesecake connoisseur, said it's among the best she's ever had. I had to stop myself from devouring it to take a photo.

From start to finish, this four-course dinner took just over an hour. That's an incredible pace, and a testament to EVA's service. It never felt rushed, and yet the flight attendants were able to serve a great meal and get everyone ready for bed.
I was stuffed but wanted to stay up to do my best to combat the inevitable jet lag. So I ordered a glass of Kavalan, a highly regarded Taiwanese single malt whiskey that lived up to its accolades.
Within seconds of standing up – no really, I mean seconds – Iris whisked over and asked if I'd like my seat prepared for sleep. By the time I had returned to my seat, she had put the mattress cover on and turned the seat into an inviting bed. After another movie, it was time to sleep.
Less than five minutes after waking from a great long nap, Iris returned and asked if I'd like anything. EVA has a handful of mid-flight bite options for the 15-hour trip.

I ordered some instant noodles and a glass of champagne. Within minutes, she returned with both. The noodles were simple but delicious and topped with some bok choy.

After dozing off and another movie, we were getting close to TPE and it was time for breakfast. EVA also allows you to pre-order your breakfast, though there aren't any additional options as with dinner.

I went with the Taiwanese congee porridge. It's a wholesome and simple dish, but the different sides of roasted vegetables and tofu transform it into a hearty breakfast. In my grogginess, I forgot to snap a photo.
Entertainment
EVA's business class seats are all equipped with 15-inch TV screens that flip out from the seat in front of you. These screens aren't the largest you'll find in business class, but the display is crisp.

It's touchscreen, but you can also control it with the wired remote stored in the console. As a bonus, you can display the flight map on that remote while watching a movie or TV show.
If there's one weak point to single out with EVA, it's their entertainment selection. I counted about 25 Hollywood releases, a mix of new films and a few older, popular titles. Naturally, there were dozens of Taiwanese and Chinese films that cater to the airline's home population. And sadly, there was just an episode or two of a half-dozen or so American TV shows.

It was sufficient for the flight – I never ran out of something I truly wanted to watch, but frequent moviegoers may be disappointed. Compared to other major airlines, the selection was very slim.

Bottom Line
I went into this flight with sky-high expectations. Yet EVA Air Business Class still surpassed them all. While the entertainment selection was subpar, it was a small slight in an otherwise outstanding flight. The seat is spacious, the service was warm and genuine, and the food was close to incredible.
There is a ton of competition between world-class airlines crossing the Pacific in business class, with the likes of Singapore, ANA, Cathay Pacific, and others. But the first class touches and outstanding service that EVA puts into its Royal Laurel cabin make it tough to beat.