Introducing a new entrant in the airport lounge wars: Capital One.
More than two years after announcing its plans to open and operate its own airport lounges, Capital One is almost ready to open its very first location, at Dallas-Fort Worth (DFW), to travelers. The credit card company behind the uber-popular Capital One Venture Rewards Credit Card gave Thrifty Traveler a sneak peek on Wednesday before officially opening its doors sometime in early November.
Let's be clear: There's a big difference between a tour meant to impress the media and the experience hundreds of everyday travelers will get once it opens its doors to the public. That said: Wow. From the airy design and layout of the lounge to the food and beverages, Capital One has nailed it. They might be late to the airport lounge game, but they've clearly learned from others' mistakes. This is an impressive space.
And more Capital One lounges are on the way, too – the company is aiming to open its second and third locations in Denver (DEN) and Washington, D.C.-Dulles (IAD) sometime next year. Capital One is being tight-lipped about who can get into these lounges – including whether Venture cardholders will get free access or have to pay a fee – but we expect more information soon.
Take a look and see what's in store for Capital One's very first airport lounge.
The Lounge
Capital One's lounge at the Dallas-Fort Worth (DFW) megahub is located near Gate D22 in the D Terminal, which is home to American Airlines. In fact, it shares an elevator with American's stellar Flagship Lounge, as it's perched just over the concourse. American Express's Dallas Centurion Lounge isn't far away, either.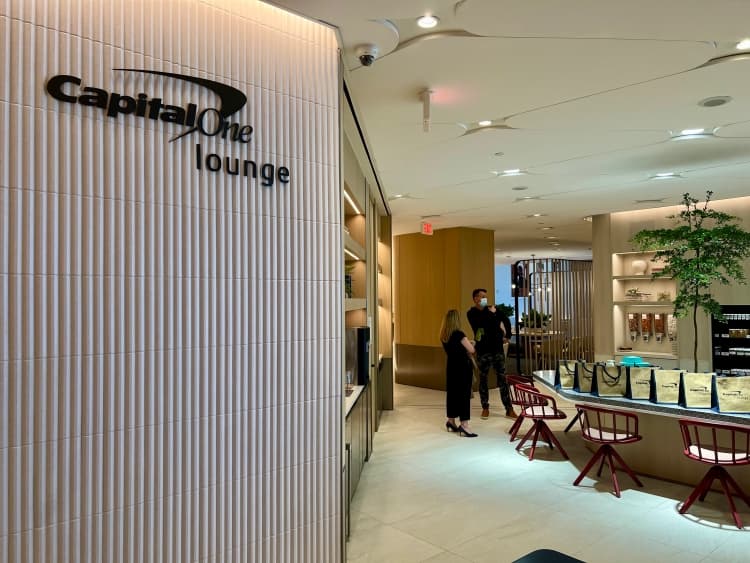 Capital One still hasn't cleared up exactly who can get into these lounges … and what it may cost. In a statement, the credit card company said: "Capital One cardholders will be eligible for special entry rates depending on their card. We'll share more details on this very soon."
The lounge itself clocks in around 10,000 square feet, but it feels much bigger than that. Maybe it's the open and airy design, courtesy of floor-to-ceiling views of the runway and tarmac as well as soaring ceilings in the bar area. Maybe it's the clever color palette, with soft woodgrains, grays and pastel-colored furniture punctuated by artwork from Dallas-area artists. Or it could just be the clever layout, with an assortment of distinct seating areas all circling around a massive food and beverage station.

Once you enter the lounge, there's plenty of seating, with armchairs, cafe-style tables, and long sofas.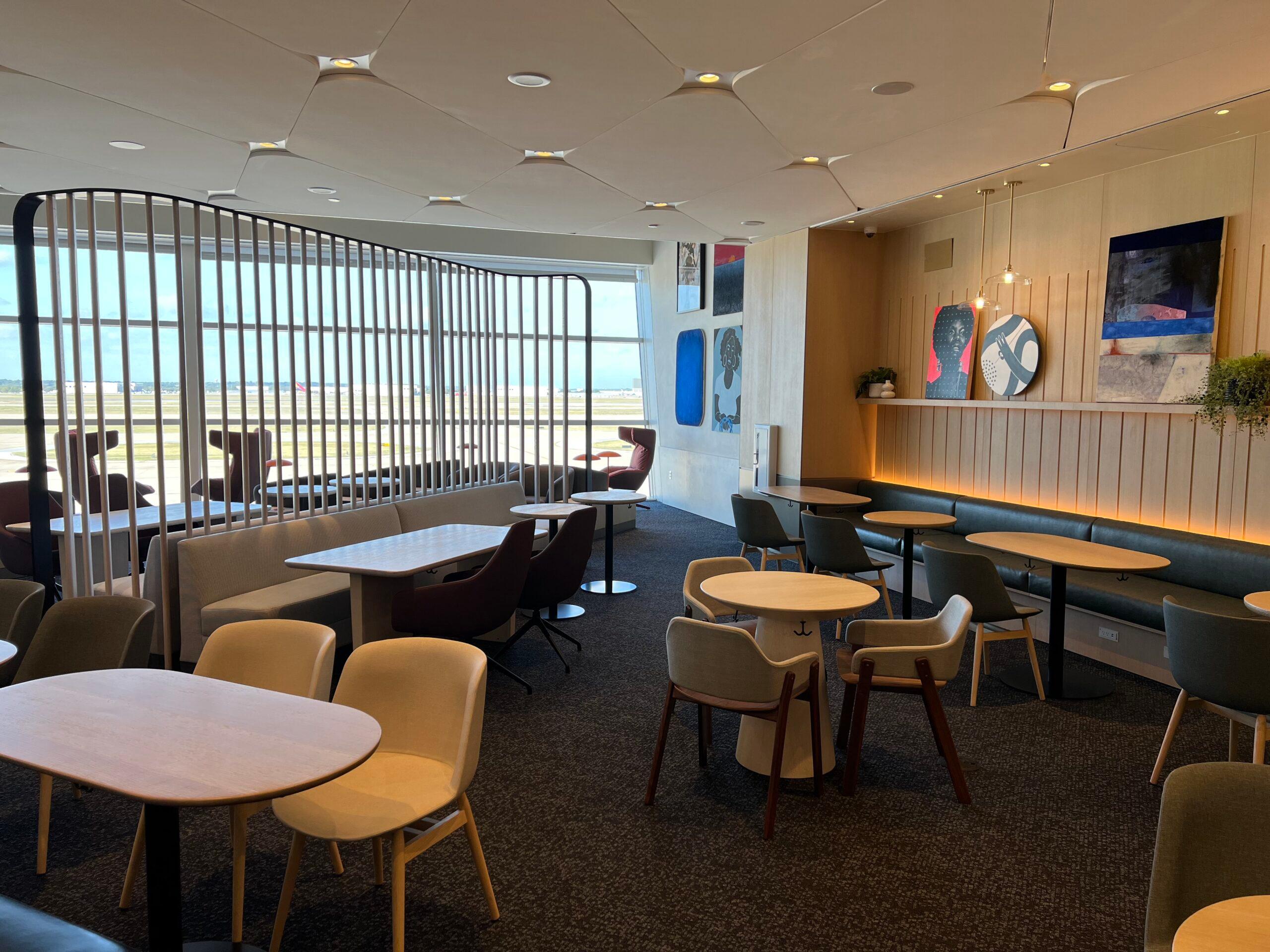 There's a great seating area hugging the windows that overlook the runway, with comfortable armchairs where you can soak in the view.

And then there's another, cozier seating area. It feels much more walled off and private, despite being exposed to the rest of the lounge.

Finally, there's a great bar area with high ceilings, more seating, and yes … a bar. More on that later.

One huge shortcoming of many airport lounges is finding a place to stay charged, but that's not the case here. Capital One's team has proudly touted that every single seat in the lounge has access to plug in, and that's not hyperbole. Whether you're at the bar, a hightop table, or lounging somewhere else, there are power outlets and USB ports seemingly everywhere.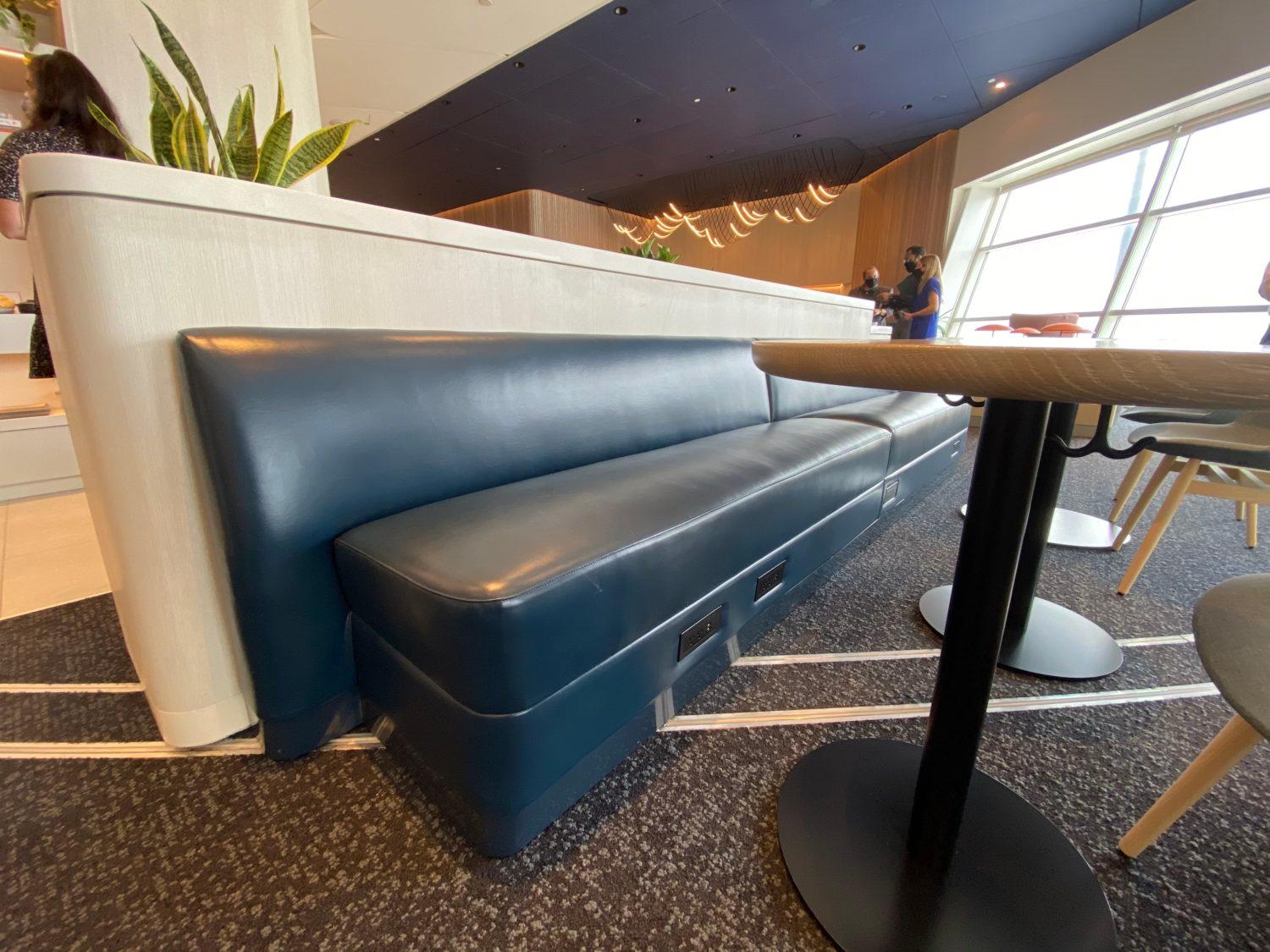 If there's one concern with this new Dallas lounge, it's the bathroom situation. The lounge's capacity tops out at 180, yet there are just four bathrooms – each a single room. On the plus side, at least the bathrooms are chic and private.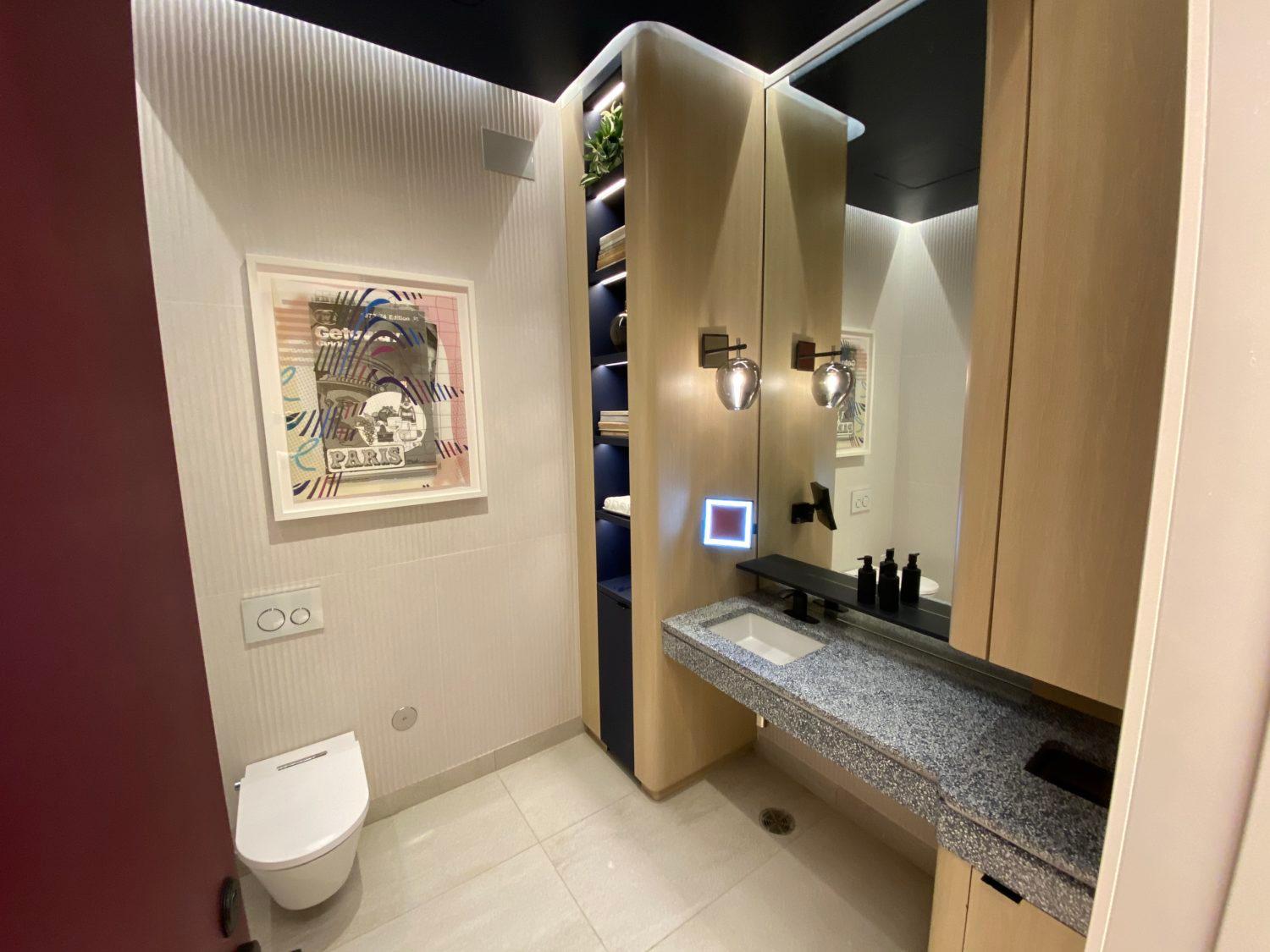 Best of all, every single one is equipped with a bidet seat. Hello, heated toilet seats!

Food and Drink
Capital One put a huge emphasis on offering excellent food and drinks in this lounge, and it truly shows.
It starts before you even walk 10 feet past the check-in desk with a grab-and-go selection of sandwiches, salads, and drinks as well as a counter full of pastries. That's a glaring gap with even the world's best lounges, including Amex Centurion Lounges. This way, you can grab something to bring on the plane if you've got just 10 to 15 minutes to spare.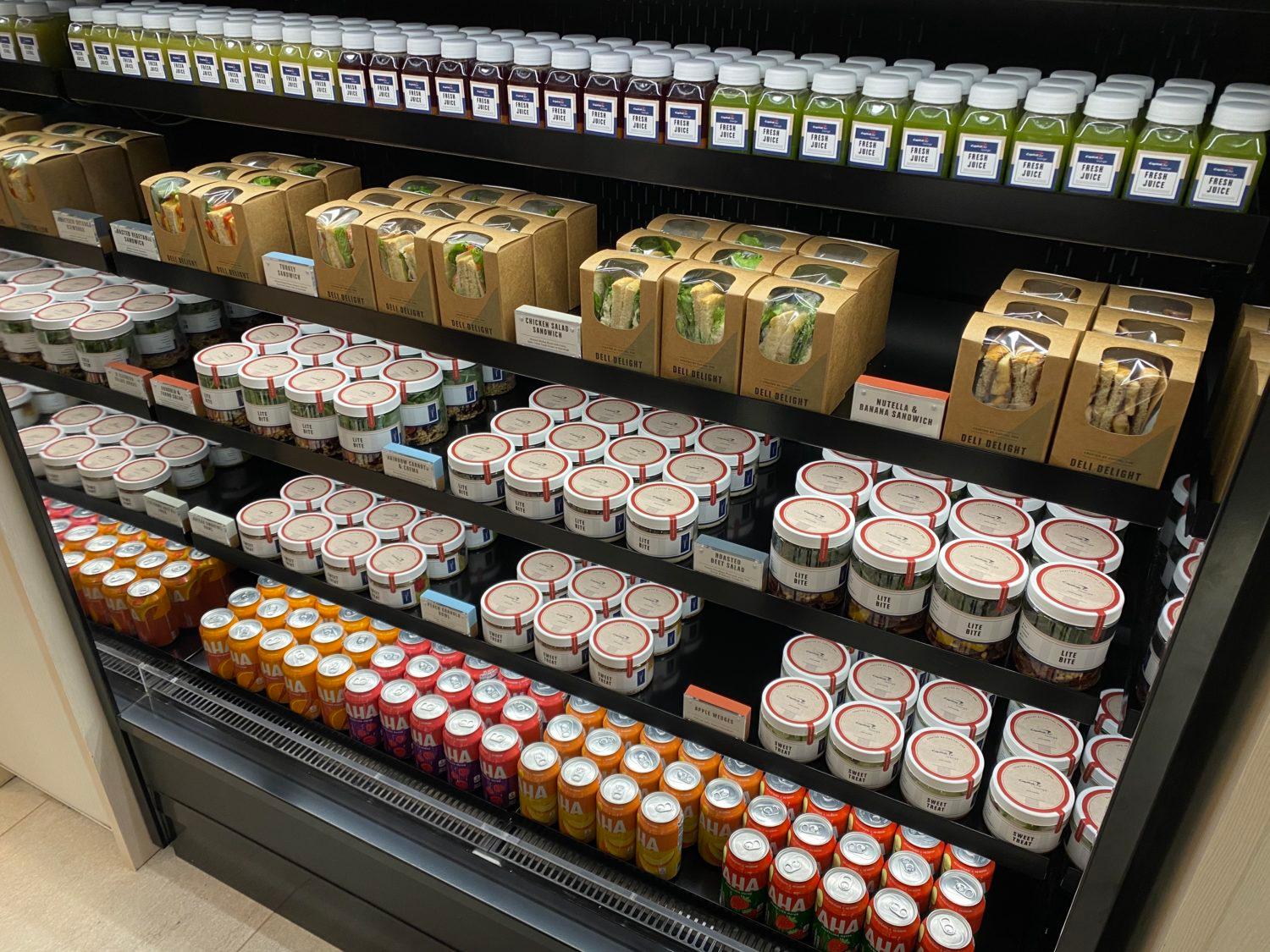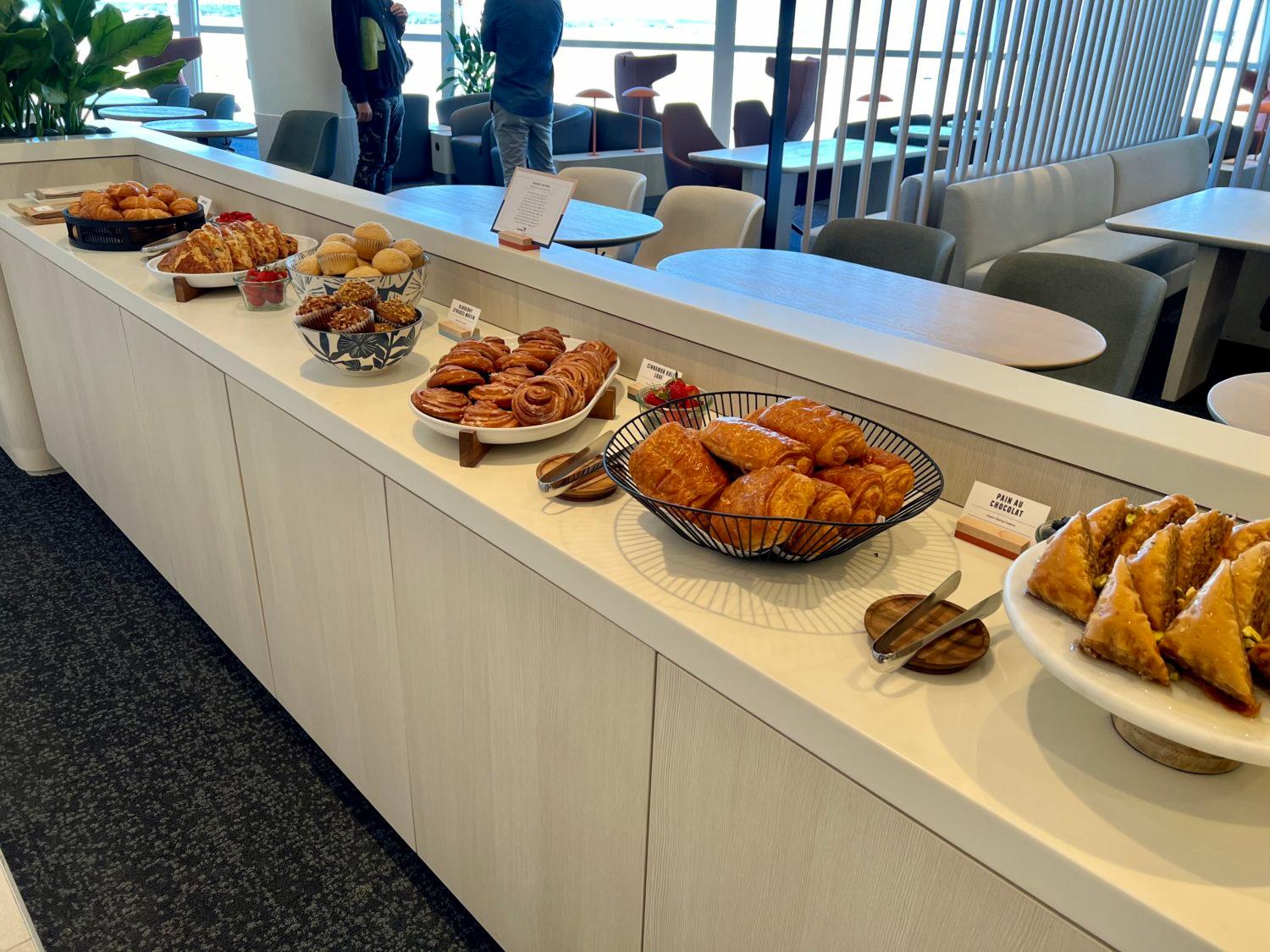 But if you've got more time, it gets better. Capital One has set the bar high, and it's up to the company to deliver on these expectations when the lounge officially opens in a few weeks. Every dish we tried was truly restaurant quality, served in small-yet-reasonable portions.
The hummus with pita bread was top notch. A bowl of bibimbap – a mix of Korean barbecued beef, vegetables, and rice – was on par with anything we've tried outside of Seoul. And the mac and cheese was creamy and warm, with delicious pieces of bacon sprinkled in.

The drink options might be even better. Soon after walking in, you'll find a coffee counter where you can pour your own cold brew or oat milk latte, as well as a standard mug of drip coffee.

Further back in the lounge, there's another self-serve drink station with water and soft drinks – including unique options like root beer, lemonade, and iced tea.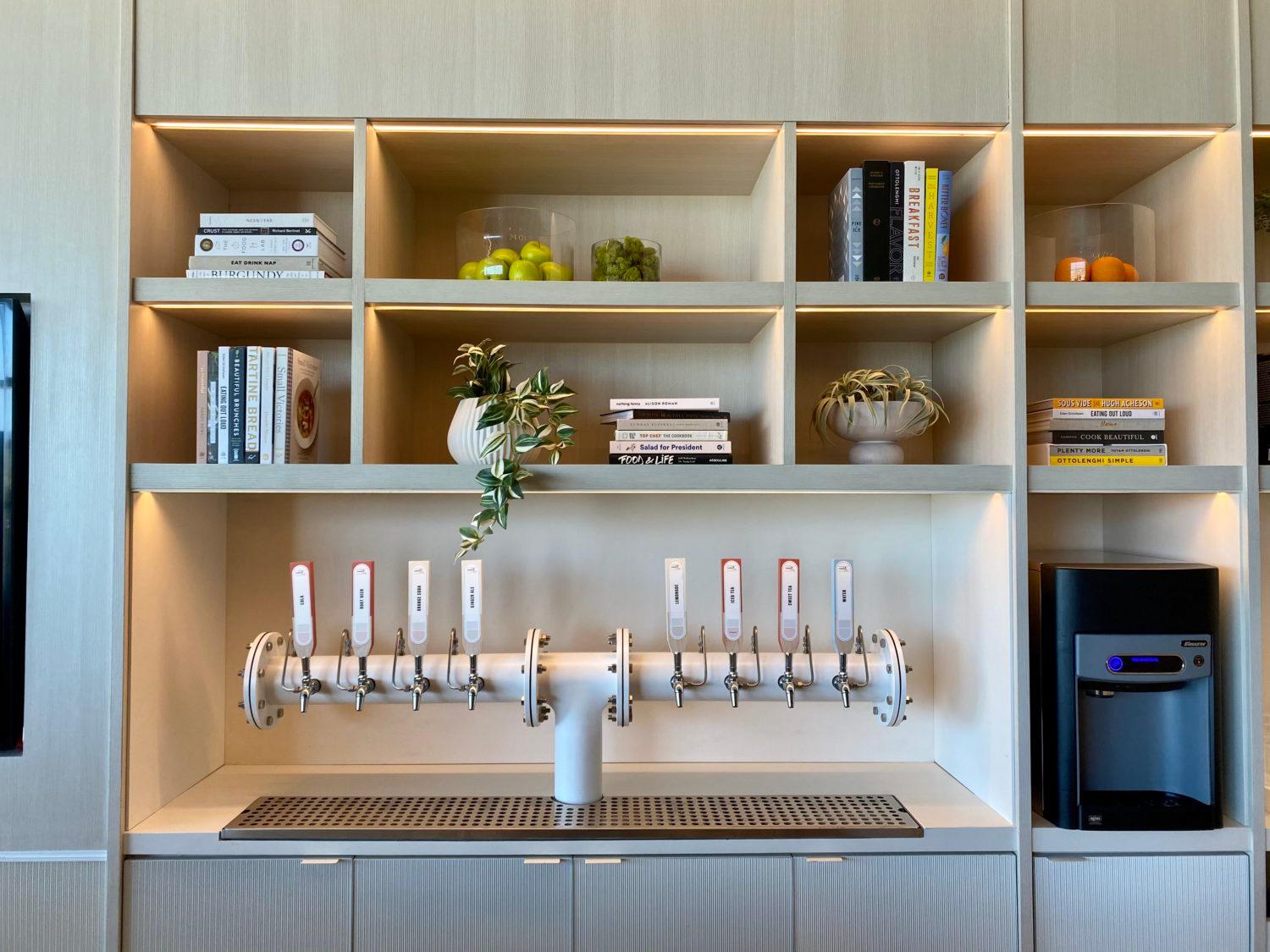 But Capital One's first lounge is all about giving travelers' options, so there's a full-service bar in the back, too, where you can order a barista-made beverage, non-alcoholic cocktails, beer, wine, and cocktails – all free, aside from some buy-up premium wine and spirit options if you're in the mood to splurge.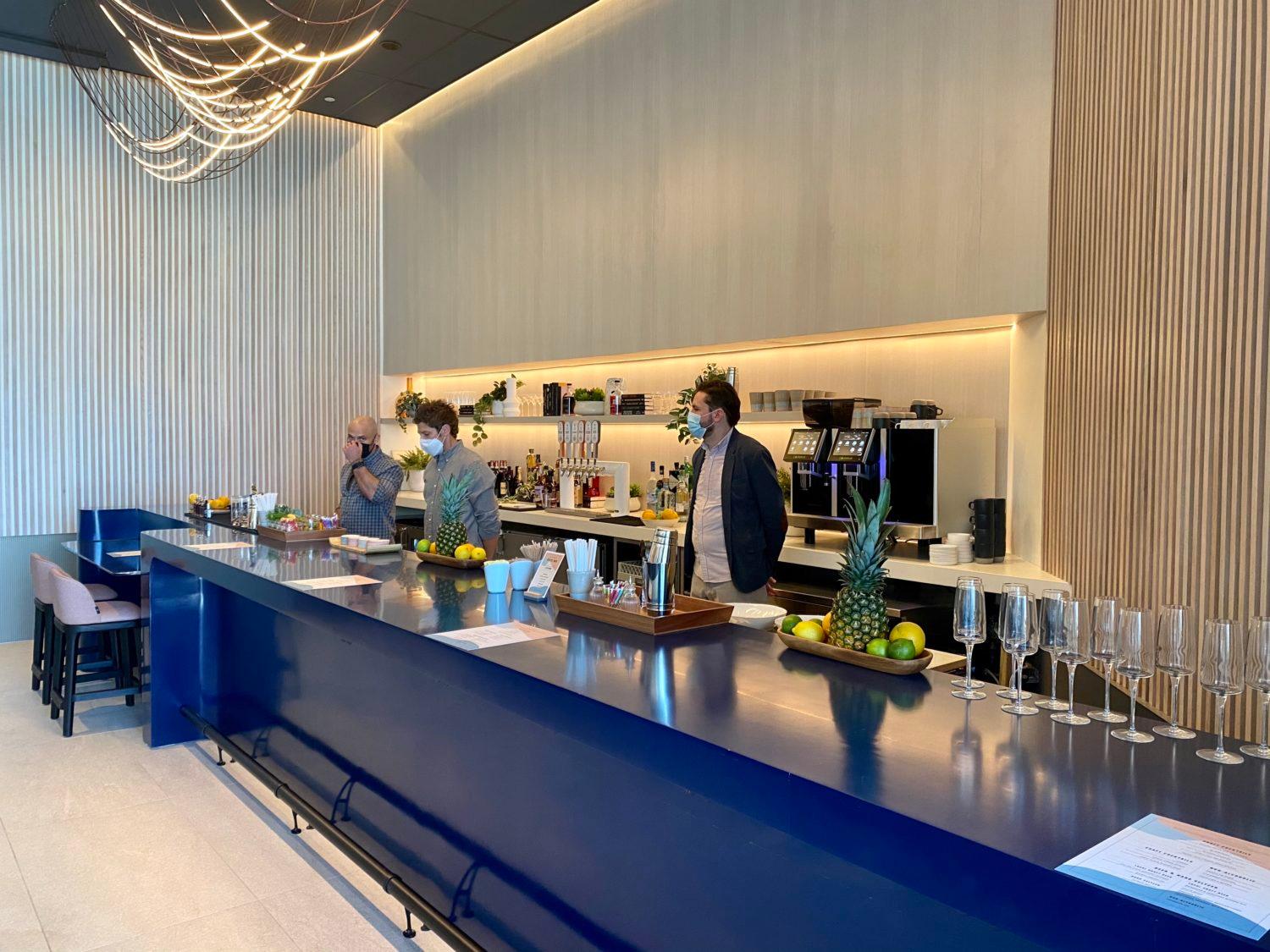 The cocktail program is outstanding, with a mix of pre-made cocktails on tap as well as craft drinks made on the spot. Here's the full menu (click it for a closer look).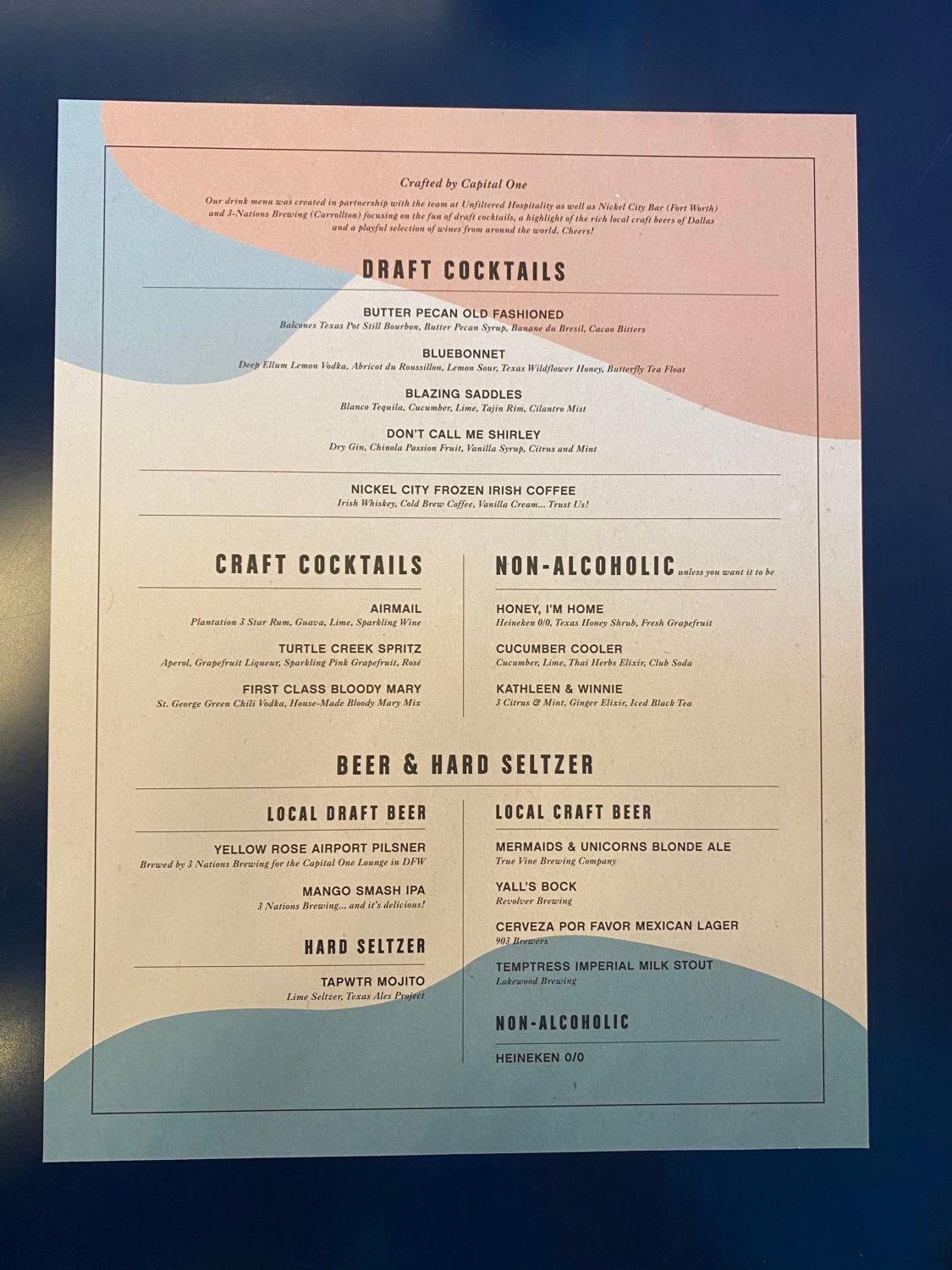 We sampled a few sips of cocktails, including the refreshing and tropical Don't Call Me Shirley and the boozy frozen beverage, Nickel City Frozen Irish Coffee. But my favorite by far was the Butter Pecan Old Fashioned, a more-than-respectable take on an Old Fashioned with a hint of sweetness and smokiness.

Extra Amenities
There's another entire wing of the lounge we haven't gotten to yet, where you'll find many amenities that you can't get in most other airport lounges.
Capital One calls it the "Wellness Corridor." It starts with a single shower suite. Like all amenities, this is available on a first-come, first-serve basis, though Capital One hopes to eventually add the ability to reserve them online or through the Capital One app.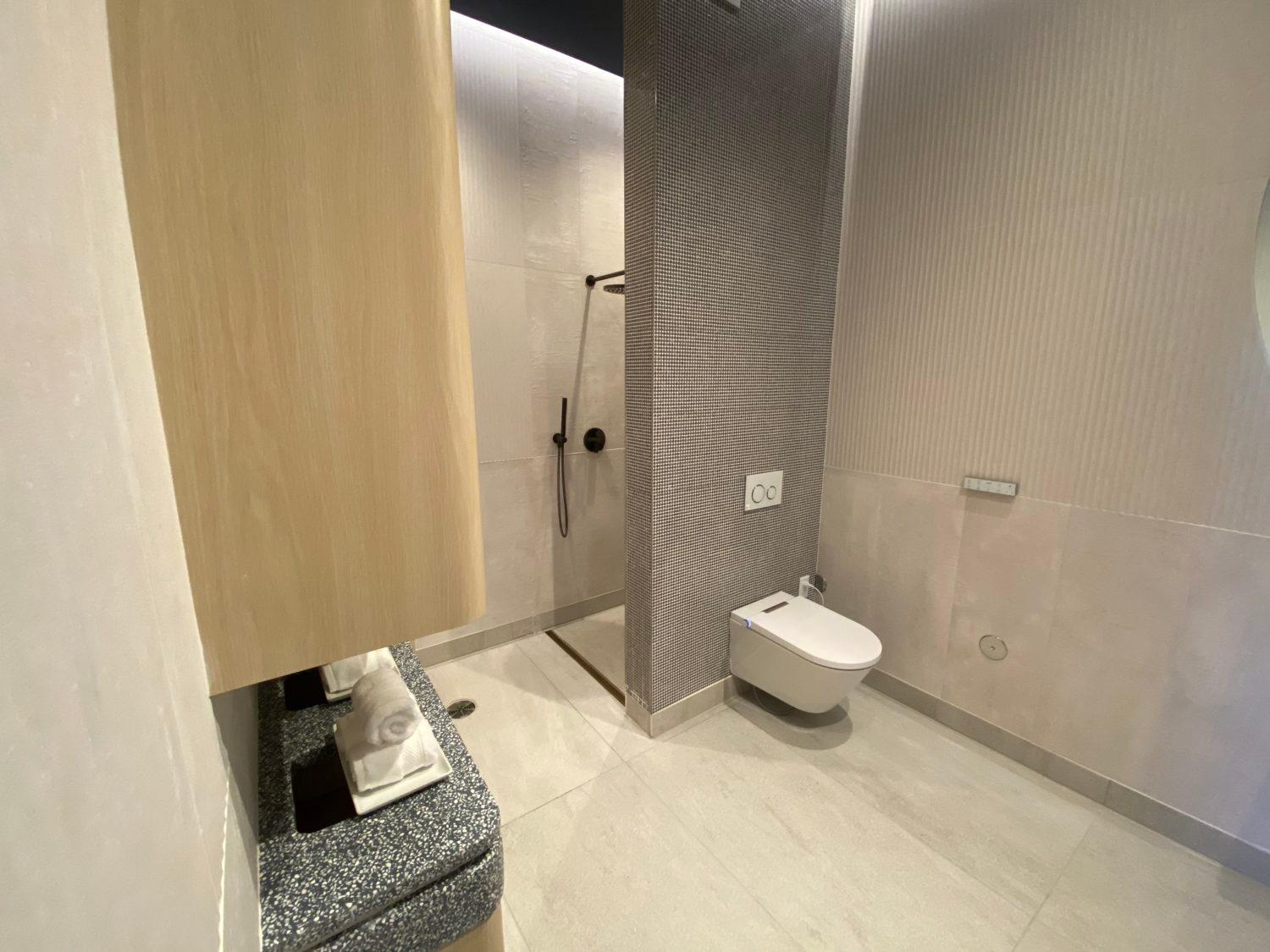 Across the hallway, there's a workout and yoga studio equipped with two Peloton exercise bikes. The view out to the tarmac sure doesn't hurt.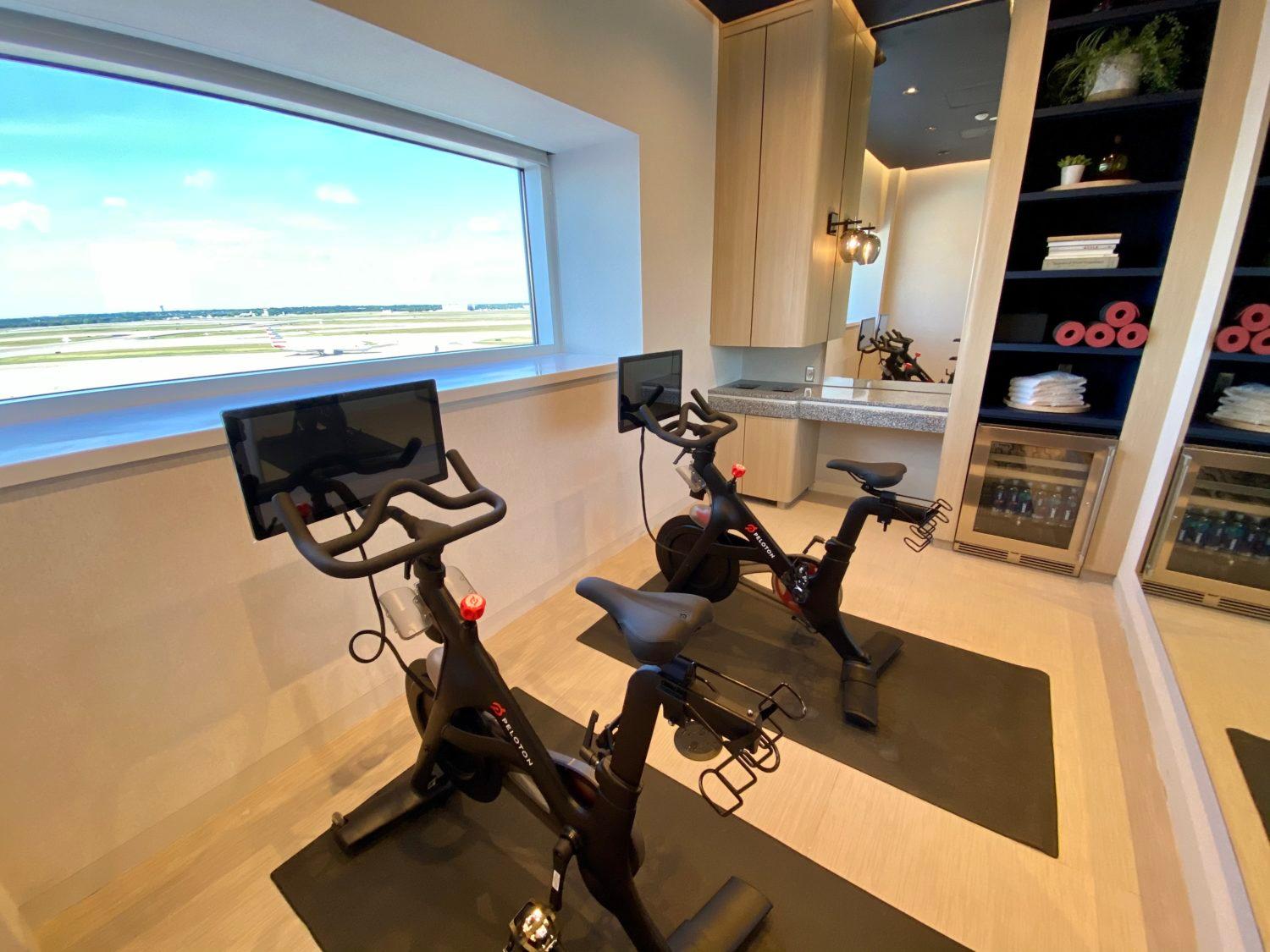 Then there are two private relaxation rooms, where you can grab a snooze in these strange-yet-fun loungers.

At the end of the wellness corridor, there's also a nursing room for families as well as two multi-faith rooms where you can pray or meditate.
Bottom Line
Capital One hasn't just entered the airport lounge wars. It has thrown down the gauntlet.
This space in Dallas is fantastic, on par with, or better than, anything you can find in the U.S. – and in many airports abroad, for that matter. Capital One has a lot to live up to with this media preview by the time it opens to travelers in a few weeks' time.
If they can … look out, Amex Centurion Lounges.