For those of us who live somewhere with brutal winters, looking ahead to a warm winter getaway is vital. Even if it's just a weekend or a short trip, an escape makes surviving the winter months easier.
Though we know it's painful to think about winter this early – you must think ahead when it comes to scoring a deal for a winter escape. There are plenty of warm-weather destinations in the U.S. and abroad that can make for a perfect tropical getaway in the coming months. And whether you're flying next month or next February, the best time to book your winter vacation is … right now.
Here's why.
Book Now, Travel Later
Why do you need to start looking now? Because even though winter feels far away right now, you can often save on flights – especially to warm-weather and international destinations – by booking 60-plus days in advance.
We often find that booking flights two to six months in advance is the sweet spot for finding cheap flights. And while the rules behind when to score cheap flights have changed during COVID, this same rule still holds true.
Starting your search for a cheap winter getaway early also gives you some buffer time to wait for the best flight deal possible. Once it's already winter, demand skyrockets, making it harder to find a cheap flight deal. To ensure your winter getaway doesn't break the bank, start with a cheap flight deal and build your trip out from there.
But this year, in particular, it pays off to plan ahead. Right now, many airlines are offering fee-free changes and cancellations for flights booked before the end of the year – though, with some, you'll need to upgrade to Main Cabin. That means you can book a flight today for travel in 2022 and change or cancel it free (for a voucher) down the road if need be.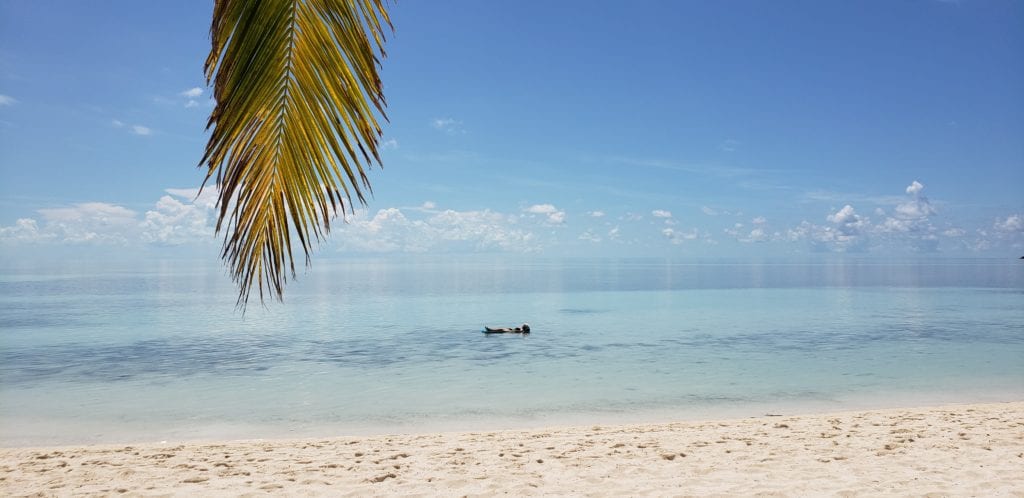 The No. 1 Tip for Booking a Cheaper Winter Getaway
Now, don't panic: You've still got plenty of time to plan!
The first rule of booking a crazy cheap winter getaway – or any cheap flight – is to be flexible! Let the cheap flight guide your destination choice and trip dates.
Instead of deciding on a location first, keep your mind and options open to whatever flight deal comes your way. Don't care where you go, so long as it's warm? Google Flights Explore is the perfect tool to search for a cheap flight if you're open to going anywhere a good deal can take you.
And don't commit to exact dates or start booking hotel reservations or tours before booking a flight. It's the most common and costly planning mistake that travelers make, often costing hundreds of dollars on flights by locking into dates too early.
Instead, follow the Flight First Rule and let the flight deals come to you, and see which destinations match your winter availability. You'll be able to save rather than picking dates first, getting stuck with higher airfare on those dates.
Cheap Winter Flight Deals We've Been Finding
Looking for something a little more tropical? We can help.
Our Thrifty Traveler Premium service finds the hottest domestic and international flight deals and instantly notifies our subscribers. The deals we find each day are $250-$500 off average airfare costs, for the price of an airport coffee each month. While most of these flight deal examples from the past month are no longer available, you can see just how low flight prices for winter getaways are dropping already.
Without further ado, let's take a look at the recent sunny winter getaways we've found!
If you're looking for a tropical getaway this winter, Mexico and the Caribbean are your best bet. Mexico is open to U.S. travelers – and no COVID-19 test is currently required to enter. Best of all, we're seeing some rock-bottom prices to hotspots like Cancún (CUN), Cozumel (CZM), Puerto Vallarta (PVR), and Cabo (SJD) for winter and spring 2022.
Over the past month, we've seen flight prices to Costa Rica drop to rock-bottom prices from nearly every single U.S. airport! Getting to rainforest paradise for under $300 roundtrip has never been easier, especially with no COVID-19 test required to visit:
This flight deal is already gone, but you can get the next one with Thrifty Traveler Premium!
Dreaming of a Caribbean escape? We recently alerted Thrifty Traveler Premium members of half-off fares to Turks & Caicos this winter, with fares as low as just $213 round-trip!
This past month, Delta also slashed flight prices to Jamaica to under $300 roundtrip. Flights to Jamaica typically cost over $600 during peak season!
Is Belize on your bucket list? If not, it should be. These half-off nationwide flights to Belize that we've been finding lately sweeten the deal, too. Yep, this deal was available from over 100 U.S. and Canadian airports!
Dreaming of something a little further from home? Somewhere, perhaps, with overwater villas and white sand beaches?
Flights to bucket list regular, the Maldives, typically cost well over $1,300 per person. That's what makes these half-off flight deals we've been seeing over the past weeks so special. Saving $700+ on the flight means more travel funds to spend on the trip!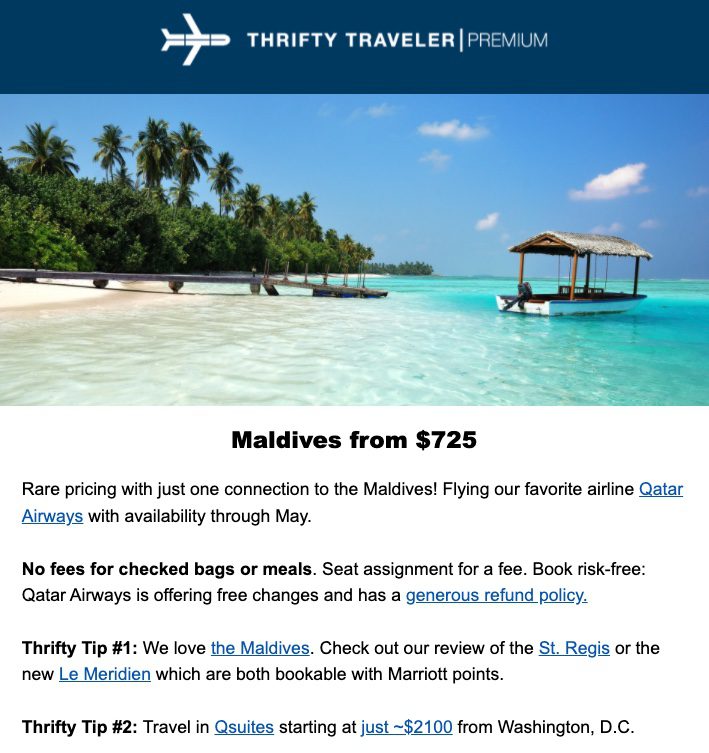 Want instant alerts for deals like this? Join Thrifty Traveler Premium!
These deals are the perfect example of the power of waiting for the flight deal to come to you. Being open to different destinations and waiting for a cheap flight can save you a ton. Let the cheap flight deal guide your winter getaway choice!
Bottom Line
Despite the beautiful fall weather right now, it's not too early to start planning your warm-weather getaway. In fact, this is the perfect time to start looking.
Get our flight deal alerts and be ready for a cheap flight that catches your eye to book!