If we had to pick just one credit card to use to pile up points for future travel, there's an obvious choice: the *amex gold*.
Other cards may be better for getting into airport lounges or the best fit for beginners just dipping their toes into the world of points and miles. But no card comes quite so close to doing it all as the Amex Gold Card.
It earns a ton of points on the things you're spending money on each day – and valuable points you can use to book that big future trip. It comes with money-saving credits that help offset a palatable annual fee. And it's out with a sizable welcome bonus of at least 60,000 points … if not substantially more.
Let's dive into why we love this card more than ever.
Learn more about the *amex gold*
Earn 4x at Restaurants & Grocery Stores
If there's one reason to open this card and keep it at the top of your wallet, it's this.
The Amex Gold Card earns 4x points per dollar at restaurants, plus 4x per dollar at U.S. supermarkets (on up to $25,000 of spending a year, then 1x). For the average American, those are two of the biggest expenses – especially for the younger crowd. And it allows you to maximize how many points you rack up on your everyday expenses.
Let's say you and your family spend $1,500 a month combined on groceries and eating at restaurants (and yes, that includes takeout and delivery). Shift that spend to a Gold Card, and you'd be earning another 72,000 American Express Membership Rewards points each and every year. That's more than you'll earn on almost any card.
Check out our favorite ways to spend a big Amex points bonus!
That can go a long way. And to us (and many Gold cardholders), that return on everyday spending alone is enough to justify the card's $250 annual fee (see rates & fees).
Temporary bonuses for buying groceries or spending at restaurants come and go on other cards, but this one is permanent. It's a big part of why we think it's the best all-around credit card.
The Biggest Bonuses We've Ever Seen
Earning extra points on food year in, year out is one thing. But American Express has sweetened the deal throughout the pandemic to make the Amex Gold card even more alluring with a massive bonus. And that big bonus is here to stay.
Historically, you'd earn 35,000 points after spending $4,000 within the first three months. Now, you can earn at least 60,000 points after spending $4,000 within the first six months on the card. Yes, that's right: Nearly twice the points with double the time to spend $4,000 to earn them.
But it can get even better: Check with CardMatch to see if you're eligible for a 75,000-point welcome offer with the same spending requirement. And over the last year, we've seen bonuses via referral links float as high as 90,000 points, though those come and go.
Still, even 60,000 points are nothing to sneeze at. Combine that big welcome bonus with the ongoing points you can earn on groceries and at restaurants, and that can add up fast.
Learn more about the *amex gold*
Rose Gold is Back
You asked, and American Express answered: The Amex Rose Gold Card has officially returned.
For reasons we can't quite explain, the internet has gone crazy for this rosy-hued metal card. It disappeared for years after American Express briefly made it available when relaunching the Amex Gold Card back in 2018.
Now it's back – and back for good. New cardholders can choose between the traditional Gold finish and Rose Gold when applying for the card. Already have a Gold Card and want to go Rose? Just message American Express and ask for a replacement.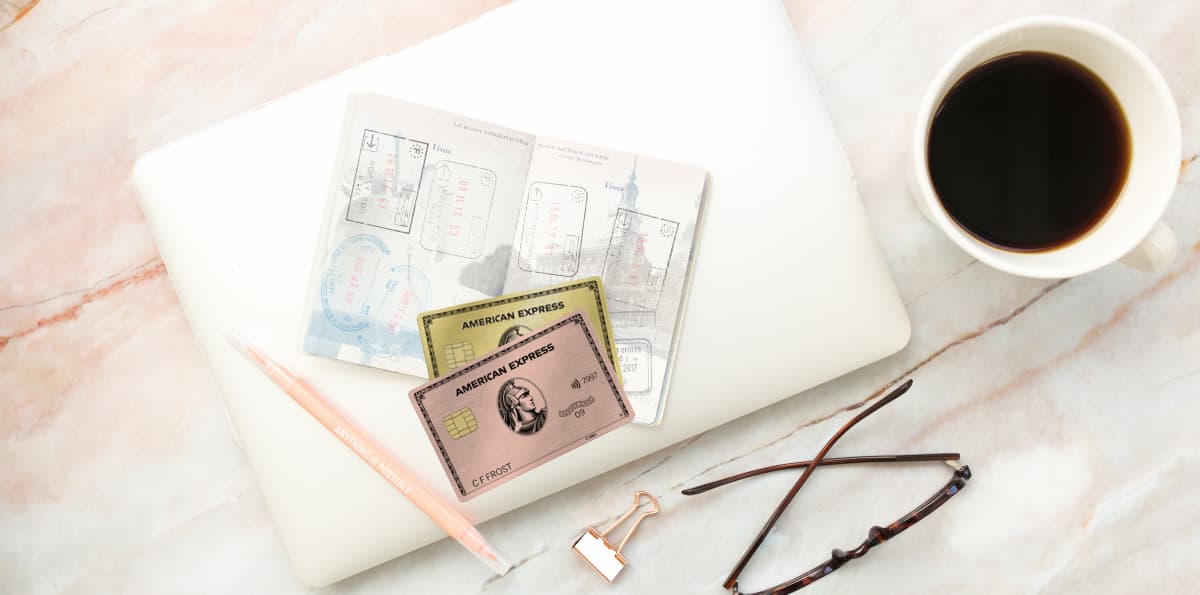 An Easier-to-Stomach Annual Fee
With an annual fee of $695, top travel cards like the Platinum Card® from American Express (see rates & fees) don't come cheap. Of course, those cards come loaded with premium travel benefits like airport lounge access, annual travel credits, credits to cover a TSA PreCheck or Global Entry application, and more.
But paying a boatload for those perks won't make sense for everyone – especially right now, with many travelers not quite back to normal. The Gold Card slots in the middle of the market perfectly.
The Gold Card carries a comparatively mild annual fee of just $250 (see rates & fees). While that's still not for everyone, it's much easier to stomach. And it makes the Gold Card an easy way to start earning lots of points for travel.
Is the Amex Gold Card is worth its $250 annual fee?
But doing the math on whether the Gold Card is worth it goes beyond the points.
Credits Make it Even Easier to Come Out Ahead
The Gold Card comes with two sets of statement credits that could quickly zero out the cost of that annual fee.
It starts with up to $10 monthly credits for Uber – or Uber Eats – on the Gold Card. Add that up over the course of a full year, and that's up to $120 in easy-to-achieve savings whenever you order an Uber or order takeout or delivery via Uber Eats. All you need to do is add your Gold Card to your Uber app and the credits will kick in as Uber Cash.
Then there's a separate up to $120 annual credit for dining, also doled out in $10 installments. It's also fairly easy to use, as it will kick in for orders through GrubHub, The Cheesecake Factory, Wine.com, Goldbelly, Wine.com, & participating Shake Shack locations. Enrollment is required for this benefit. GrubHub alone makes it easy to use this credit each and every month.
But both of these are use-them-or-lose-them benefits. Didn't use your $10 for Uber or dining in January? They won't roll over to February – they're gone.
Maximize both credits every month and add up the value: That's $240 compared to the $250 annual fee. Do it right, and you're essentially paying just $10 a year for the card – and that's before considering the value of the points you're earning.
Of course, that only makes sense if you're ordering takeout at least twice a month. But let's be honest…
Get Big Value Out of Amex Transfer Partners
When it boils down to it, it's all about the points. You can earn a lot with the Amex Gold, but where can they get you?
The best way to use Amex Membership Rewards points is by utilizing Amex transfer partners. You can send the Amex points you earn from the Gold Card straight to roughly two dozen different airline and hotel chain accounts. Here's the full list.

| Program | Type | Transfer Ratio | Transfer Time |
| --- | --- | --- | --- |
| Aer Lingus | Airline | 1:1 | Instant |
| AeroMexico | Airline | 1:1.6 | 3-5 days |
| Air Canada Aeroplan | Airline | 1:1 | Instant |
| Air France/KLM | Airline | 1:1 | Instant |
| ANA | Airline | 1:1 | 1-2 days |
| Avianca | Airline | 1:1 | Instant |
| British Airways | Airline | 1:1 | Instant |
| Cathay Pacific | Airline | 1:1 | Instant |
| Delta | Airline | 1:1 | Instant |
| Emirates | Airline | 1:1 | Instant |
| Etihad | Airline | 1:1 | Instant |
| Hawaiian | Airline | 1:1 | Instant |
| Iberia | Airline | 1:1 | Up to 24 hours |
| JetBlue | Airline | 1.25:1 | Instant |
| Qantas | Airline | 1:1 | Instant |
| Qatar Airways | Airline | 1:1 | Instant |
| Singapore | Airline | 1:1 | Instant |
| Virgin Atlantic | Airline | 1:1 | Instant |
Of course, some of these options are better than others. Some of the options on this list stand out – and others are complete duds. We've got some favorites on this list:
Bottom Line
For years, we've considered the Amex Gold Card the best all-around credit card for travelers. While other cards might pack a bigger punch with travel perks, you cannot beat earning 4x points on all your restaurant bills and grocery shopping.
It has earned a spot firmly at the front of many travelers' wallets. And by the looks of it, it's not going anywhere.
Learn more about the *amex gold*