Got Chase's top-tier travel card, the Chase Sapphire Reserve®? Congrats: You've now got top status with Lyft, too.
Chase on Tuesday announced it's giving all Reserve cardholders two complimentary years of Lyft Pink All Access membership (and a third year at 50% off), unlocking perks like free priority pickup, unlimited 45-minute classic bike rides, more rental discounts, a year of free Grubhub+, and much more. That top Lyft membership typically costs $199 a year, so this is a substantial addition.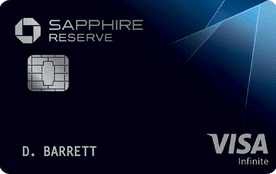 Click Here to get more information about the Chase Sapphire Reserve®
To get signed up, just make sure you have your Reserve Card set as your default payment method in Lyft and click the option to join Lyft Pink in the app. You can find more details at lyft.com/chase.
Read the full list of Chase Sapphire Reserve benefits!
Chase first paired up with Lyft back in early 2020, adding a Lyft Pink membership to the Reserve card while raising the annual fee by $100 to $550 a year. You can still earn 10x points per dollar spent on Lyft rides through 2025, but the Lyft membership benefits are taking a step up to its newer All Access tier.
The list of Lyft Pink All Access benefits go on and on. It also offers 10% off all Lux rides, three free cancellations per month, roadside assistance for your own car up to four times a year, and free SIXT rental car upgrades, 12 free ebike and scooter unlocks a year, and three bike or scooter guest passes per year.
By holding a Chase Sapphire Reserve, you also get Chase's incredibly easy-to-use $300 annual travel credit to use toward Lyft rides, too.
Each and every year, Chase automatically reimburses you for up to $300 in purchases that code as travel. Whether that is a taxi, Lyft, hotel, plane ticket, cruise, or any other travel expense, this is $300 right back in your pocket. You don't need to file a claim or jump through hoops to receive your credits, either. Just pay for your Lyft rides with your Sapphire Reserve, and the $300 credit kicks in automatically. And you're earning 10x points on all of those dollars spent, too.
Bottom Line
Just in time to take advantage of the best sign-up bonus in years, Chase has added a free Lyft Pink All Access membership to the Chase Sapphire Reserve®.
It's just another incredible perk of holding the Reserve card, and can help Lyft users get priority pickup, exclusive pricing, free bike rides, and free bike and scooter unlocks every year. Membership typically costs $199 a year, but you can get two years free – plus a third year at 50% off.