Chase and the food delivery mobile app, DoorDash, have launched a new promotion offering DoorDash's unlimited free delivery program dubbed DashPass for certain Chase credit cardholders.
DashPass gets members lower service fees and free delivery on all orders of $12 or more. According to DoorDash via the mobile app, DashPass customers can save an average of $4 and $5 per order.
The service typically costs $9.99 per month, but select Chase cardholders will now get a huge discount based on which Chase card you have. Doctor of Credit first reported the news.
Chase Sapphire Reserve & Sapphire Preferred cardholders are being offered two years of free DashPass service, while both of the Chase Freedom cards and the Chase Slate card will get you three free months and a 50% discount for the remainder of the year. Since I carry the Chase Sapphire Reserve, I will get DashPass for two years.
How to Register
To take advantage of this offer, simply download the DoorDash app and create an account. Once prompted, you will want to add one of the Chase credit cards mentioned above as a payment method. As soon as you do this, you will get a pop up offering you up to two years of free DashPass service.
If you create a DoorDash account with our referral link, you will get $5 off each of your first three orders ($15 total). We will also get $7 towards a future order.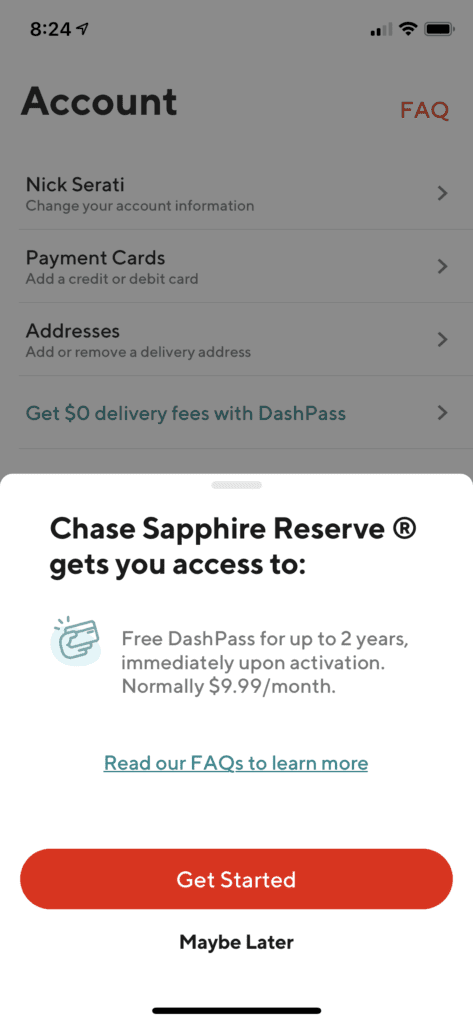 Our Analysis
This is a great new benefit if you hold one of the Chase Sapphire or Freedom Cards.
Both the Chase Sapphire Preferred and Reserve cards were long considered the best cards for dining until American Express refreshed both it's Green and Gold cards over the past few years. The American Express Gold Card now offers an unlimited 4x Membership Rewards points per dollar spent at restaurants worldwide, while the refreshed American Express Green Card now earns 3x Membership Rewards points at restaurants worldwide.
It has long been rumored that Chase has been looking to make certain benefit improvements to the Sapphire cards, specifically in the dining category. This new benefit may be the beginning of a larger change.
Read our guide to see which Chase Sapphire Card is Right for You. 
Bottom Line
If you use DoorDash and hold one of the Chase Sapphire or Freedom cards, make sure to register for this promotion. You will receive up to two years of their DashPash free delivery service which normally costs $9.99 a month. Per DoorDash, this can save you $4 to $5 per order.