Back when Chase overhauled its Chase Sapphire Reserve® complete with an annual fee hike back in early 2020, it added a partnership with DoorDash for free access to the DashPass delivery program, offering lower service fees and free delivery on orders over $12. Cardholders with both Chase Sapphire Reserve® and Chase Sapphire Preferred® Card got those perks through yesterday, Jan. 31, 2022 … but now it's been extended.
If you had previously registered for this complimentary DashPass promotion with your Chase Sapphire Card, you should have gotten an email yesterday letting you know that this partnership has been extended for three years, through Dec. 31, 2024. Better yet, Chase has confirmed it's soon adding a $5 monthly credit for cardholders … but only those with the Reserve Card.
That's great news if you've frequently used DashPass but dropped your membership due to the looming expiration date.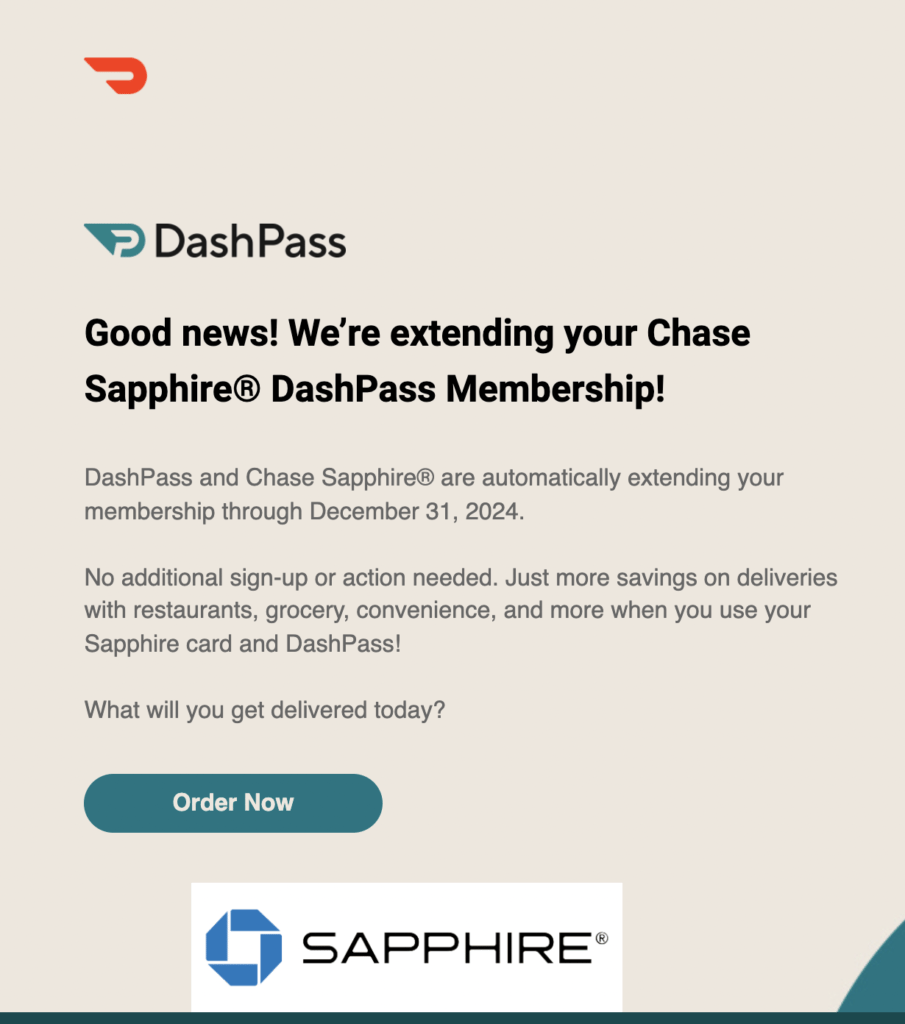 In addition to the DashPass membership extension, beginning in April 2022, Chase Sapphire Reserve cardholders will get a $5 monthly DoorDash credit.
The credit can be redeemed by DashPass members in the DoorDash app and Reserve cardholders can accumulate the credit for up to three months before expiration (for a maximum of $15 total credit to redeem).
While the amount is smaller, it's a stark difference to the Amex Uber credits available on both the Platinum Card® from American Express as well as the American Express® Gold Card. Those credits are use it or lose it: Any remaining balance at the end of each month will be forfeited.
How to Register
If you haven't yet linked your Chase Sapphire card to your DoorDash account, simply download the DoorDash app and create an account.
Once prompted, you will want to add one of the Chase credit cards mentioned above as a payment method. As soon as you do this, you should get a pop-up offering you DashPass service through 2024. If you're already signed up, you shouldn't need to do anything.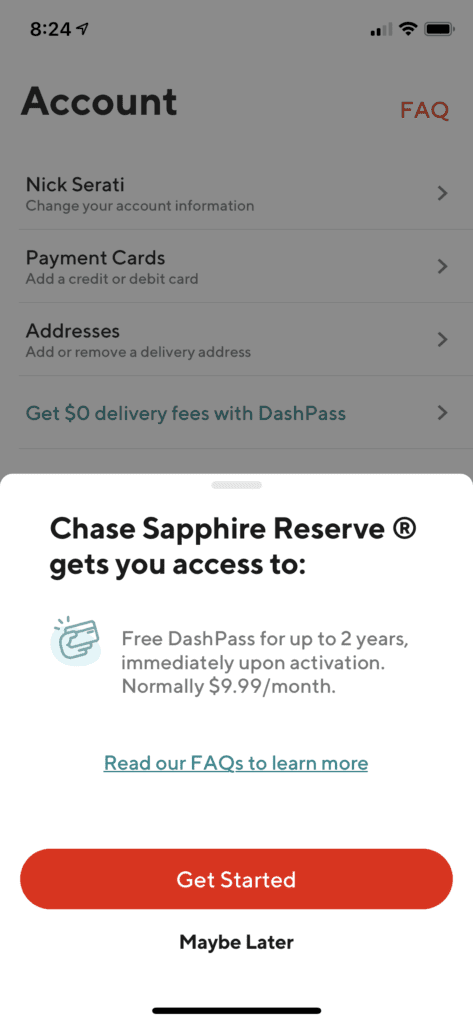 Our Analysis
This is great news if you hold one of the Chase Sapphire or even got discounted access through a Chase Freedom Card – especially if you frequently made use of DashPass. This partnership was originally set to expire yesterday, Jan. 31, 2022.
The new $5 monthly DoorDash credits coming in April 2022 for Sapphire Reserve cardholders is a great addition as well. And the move certainly makes sense.
Chase is facing increased competition on their premium product from a new kid on the block – the Capital One Venture X Rewards Credit Card. With an annual fee of only $395, it's proving some serious competition to the Sapphire Reserve with its $550 annual fee. In fact, we went so far as to say that the Venture X has largely made the Sapphire Reserve card irrelevant.
Even the Platinum Card® from American Express had a major refresh last summer, adding a handful of new benefits while also jacking up the annual fee from $550 to $695 each year (see rates & fees).
The Sapphire Reserve hasn't seen a significant update since January 2020 when this DoorDash partnership was first launched. To say it's due for another refresh is an understatement.
Bottom Line
Chase and DoorDash have extended their partnership all the way through Dec. 31, 2024!
If you use DoorDash and hold one of the Chase Sapphire or Freedom cards, and had already registered for free DashPass service, you won't need to do anything: Chase will automatically extend your membership. And with the Reserve Card, come April you'll get a $5 credit that you can accumulate over three months.
Considering DashPass can save you $5-plus per order in delivery fees, this service that typically costs $9.99 a month can save you some decent money.