Delta took a troubling turn late last year by starting to sell basic economy award tickets, allowing travelers to book the no-frills fares using their SkyMiles. Soon after, it expanded to most U.S. domestic flights. And now, it's expanding again.
Delta is now selling basic economy award fares to Central America, the Caribbean, and South America. That means using your SkyMiles to fly from the U.S. to Mexico, Central American countries like Belize or Panama, the Caribbean islands, and even far into South America now can book into basic economy.
And while that may seem like good news – these awards are cheaper than a main cabin fare, after all – that's not the case here. For starters, basic economy fares have some big restrictions like the inability to pick a seat or cancel and change your reservation. But basic economy rarely means you're getting a better deal. Instead, airlines simply sell basic economy fares at the previous price (in miles or dollars) of the more-inclusive main cabin fare, which increases. You're wind up paying the same you used to, but get less.
While these basic economy awards aren't available on every single flight to Latin America, they're almost unavoidable. You'll now see basic economy awards from major Delta hubs like Minneapolis-St. Paul (MSP), Atlanta (ATL), and Detroit (DTW) as well as award tickets from non-Delta hubs. Here's a small sample of what's now bookable:

Delta didn't initially announce the change, but a spokeswoman confirmed that it had expanded the ability to "use miles for Basic Economy tickets on most Delta flights within the U.S., Canada and select Latin America and the Caribbean routes" as of Nov. 4. After Thrifty Traveler's story published, Delta announced the news on its website.
This appears to have come at the same time that Delta started selling basic economy cash fares to South America, along with American.
Delta's basic economy restrictions aren't the worst, but they can still be painful. While you can still bring a carry-on bag, you generally can't pick your seat for free, you're not eligible for upgrades through Delta Medallion status, and you can't change or cancel your bookings outside of the 24-hour free cancellation window. 
What this Means for SkyMiles
Using airline miles has traditionally been a great way to avoid the pain of basic economy. Even as basic economy fares spread nearly worldwide, most airlines' award tickets are your old, standard economy fare.
But that's changing, and changing fast. This latest expansion to all of Latin America and the Caribbean is massive. For now, there are no basic economy awards to Europe, Australia, Asia, and Africa. And that will almost certainly change, too.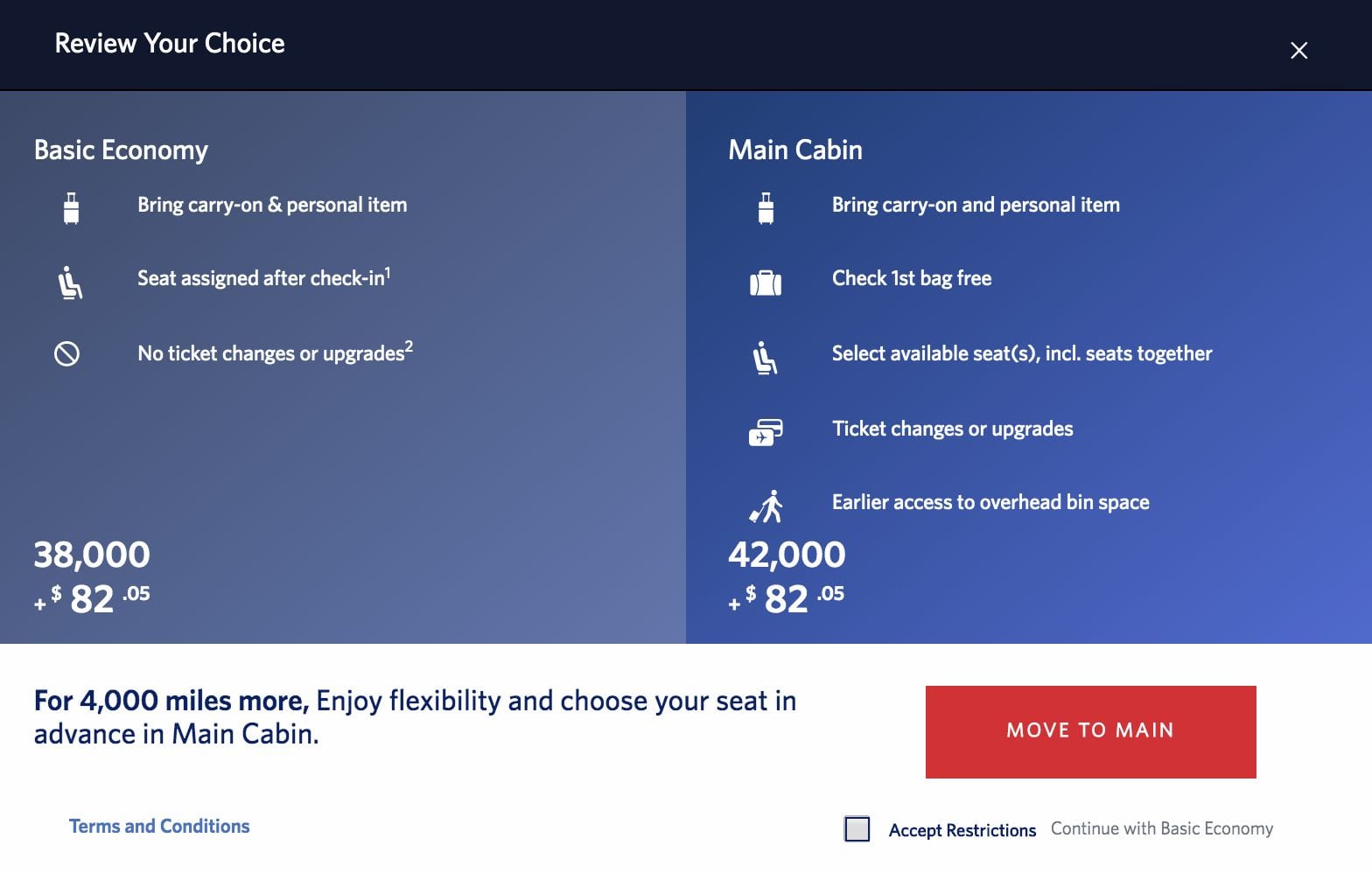 At first glance, there may actually be some savings here. SkyMiles award rates in basic economy seem a tad lower than the previous main cabin rates on flights to Latin America and the Caribbean. But with Delta's unpredictable award pricing system, there's no way to know for sure whether you're really saving SkyMiles by booking basic economy compared to the previous main cabin rates.
And from what we've seen with domestic award fares in the U.S., those potential savings by flying basic economy with your SkyMiles are likely temporary. Over time, basic economy rates are likely to take the place of main cabin awards, which will increase. That's the nasty secret behind basic economy awards – and basic economy in general.
This isn't a way to save by giving up some perks. It's a fare increase disguised as savings.
And there are undoubtedly some hiccups with this rollout. Take, for example, the flights from New York City (JFK) to Belize City (BZE) above. The new basic economy award is actually 11,000 SkyMiles more than a main cabin fare.
Bottom Line
This is a major development – and a negative one. Delta keeps expanding basic economy award fares to more and more regions.
And as much as we love SkyMiles, that simply makes them less valuable. While you might save a few thousand SkyMiles by booking a basic economy fare to Bogota (BOG) or Santiago de Chile (SCL), you're giving up many perks you once got for free.
No other airlines have followed Delta's lead yet with basic economy award fares, but it's only a matter of time.